Techsauce Global has the opportunity to speak with Kevin Wijaya, someone who is pretty much at the forefront of investing in startups in Indonesia.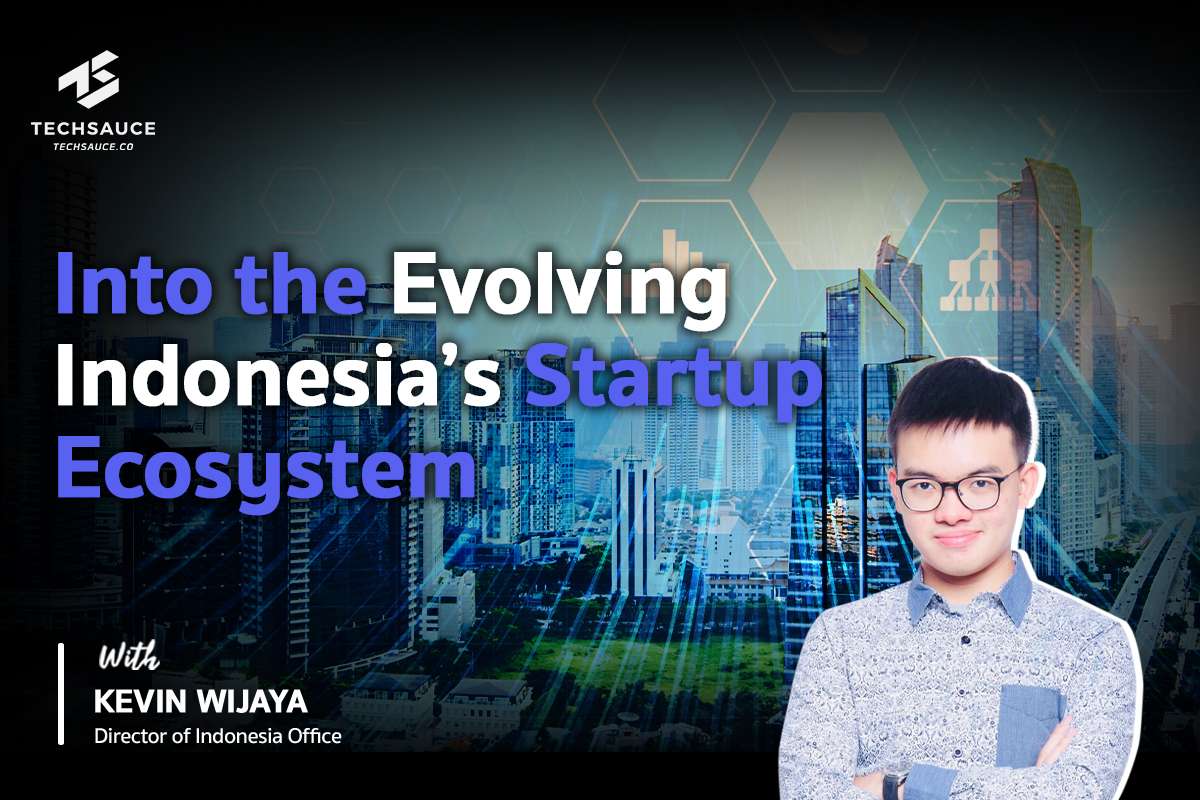 As the director of CyberAgent Capital, based in Indonesia, he shared with us the latest update to the startup scene in Indonesia, its unique problem and opportunities along with his prospective view toward its future.
About Kevin Wijaya and CyberAgent Capital
CyberAgent Capital is an investment enterprise that has been constantly pursuing global innovation, focusing primarily on early-stage investment with a heavy emphasis on consumer tech-related companies led by entrepreneurs with a drive to expand their businesses globally. Covering investment market across the world, Kevin Wijaya is in charge of handling its forefront operation in Indonesia, Singapore, and Malaysian market.
The investment firm is a subsidiary of CyberAgent Inc., a Japanese publicly traded company group founded in 2003.
What's up in the Indonesian startup ecosystem?
Indonesia seems to be doing exceptionally great. With the effective handling of COVID cases, the economy is stabilizing rapidly. though there are still a lot of things to catch up especially reaching the level of the ecosystem it was before the pandemic. According to the government estimate as Wijaya addresses, the overall state of the market should rebound back to normal, expecting to achieve a GDP growth rate of 5.7% as the government estimates.
Though the rebound may spell positive for industries around the world, it's quite a double-edged sword for the startup scene as Wijaya stated.
"On the one hand, it's good for the overall economy, people and businesses are basically coming back to work again, but on the other hand for the startups, there is a sentiment that there have been massive layoffs everywhere."
Earlier this year we might have witnessed layoffs from major tech companies like Amazon, Apple, and Google - companies in Indonesia are no exception to the case, apparently responding to 'Startup Winter' - the shift in investment funding amount and the returning offline-work scene during the post-pandemic era.
Despite it's up-and-down state, Indonesia startup's ecosystem is still churning out successful unicorns to its stable, with 13 unicorns being publicly disclosed as of date.
Wijaya pointed to one of the most recent examples, Blibli.com, an e-commerce firm that has debuted its successful IPO, signaling a healthy state of Indonesia's startup ecosystem
"Their decision to go IPO really helps the overall ecosystem because it proves especially to other startup players or other investors that the startup scene in Indonesia is still healthy, even though we have this startup winter issue or recession issue, it won't really affect the long term ecosystem of the startup in Indonesia."
Out with Crypto, Fintech is going to be the Star of the Show
Once the star during the pandemic, the rebound effects may have dethroned the crypto hype in Indonesia. Most evidently with the collapse of FTX, people are becoming more pessimistic about the future of crypto and its industry, for Wijaya he believes that the spotlight now goes to Fintech with its leading unicorns like Xendit, a payment gateway firm and Akulaku, a 'Buy now pay later' firm.
"I think Fintech is the one that is still very popular among nations. Of course, this is related to the financial, digital finance adoption method that many Indonesians are currently using"
He also added that given that a fraction of Indonesia's demographic owned a credit card, having features of "pay later" have not only been favorable and helpful thing to society. It gave rise to the popularity of this Fintech solutions and accelerate the digital payment adoption to be prominent in the market now than it was half a decade ago.
Indonesia's uniqueness to mass-producing unicorns
On giving answers to the perhaps most frequently asked questions Wijaya shares two major reasons of why Indonesia has been successful in building unicorn.
Having supportive government
The first key ingredient goes to a supportive government who's been proactive toward driving initiatives for the whole startup ecosystem even before the pandemic. Wijaya shares one of the most prevalent cases being the standardization of the QR system for all of its banks, which consequently led to the massive adoption of QR payments as a major form of transaction. Another is its incubator accelerator program and VC fund, both state and privately owned which essentially help promote startups through all its stages of development.
Explicitly, Wijaya pointed that the Indonesian government plays a critical role is promoting entreprenuers no matter what industry's they are in, with respective ministry responsible to each sector.
"If you're related with the creative industry, the Ministry of Tourism and culture have like a grant program to give to the startups up to like 10,000 USD as a kickstart to help these small entrepreneurs to, grow their company. Each minister is actually have their own different programs"
Huge and growing technically-adept population
Perhaps another factor that makes Indonesia's startup scene an investment magnet is its huge and growing population, which is getting more mature and technologically less awkward, as Wijaya sees.
"I think most importantly, what makes Indonesia very attractive for future investments in startups is that we have a huge population that's really getting more mature, meaning that, you know, they're not being awkward anymore in terms of using technology, shopping online, or even using fintech. "They're not that awkward anymore."
Unique opportunities = unique challenges
While the pandemic has accelerated overall digital adoption, making people more comfortable with technology, particularly in areas outside of the greater economic area, it also demonstrates that there is a lot of untapped potential in areas other than Jakarta that could potentially raise another unicorn, an appealing opportunity but also a difficult feat, as Wijaya sees it.
One of the challenges goes to Indonesia's huge geographical differences; with over 17,000 islands scattered across its border, each area has its own unique preferences and local issues to be addressed.
It's the homework of the startups and investors to find out how they can actually serve these people with the right solutions, but at the same time scale solutions for the long term. So I think that's going to be the hardest question that they must answer. Because, once they find the right solution, I believe the opportunity to become the next unicorn is definitely wide open for the people in those areas."
What's in store for 2023, also some advise for future investors
Looking forward to the future of Indonesia's overall market and ecosystem, Wijaya is optimistic for its growth citing to its domestic demands and expecting a boom to less-technology focus startup in 2023.
"So I think moving forward, I think we'll see a lot of new big startups coming from that kind of scene, you know, sometimes, you know, something in less pure technology business, I think we should expect that I think in 2023"
He advises any future aspiring entrepreneur to tread the water carefully, to match the best solutions for the people, to connect with the right stakeholders, pay attention to the long-term game, don't compare or replicate international successful innovation for the domestic one and don't go full on pure technology.
"More investors are becoming more comfortable with investing in that kind of business. Essentially, in order to be successful as a startup company, you don't have to be doing a pure technology business, but sometimes combining traditional solutions with modern technologies can be very successful"
Also for investors looking to invest, the major tip is that they should pay attention to the local characteristics of each region, be aware of the massive opportunities outside of urban cities, and lastly, be mindful that regulation for new innovation comes slowly despite its government promotion in the ecosystem.
This is an Techsauce Global Podcast ArticleFor more details, listen to our podcast here