With one big swipe, the COVID-19 pandemic has cemented e-payments as part of everyone's daily life. The question now is how this technology will evolve in the near future.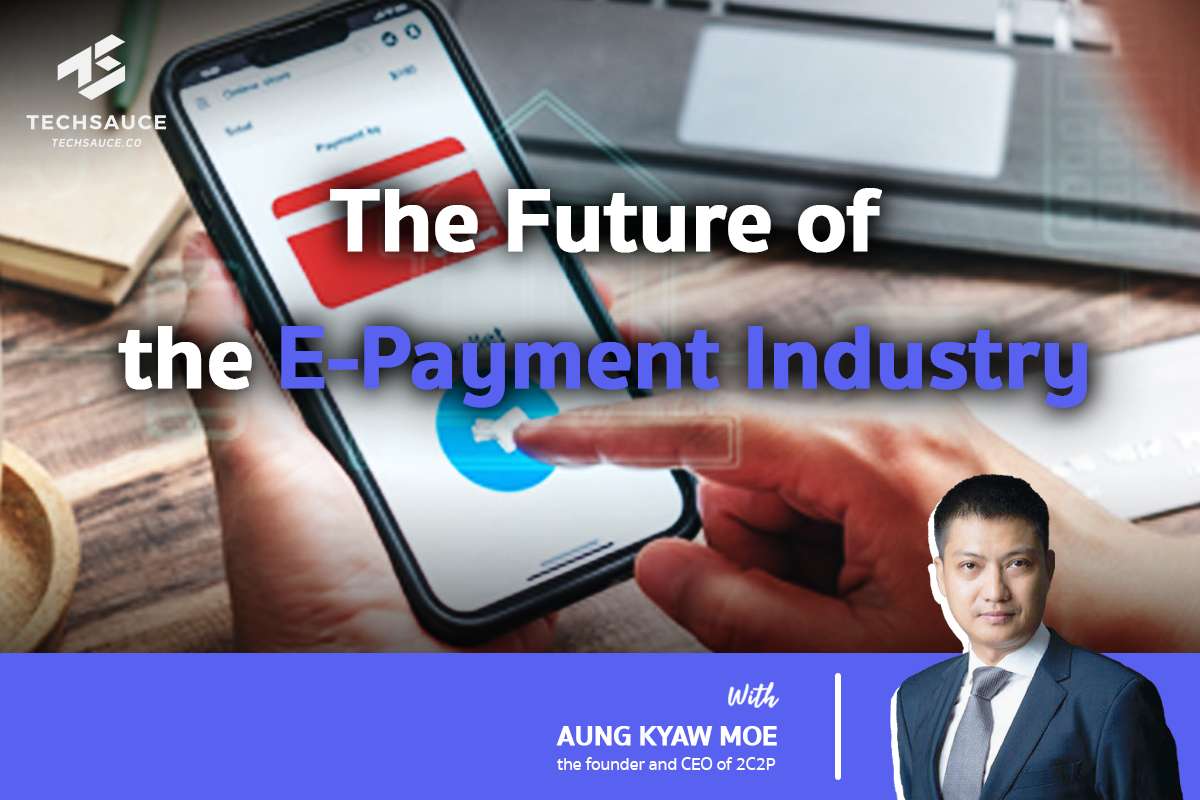 Find out in Techsauce Global Editor Chaowarat Yongjiranon's conversation with Aung Kyaw Moe, the founder and CEO of 2C2P, a full-suite payments platform that is helping leading companies in emerging markets accept and make payments seamlessly in our Techsauce Global Podcast.
2C2P Helping Leading Companies in Emerging Markets
Since 2003 2C2P has grown its full-suite payments platform to 11 markets with a mission to help leading global enterprises sell services to Southeast Asia (SEA) and vice versa, helping SEA enterprises sell products to the global market. It has built a strong reputation as a trustworthy platform that helps make e-payments seamless.
A Lot More Change Expected for E-Payments
Having been in the e-payment business for nearly two decades Aung Kyaw Moe says the underlying desires of clients to have transactions and trade remains unchanged despite there being a clear change in the way purchases are made online. He believes this change will continue.
There is much complexity behind the word "payment" as it has been evolving since he got into the business. Aung Kyaw Moe has observed many changes. In the early days there was talk about a one-time passport for every time you make a transaction with a credit card. People in the industry predicted that Visa and Mastercard would be the primary way of making payments. No one anticipated technology such as blockchain or mobile banking to dramatically change the way we do things today. India for example, now has its own domestic payment network RuPay driving its digital economy forward.
This is pivotal, given that at the beginning customers did not even want to use credit cards to pay for things online because they did not want to give their credit card information due to security concerns. Privacy is still a concern. However with the world taking such a swift jump into creating digital economies, Aung Kyaw Moe believes we will see more moving forward.
Adaptability is Key for the Future
What has kept 2C2P a leading player in the e-payment industry for all these years has been its ability to adapt. Aung Kyaw Moe admits that anticipating what will happen next is difficult. Of course you could dream up certain solutions and anticipate change. However, at the end of the day it is about reacting quickly.
Once the company sees a change in a particular industry, it makes sure its products and services adapt to the change with speed. Having consistently taken this approach the company has kept its existing clients and gained new ones along the way.
"You need to be flexible enough to face any changes down the road."
A good example of how the company was able to leverage its flexibility and adaptability was dealing with the COVID-19 pandemic. Pre-pandemic the company served 26 airlines. Once planes were grounded due to the pandemic, the company successfully switched its business to fit the e-commerce industry.
During the pandemic, the company also stepped up to support the Thai Government's incentive programs for public spending. The company was able to quickly adapt its solutions and technology to be the country's first e-payment service provider to support local businesses.
Faster Growth Expected
Now that COVID-19 is slowly disappearing and the digital or e-commerce industry is growing at the rate of 25-30%, Aung Kyaw Moe is optimistic. Prior to the COVID-19 crisis, 2C2P had become profitable in 2018. During the pandemic, the company continued to be profitable. Now with airline traffic coming back, although not fully with higher fuel costs impacting the industry a bit, Aung Kyaw Moe expects growth in his industry will be even faster this year.
E-Commerce is Here to Stay
In the early stages, people ventured into e-commerce because they wanted to have a taste of innovation. They wanted to know how it felt to make a digital transaction. Now having gone through COVID-19, e-commerce has become a part of everyone's daily life.
Despite the global economic downturn Aung Kyaw Moe believes e-commerce will still continue to be a part of everyone's lives.
"Whatever the economic condition is, I will still be able to find money to buy a cup of coffee in the morning."
Aung Kyaw Moe says the same applies to groceries and transportation. People may travel a bit less, but they will still want to enjoy the freedom of traveling. Despite the headwinds, there is still a chance for growth as e-commerce is now mainstream. Today to have a successful business you need to provide online transactions. You cannot just stop everything because the economy is poor.
Partnership with ANT Group, Crypto Payments, and Future Projects
Aung Kyaw Moe further talks more about this company's partnership with ANT Group, shares his opinion on crypto payments and reveals his company's future plans in the Techsauce Global Podcast. Check out our podcast for more insight!
You can listen to the entire conversations by checking out Techsauce Global Podcasts.