Undeniably, one of the things that is a major concern here in Thailand is the state of its economy, and one of the major contributors is the manufacturing sector.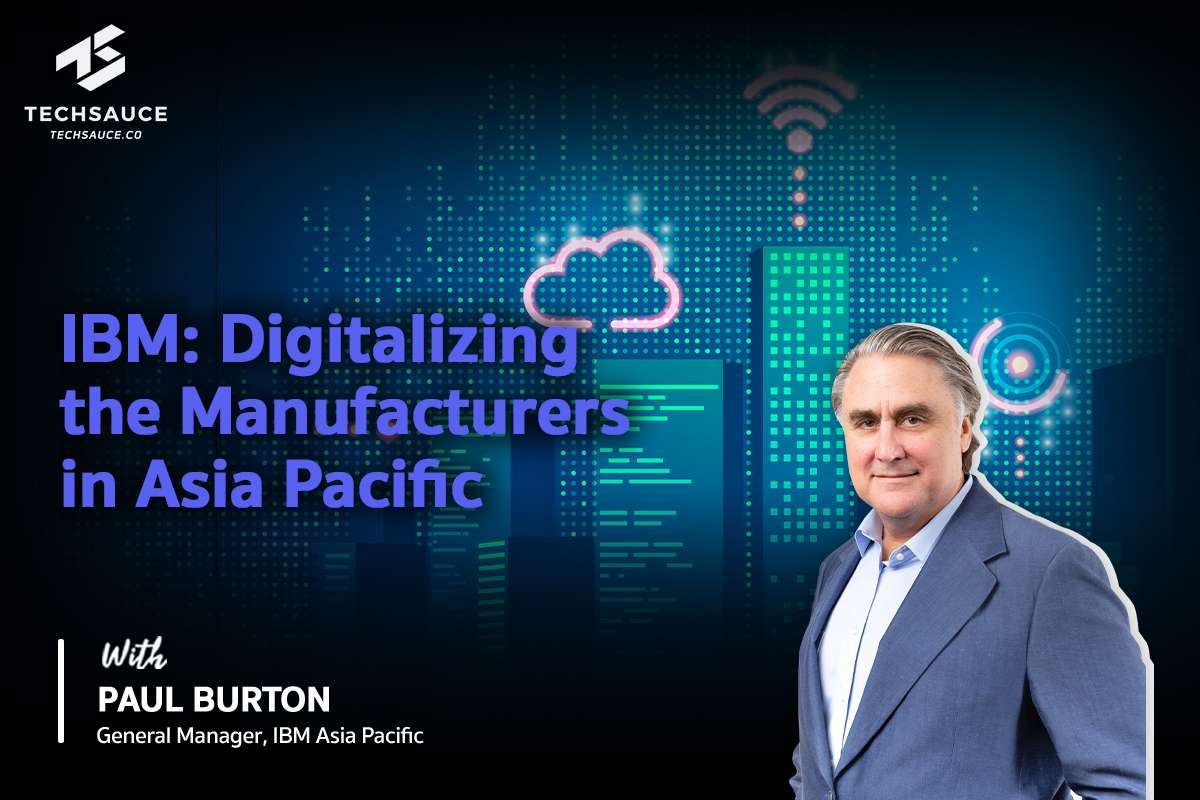 Today, find out on how digital transformation has taken place in this sector, along with updates from a leading company like IBM, from Paul Burton, General Manager of its Asia Pacific Business in this Techsauce Global Podcast.
About Paul Burton
As IBM's General Manager of Asia Pacific, Burton is responsible for, and plays a key role in setting strategic and operational matters. He also plays an essential role in driving the company's capabilities across its research and innovation labs in the region.
In this Techsauce Global Podcast, Burton shares with us the progress of digitalization in the manufacturing industry across the Asia Pacific region, its pivotal roles and advice, and the challenges this sector should overcome.
The Major Shifts in the Asia Pacific Market
It is well known that the pandemic has both devastated and given rise to major transformation across every industry. For Burton, there have been two major shifts in the Asia Pacific Market.
First, he sees more focus toward supply chain resiliency. One of the most visible impacts was the skyrocketed scarcity for medical equipment from masks to hospital beds. For Burton, the pandemic has exposed the fragility and deficiencies of traditional supply chains, bringing the issue of supply chain resiliency to the forefront for companies to become aware of global and uncertainty that could affect the supply chain.
The second factor is the changes to consumer behaviors. With the social distancing lockdowns, the measures has led to consumer behavior shift towards companies with more digital footprints. Social media and internet uses were heightened, teleconferencing like Zoom came to the spotlight, consumption for digital and media entertainment consumption spiked. During this time, online shopping was already growing, particularly in Thailand where pandemic accelerated the trend with massive increase to e-commerce shopping, having achieved 68% growth in this sector alone.
The pandemic has really drawn new consumer map across the board. Those are really the big changes that we're seeing.
Evaluating the disruptions and the impact on the supply chain, how has IBM handled this situation?
For Burton, evaluating the disruptions and the impact on businesses and supply chain, he believes that technology has helped clients manage, mitigate risks and be positioned for the future with resiliency and agility. For IBM, the company has launched its Rapid Supplier Connect platform to connect government and hospital Procurement Offices officers with manufacturers that had switched their production lines, using blockchain-based infrastructure to verify more than 200 suppliers signed up on the platform. It has helped clients like Mitsubishi Motors in the Philippines transformed its process across the operation, supply chain and its vehicle management system. In another case, it helped Thai's major Telco operator to support the government during the vaccine rollout just last year through modernized and migrated applications on the public cloud.
"This idea of integrating everything, getting a complete view from start to finish, agility, technology, looking at the supply chain holistically, these are all very important things that we got involved in with our clients from the start of the pandemic and remain so engaged even today"
Potential factors that should be considered by Thai manufacturers right now?
Digital Transformation remains huge, says Burton. Given that the pandemic recovery has accelerated this whole process of digitally transforming and automating traditional companies. Taking a closer look at APAC today, he shared that approximately two-thirds of its GDP is coming from digitally transforming enterprise and governments, a $1.2 trillion opportunity in the next given year or two. With this happening, inefficiencies are taken out of supply chains, thus offering better service all around.
For Thailand, Burton sees that its digital economy and manufacturing is poised for greater growth, second only to Singapore, growing substantially due to the investment and its road map to transform the country into an innovation based digital hub in Southeast Asia.
"There's just a lot going on in Thailand that needs to be paid attention to. But again, it's all-around automation, digitalization robotics, data, AI. Those are the big things that are happening in manufacturing in Thailand"
Digitalization calls for Integration of AI and Blockchain, what process is manufacturing sector at?
"There's still a lot of untapped manufacturing data out there"
Burton pointed out that 90% of manufacturing data remains unused. That's a significant asset that's not being leveraged at all. Manufacturers emphasize on capturing data for historical reporting, as opposed to using data to predict future events or improved decision making.
Adding to the disparity with very low numbers in terms of leveraging and exploiting data, only a quarter of the organizations are capturing sensor data and using it for decision making, in a particularly meaningful way. Then there's another 75% that could probably improve, says Burton.
Without proper data and metrics, organizations also are struggling in making decision on sustainability, another top manufacturing objective.
Though, mining such data requires data science expertise, and specialized tools like AI, security technology, cloud computing that are required to prepare and analyze this unstructured data and advance manufacturing objectives. For Burton this presents an open question for a potential talent development and skill gap that should be filled.
The main challenges the Thai industrial sector needs to overcome
A Strategic partnership with industry, partners, industry experts, technology providers.
The idea of an ecosystem is increasingly pivotal, given no one company or no one person has the expertise needed to solve every problem much less, in many cases, no one knows everything. Thus, Ecosystem needs to be united, Burton advised.
IBM, for example focusess on an ecosystem led approach to help support clients in industrial and manufacturing sector, integrating partner products, and intellectual capital, augmenting those things, of course, with IBM technologies, and hopefully, next generation manufacturing capabilities.
"There certainly seems to be a growing role for partners from an IBM perspective, because every client that's on a digital transformation journey, which is pretty much every client these days, they want specialization that no one vendor can provide"
Team needs to be built in agile, ad-hoc, and a niche fashion that satisfy clients. And of course, he recommended that having manufacturing chains driven by modern manufacturing, modern technology, hybrid cloud and AI should be adopted to get cost and productivity benefits, particularly for manufacturers in Thailand.
The Importance of technology Integration
Before closing the podcast, Burton gives some advice for everyone looking to integrate technology into business and getting a full return on investment, pointing that technology cannot be fully leveraged, without a proper evaluation of one's own business operations.
That is to understand the capabilities of your chosen technology, look in conjunction with what your business processes are, then evaluate all those terms of specific objectives that your leadership has for the business.
Check out our podcast to get more insight!