As the pandemic year comes to a close, there is a lot of anticipation for what the year 2024 will bring. Everyone, everywhere, is looking forward to the start of economic recovery, new opportunities, and what will be happening in Thailand and the rest of the region.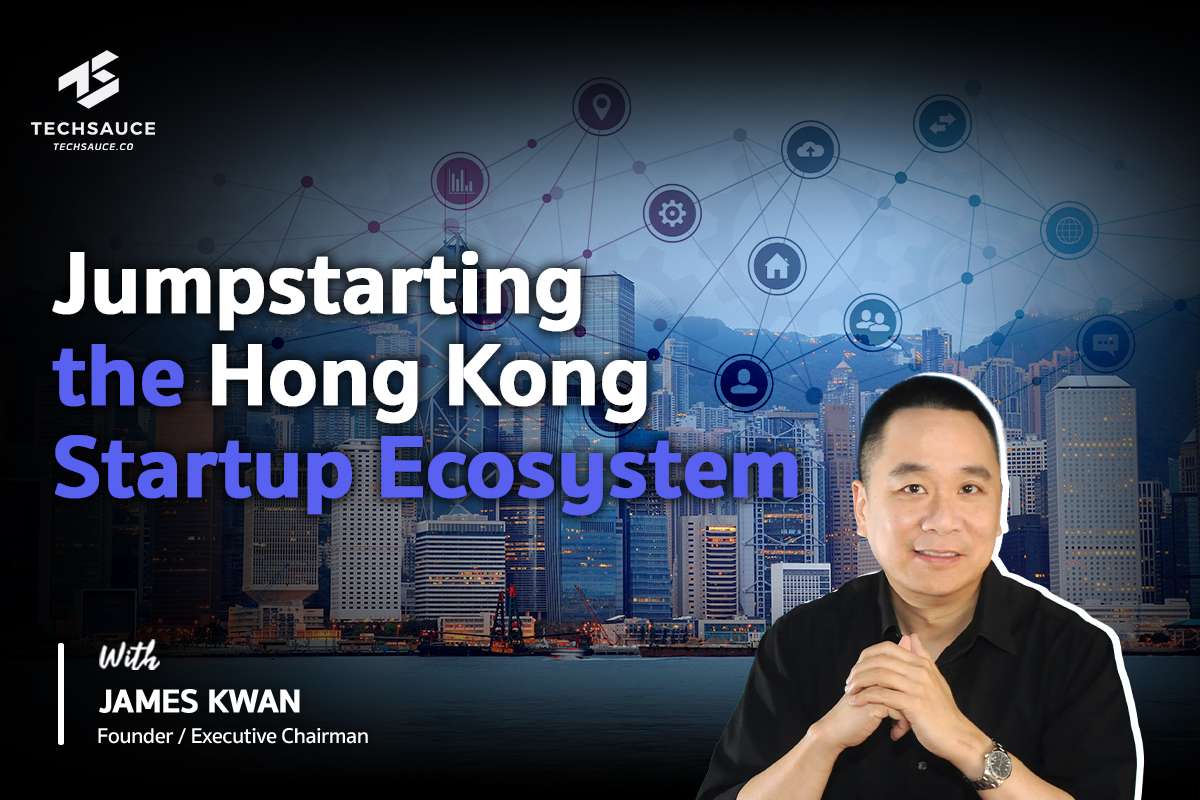 Today on the Techsauce Global Podcast, we find out about the state of the Hong Kong startup ecosystem and its prospective outlook toward the post-pandemic era with 'James Kwan', the Executive Chairman of Jumpstart, a venture development organization that offers a variety of innovation services for the startup ecosystem.
About Jumpstart
Jumpstart is a Hong Kong based innovation as a service company that connects and supports Asia's entrepreneurial ecosystem through 4 main business divisions: media and events, corporate partnerships, youth outreach, and venture engagements. The company, led by James Kwan, is the world's largest English-language print media focused on startups and tech events.Currently, its main focus is accelerating Metaverse, Web3, fashion, and lifestyle startups from around the world with its global program.
What's up in Hong Kong's ecosystem?
The pandemic has made a dent in every economy around the world, even in major economic hubs like Hong Kong, where stringent quarantine measures have stifled business and startups alike. Nonetheless, Hong Kong's ecosystem places it in a somewhat unique position.
The country itself holds more "Unicorns per capita than any other Asian number," as Kwan stated, and housing diversifies companies like the big fintech Airwallex, logistics giant Lalamove, and crypto-blockchain company Binance (now in Singapore) and Klook, a travel-tech company. The country's startup ecosystem has been dynamic thanks to its founder mindset, government support, and investors' interest in startups.
"We have 3500 startups in Hong Kong, and I think that number is growing. With that, we also have about 20 unicorns. So with the 20 unicorns in Asia, for a small country like Hong Kong, with 7.5 million people, we probably have more unicorns per capita than any other Asian number"
As the country is easing its restrictive borders, Kwan, who had to attend online tech events for three consecutive years during the pandemic, is now more optimistic than ever for its startup investment landscape going forward in 2023.
"Jumpstarting" startup landscape in Hong Kong
"Jumpstarting" startup landscape in Hong Kong
In addressing the shift in the startup investment landscape in Hong Kong, Kwan believes that early-stage investments will remain uniform, though valuations are going to be more scrutinized. New startups in Hong Kong will have many opportunities to develop their businesses, but with the current state of the equity market and IPOs, he believes it will be tough for startups in the latter state.
"Early stage, yes, I think it's still going to be vibrant; mid- to late-stage, it's going to be a bit more challenging, especially for raising money."
With regards to the situation of Hong Kong's ecosystem, Kwan points out that there are still plenty of opportunities for everyone, even for founders as young as 18 who want to start a business. Every entrepreneur is encouraged and endorsed by the government with grants from Cyberport and Hong Kong Science Park (quasi-governmental incubators) that give a punt to business ideas until they actually mature.
"If you went to accelerator, which is approved, you'd get about $35,000; if you did overseas events like in Texas, you'd get another $35,000 in marketing. And if you needed to hire R&D, this is the big one; you get about 200,000 US dollars. Over the course of two years, the government has supported you; they actually pay the salaries of these guys to work with you... So there's quite a bit of money again, equal to about half a million US dollars if you utilize their full support. And this is equity-free."
Then there's also something called BUD Funding, which will grant a few million dollars to scale businesses overseas.
This has not changed since COVID-19, and Kwan believes that "the pot" will get even sweeter with COVID-19. There will be new financial avenues for increasing the type of support that startups can get, and one of those is definitely funding.
Opportunities toward 'Jumpstarting' Hong Kong startups after Covid-19.
There are two sides to COVID: the victims and the winners. The pandemic in Hong Kong has given rise to some successful startups while killing off others.Hong Kong-based startups that focused on COVID solutions like Kinetics, which went public on NASDAQ, and Oribi (now acquired by LinkedIn) are notable examples.
Kwan believes that COVID will be something behind us more in the coming year.
"COVID is going to be behind us a bit more in 23." And because of that, there's going to be a resurgence of people coming into the startup community and trying to build meaningful businesses again.
Many conventional startups that were successful pre-COVID will definitely rise up again. AI and blockchain-enabled companies that focus on Web3 and Metaverse will shine in the spotlight here in Hong Kong.
The Challenges
Hong Kong, sometimes in a general sense, has also been very successful in the normal world, though its newer generations of entrepreneurs might suffer from its successes. Kwan shared that many, if not most, of the current millionaires were very average people before the property boom. With Hong Kong holding the world record for having the most expensive property prices, investing in property is always a lucrative option.
"The property game is always in the minds of people now. So when a startup founder wants to start a business, the parents are like, "Hey, why don't you just buy another apartment instead?" And then you could buy a few apartments, and you could grow your wealth that way.
It's one of the challenges and weaknesses for Kwan, being that Hong Kong youth now have too many options, and that derails them from having solid founder dedication as entering the startup world means long-term dedication; it's not a lucrative choice for them.
Toward the Future of Hong Kong's Startup Ecosystem
Don't be stubborn; things change.
Kwan concludes the Techsauce Global Podcast by sharing some business and startup advice. For startups, you need to be nimble and go with the flow. Startup leaders should know best not to be offended by criticisms but rather be open to them. Also, failures don't spell the end of the startup dream; just reboot, push hard, work with investors, and most importantly, be flexible.
He also advises corporations not to be afraid of innovations and to work alongside startups, letting go of the conservative notion of proof of concept or commercial contracts.
Working with startups is going to be the future." "Don't be shy, and don't be so conservative.
Among other things, the pandemic has taught us lessons on resiliency and shaped many existing startups into what they are today. Another significant rising trend for Hong Kong will be the rise of PropTech (Property Technologies), something that wasn't around pre-COVID.
with the transfer of ownership of larger Hong Kong-based property conglomerates from first-generation to second-generation ownersKwan believes that the younger CEOs will propel PropTech forward in the country.
"I believe that's going to be very interesting, where these traditional companies are going to start integrating technologies."
Looking forward, Kwan is bullish on the fruitful development of Hong Kong's startup ecosystem and wishes great success for startups within the Asia region.
This is a Techsauce Global Podcast Article
For more insight, listen to our podcast here