Digital Economy Promotion Agency or depa established in 2017 has been promoting the development of the digital industry and innovation that will benefit Thailand's economy and its society.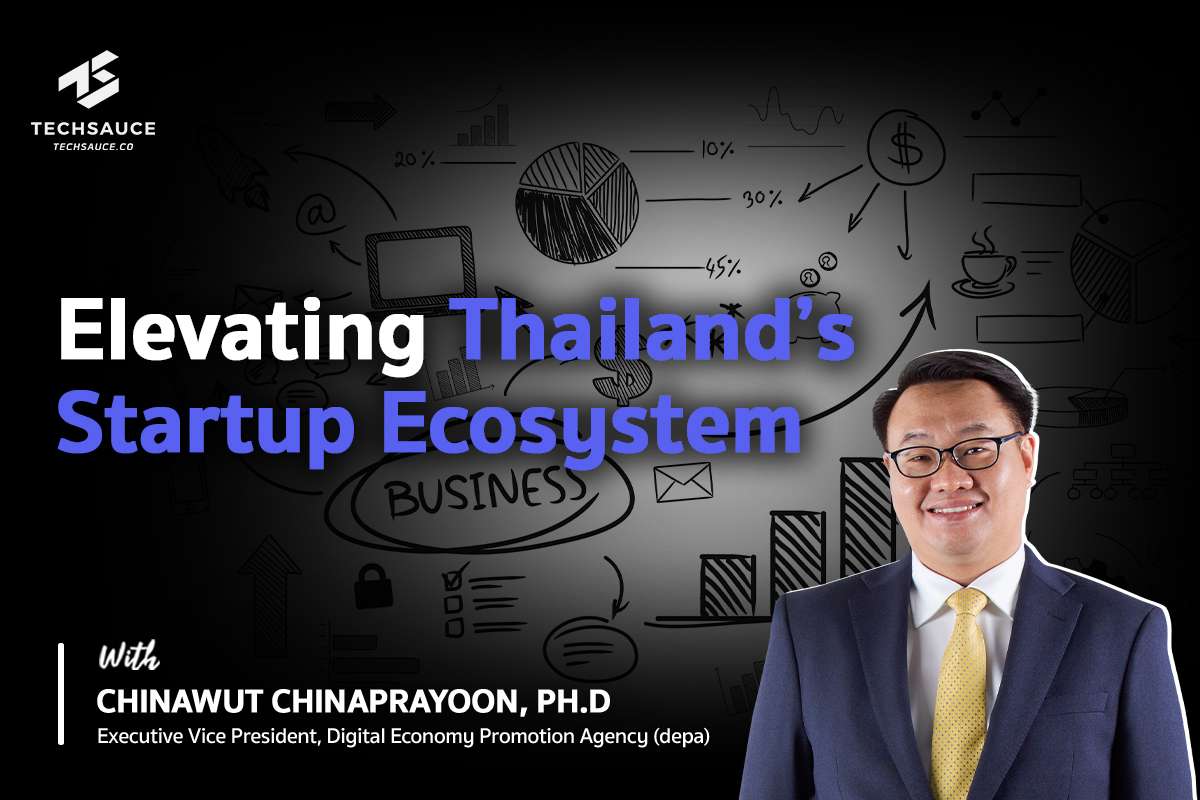 With Dr. Chinawut Chinaprayoon sitting as its executive vice president in the Digital Ecosystem Promotion Unit, he has been at the forefront of promoting startups as the catalyst for change, working with startups from the early to the growth stage, and uplifting the quality of the ecosystem. In this Global Podcast, he shared with us the state of the Tech-ecosystem in Thailand, its challenges, and trends to be excited about in the coming future.
The Current stage State of Thailand Ecosystem
While the pandemic has its consequences, it's also having it merits. For one, the increasing rate of adoption for digital transformation across sector and the ushering to one of Thailand's first unicorn
It is quite a challenging yet exciting times for Thailand's Tech ecosystem, having received largest funding yet compares to its previous year and now is also facing major global economic tension.
For Dr. Chinaprayoon, as a country with young tech ecosystem, Thailand is facing its own unique challenges – from the declination of early-stage funding deals and uniting key stakeholder in the tech scene.
Working with depa, the agency has been aiming to address this through finding new economic warrior who can help Thailand move its competitiveness level. From fostering to the collaboration between private entities, startups, and SME's, nudging the interests for digital adoption, creating funnels for the investment to help manage early-stage startup ecosystem.
Thailand's Tech ecosystem needs more support
depa being the first Thai government agency to form a joint venture investment in digital startups has been coming up with new mechanisms to support the ecosystem, though its focus now is addressing how its's agency can provide pre-financing for an early-stage startup, despite various challenges in terms of limited regulations, Dr. Chinaprayoon stated.
One of the cases the agency tries to promote the system, depa has been supporting Globish, an academic startup during the COVID recession, getting them through the early-stage level. Now Globish has been successful in Vietnam and looking to expand its solutions beyond providing English-language education.
Though that is just one of the successful cases, there's still a big elephant in Thai's startup ecosystem. For Dr. Chinaprayoon, there's also a problem of not having enough setup in the ecosystem to be investable by VCs and investors, internationalization of Thai's startup, – which depa has tried to also address.
It's one of the problems all the ecosystem players face, we help them not just only in terms of funding, but also in terms of how we can help them to expand to other markets, we have market expansion programs and is working with our partners globally as well
Toward uplifting the state of Thai's tech ecosystem, depa has been fostering agencies' strength across the government sector. One of its collaborations is with the Revenue Department (the key agency that governs the state of digital currency of Thailand) toward proposing new tax-free schemes for startups.
Another effort attempt to boost the startup-ecosystem through government procurement, making it easier for the startup to access the government's market, especially at the seed funding stage. Dr. Chinaprayoon mentioned that as of now, the government already approved and waiting for the cabinet to approve the mechanism for the special remedies for supporting government procurement targeted at startups.
Pandemics, Economic downturn, and Emerging startups
Now, depa is starting to see several new graduates and aspiring entrepreneurs turn back to trying to find some of the pain points for them to solve. Though during COVID, quite a several them including investors have turned to the promise of Cryptocurrency, given that they yield a faster return on investment.
Though on a positive note, that move has given the rise to many blockchain-based startup flourishing during the time, complete with other international WEB3 startups in terms of technology. It's a major indicator that domestic startup's here have the capacity to compete globally, whether it be in AI, Data Analytics, IoT, and so forth.
"As a country, I think we have still hope in Thai's talents, to be able to start their business and try to address some of the world's challenging problems ahead of us"
For Dr. Chinaprayoon, it's a challenge ahead for depa can provide the startup with practical experience, funding, and an understanding of global pain points.
He believes that Thai startups are very good at what they are doing currently, though there are still some gaps that could be filled. With this depa has been aiming to provide capacity building and experience sharing to help them identify challenges, foster networks with big corporates, and fine-tune common goals for both to thrive together. This will set startups to excel in their later stages.
"It's very important for us, as a government agency who is working with all the stakeholders to help startups to be able to thrive with using and leveraging all the resources that we have in the ecosystem"
Main startup trends that people should watch out for in 2023
Regarding the upcoming trend to keep an eye out for, Dr. Chinaprayoon address the pain-point in lack of laborers, an increasingly alarming issue for countries that is entering a stage of aging society. He believes the spike to labor supply will nudge more investment toward startup based on AI, Robotic, and Automation.
Though what's coming next year will not just be AI for big companies, but specifically AI in manufacturing, AI in agriculture, and other services.
Then there's also supply chain disruption that most of corporates faced during the pandemic and even now, plus the of demands for sustainable business model. This will open new opportunities for startup to handle issues like traceability in logistic and sustainable terms of ESG.
"Logistic will be the next frontier for blockchain startups"
For Dr. Chinaprayoon, it's safe to say that technology and Innovation will still be the most focus across sectors in the next few years and believe that depa will find ways to nurture another unicorn in the country soon enough.
Advice for startups in Thailand
Ending the Techsauce Global Podcast Dr. Chinaprayoon shared his advice for startup aiming not just to survive but thrive.
First, focus on the pain-points to get business going, address the big problems and suggest solutions through different angles even if it a small-scale solution.
Secondly, focus on how business work, especially on growth-hacking and scale business whether for startups or SMEs. Dr. Chinaprayoon believes that this is essential in the next few years with regards to difficulties of fundings.
Thirdly, focus on one's own resources as well as others'. Experience sharing is best way to grow one business, especially kick-starting the post-pandemic era.
And lastly, focus more on international expansion. Even though Thailand has got a decent size economy, Dr. Chinaprayoon think that it might not be enough to nurture another unicorn.
Listen to our Podcast for more insights