After 10 years of waiting, Thailand can now say it has its first unicorn (a startup company with a value of over US$1 billion) with Flash Group, a fully integrated e-commerce provider founded in 2017 by Komsan Lee.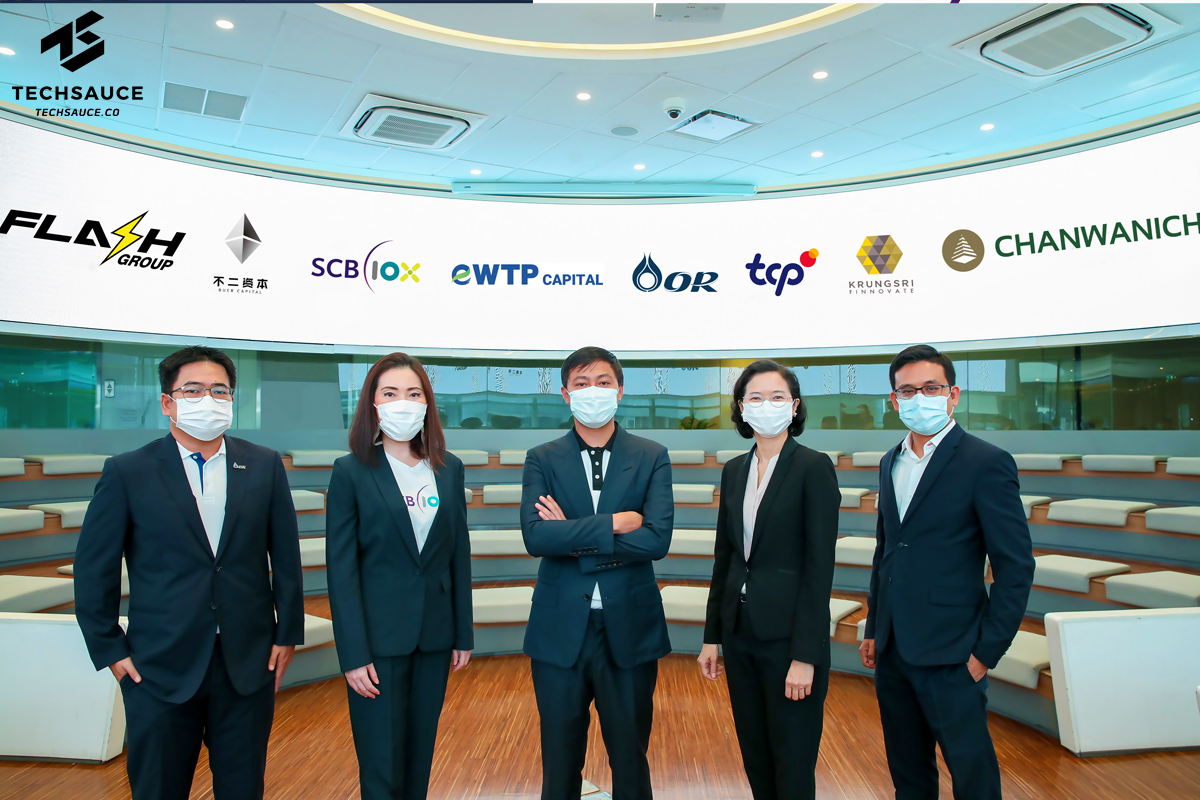 On June 1, 2021, Flash Group officially announced its success in raising US$150 million (4.6 billion Baht), with US$40 million coming from its Series D+ round and US$110 coming from its Series E round. A total of 7 investors came from both rounds. The investors were SCB 10X (Series D+ , E), Chan Wanich Group (Series D+ , E), Krungsri Finnovate (Series E), PTTOR via Modulus Venture (Series E), Durbell within the TCP network (Series E), Buer Capital Limited (Series E), and eWTP Technology & Innovation Fund (Series E). Following the successful fundraising, Flash Group's valuation exceeded US$1 billion and crowned it as Thailand's first unicorn.
(More details on Flash Group's fundraising can be found in the Techsauce Startup Directory)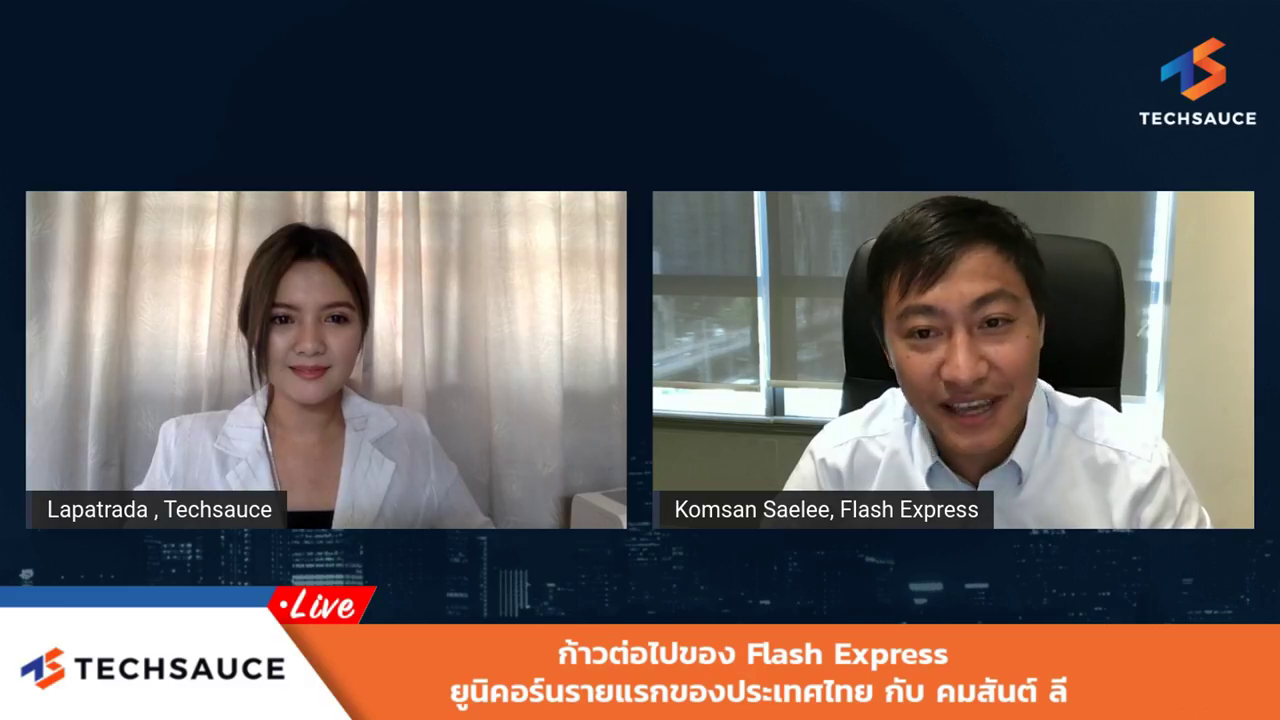 Techsauce Live
Following the official announcement, Komsan as the company's chief executive and founder, gave an interview on Techsauce Live on the direction of his business. After receiving the huge funding, he says Flash has positioned itself as a completely integrated e-commerce service provider. Throughout the fundraising for Series D+ and E, Flash's focus was on finding more strategic partners that would mutually benefit all parties involved.
For it longterm business plan, Flash Express seeks to further develop its business by acquiring various tools to support quality services. The first priority will be to improve its customer service. This includes on-time delivery and a stable strong application that supports large amounts of data. If the company is able to do this, Thai customers will have easy access to a delivery service that is easy to use and is available even in the remote area of Thailand.
In addition to this, there will be new products that Flash will introduce into the e-commerce ecosystem that have been created to reduce costs and increase profits for online shops. They include Flash Logistics, a delivery service for large items, Flash Fulfillment, a warehouse service to safely store deliveries, Flash Home, drop-off home branches, and Flash Money, a financial service for entrepreneurs. These new services are expected enable Flash to expand to regional markets.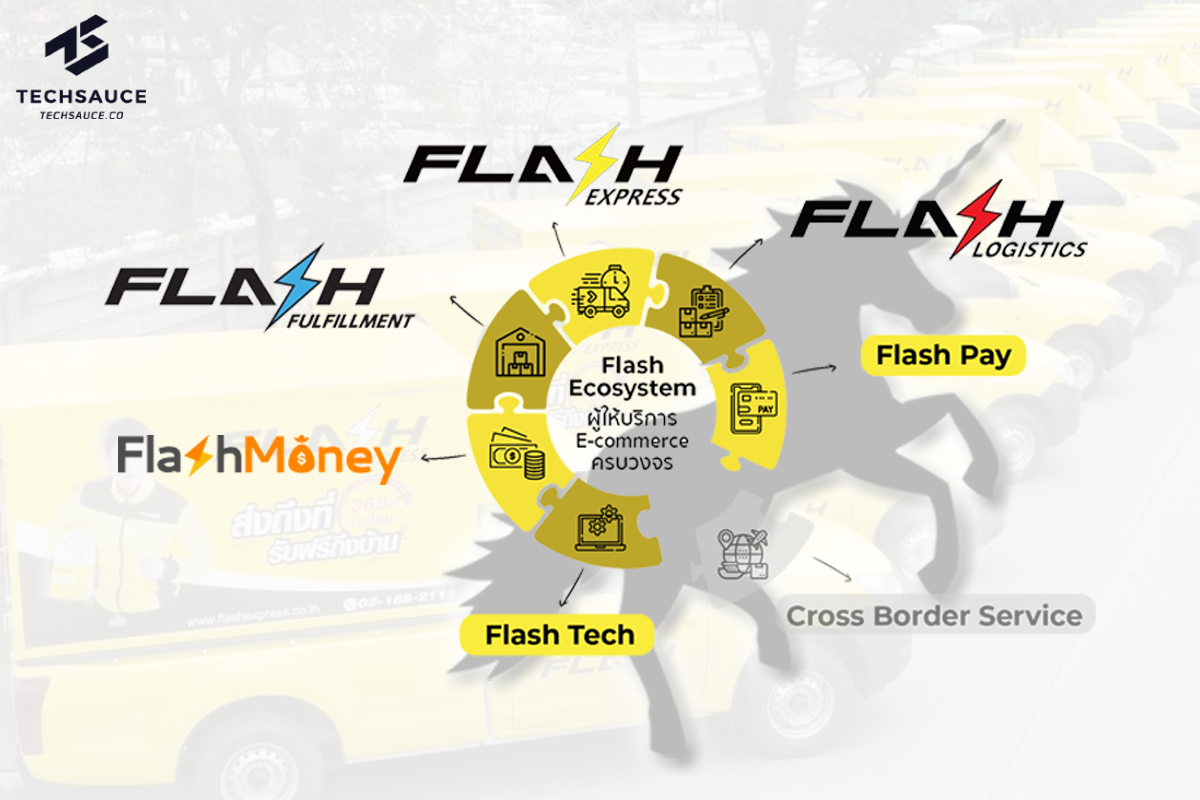 Looking Beyond Delivery
After our talk with Komsan, it became clear that its future journey as Thailand's first unicorn does not pertain to it only being focused on logistics and being a player in the delivery business. As a unicorn Flash is expected to tackle new challenges and compete in a bigger playing field both in terms of industry and service. It will absolutely be stepping up to compete with regional unicorns such as Grab, Gojek, or Sea Group.
The e-commerce ecosystem consists of complete services ranging from express delivery, logistics, warehouse, and across borders supply chains, to financial services. Flash Group aims to offer complete services to support the infrastructure of the industry.
For example, Flash Express will solve customer pain points by offering convenience through pick-up services at homes through its Flash Homes for no additional fees. Meanwhile, Flash Logistics acts as a platform to connect transport operators. There is also Flash Fulfillment which offers complete services that performs back-end operations for online entrepreneurs. The services include receiving and sorting products. It also packs and delivers products as well.
On top of these developments, the company is also venturing into offering financial services. It has established Flash Pay, which is a service that accepts online payments via smartphones which is tied to various bank accounts or credit cards. This is similar to services offered by competitors such as Alipay, Shopee Pay, Line Pay, and TrueMoney Wallet. This new service leads to Flash Money, which provides credit for small entrepreneurs with FlashCredit Pay where customers can make installment playmates via COD when they receive their packages.
Lastly, there is also Flash Tech, which is a unit that will develop technology to support online merchants to increase convenience in their work.
Ultimately if Flash wants to grow alongside the e-commerce industry, which will become more globalized, it will have to expand its delivery services to overseas markets too. This will help increase the channels of distribution for Thai entrepreneurs and increase growth for Flash.
Partners Are Key to Expanding into New Businesses
Most of the investors from the Series D, D+, and E rounds are huge Thai corporations from a wide range of industries. One partner that will definitely be involved in Flash's financial business is Krungsri Finnovate SCB 10X. Other partners include Chan Wanich Group from the packaging industry, Durbell from the retail industry, and PTTOR of the energy industry. It is clear that each partner plays a vital role in expanding Flash in the future. Flash does not have just its businesses, but its massive database of information or big data from its users that are increasing in number each day. Flash on average delivers 2 million packages everyday.
For example, AI can be used to calculate the most efficient way to dispatch personnel and cut the time for deliveries by utilizing the locations of users from Flash's huge database. This will increase the company's efficiency.
Furthermore data from daily customer orders can be used to create credit scoring for the financial services the company will be providing to merchants that can help expand Flash's business.
Then following are examples of how Flash is working with its new partners.
SCB 10X, as a banking company, invested in Flash Group to expand their business to develop financial products and solutions. Future plans include digital lending and payment solutions. This will give more opportunities for financial inclusion for customers in the future.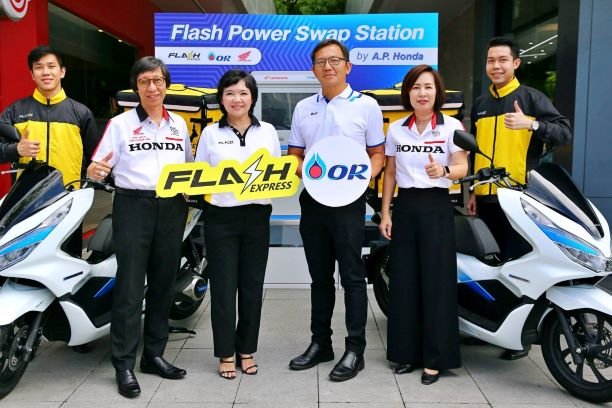 With PTTOR focusing more on providing cleaner energy, we see Honda launching electric motorbikes that are to be used to make deliveries for Flash Express by using the battery swapping model to increase efficiency and speed. This is being supported by OR which will be setting up points for battery swapping at PTT stations in Bangkok. The first area to get the stations is Ladprao and it is expected to be fully functional within this October. This collaboration is aligned with sustainable energy policies which aim to cut air pollution and increase the use of alternative energy. Ultimately it is hoped that this initiative will help preserve the environment and better the quality of life for Thais.
Flash's strategic partnerships will definitely continue as it expands to overseas markets and the company will in turn rapidly grow. The same is expected for foreign startups entering the Thai market as well.
From the Data Game to the Money Game
After successfully strengthening its business in Thailand and initiating its plans to go on to overseas markets, Flash can no longer be considered a local player. From our observation, Flash's business will most definitely be heading towards financial services with its Flash Money and Flash Pay services. It has also gained two partners who are major players in the financial industry in Thailand (SCB and Krungsri) to collaborate in future strategic planning to develop the business.
It has become clear that Flash has stuck to its objective in becoming not a leading express delivery business, but a completely integrated e-commerce business.
Flash Express has just been the initial stage to lead to other opportunities.
Why does Techsauce foresee this? We look at the business models of unicorns that have come before Flash such as Grab and Line. It is clear that these businesses ultimately include financial services.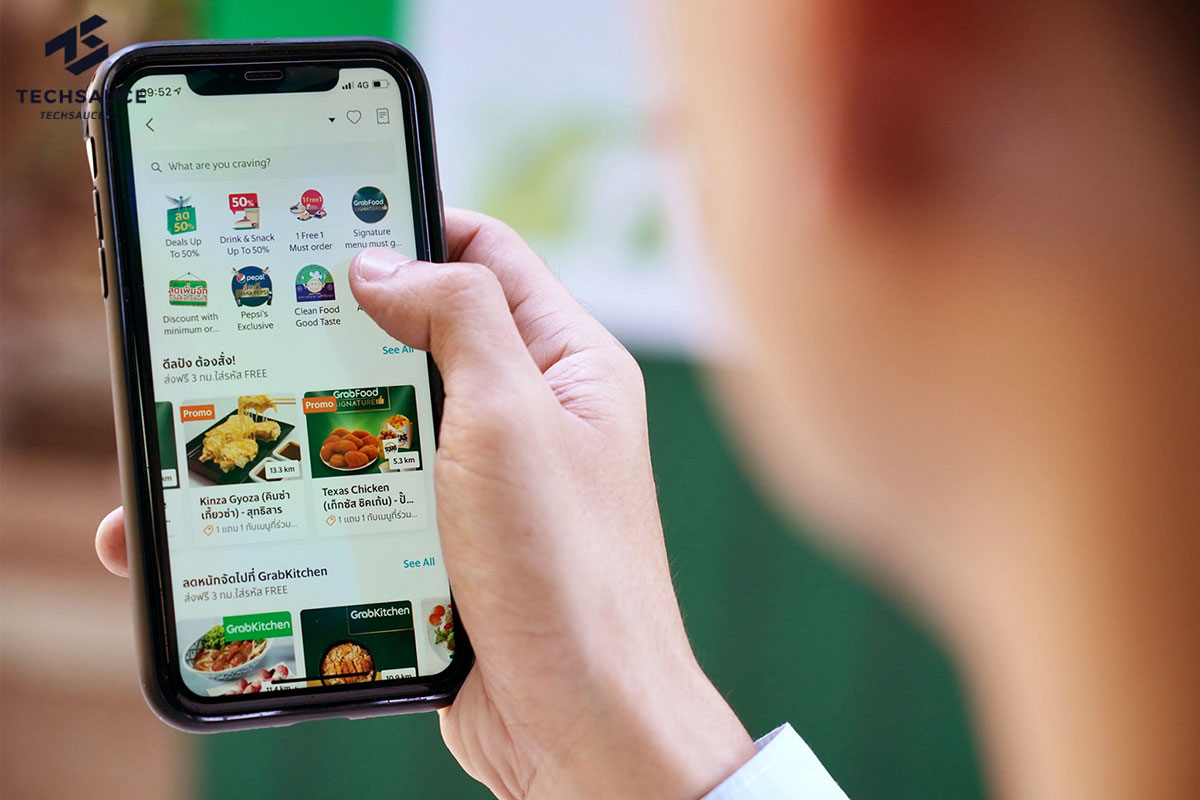 Grab entered the market as a startup offering ride-hailing services via an application. This was also the first stage for Grab. It also sought to rapidly increase its volume of services and continuously introduced new services to the point to where its is now a super app. It has now become a part of everyone's lives. The main asset for these tech companies is data which has attracted investors as it shows the potential growth of the companies. This can be seen with various financial companies partnering up with Grab. They include HSBC and Krungsri Finnovate – MUFG, which have invested in Grab to develop FinTech for drivers and merchants. There is also Kasikornbank (investing via Beacon VC) which has partnered up with Grab to allow users to use their Kasikorn accounts and even credit cards to fill up their Grab wallet. This has ultimately lead Grab to doing business in the financial sector. (Grab has received official permission to offer digital banking services already.)
Tech company Line on the other hand has garnered a large amount of users via its chat app, which offers free and convenient messaging services. Like Grab, it has become a part of everyone's lives in Thailand. At present, the company has expanded its services to digital banking in three countries: Thailand, Taiwan, and Indonesia. This was made possible through local partners in the financial sector. There has also been big investment from giant Japanese bank, Mizuho Bank.
So it is clear, like the following two business models, Flash has rapidly expanded its database of users and online merchants via its express delivery services. The growth is expected to continue alongside the growth of e-commerce. In addition to this, the company has insight into the market. Komsan has experience in doing a wide range of businesses and has worked in China before. He believes he can apply the business models he has learnt, especially from the mainland to the ASEAN market. Thailand has been a good starting point with its infrastructure, consumer behavior, and the entry of big e-commerce players in the market. As a Thai citizen, Komsan understands the country's culture, consumer behavior, and how each region differ from one another.
So the game does not end here for Flash. Everything that is has done to this point has contributed to big data which is the golden asset that can support further growth. The more data the company has, the more products and services it can provide. Finally it will lead to company becoming a player in the financial game. It is all about gathering as much data as you can in whatever industry or business you are in.
Instead of prioritizing profit when doing business, startups and tech companies need to expand their number of users first because ultimately when it comes to doing tech business, data is the new oil of the digital economy.