2020 was the year when #StayAtHome and #WFH became the norm. It was also the year when people played video games more than ever before and the first time there were more than 2 BILLION Tweets about gaming in a single year. This is up 75% from 2019 and also saw a 49% increase in unique authors.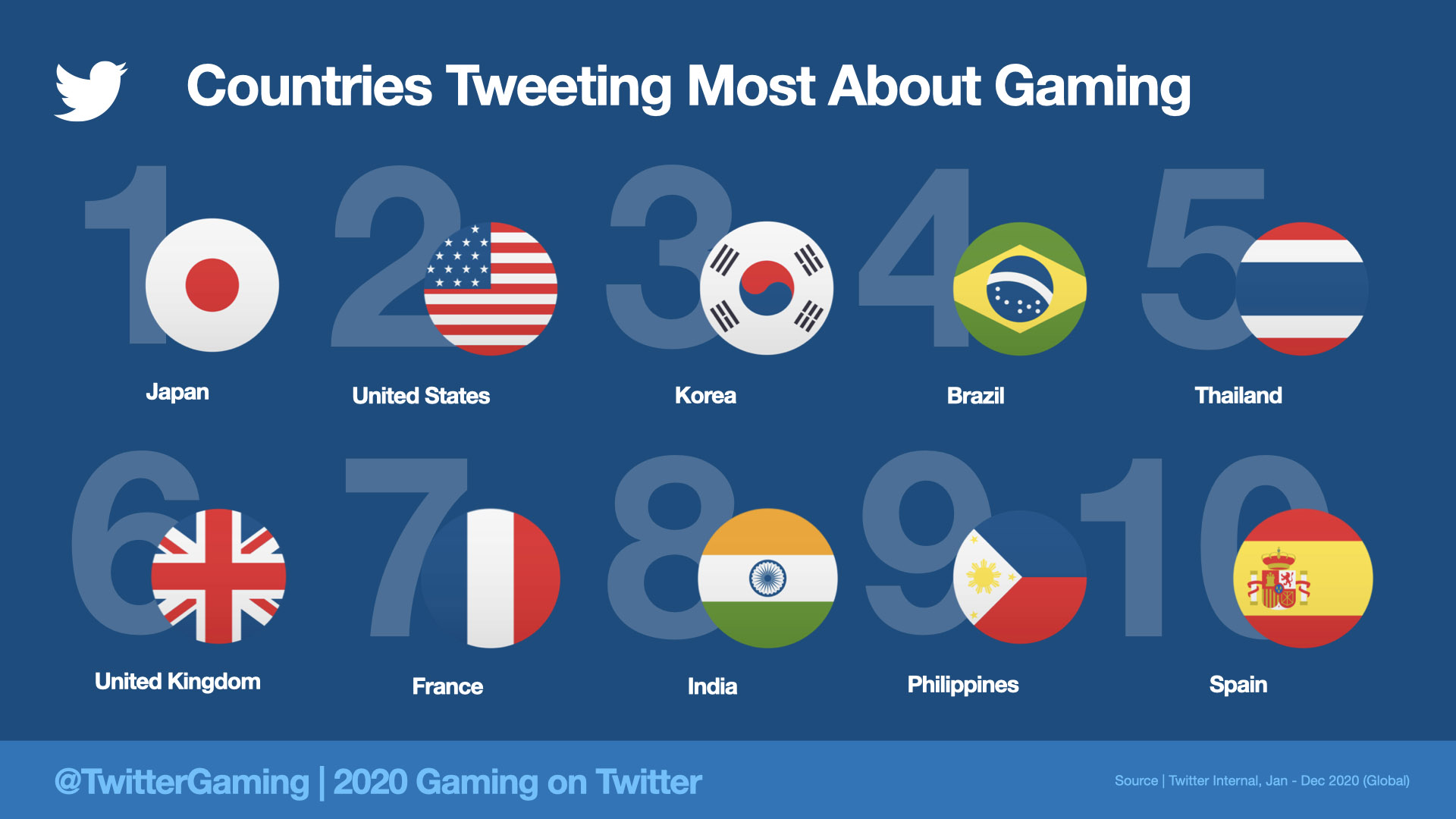 SO.MANY.TWEETS.
With gaming the 6th most followed topic on Twitter, fans around the world came to Twitter to talk about the biggest moments of the year and used Twitter as a place to connect with each other when many couldn't connect in person. In Thailand, the gaming conversation increased by 97% in H1/2020 helping to propel Thailand to be ranked fifth in the world for Tweeting the most about gaming in 2020; behind Japan (1), United States (2), Korea (3) and Brazil (4).
Gaming Trends on Twitter in Thailand
Gaming goes beyond the competition and the sport, and it's more than entertainment. Gaming has become a popular activity, and one that is continuing to grow. On Twitter gaming conversations have brought people together in 2020; they have been a way to engage with friends and make new ones, to socialise and destress.
The Most Tweeted About Games in Thailand in 2020, include Animal Crossing: New Horizons (@animalcrossing), PUBG (@PUBG), IdentityV (@IdentityVJP), The Sims (@TheSims), and Disney: Twisted-Wonderland (@twst_jp), amongst others.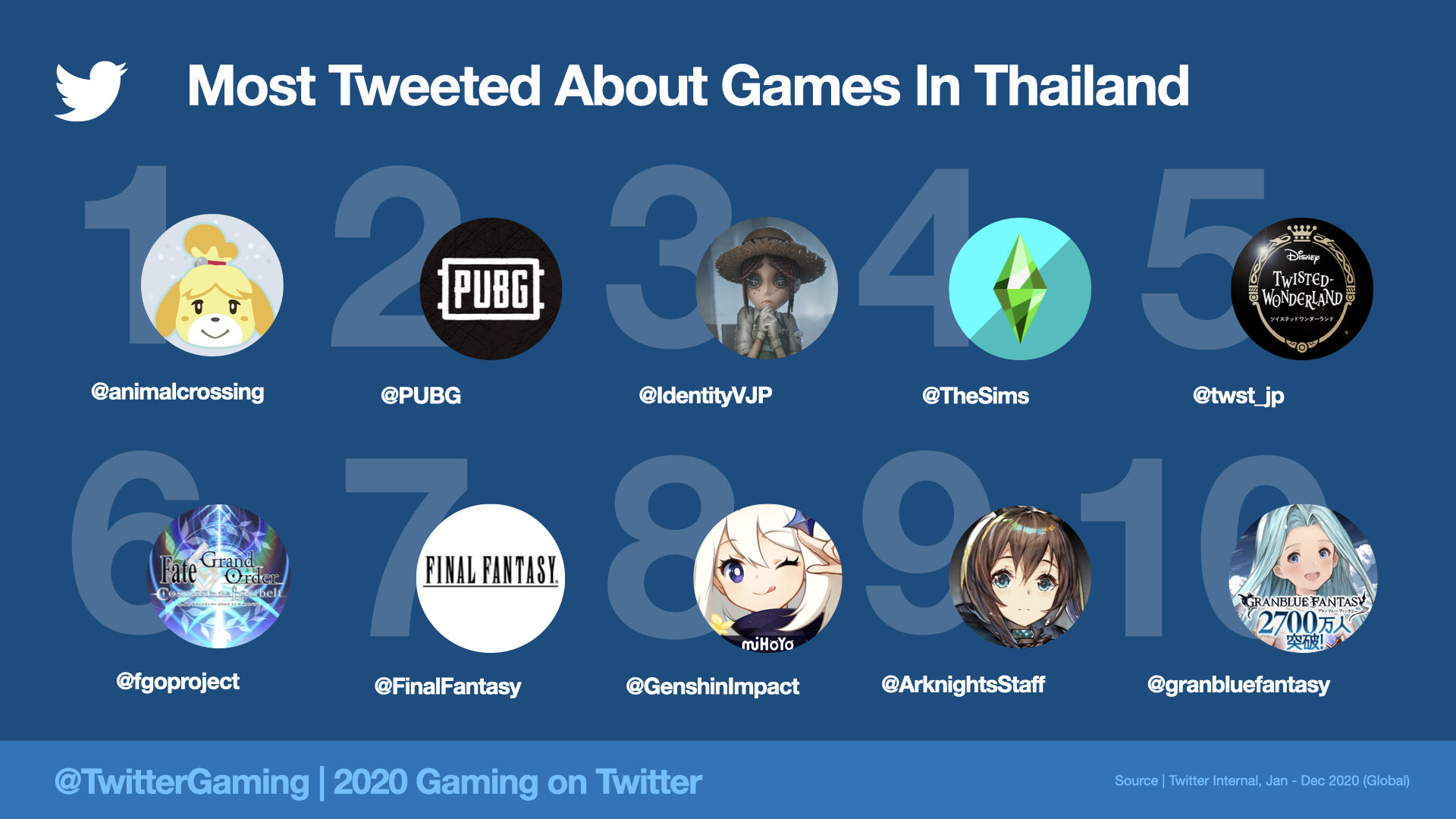 Topping the Most Tweeted About Esports Teams in Thailand in 2020, were Gen.G (@GenG), T1 (@T1), OG (@OGesports), Team Griffin (@TeamGriffinLoL) and FNATIC (@FNATIC), amongst others.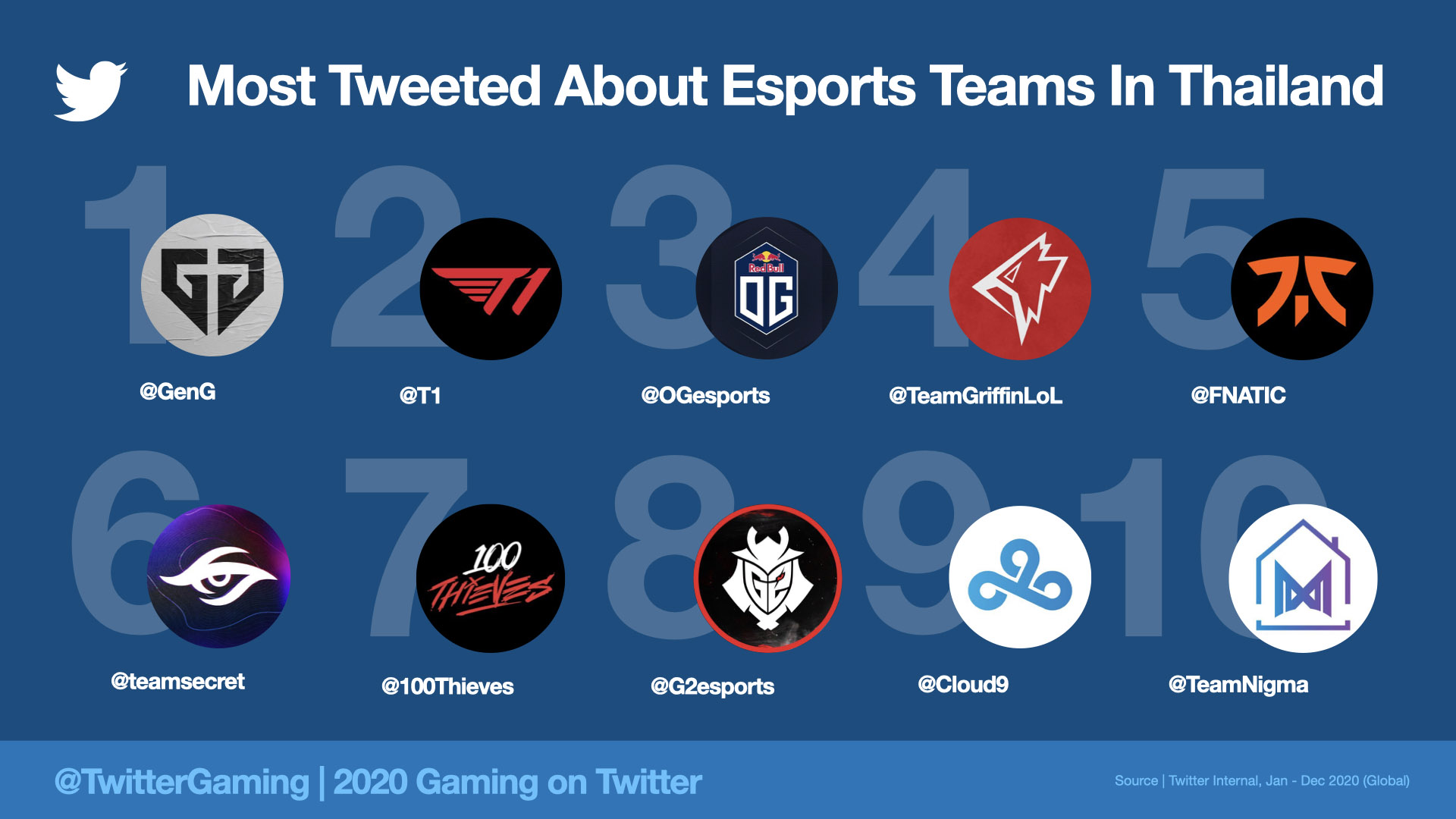 Global Gaming Trends on Twitter
While some of the powerhouse gamers retained their top 10 most Tweeted about status, we saw a number of new entries into 2020's top 10, including BadBoyHalo (@BadBoyHalo), Technoblade (@Technothepig), George (@GeorgeNotFound), Corpse Husband (@Corpse_Husband), and the Most Tweeted About Gaming Personality Globally in 2020, Ibai (@IbaiLlanos).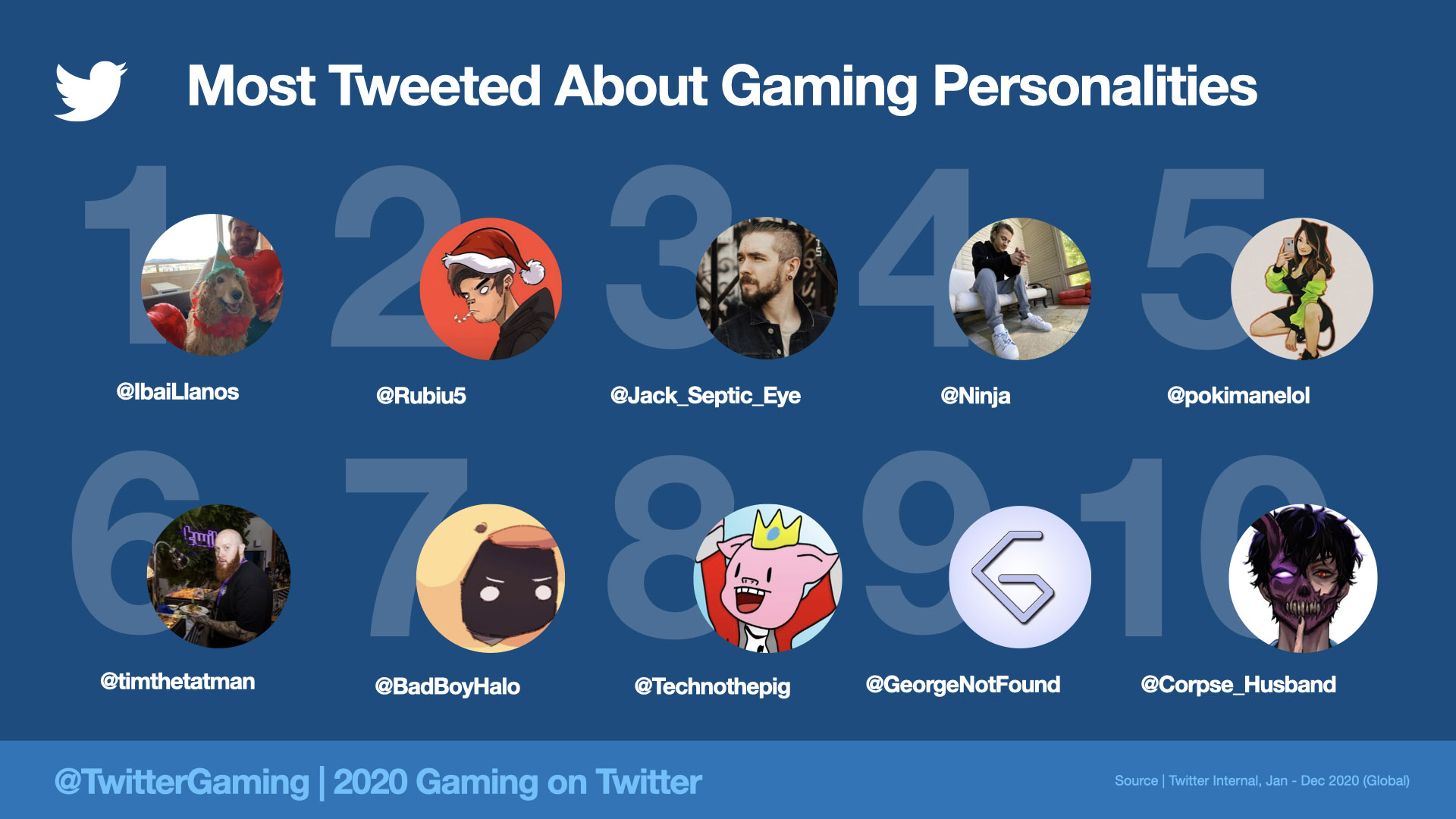 In the Esports arena, the top 5 Most Tweeted about Esports Athletes Globally in 2020 included FaZe Mongraal (@Mongraal), benjyfishy (@benjyfishy), OpTic Scump (@scump), Bugha (@bugha) and Liquid mitr0 (@mitr0).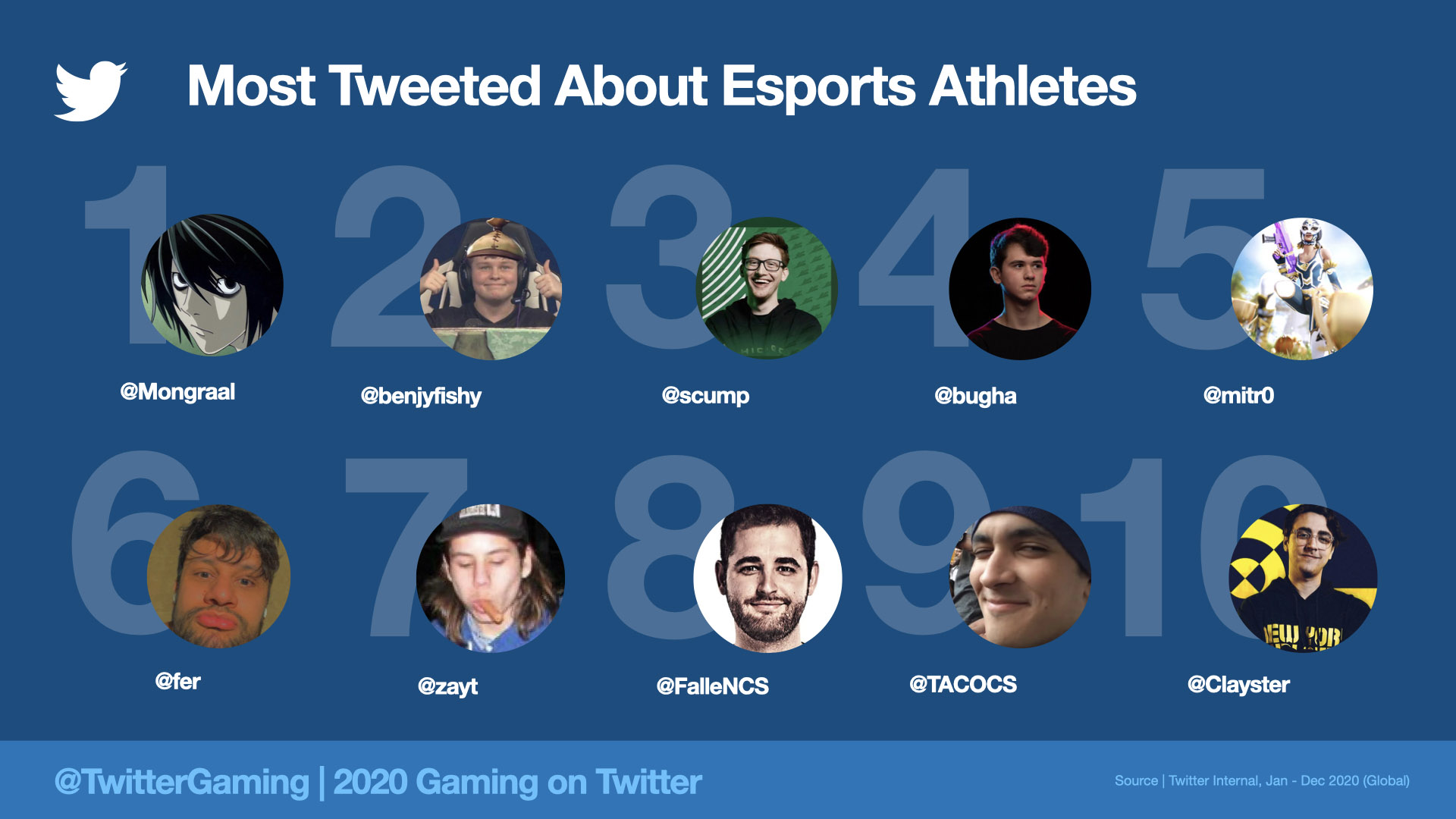 As 2021 kicks off, the conversation around gaming is sure to continue. With next gen consoles in the wild now, which games will dominate the conversation like Animal Crossing has? Will Gen.G continue its reign of most talked about esports team? What new gaming personalities will sprout up and boom in popularity? Keep an eye out for updates on Twitter and join in the gaming conversations in Thailand with the following hashtags: #แนะนำเกม, #เกมดีบอกต่อ, #รีวิวเกม.