Last week, Siam Commercial Bank (SCB) partnered with Digital Ventures – the bank's fintech investment arm – to host Thailand's first-ever fintech investment forum titled "Faster Future SCB FinTech Forum" with an overview of SEA markets and fintech trends in 2017. In what is intended to become an annual event, world-class guest speakers held discussions on the emergence of China as a global center for innovation in technology and fintech, the prognosis for SEA markets over the next 3-5 years, and venture capital investment for corporates in Asia. Techsauce was present at the event to bring you a quick overview of the highlights. We also captured an interview with Thana Thienachariya, head of Digital Ventures, who shared with us his vision for fostering Thailand's fintech ecosystem.
[toc]
SEA statistics and trends to look out for in 2017
The conference kicked off with a session by Jeffrey Paine, Managing Partner and Co-Founder at Golden Gate Ventures, with whom SCB made its inaugural fintech investment last year. Paine, who is one of SEA's best-known VC gurus, gave an in-depth overview of how the region's startup ecosystem is looking at the outset of this year.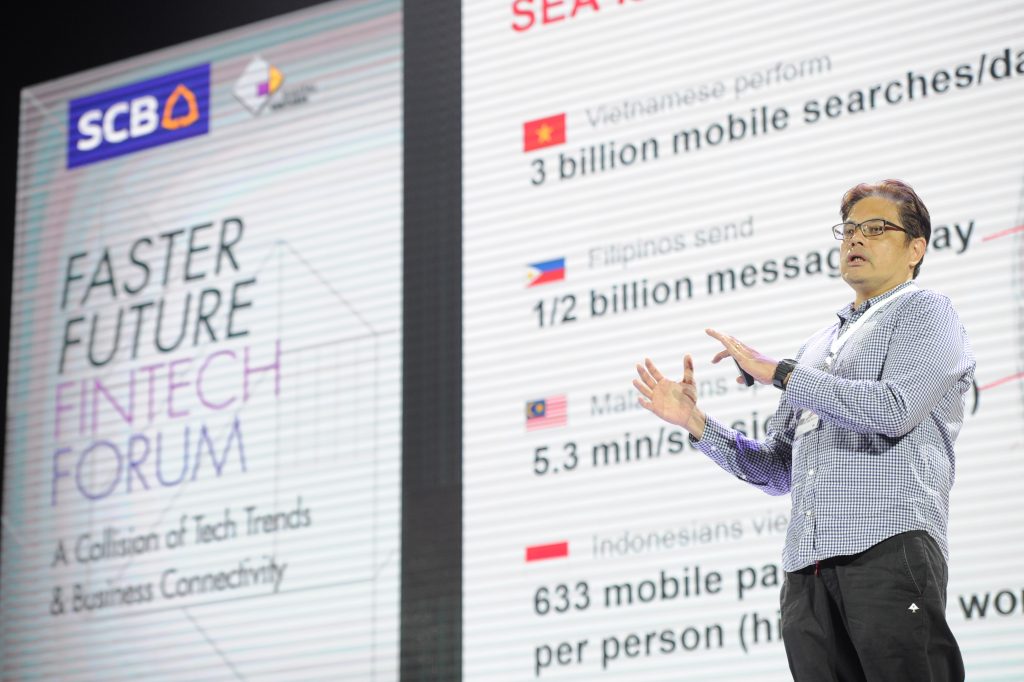 `
Comparing SEA to other large regions in Asia, SEA's startup ecosystem currently looks like China in 2006 and India in 2011 (note that China got its start in 2001).
SEA is a much less competitive landscape than China and India; whereas a major idea in China might encounter 500-2000 copycats, in SEA if it initially generates 20 copycats, only 5-7 will still be around after the first 18 months.
SEA is one-quarter the economic size of China, but has a smaller land mass than China & India and therefore takes less money and is more capital efficient.
While SEA exhibits extreme difference between cultures, a good thing is that over the past 10 years English has become the unifying language which helps in development (in the same way that China has Mandarin and India has Hindi)
Growth of budget airlines makes travel easier, bringing in more investors; $40 billion is expected to be invested in SEA over the next 10 years
SEA is the most socially engaged social media population in the world – 650 million people, 250 million internet users, and 5.6 million users coming online every month

Vietnam – 3 billion mobile searches per day
Philippines – ½ billion messages per day
Malaysians spend an average of 5.3 min per session online
Indonesians view 633 mobile pages/mo. per person (highest in the world)

Some SEA growth factors identified include an increase in mobile data usage, cashless payments filtering from India to SEA, the growth of Halal economy (30-40% of SEA population is Muslim), more software adoption as companies start to understand why tech is important and become more willing to pay for it; also, every single government in SEA has been pushing the startup industry, and corporate activity reflects that
SEA's challenges and unknowns
Regulatory differences (Hanoi vs. HCMC has different regulations! Startup founders must understand) – VCs who want to enter SEA need to be able to navigate the diversity vs. treating it as one homogenous market, finding local talent and people who understand how local markets work and to help get them in front of governments and regulators.
A lot of foreign competition (e.g. Japan, Korea) coming into SEA – in China & India, the competition is more local
Global impact of Trump administration – something we still have to watch for and what will it mean for SEA
The 8 fields predicted to have the highest potential in SEA over the next 3-5 years
Jeffrey Paine, Managing Partner and co-founder at Golden Gate Ventures, also shared noteworthy insights on the hottest fields that we can expect to take off in SEA over the next 3-5 years.
B2B eCommerce
Supply chain procurement
Vertical B2B Marketplaces
Ecommerce enablers that help retailers, brands and manufacturers operate their business online
Differentiated Commerce (Content, Community, Commerce) – a variation of ecommerce that is more engaging and relies more on community
FinTech
Big data, real time, credit rating and scoring technologies are booming – some companies in Indonesia are already doing the next generation of credit scoring
One-stop financial platforms – many copycats but eventually one will win in the region
Pure mobile online banks – takes over in developed Asia first, but some are doing well in Vietnam
Ecommerce & Marketplace finance (consumer credit & vendor financing) – financial services for vendors
On-demand insurance
Blockchain infrastructure & new ways of applying blockchain
Entertainment
Alternate media such as new media channels from Taiwan
Video blogging & live streaming applications
Mobile short video platforms (anything less than 10 minutes & a lot more engaging)
In-App multi-format advertisement
Various new forms of Ad Tech
Automotives
Carpark management software for B2B with B2C apps
B2B and B2C car maintenance platform – already seen in Vietnam, Indonesia
Automotive consumer car loans and dealership lending/financing – fairly new to this region
 Healthcare
 Centralized data hubs and analytics
Software for hospitals, clinics and private practices – filtering down from India
IoT hardware/sensors for hospitals
Elderly home care platforms – SEA has some of highest elderly populations, especially Thailand and Singapore
Doctor-on-demand / Telemedicine platforms – especially in Indonesia where people trust village doctors less and less
 Enterprise SAAS
Cyber Risk Insurance and End-to-end security software
AI Machine-learning-based predictive analytics software for business users
Automated customer services, sales management software (AI)
 Transport
Uber for Long Haul Trucking
Transportation logistics supply chain innovation (e.g., route planning)
AgriTech – finally moving forward in SEA
Big Data for improving farm yield and agricultural performance
Market linkage models for farmers
Financial services platforms for farmers
Is China the new Silicon Valley?
The forum also featured a panel uniting three investment strategists with the scoop on China:
Wei Hopeman, Managing Director of Arbor Ventures
Oscar Ramos, Program Director of Chinaccelerator
Grace Yun Xia, Senior Director, Corporate Strategy and Investment, Tencent
The guest moderator for the session was none other than Paul Ark, Managing Director of Corporate Venture Capital at Digital Ventures and one of the leading minds in corporate investment for SEA.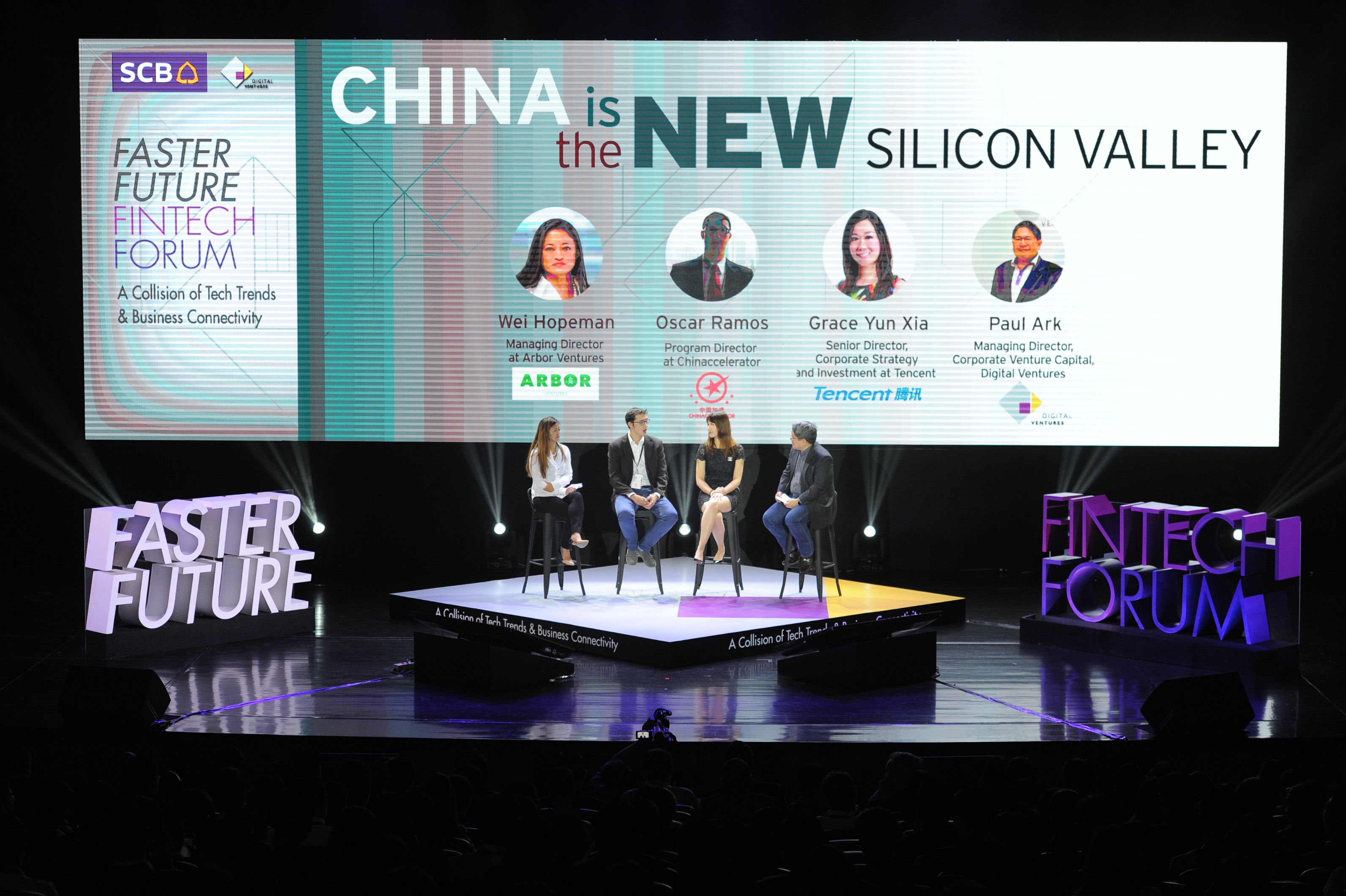 What's happening in China will most likely happen in SEA in 5-7 years. SEA countries have not seen big platforms like Tencent or Alibaba yet, but their markets are moving in the same direction. SEA entrepreneurs who understand what is happening in China are seeing their own future.
Though only 15 years old, China's VC market is now the second largest in the world. Capital is not just coming from traditional venture firms but from firms like Tencent, Baidu, and Alibaba.
A huge trend is Chinese startups trying to bring their technology to Southeast Asia before anyone else, while Chinese investors moving to SEA and looking to diversify their portfolio. Just as the Chinese corporates are expanding beyond China, Chinese VCs are doing that as well.
The Chinese government, instead of jumping into regulatory too early, tends to work with startups to set boundaries, then in partnership with the private sector, come up with a framework that will continue to foster innovation.
"A lot of governments around the world have set up sandboxes in which startups can innovate; I would argue all of China is one giant sandbox." – Wei Hopeman, MD at Arbor Ventures
"If we name R&D capability, access to capital and the people side of the equation as the main drivers of startup economy, then China exceeds Silicon Valley in that it has even more people." – Grace Yun Xia, Senior Director, Corporate Strategy and Investment at Tencent
Not only are many core technologies being produced by China that the outside world is unaware of; the Chinese population is extremely fast and adaptable to tech and the core technologies being produced by its startups. The Chinese can move up a whole generation in tech in the blink of an eye, while even the elderly in China are good at using smartphones.
"Just having a smartphone helps people embrace so many technologies and all the applications that come with a smartphone; that breeds a perfect environment for the application of new technologies." – Oscar Ramos, Program Director at Chinaccelerator
The biggest opportunity for international companies in China? There's a lot of technology that could make huge sums of money in China but for which China itself doesn't have enough talent to deploy the technology – areas like machine learning and VR/AR. Even some core financial technology is still missing, though China has largest core of mobile payment in the world
Whether you're in China or SEA, if you're a foreign company, having a local partner is an imperative.
"A lot of people still come to China thinking the law mandates for them to have a local partner. There's some sectors where that is necessary but it's not every sector. So look for a partner that adds value. But sometimes a local founder can also play the role to tell you that China is not the market for you! One company – in experimenting and trying to start in China, ended up realizing SEA is actually the right market for them and a better fit. And they did that through a pivot of US-China, China-SEA," – Oscar Ramos
"The uniqueness of China is having local tech giants like Alibaba, Tencent, Baidu – and those giants play an important role in shaping and fostering ecosystem in China. All those companies are moving from core product ecosystem to collaborative ecosystem. To build that ecosystem, requires a lot of cross-industry acquisitions, investments and partnerships. All the platforms enroll in a lot of innovative startups to provide end-to-end user experience. Because all the companies work together, they are partners and at the same time competitors," – Grace Yun Xia, Senior Director, Corporate Strategy and Investment at Tencent
An amazing phenomenon has been occurring among Chinaccelerator startups: Companies that were able to get some initial traction in SEA but were not able to monetize or convert that traction into sustainable value have gone into China, developed their product in China, become stronger and bigger in China and then returned to succeed in SEA.
"China plays a significant role. If there is a chance to visit Chinese companies, startup founders should!" – Jeffrey Paine, Co-founder of Golden Gate Ventures
Update – Thailand's Corporate Venture Capital (CVC) landscape
Paul Ark, Managing Director of Corporate Venture Capital at Digital Ventures also presented an overview of one of the hottest trends among big corporations at the moment, which is Corporate Venture Capital (CVC), summarizing its development in Thailand and throughout Asia.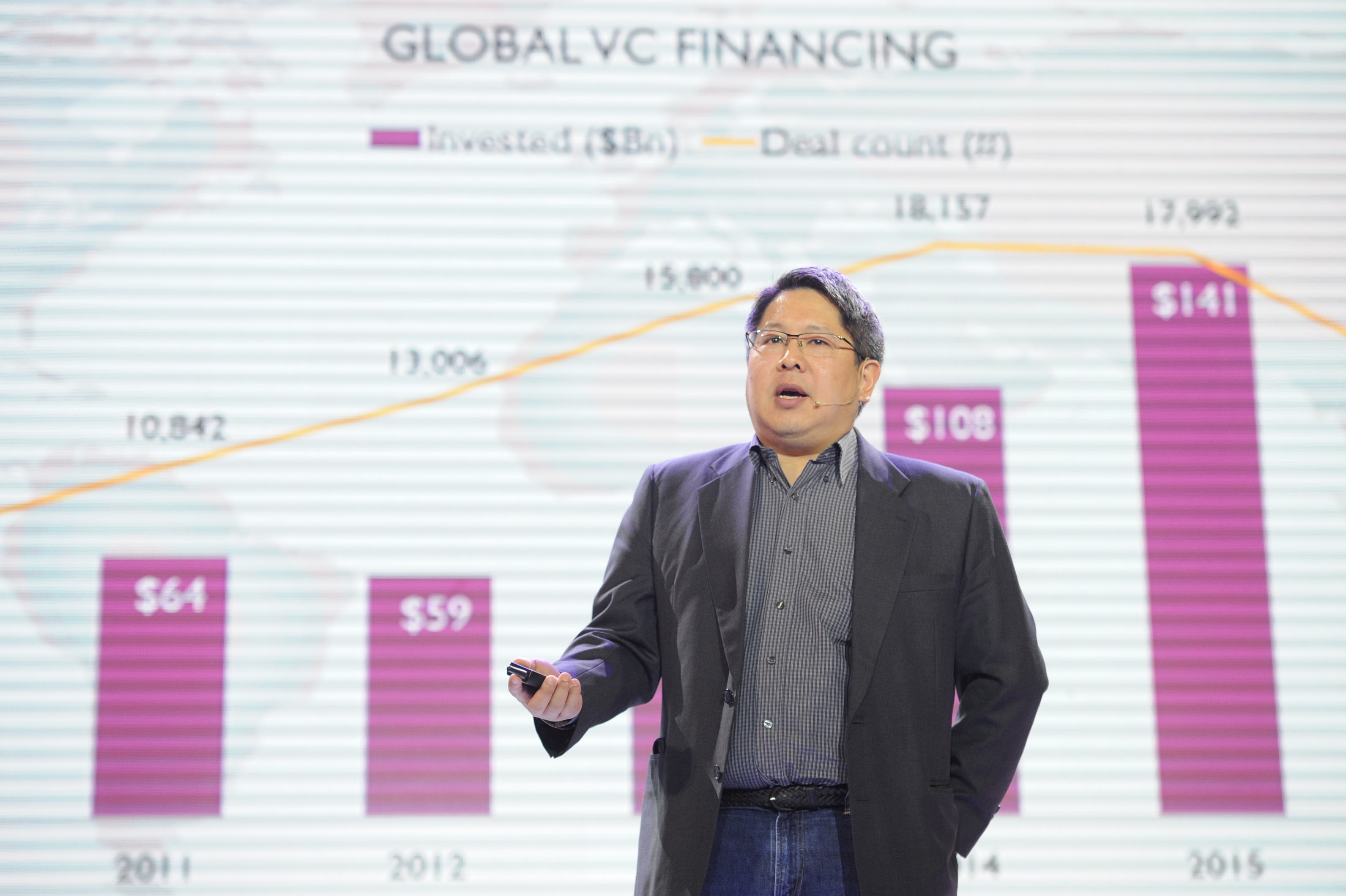 The Thai Corporate VC landscape has had three waves of investors:

Wave 1: Telecom – AIA, DTAC, True, Ascend – "At the beginning, we saw foreign investors and telcos pick up the charge, because in the early days a lot of innovation was very mobile focused, moving away from innovation and onto mobile platforms and that was where the telco companies really took the charge," says Ark.
Wave 2: SCB, KBank, Krungsri, Bangkok Bank – "Then you had a 4-year gap before you started to see new interest mainly from banks as fintech captivated interest not just of local community but globally. In 2016 & 2017, Thailand's startup ecosystem has seen an influx of CVC activity with local banks leading the way with over USD $130 million in new investment funds," he shares.
Wave 3: SCG, PTT, Ananda, Sansiri – "Even before banks start to get off the ground, we're seeing corporates start to invest with startups – creating innovation, starting accelerators, creating funds," Ark concluded.
"For a bank with $80 billion in assets… spending money on accelerators and hackathons is a drop in the bucket, but it can mean life and death to us – that is part of why we invest. It is also a way to source potential acquisitions." – Paul Ark, MD for Corporate VC at Digital Ventures.
In the global VC landscape, Asia has become quite prominent. Out of a global total of $127.4 billion in investment and 13,665 deals in 2016, 31% of all money invested went into Asia, mainly APAC with $39 billion invested and 1742 deals. That's double what was invested in Europe.
32% of all CVC funding goes to startup fundraising; however, CVCs tend to invest in larger sums and later stages, not so much the early stages. So a lot of Series A or Series B happen with corporate funding.
Who are these corporate venturers? A wide array of institutions spanning tech, health care, finance, auto, FMCG, energy & media have joined the VC sphere to foster innovation – everyone from Samsung and Rakuten to those that are non-tech related such as American Express, BMW and L'Oreal.
"VC in Asia is no longer an emerging thing; it IS a thing." – Paul Ark
A chat with the head of Digital Ventures
At the end of the conference, our staff pulled Thana Thienachariya, executive chairman of Digital Ventures aside for a quick chat. "Digital Ventures is a very flexible unit," he shared. "We support the fintech ecosystem in many different dimensions."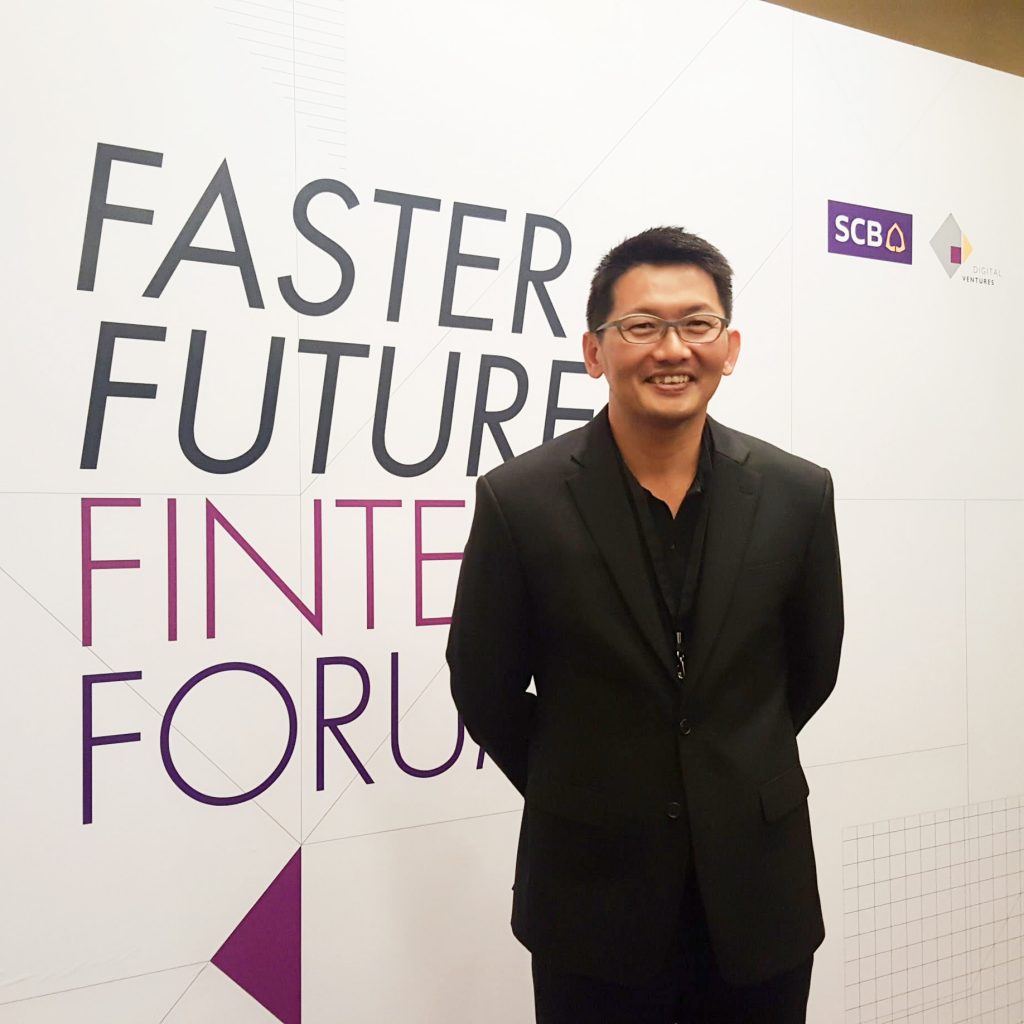 In terms of investment – "Right now, we've already made investments two funds abroad with Golden Gate Ventures and Nyca. Globally, we've spotted a lot of very promising startups. In the future, we will probably have opportunities to invest in these startups that illustrate so much potential. Aside from this, we have also directly invested in Blockchain startups such as Ripple in order to grow our roots and business network in fintech ecosystems abroad and to garner insights for SCB. We want these developments to reach the bank's customer base in the Thai business sector so that we can transition forward into the digital era together."
In terms of support for startups – "We have opened an accelerator that functions as a school to pass on knowledge to startups in our program. We draw in partners from large corporations to help open these startups to business opportunities so they can grow further. This year, once the current batch graduates, we will start with a new batch of startups."
In terms of giving back to the community – "We've created online media channels to share insights with those who are interested in technology and fintech, where we introduce various topics that people currently show an interest in such as blockchain and machine learning. The main goal of the 'Faster Future SCB FinTech Forum' was to perform business matching between the bank's clients and partners and to foster a stronger network."