What is NFT
NFT means Non-Fungible Token. Non-Fungible means "not interchangeable." If you have one bitcoin, it's absolutely the same as any other bitcoin (fungible and interchangeable). If you have NFT, it means that this token contains a unique record (non-fungible). These tokens are usually created on Ethereum using ERC-721 and ERC-1155 standards but could be implemented in any other blockchain.
NFTs are blockchain-enabled records of ownership attached to digital pieces of art, music, GIFs, or any other collectible. NFTs transform digital works into one-of-a-kind, verifiable assets that are easy to trade on the blockchain.
History of NFT Collectibles
The idea behind the NFTs is not new and appeared back in 2017 when the blockchain community has widely discussed tokenization to create blockchain-enabled ownership certificates. The realization that blockchain can be used to store and track the proof of ownership for any unique collectible items led to the first crypto NFT projects like Cryptopunks and CryptoKitties. It's interesting that even then, crypto adoption was fueled by NFTs: it's widely known that in the first days of crypto kitties, the number of buyers grew so fast that it overloaded the Ethereum network.
Recently, several factors led to a boom in NFT collectibles. The BTC and ETH price boom; however, another important factor is the development of several NFT marketplaces such as Nifty Gateway, Rarible, and OpenSea. Those platforms allow creators to interact with the blockchain creating smart contracts and collectibles easily, Minting NFTs and the buyers to easily buy them using cryptocurrency. Moreover, those platforms have created a secondary market where NFTs can be traded between collectors just like the actual collectible.
NFT Use-cases in Art & Music
Digital artists, musicians, and DJs started to tokenize their creations using different platforms. The largest sale to date is a work by Beeple, a digital artist who has sold a collage of his JPEG, creations as an NFT with Christie's for $69 million. In the music industry, DJ 3LAU reached $11 million in sales, minting his album as an NFT, and the Canadian singer Grimes topped $6 million. Those successful launches of tokenized art attracted a lot of creators and generated a new market within months. According to Cryptoart data total number of artworks sold by the NFT marketplaces reached 207,633, with the total crypto art value 189,379 ETH ($758,345,523.31)
The NFT art market is clearly at very early stage and thus highly volatile. We will see many innovative ways to use NFTs and creative tokenization in the traditional entertainment industries. Large media companies will explore NFTs and find creative ways to use blockchain technologies to add value to their overall brand experience.
Thailand is catching up on NFTs
NFT art wave reached Thailand last week when the first Thai celebrity record-breaking rapper, Youngohm, announced his launch with a Singapore-based production house NFT1. A unique 1/1 piece was listed on Rarible. The bidding started at 10 000 THB and rapidly reached 1ETH in bids (126 450 THB at the moment of writing). The auction will end this Thursday 13th of May, at 9:16 PM Bangkok time. This first collaboration will be followed by a series of drops by top artists across the Southeast Asian region — where both crypto & music fan communities are strong and growing.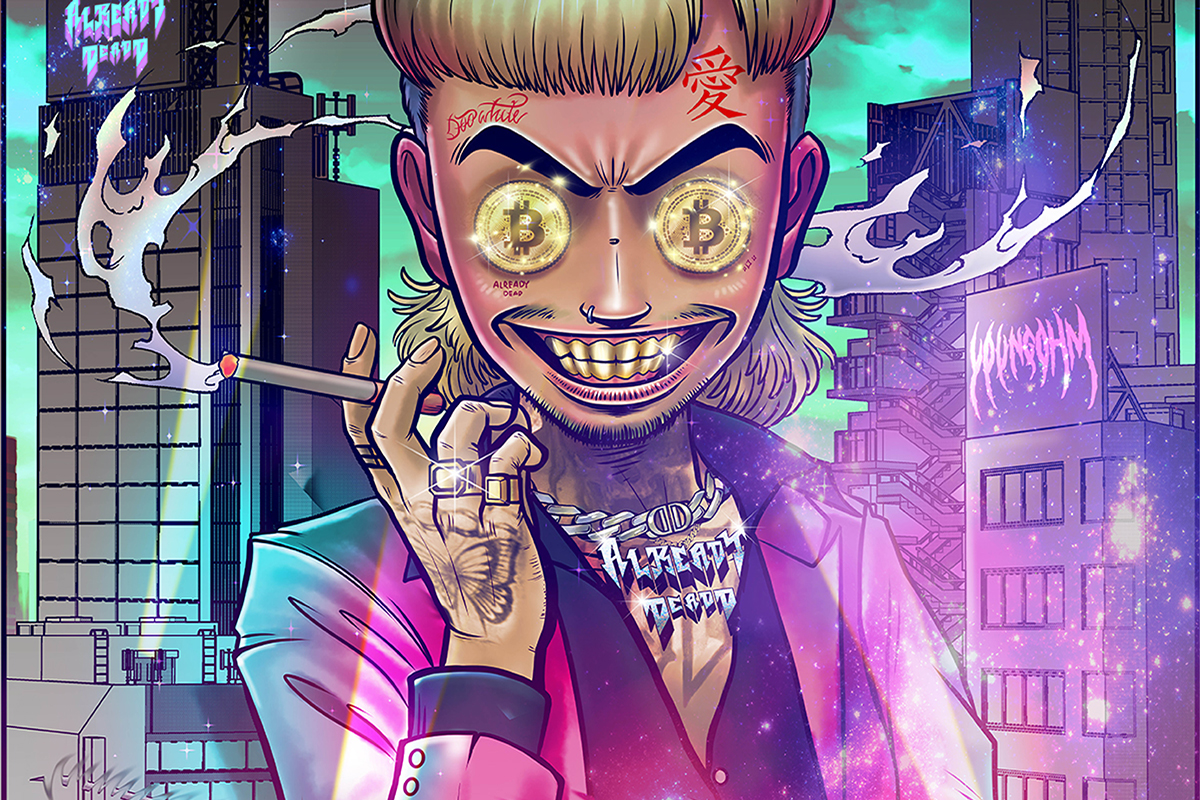 Youngohm x NFT1 art auctioned on Rarible