2020 was a remarkably tough year. People all over the world, including Thailand, had to contend with a new normal: mask rules, lock down, travel bans, and sluggish economy.
Accordingly, Thai people's behavior on mobile usage has changed as well, especially toward online communications, food delivery, e-commerce and video OTT services.
Here are top mobile applications that were mostly downloaded and used on Thailand's mobile devices in 2020, from the analysis based on App Annie data.
Top 20 downloaded apps in 2020
The coronavirus pandemic has dramatically changed our lifestyle, and digital life becomes more prevalent. Video OTT, online communications, e-commerce, on-demand services and digital payments services have been growing fast in 2020.
Tiktok is the most downloaded app in 2020. Shopee and Lazada are leading e-commerce players and foodpanda, Grab and 7-eleven services are among the top 20. Most interestingly, traditional banks are leading digital payments services in Thailand, including Kasikorn bank, GSB and KrungThai bank. Tencent's WeTV/Joox, and True's TrueID are top downloaded OTT services during the pandemic crisis.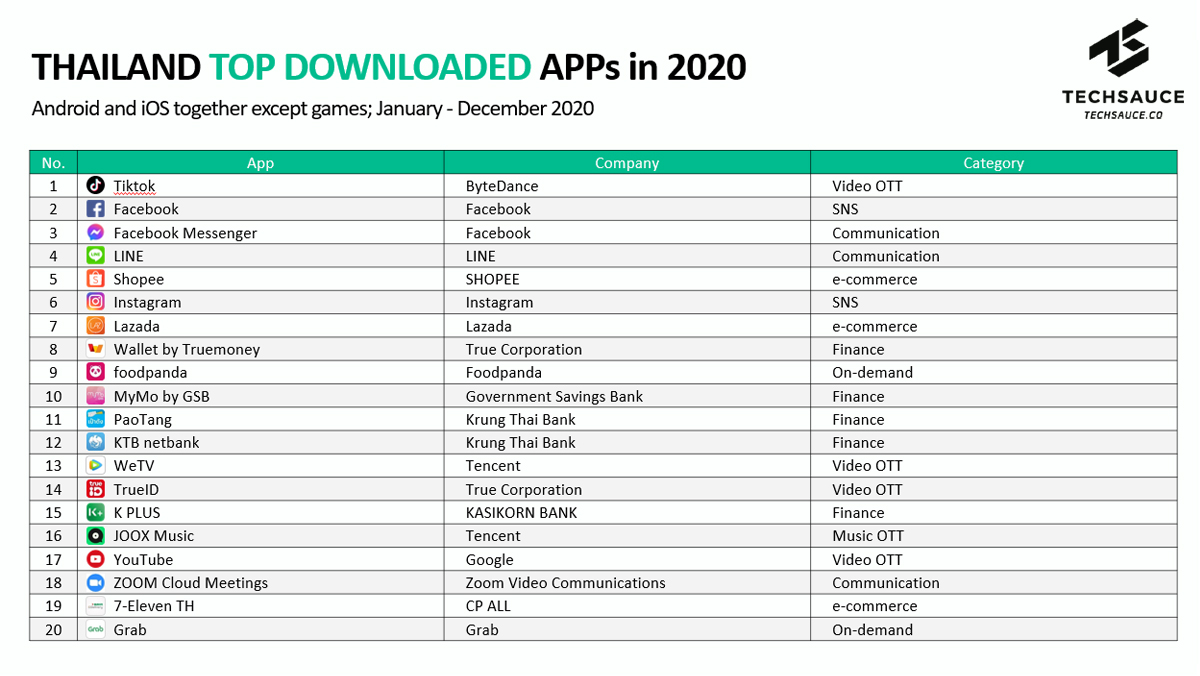 Top 10 most widely used mobile apps
Since the mobile boom after smartphones were widely penetrated in Thailand, there's not much change on top mobile applications: Facebook, Youtube, LINE, Facebook messengers. These top applications are perceived as must-have services in Thailand.
Shopping, social network services and financial services account for the remaining other top applications. Lazada and Shoppe are top picks for e-commerce services. K-bank and SCB are the most widely used mobile banking services. PaoTang from KrungThai bank ranked as top 9 services in December 2020, with its financial subsidiary program from the government.

Online communication services
Since its launch in Japan in 2012, LINE became popular, with its tremendous emojis and famous characters, and most prevalent online communication service in Thailand. LINE stands still as no.1 communication service in 2020.
What attracts our attention is the fast growth of Facebook messenger in Thailand. The gap between LINE and Facebook messenger has been decreased, and as of December 2020, the MAU gap is around 5 million. All over the world, the second mobile communications service has grown fast from teenagers' needs to separate between the main messenger to talk with their parents or teachers, and other messenger services, such as Facebook messenger, to communicate with their friends.

Telegram and Zoom are other high user growing applications in 2020.

Social network services
Facebook is the leading social application with more than 45 million MAU, followed by Instagram and Twitter.
Among top ten services, Blockdit and Pantip are Thai services. Blockdit, launched in 2018 in Thailand, is a social network service for a group of readers, writers, and storytellers to provide matched contents with their interests. Pantip is a popular Thai discussion forum, founded in 1997. Pantip was one of the first websites built in Thailand and soon to become a popular service. Pantip application was launched in 2018, and currently has over 1.7 million monthly active users.
E-Commerce
The pandemic is driving a significant growth of e-commerce transactions via digital payments. Among many players, Lazada and Shopee are the leading shopping services in Thailand. While Lazada and Shoppe have grown significantly, Aliexpress and JD Central have recorded relatively slow growth.

CP All, operator of the 7-Eleven convenience store chain in Thailand, launched 7-delivery service in March 2020 and since then the service has gained traction by delivering grocery, and recorded over 2.5 million monthly active users as of December 2020.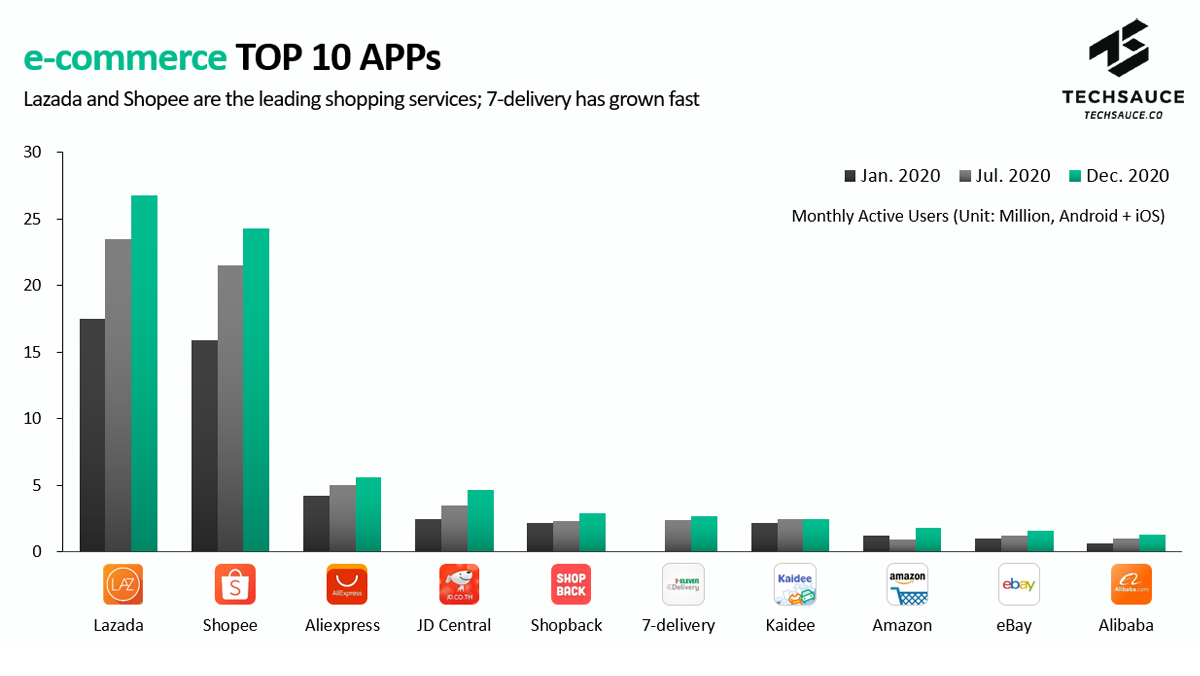 Financial services
Digital payment services are growing fast from strengthened digital lifestyle, driven by the pandemic. Kasikorn bank, Siam Commercial Bank, Truemoney, and KrungThai bank are leading with over 10 million monthly active users. PaoTang service by KrungThai Bank is exceptionally growing fast, driven by the government subsidy, and ranked as top 9 in December 2020 among all the applications.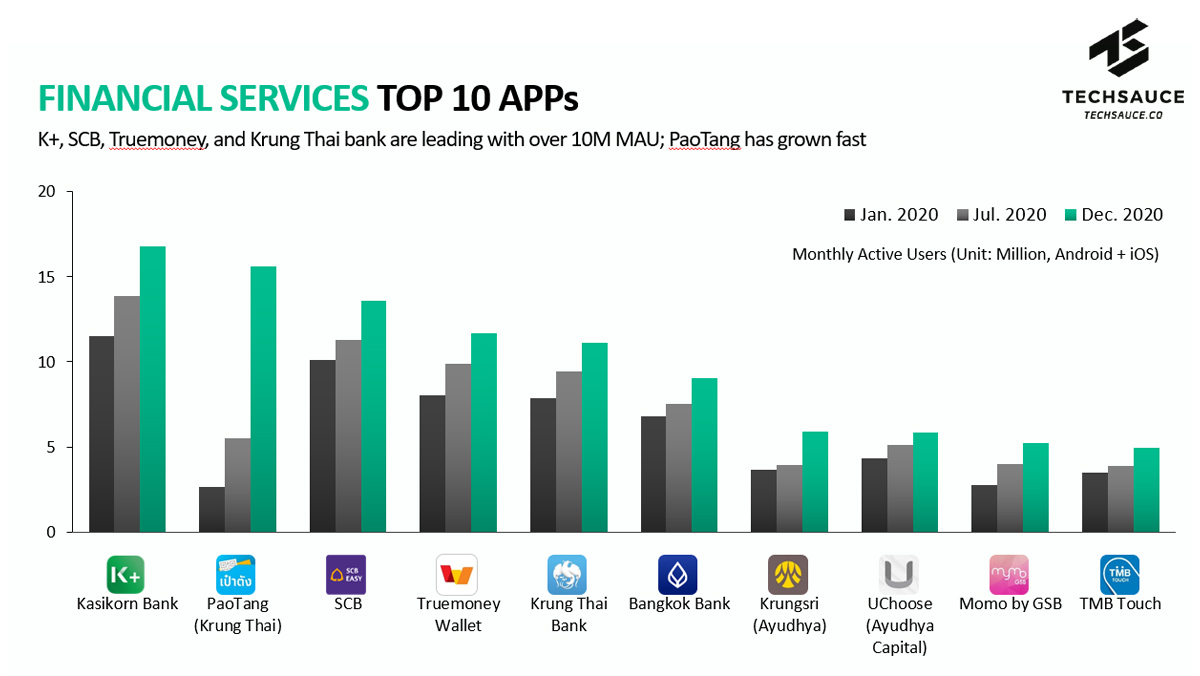 On-demand services
One of the fiercest battlefields in the digital era is on-demand services. Grab, the no.1 on-demand service in Thailand, recently announced its IPO plan in the USA. Grab has become an one-stop application for services such as ride sharing, food delivery and digital payments in Thailand. With its aggressive marketing budget and the pandemic situation, Grab became one of the fast growing services in Thailand.
Right after Grab, Foodpanda and LINE MAN fought for second place, and Foodpanda slightly outpaced LINE MAN in 2020. GET, launched in 2019 in Thailand, rebranded as Gojek Thailand in July 2020. Its Indonesian parent company Gojek has merged Southeast Asian operations under one platform. After the rebranding, GoJek in Thailand has been stagnant, even with the high growth of its competitors in the market.

VIDEO OTT services
Some of the worst months of the pandemic have accelerated the evolution of video OTT (over-the-top) services. Along with Youtube, Tiktok, TrueID and Netfilix have grown fast with more than 7 million monthly active users as of December 2020. 2020 is the year of Tiktok, as it has grown by 2.5 times between January and December. WeTV and iQiyi, both from China, have grown fast in 2020 as well.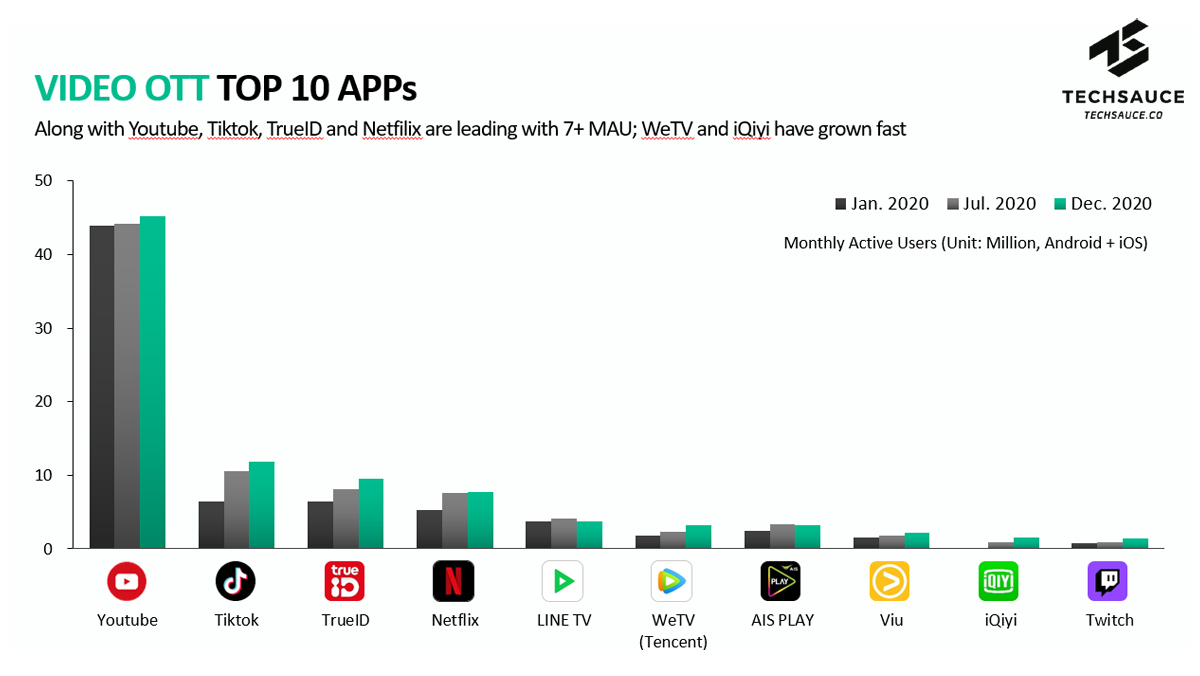 Music OTT services
People may think that the coronavirus pandemic would drive significant growth on music streaming services. However, It wasn't just concert halls that had been closed, but it's coffee shops, pubs and venues that would normally play music by using streaming services. There was also a lack of regular commuters to listen to music. Actually, music services was one of many areas which suffered a lot from the pandemic in 2020.

While other services have grown slowly, Joox and Youtube Music have grown relatively fast in Thailand. Joox was launched in 2015 by Tencent. It has published a weekly record chart, the JOOX Thailand Top 100, which ranks the most popular songs in Thailand based on the streaming activities of its app users, and became one of essential services in Thailand.

Travel services
The coronavirus pandemic has delivered a lingering impact to the travel industry. Beyond its blows to airlines, hotels, and travel agents, the significant drop of travel itself has impacted the whole travel ecosystem in a negative way.
With this crisis, Agoda announced staff reduction of more than 25% in May 2020. Although the company laid off 1,500 of its 5,500 employees globally, more than 2,000 employees are still working at Agoda Thailand. Despite booking drop due to lockdown in 2020, its efforts to boost domestic travel made Agoda grow significantly in 2020. It recorded 1.6x MAU growth between January and December, while others are stagnant.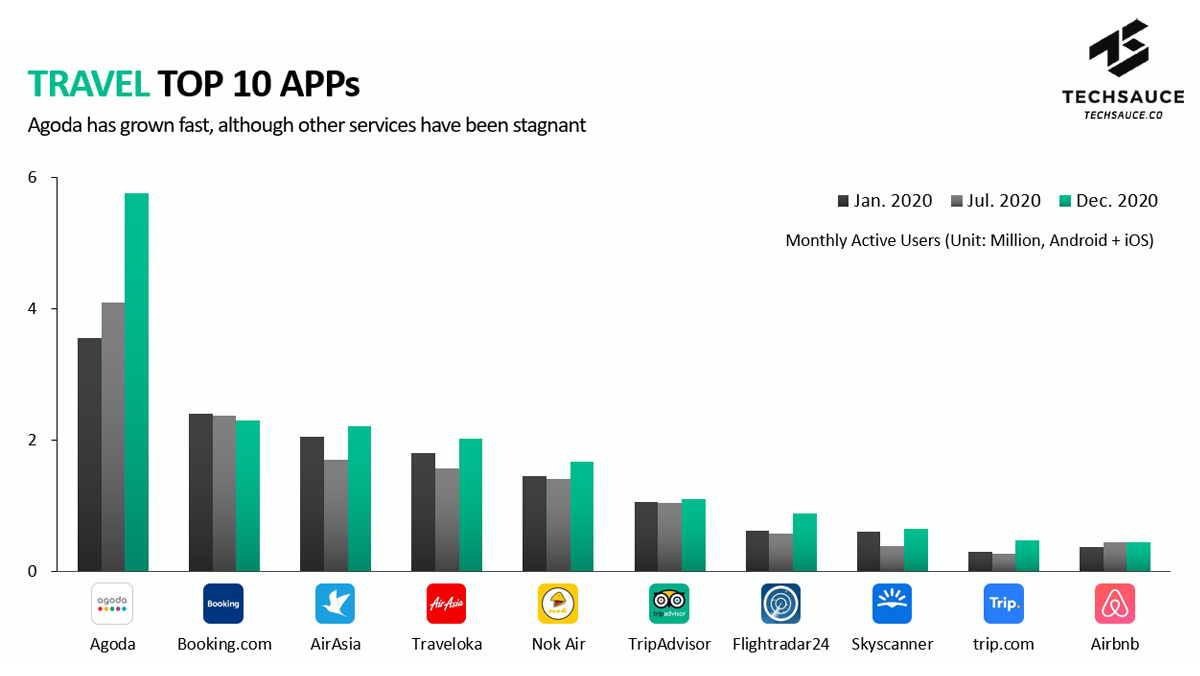 Contributor: Jayden Kang
Jayden Kang is Chief Operating Officer to lead overseas business at Kakao Page, a leading digital content platform. He is responsible for expanding into international markets, strategizing the platform, building partnerships, and strategic investment to strengthen the Kakao ecosystem. Previously, he was Chief Strategy Officer at LINE Thailand and manager at Bain & Company.