Believe it or not talking to a robot is now reality. Some people may not even realize they are talking to one when asking about a product or service on a Facebook page. Now this technology has reached a new level by providing easy access to healthcare.
Techsauce takes a look at the latest 5 Health Tech chatbots changing the meaning of what it means to go to the doctor.
For the Thai version of this article you can click here.
1. Jubjai Bot helps people overcome depression
Checking your Facebook may just save your life.
While some may wince from the oversharing of other peoples' lives on the social media, others may now find a refuge with the stress they are facing in they daily lives. Jubjai Bot is a chatbot on Facebook Messenger that provides a channel for the depressed to turn to where they can have their feelings analyzed to see if they do have a depressive disorder. The program believes providing access to help can lessen the chances of people being overwhelmed by depression and taking their own lives.
Jubjai Bot, developed by Mahidol University, started its trial run in mid-December of 2017. Since its start it has gotten so much positive feedback that at certain times the system was overloaded and technical errors occurred. The program had to be closed and revamped. People now are definitely looking forward to the new version which will be coming out in February 2018.
For more details go its Facebook page Jubjai Bot.
2. Tuinui Bot helps you calculate calories you eat

Tuinui Bot is a chatbot developed by Zwiz.AI with a purpose of answering that one question everyone always asks themselves when they are trying to lose weight, and that is, how many calories am I eating?
You no longer need to search online in the hopes of finding the right calculation of a meal or how much exercise you need to burn that meal.
Tuinui Bot has the answer and can even calculate your BMI and BMR. Basically there are no excuses.
Providing an easy and all-round way to record your daily calorie intake, the chatbot is definitely your next best friend.
3. Before seeing the doctor, have a chat with Dr.Meaw Bot

Dr.Meaw Bot is a chatbot that gives healthcare advice and also teaches you how to give first aid care. This chatbot just started so it might take a while to see how much the system can develop and help people.
This chatbot is developed by Zwiz.AI, the same creator of Tuinui Bot.
4. Samitivej Hospital rolls out its official LINE account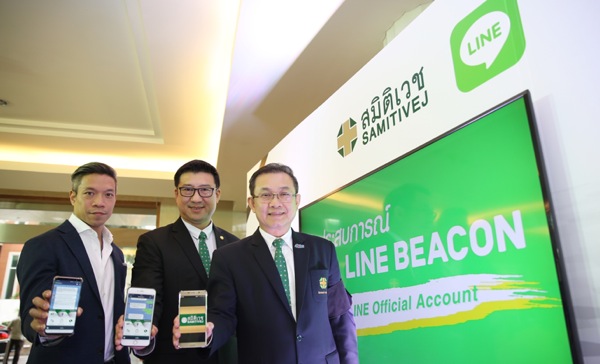 In September 2017 LINE Thailand and Samitivej Hospital launched the Samitivej LINE Official Account of the Samitivej network and LINE Beacon to service Samitivej hospital patients. This Health Tech gives patients easy access to Samitivej doctors to ask healthcare questions, make appointments, and pay their bills.
This is part of the movement of traditional healthcare to adapt to the changing lifestyle of the digital age.
All patients have to do is add the line account and activate Bluetooth and LINE Beacon on their smartphone when arriving at the hospital. The service is free of charge.
5. Woebot chatbot is here to keep you company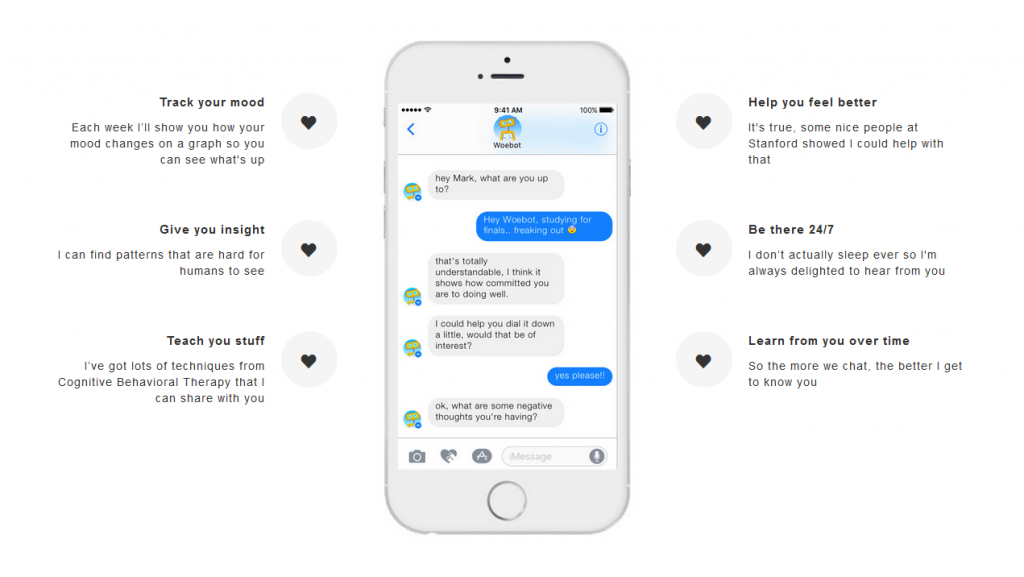 The last chatbot is Woebot on Facebook Messenger. Using Cognitive Behavioral Therapy or CBT, a therapy developed by Stanford University in the United States. This chatbot has the ability to learn moods and emotions from chatting with you. It is then able to give the appropriate advice and guidance.
This Chatbot is free of charge, but is only available in English at the moment.
Techsauce Thought of the Day
Techsauce knows that chatbot cannot physically provide healthcare. At the end of the day the best thing to do is still to go to see the doctor at your hospital or clinic.
However we know that this is just the beginning of how technology can change our lives for the better.
For more on Health Tech see us at the Techsauce Global Summit 2018 where we will have a stage dedicated to talking about the future of Health Tech. Don't miss out on the special early bird prices at https://summit.techsauce.co/.