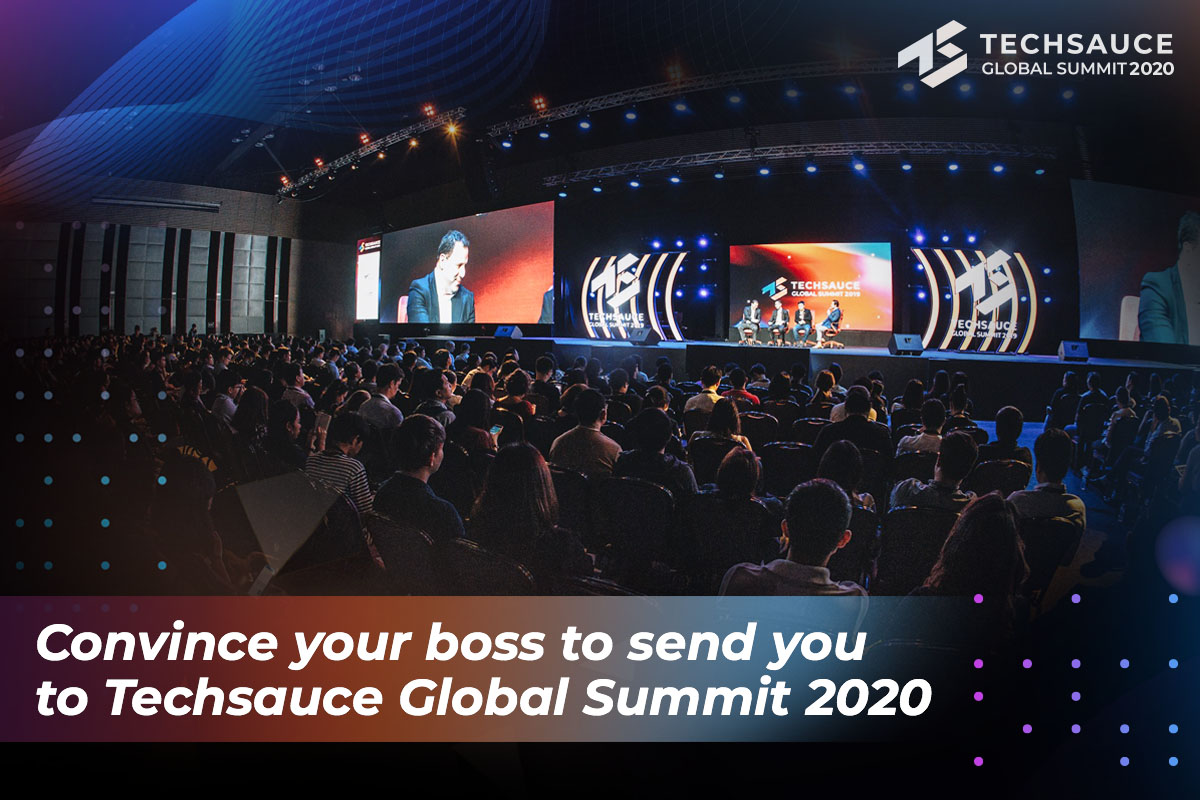 If you are a frontier in your team, or want to improve yourself for your work performance, attending a conference is a tempting idea. Especially if your interest lies in TSGS2020, the largest tech conference ever held in Southeast Asia. However, joining a conference is not cheap. Registration, lodging, and the time cost are the main points you have to consider, and you are not the ones who make a final decision about joining - your boss is. So, how can you convince them to side with you?
1. Examine, plan, talk with courtesy
The most important thing before you convince your boss is by knowing and understanding the timeline of TSGS2020. First, you have to make sure that your schedule is clear on the days TSGS2020 are held. Second, comprehend the goals and objectives of the summit to ensure that those match with your company's. Third, start making a simple agenda on your own of how the summit will flow. Done with that? Try talking to your boss about the event, and give a hint about how important attending TSGS2020 is for yourself and of course for the company itself along your talks. Remember, do it with courtesy!
2. Know your target
Attending TSGS2020 means that you are interested in some of our workshops and key speakers. You are sure that our programs can help you improve your knowledge and motivate you. To assure your boss, try to give a brief talk about the main workshops and speakers you want to attend. Of course, you should tell him about how amazing those things are and how well can those help you grow. And if both of those things align with the development of your company, surely your boss will be hooked with your request.
3. Network and meet your talents
The greatest summit in Southeast Asia, of course, will be attended by many renowned companies, leaders, and new talents in one place. And this can be your triumph card to convince your boss! Giving your boss an understanding that TSGS2020 will give you an opportunity to connect with amazing people. Tell him/her that this two days event will not provide disappointment since you will be able to meet new business partners, investors, and even talents that maybe you can recruit for your company! How can your boss not give you permission if he/she can expand his/her businesses?
4. Draft the budget
Being a representative of your company to attend TSGS2020 means that your company needs to spend money for you. From the tickets of the conference, lodging, and even transportation especially if you are out of Bangkok. Make sure you draft the budget necessary to spend on your business trip and show it to your boss. This way, your boss can calculate the cost spent over the benefits of joining TSGS2020.
5. Don't want to talk in person? Email your boss!
Asking your boss about your wish to go to TSGS2020 surely is a challenge. Some of you probably cannot deliver your messages about the advantages of attending TSGS2020 flawlessly, or you do not have the courage to talk to your boss directly. Do not worry! There is another way to convey your request to your boss - email him/her! Write and explain to your boss about how TSGS2020 will bring your growth and the company's itself, how you can network with the greatest people, how amazing the workshops and the speakers will, and do not forget to attach the draft of the budget. Hopefully, your boss will notice your email and be convinced by your email!
DOWNLOAD EMAIL TEMPLATE
We provide an accessible method for you to convince your boss. Download this form to assist you to join TSGS2020.
Check our website for further information regarding the programs in TSGS2020 and you can also grab your ticket here https://summit.techsauce.co/