Renewable tech is becoming a necessary and imperative industry in the ASEAN region, one in which demands a lot of investment into real innovate technology to implement change in the environment.
The ASEAN region is focusing on creating renewable programs which are enabling the continent to move away from fossil fuels and find real alternatives for the future. This is a smart move in terms of economic and fiscal value. Each country in ASEAN has been creating individual renewable energy policies.
Thailand is specifically organizing a national agenda with a master plan called 'Alternative Energy Development Plan (2012-2021). This governmental and business initiative is looking to increase the share of renewable energy to 25% of the country's energy by the year 2021.
Mr. Siri Chraphongphan, Minister of Energy shares his thoughts and in-depth knowledge about the future energy security in Thailand and what the future holds for disruptive technologies,PV solar, battery storages and E-mobility/self-driving.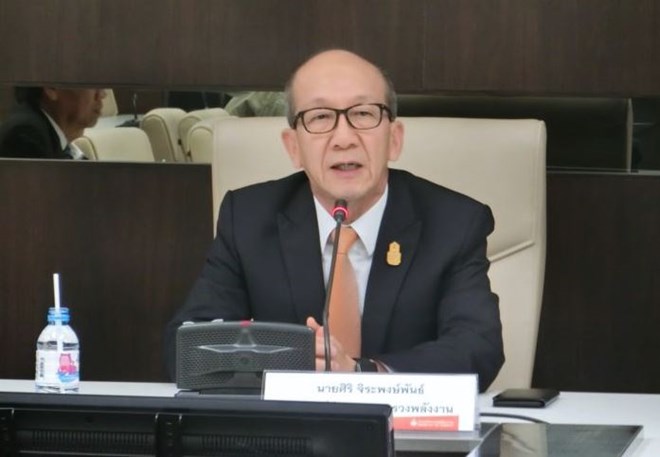 It's clear that the development of industry 4.0, the development of A.I and other technologies cannot proceed without energy. The two industries will intertwine in the future to develop and push technology forward. Thailand is at the forefront of the global energy reform which is supported by strong government initiatives, investment, and infrastructures that make energy accessible to all with a regulated and open market principle.
Thailand has collaborated with partners to reduce the cost of renewable energy in many sectors to make it affordable and encourage the use of energy to innovate ways that transform and create new pathways such as PV solar and brings power to technologies such as self-driving cars.
Access to modern and renewable energy is fundamental to meeting several of the challenges that the world is facing including poverty, good security, clean water, and health and climate change. A large proportion of increased greenhouse emissions come from the increasing dependence on fossil fuels energy. This is damaging the environment on a lot of levels and it is vital that we create new and renewable forms of fuel.
The global statistic for renewable energy is set to rise by 37% by 2040. Countries on a global scale need to address and cultivate ways of making this renewable energy accessible via technology, we need to double the rate of global energy efficiency, enhance international cooperation for access to renewable energy on a global scale and promote the investment in technologies that improve this sector.
Thailand has definitely promoted and implemented the use of renewable energy and sustainable energy in solar and wind significantly contributing to the energy supply by up 10%. This is increasing at a high and steady rate and is demonstrated by working in conjunction with one of the private solar farm companies to implement solar power and compliments this renewable energy reform.
This will make our mark in the global contributions of climate sustainability and affordability impact via renewable tech and energy. This strong government policy will encourage Thailand's freedom from being too reliant on fossil fuels and move into the arena of sustainable energy.
The Techsauce Global Summit which is at the end of June - 22nd/23rd, is the perfect platform for startups in the tech industry and specifically for the renewable energy sector to display their innovative inventions for the sector, gain investment and make their mark on the tech industry.
For more information on this event and how to be part of it follow the link below:
https://summit.techsauce.co/