As one of the most inspirational Thai nationals at MIT Media Lab, Pat Pataranutaporn recently took the time out to talk with Techsauce about the future of invention and innovation.
Pat Pataranutaporn is the co-founder of the Futuristic Research Cluster of Thailand (FREAK lab) and graduate research student at MIT Media Lab. He is enthusiastic about prototyping impossible things as he presented in his TED X talk "Prototyping the Impossible ". His works examine the symbiotic relationships between human and technology beyond traditional contexts ranging from developing a wearable technology that aesthetically response to hormone level, creating hologram Thai food, and designing mind-controlled 3D printer.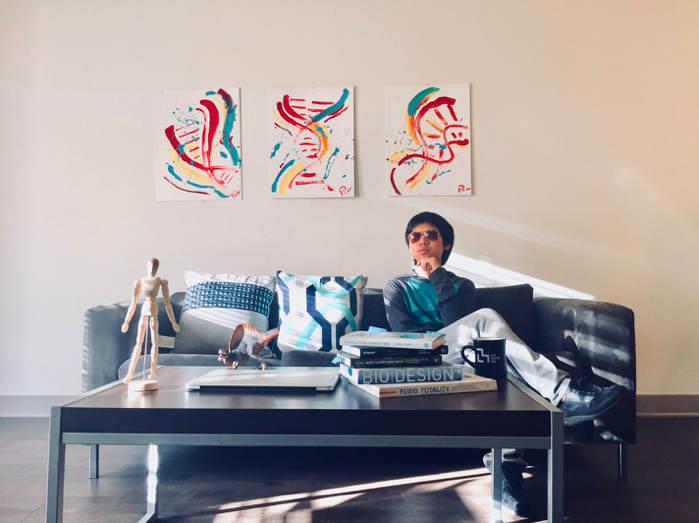 Pat Pataranutaporn
Tell us a bit about yourself and your journey from Thailand to MIT's Media Lab?
My first impression of MIT was when I was in high school around 2010. I watched a TED talk by an MIT's Professor Pattie Maes. She is globally recognized as the leading figure and pioneer in the area of human-computer interaction. In the talk, she presented a wearable projection device that allows human to fluidly interface with a computer using gestures like in sci-fi movies. I was so inspired by the talk to see that there are people in the world that are actually making futuristic gadgets from the movies into reality. I emailed Pattie attaching a project I did that was inspired by her talk, and she was kind enough to reply to me with encouragement to keep making and prototyping stuff.
I applied to the MIT when I was an undergrad, but unfortunately got rejected so I applied to a different university that was centered around Biotechnology and bio design. During my college year, I continued to design projects, and I eventually met my friends who became my co-founders on a startup called "Humanity X" that use AI for mental health monitoring and suicide prevention. The startup which is now becoming an ongoing social enterprise was created at "Hacks for humanity", a hackathon for social good. I learned so much from this project on how to scale a business model and upscale technology that can be of use and serve people. I finished my undergrad thesis coining a new area of research called "Bio HCI – Biological Human-Computer Interaction" proposing prototypes that demonstrate how biotech can intersect with the computer science and interaction design. We proposed all different levels of technology from wearable tech to the bio-inspired user interface and we were able to publish our pioneering studies. This really enabled me to get into MIT by completing and innovating on this undergrad.
Also, I had the chance to converse with my mentor who is a Nobel prize laureate. He has a philosophy in finding their own path, which makes me reflect on my path from Thailand to MIT. I think that you always find your path as one path will lead to one another. It was an amazing experience to learn from him, especially about his thought process. I also was surprised by how humble he is, which inspired to keep my head down and just focus on doing the significant works. Doing a summer research at IBM was also a key factor in contributing to my steps to being part of MIT. I was presenting my startup at Stanford at the Medicine conference and medical specialists came together to discuss the next medical technology that would help people with MedTech design. The VP of Apple was sat there when I was presenting, and I got invited to meet him at apple where there was a core group of engineers who inspired the startup and made recommendations for me to visit and did a summer research at IBM. At IBM Research, there is a real mix of intellect and creativity as they conduct their research which is like a university setting which helps to explore different avenues and many innovative inventions were created at that time while I was in resident which was amazing to witness.
What does the MIT Media Lab entail and is it easy to get involved in?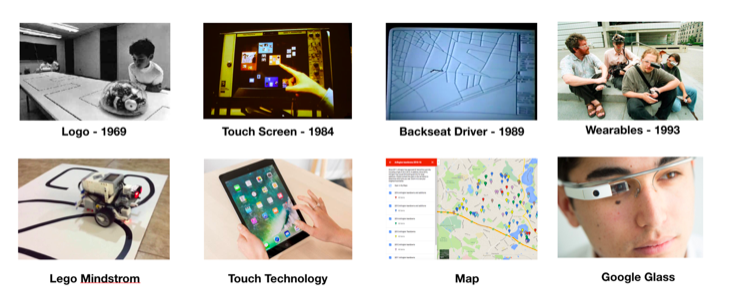 Media Lab Inventions
MIT Media Lab was founded in 1985 which developed a lot of revolutionary technology including touchscreen and many things that we use in our daily. The word "Media" in the Media Lab was not about TV or social media, but about medium, the medium where the human interface with technology, and yet the medium for transforming the world. That was the philosophy of the Media Lab. Right now I am part of the fluid interface group with my intellectual hero – professor Pattie Maes. The group focuses on wearable and immersive devices, human augmentation, cyborgs, and the way that technology fluidly interfaces with people. I feel like I am light years ahead walking inside the Media Lab as there is always a new exciting and futuristic project being created every day. Many companies like SCG from Thailand and Google, for example, sponsored the Media Lab. To get involved - the company pay a membership fee to become a member company of the Media Lab. The member company had the privilege to tour the lab, get inspiration, and join events that host a wide range of topics centered around all different types of technology.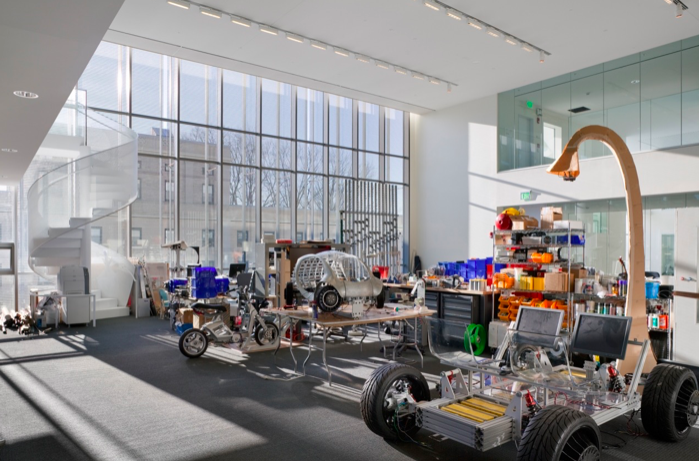 MIT Media Lab - photograph by Anton Grassl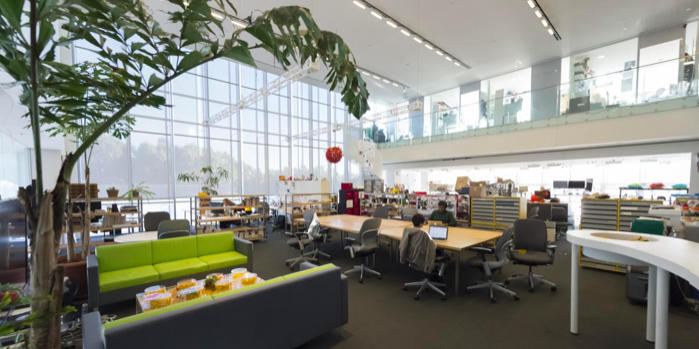 MIT Media Lab - Medium
Can you tell us about your most successful project that your team created at FREAK LAB?
The FREAK Lab was created as a side project while I was waiting for my acceptance to the MIT Media Lab. I wanted to make my own Media lab with my mentors and friends in Thailand, just in case, I didn't get in. I also want to prove that developing countries like Thailand is also capable of producing futuristic research and innovation like MIT Media Lab. The FREAK Lab had worked on wearable biotechnology where we created a dress with 3D printed fashion that response and react to the hormone level of the wearer. This piece was the first project of the lab, and it was recognized as one of the 3D pioneer pieces of 2018. Exploring new materials and applications for 3D printing became a theme in the FREAK Lab, and around that time there was a call from the national space exploration (NSE) in Thailand to propose an idea for experiments in space. Eventually, we developed a 3D printing technology for food creation in Space, which was selected to be launched into outer space by 2020. The project was challenging as we need to design a printing method in the zero-gravity environment. One project at a time, FREAK lab grows into a research cluster with more fundings, supports, and collaborations. Currently, there are seven research groups within the FREAK lab ranging from Biodigital to Space Exploration, which is very exciting to me. Not to mention that it has only been a year since the creation of the FREAK lab.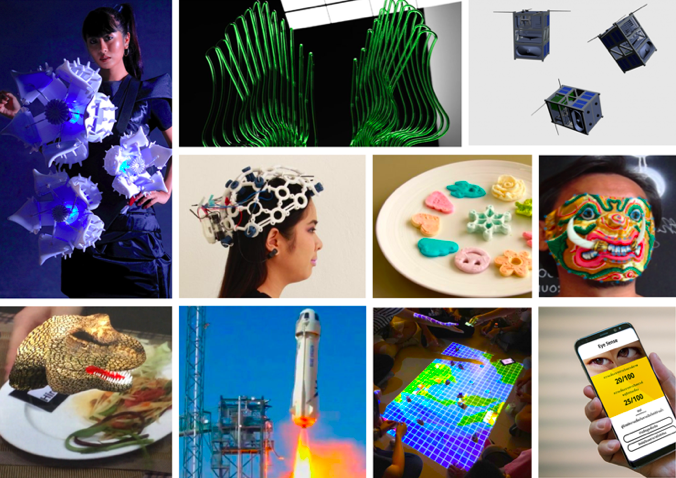 Freak Lab Projects – freaklab.org
You have had such a successful career to date, what would you say it is the most rewarding project you have been involved in?
There are always ways of improvement and I never think that I have reached the point of completion or reached the top. The key is to always look toward the future, and don't let the past distract you from the now. After many space projects at the FREAK Lab were launched, I started to realize that the sky is the limit and that you have so much room to maneuver and develop. It also proved to me that Thailand is still in the running for developing space technology even though we are considered a developing country. What we need is a handful of people with strong vision and determination, and the rest will follow. If we have the push we can develop anything and be part of the world leaders.
What particular industry of technology are you most interested in and why?
BioTech - the founder of the MIT Media Lab Nicholas Negroponte said: "Bio is the new digital". We are seeing many tech giants turning from digital to biological, for example, Google started a division called "Google Life Sciences" that later became Verily, Samsung opened Samsung Biologics, and etc. As Steve Jobs said "I think the biggest innovations of the twenty-first century will be the intersection of biology and technology. A new era is beginning, just like the digital one when I was his age", I totally agree with that.
SpaceTech - The second industry is the space industry: We are using space for civilization and the development of humankind. This is an exciting time as the cost for going to the outer orbit is going down, which allow many players that were not in the space sectors before to jump in and kickstart the new era of space culture, business, and economy.
RealityTech - The reality technology from VR to AR. At the media lab, we are creating a new type of mixed reality technology that pushes the boundary of human augmentation beyond visual sensory.
What is your winning remedy or steps for successful innovation?
You have to develop something that is deep. Nowadays, people can make websites and apps very easily, so focusing on the deep tech is crucial for long-term business development. And the fact that it is called "deep tech" signifies that it is not just an ad-hoc or low investment type of project. Deep innovation requires a strong vision, strong gut feeling, and experiences to make it happen. Another crucial factor for innovation is the usability, which is the interaction between human and the technology. It is always important to study and create prototypes with the experience of the user as it is the key to developing something that people want to use.
What has been the biggest challenge in your life? And how have you overcome it?
My biggest challenge was with the FREAK Lab. It was making sure that we have a culture to dare the impossible challenges. One of the investors and business mentors said that 'If you create something new and keep doing it for a while it will grow and people will give it attention. You need to do it consistently and it will become something that people will listen to. Persistence is key. Most of the startups and organizations don't usually die by end up losing to their competitors as they eventually just give up. Competitors come last - the real challenge is making sure you keep going.
What advice do you have for everyone who wants to be the entrepreneur?
It's always hard for everyone but what I think people have to realize is that whatever you do in life is going to be hard and you have to pick something that will be rewarding and fun along the way. Another thing to remember is that it is ok to fail, and your failure will not be stuck with you forever if you move on. Many successful entrepreneurs and innovators like Steve Jobs and Elon Musk have failed many times before, but they learned and moved on to do new things. Also, I would like to quote Joi Ito, he said: "Startup require big ideas, but big ideas do not require startups". Even though there is a hype around startup, I think It is absolutely fine if the startup is something you are interested in, there are many other things that you can do that could make your life fulfill. 
For any tech startup that is just starting out and doesn't have much funding or direction - what advice do you have for them?
This is an exciting time as there are a lot of opportunities to develop your own startup and business - The government is helping startups by financially supporting them. Quality over quantity is key as there is less than 1% of the startups that make it to success.
What is your prediction for the future of Thailand and south-east Asia's ecosystem?
There are so many startups in Thailand in term of number, but the deepness is what I am wondering. If you think about the long-term growth, it is extremely important to also ask yourself what if one day an influential firm like google start to offer the same service as you do. One possibility is to research in the area that is deep and develop expertise that is hard to catch up.
What are your Top Tech startups (from Thailand) that have impressed you in the last year?
Ricult in the Agritech industry really has inspired me as its really pushing the Thai agriculture industry forward. Also, there is a  space company called ' MuSpace' which FREAK Lab worked with a lot. They had many ambitious goals, which I think is very important and I really root for them.
How do you see the DeepTech scene in Thailand specifically? What is the key factor to drive DeepTech in Thailand and SEA?
I believe that the DeepTech must start in the academic research platform as it allows for a lot of intellectual freedom, which from time to time proves the be key for revolutionary products. That is why many big tech companies like Apple, Google, and IBM have their campus structured like a university. I also think that people that want to be in the Deep tech must think beyond the buzzword and work on things that do not even have a name or category for it yet. People need inventors and need to create an unusual thing that isn't invented yet. I believe that this is the way to go.
For full article on Pat head to http://pat.design