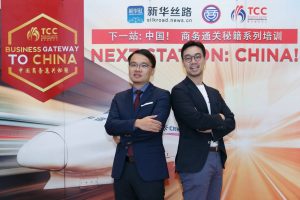 On the 10th of May 2018, JD.com the fastest growing E-commerce company in China, teamed up with Central Group, the largest retail conglomerate in Thailand to conduct a seminar on "Leading Thai Business into China Market" for aspiring Thai entrepreneurs and investors looking to break into China's market. JD.com is one of one of the two largest B2C online retailers in China, while Central Group are veterans in the retail industry, having opened the first departmental store in Thailand. During the seminar, JD.com announced that they will support Thai entrepreneurs, increase business opportunities and sell products via JD.com to raid the Chinese market.
JD.com believes that the collaboration between JD.com and Central group will help Thailand to better access China's Market. With China's economy improving year on year, JD.com hopes to use technology to assist Thailand in better integrating into China's consumer base, so as to not only improve Thailand's economy but to also strengthen the diplomatic relations between China and Thailand. In the past 5 years, China has continuously been one of the largest importer of Thailand goods due to its great quality and wide variety of commodity products to choose from. There is also an increasing number of Thai entrepreneurs, investors and venture capitalist entering the China market, looking to improve trade between the two countries. China has stated its commitment to improve Thailand's ecosystem and this is evident from China becoming the 3rd highest foreign investor among Thailand's businesses, exceeding more than USD$ 1 billion in annual revenue. In the past year, China's technological hub has also seen a breakthrough in creating, designing and distributing new forms of technology for Thailand to use, benefiting trade between both countries in the process. China will continue to strengthen the diplomatic ties they share with Thailand, looking to derive a win-win solution for both economies.
In addition, JD.com is also aware of Thailand's 4.0 policy to improve Thailand's economic progression. In the last 3 years, China companies has gradually increase its intake of Thailand goods. In 2017, More than USD$4.27 billion worth of goods were exported to China. On the other hand, more China-branded goods have also made their way into Thailand's market. In the future, JD.com will continue to strengthen and foster economic growth for Central Group by incorporating and importing even more Thailand goods into China. The alliance that JD.com has forged with Central Group will seek to improve the expansion of goods in Mainland China.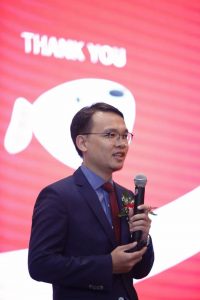 As the seminar progress further, Mr Vincent Yang, CEO of JD Central, gave some ample advice on how why JD Central is the best platform for Thai companies is to enter China's market. JD Central is the 3rd largest Internet E-Commerce platform in China. Hence, JD Central is also the biggest online retailer for electronic products. Some of the milestones that JD Central has experienced includes achieving same-day delivery service for their retail products. One of JD Central's most successful marketing scheme was taking less than 48 hours to deliver goods from China all the way to Canada. Having sold over 140,000 units, with 92% of their orders being delivered on time, JD Central has catapulted to the front stage of the E-commerce retail delivery scene, setting a good example of what a first-class delivery service should be. The fastest delivery ever made by JD.com was 4.31 minutes, this was done with the help of JD.com's big data artificial intelligence system.
JD.com's revenue under the fashion & luxury category has increased twofold since collaborating with Central Group to bring more Thai commercial businesses & products into the China Market. JD.com has also invested heavily into drone technology, prototyping drone delivery services in universities across China, with future plans of expanding to Thailand for drone deliveries. The main reason why JD.com is able to drive E-commerce & performance to even greater success is because they have developed so many different capabilities to suit their customer's ever-changing needs. This includes expanding into robotic and drone development, inducing smart pricing to keep prices affordable and yet competitive with the market prices, and also developing real-time location-based technology to keep consumer's minds at ease.
Richard Liu from JD.com has a similar philosophy as to that of Central Group. One of the shared values between both companies is the way they run their respective businesses. Both companies believe that customers should be central to everything they do, with both companies focusing on providing the highest quality of products & services to their clients. Everything has to been done well in order to satisfy their needs and expectations. Another shared determination between the companies is to bring about positive change within the company and also provide more revenue to improve the lives of the lower-income staff in our company. According to Richard Liu himself, he believes that their customers are their main priority, with their customer services being the main job that they wish to excel in, so as to provide the highest quality of service to all their customers. JD.com has invested a lot of time, money and effort to provide one of the best E-commerce customer experience in the entire world.
In China today, over 56% of their customers receive the goods that they have ordered within less than 6 hours of their same-day purchase. It is equivalent to the speed that logistics chains in US are delivering at. Furthermore, practically 90% of the population in China carries at least 1 smart phone, which is the mobile gateway to all forms of services in China. This could range from telecommunications to retail shopping to even booking events in advance. Hence, JD.com is accessible to the public 24/7 since mobile integration has reached an optimized level of over 3 quarters of a country's population to be deemed functionable.  For the year 2017, JD.com hit a sales target of USD1.5 billion dollars in profit. JD.com knows that LINE corporation are doing exceptionally well for their contracted goods slated to be delivered in AY 2018, with a prediction of producing roughly USD$2 Billion worth of goods. However, JD.com is expanding extremely fast as well with sales analyst predicting that JD.com will deliver more than USD$3 Billion worth of goods in AY2018.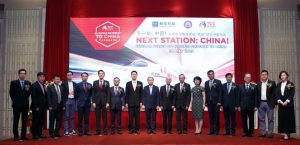 The seminar also mentioned that the number of Chinese consumers seen to be receptive towards embracing cross-boarder E-commerce goods has been seen to be on the rise. Thus, it is easier for overseas businesses to integrate and incorporate their unique goods into China's ever-growing market. JD.com also makes sure that the supply chain procedures are tasked with the most stringent checks to minimize goods misallocation in their logistics department. Goods misallocation is thoroughly prevented by JD.com's comprehensive logistics network. JD.com's network is able to deliver goods within the same day or by the next day. The best part about this service is that compared to Amazon Prime, where consumers are only entitled to a two-day free delivery if they were to subscribe to Amazon Prime's yearly subscription, consumers do not have to incur any additional costs to use this service. This makes JD.com's fast delivery an extremely popular feature among customers who require their goods urgently, such as those in the fresh food produce industry.
The perks of using JD.com as a catalyst to push forth a company's growth are limitless. With their massive presence and user base in China. JD.com is able to substantially increase any company's brand awareness through various forms of publicity and advertising strategies implemented on their site. One of the easiest forms of marketing would be for a company to sell their specific product on JD.com's site, providing the product with the opportunity to be displayed to a wide number of potential consumers concurrently. Since JD.com is a multi-purpose, multi category E-commerce site where consumers can purchase virtually anything & everything, some the clients who have benefited from JD.com's services include GNC, P&G and Walmart.
JD.com hopes that with their credible track-record and their morally upright philosophy, they can work in collaboration with Central Group to become Thailand's most trusted & most reliable partner in China.