Bangkok's first business model conference, lecture, and interactive workshop with Alex Osterwalder has given Thailand an informative, in-depth and insightful look at the different forms of business models.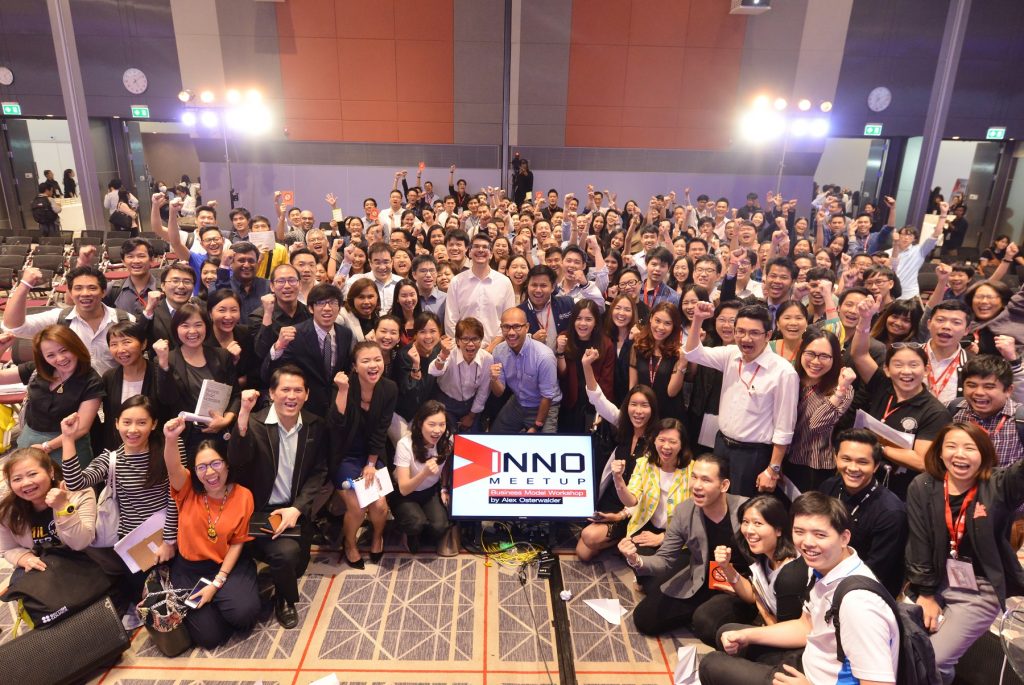 Organised by SCG is the leading organization that puts a focus on innovation development to timely and accurately meet the ever-changing customer's needs is propelling Thailand forward in terms of innovation. Mr Alexander Osterwalder who invented the business model canvas shared his expertise in the workshop, enabling participants to gain a greater understanding on how to design valuable products and services for customers and society's better living amid fierce competition.
74%of CEOs are afraid of new entrants disrupting their business model - KPMG 
72% of all new product innovations flop - Simon Kucher 
6% of executives satisfied with their company's innovation performance - McKinsey 
The segments of Alex's workshop have 4 key aspects that make up a successful brand, business model implementation and the development of products and services.
language/tool - This is focusing specifically on the business model and Proposition Canvas models that Strategyzer has devised that companies can implement to grow their brand.
Prototyping - This is the fun and interactive part of the workshop where we focus on design. We did napkin sketches, paper prototyping, storyboards, brochures, etc of brand development.  They also introduced a "design brief", which outlines the challenge or opportunity to address, define the scope of the project (what's in/out), and provides a means of measuring success.
Testing - Focusing on innovation metrics and testing in the market to form a successful product launch.
Evolution - This is looking at the in-depth aspects of the innovation portfolio, and the culmination of all the steps above on executing a desirable and effective business model/strategy for a brand.
Below is a summary of the key factors that Alex demonstrated that is extremely helpful for both corporate and startups alike to push for innovation that generates and support entrepreneurial experimentation and expression within structured organizations.
'Failure and invention are inseparable twins' (Jeffery Bezos)
The key areas of the Business Model Canvas break down the components that create successful brands.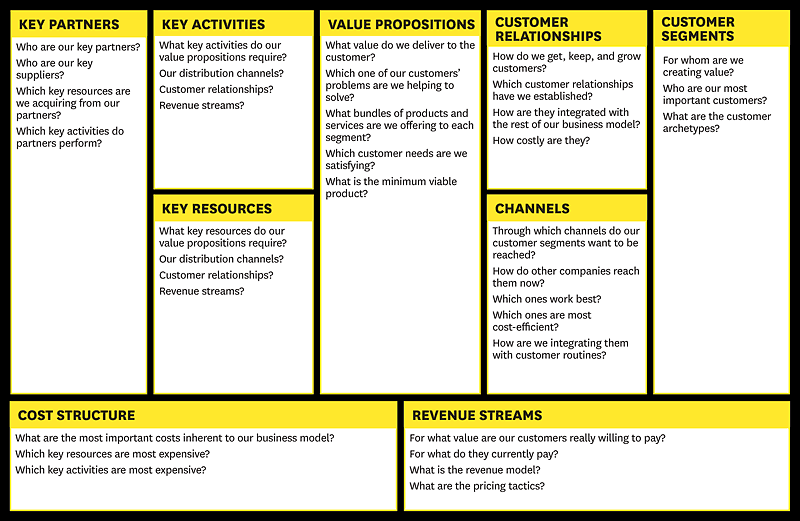 We want to get entrepreneurs and companies to the next level. How can we get people to think about their business models and take the implementation of business models seriously? Corporate business models are really important to get companies to compare on the price, the market and better their services for the competitive sector that they find themselves in.
Entrepreneurship and innovation have to do with Success +profitability + world class execution. Most fail as they need to get all three right. We need to stress and educate that Entrepreneurship is a profession and is completely different from management, however, it also needs to be promoted and given room within rigid corporate settings.
Entrepreneurs don't tend to succeed the first time in emerging or growing Ecosystems and when they fail they quit. We need to create a culture where they want to try again. Corporate companies are worse - many companies lose their best innovation talent by creating such a rigid environment that stifles creativity. We need people who are good managers and great entrepreneurs within a corporate company who can help with the execution which requires a different skill set. Most companies get scared as they fear failure. If they enable deep innovation and allow for failure by changing their mindsets to understanding that failure isn't risky and is part of the innovation process they will succeed much faster. Investing in the right team encourages secure testing of ideas. A perfect example of this is Amazon. As a company, they created 'Web Services' with the allowance and room to fail which enabled a successful branch of their brand.
Encouraging businesses to ask important questions like 'How can we scale the business?' should be an imperative expansion of successful corporate companies. Online training can help employees to grasp the key aspects of  'The Value Proposition Canvas' models while not abandoning their initial vision.
The Value Proposition Canvas 
Products & Services - you list all the products and services which your value proposition is built around. This includes, for example, the services that you offer or the help the customer receives either a functional, social, or emotional
Gain Creators  - Gather all the customer's benefits and desires, and may span personal, functional, or economical etc. For example, this box could include positive emotions, functional requirements, or specific cost savings
Pain Relievers - Gather all the negative emotions and undesired costs, situations and risk which the customer could experience before, during and after getting the job is done.
What needs to be true for your idea to work?
Many companies worry about the creative and innovative process in order to implement and bring an entrepreneurial idea to fruition.
Create many hypothesise which are cheap and perform quick experiments to test in the market.
Creating and inventing new business models is the hardest for small and large companies but it is the tool that can propel a company forward.
The Business model Theatre is another structural model to take into consideration for developing corporate culture.
The Front Stage: Visible to the audience, interacting with clients. Focus on how you can better serve your customers/clients and how you can support your brand's image.
Backstage: Financially look at the entire equation, figure out new ways to expand into different markets and set budgets for producing financially enhancing segmented outlets/products.
Good investment and successful brands learned by understanding their customers and having a tried and tested business model as their template.
For more information on Strategyzer, Alex Osterwalder and the business models he has created check out the website below.
https://strategyzer.com/canvas/business-model-canvas