In today's world where glaciers are melting and sea level is rising, Go Green has become a new global megatrend, sending new disruption waves to industries across every level, especially to energy sectors around the world. The trend itself posed a huge challenge to Banpu, an international versatile energy provider that is one of the major providers in energy resources, generation and technology across 10 countries across Asia-Pacific. With approximately 70-80% of the company's EBITDA coming from its coal mining, the company needs a transition. In Techsauce Global Summit 2020, we have the opportunity to talk with Mrs. Somruedee Chaimongkol, CEO of Banpu, about Banpu's strategies to transition itself into a sustainable energy provider.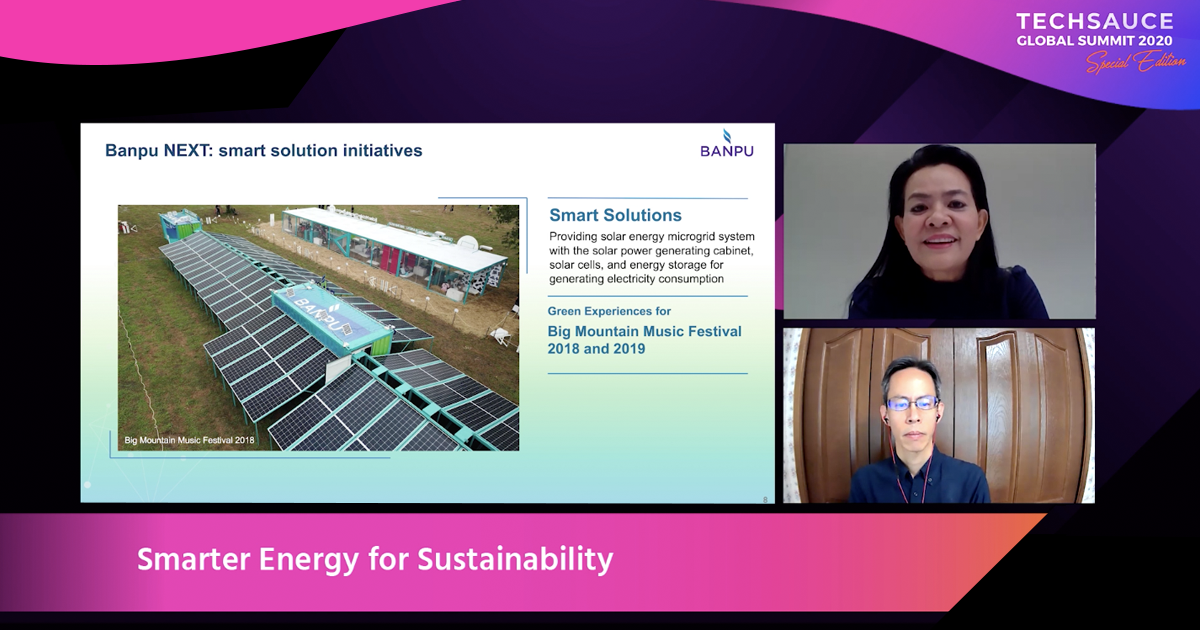 As a CEO, Mrs. Chaimongkol has been implementing a Greener & Smarter strategy since she got into the office. In answering the call for cleaner energy, she shared with us one of the strategies that align with Greener & Smarter that is the 3Ds trends; Digitalization, Decarbonization, and Decentralization.
Firstly, Digitalization is a big idea of being smarter in all aspects. In technology and innovation, Banpu is developing an efficient energy management system, pioneering new technologies for efficient use of alternative energy, and encouraging innovations through its co-creation space. Banpu takes digitalization to the next level by having Banpu Innovation Venture, Banpu VC arm, to invest in contactless applications. This venture capital invests in applications like Muvmi, 3 wheelers providing service, and HAUPCAR, a car rental platform. In customer management, Banpu has created a data warehouse where it stores customer data. Banpu can use this data to tailor a specific service suitable for every customer.
Secondly, Decarbonization with a goal to reduce carbon emission. Banpu's goal aligns with the 7th UN sustainable development goal to provide sustainable energy for all. In the last 5 years, the company has allocated over 95% of its capital expenditure to clean energy initiatives, expecting alternative energy to be over 60% of its energy portfolio by 2025. Moreover, Mrs. Chaimongkol shared her view on sustainable energy that it has 3 dimensions: affordability, reliability, and eco-friendliness, Banpu must achieve all three aspects to transition into a leading green energy provider. However, Mrs. Chaimongkol remarked that this transition must be done with responsibility. After this Covid-19 pandemic, she expects a robust economic recovery and a high GDP growth. Therefore, there will be a surge in cheap energy demand to fuel this recovery. Banpu is responsible for serving this segment of the market as well.
Lastly, Decentralization is a concept of providing services to everyone. In Thailand context, electricity is monopolized by the government. One of the decentralization strategies is to break this monopoly by offering small scale solar panels to their customers. Banpu acquired 47.7% shares in a Singapore-based battery producing company because battery technology is a crucial infrastructure for alternative energy and supporting future energy security. This battery company holds the highest production capacity in ASEAN up to1 Gigawatt-hour.
With this innovation, Banpu decentralized strategy has high flexibility because solar panels can be offered to a wide range of customers such as homeowners, universities, hospitals or any business that uses electricity 24-7. Big Mountain, a popular Thai music festival held in an isolated mountainous area, also uses Banpu service to provide solar-generated electricity. Mrs. Chaimongkol's vision is to develop a big enough microgrid and a solar farm that can power the entire island to which Thai authority does not have reach. Aside from electricity providing service, the decentralization initiative expands to the electric vehicle business of Banpu NEXT, Banpu's subsidiary. Banpu NEXT launched its EV car-sharing platform, preparing for a shift in consumer behavior in the automotive industry. Moreover, Banpu NEXT also introduced eFerry, the first electric ferry in Thailand. These initiatives illustrate the commitment Banpu has for clean energy decentralization.
The founder of SOGO energy and the moderator, Mr. Jeffrey Char, asked Mrs. Chaimongkol about Covid-19 impacts on the energy sector. Mrs. Chaimongkol revealed that Banpu was preparing for a transition to a smart city. However, as Mr. Char had pointed out to how pandemic has got people to "rethinking and reconsidering" their city lives. Work from home has been the dominant way of working. Banpu saw this as an opportunity to stretch its decentralization strategy to homeowners, improving their home facility with new energy sources. Moreover, the pandemic also presented the opportunity for a transition into a smart city, a concept that does not limit to energy consumption but a platform that combines all technology for a higher living standard or "Total smart solution". Banpu would capitalize on this opportunity by focusing on retail solar electric systems and microgrids on upstream, data warehouses on midstream, and UX UI on downstream. Ultimately, Banpu truly believes that clean energy is a future for the energy sector.
This is just a sampling of the great content you'll find at the Techsauce Global Summit 2020. Check out all the sessions here http://summit.techsauce.co.