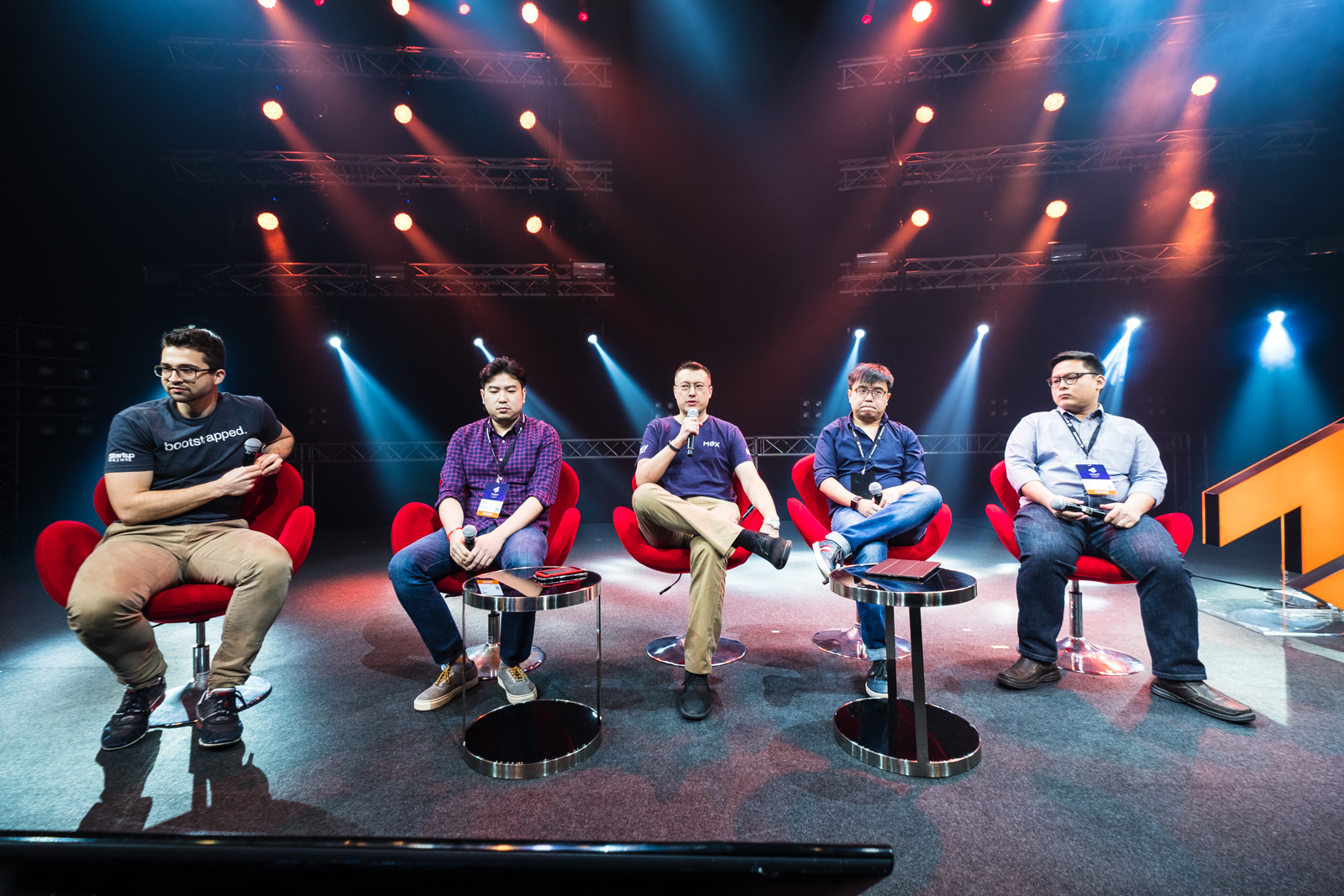 Back in May 2017, the ecommerceIQ blog ran a very popular and insightful blog post by Sheji Ho, Group CMO at aCommerce called The Four Horsemen in Southeast Asia: Why The Region Is The Next Proxy War for Chinese Internet Companies which addressed the giant elephant in the room, and the until-now unspoken fear: Everyone is afraid of China's expansion in the market. So what does China's version of the Four Horsemen - Baidu, Alibaba and Tencent (WeChat) - truly mean for SEA?
At Techsauce Global Summit 2017, Sheji Ho joined Dr. Gang Lu (founder of Technode - the Techcrunch of China), William Bao Bean (SOSV/Chinaccelerator) & Victor Chua (Gobi) in a panel moderated by Jan Smejkal to tackle the issue of Chinese Internet companies flooding the Southeast Asian market in the coming years, and how the future market will look. The team offered advice on how to prepare for the new landscape.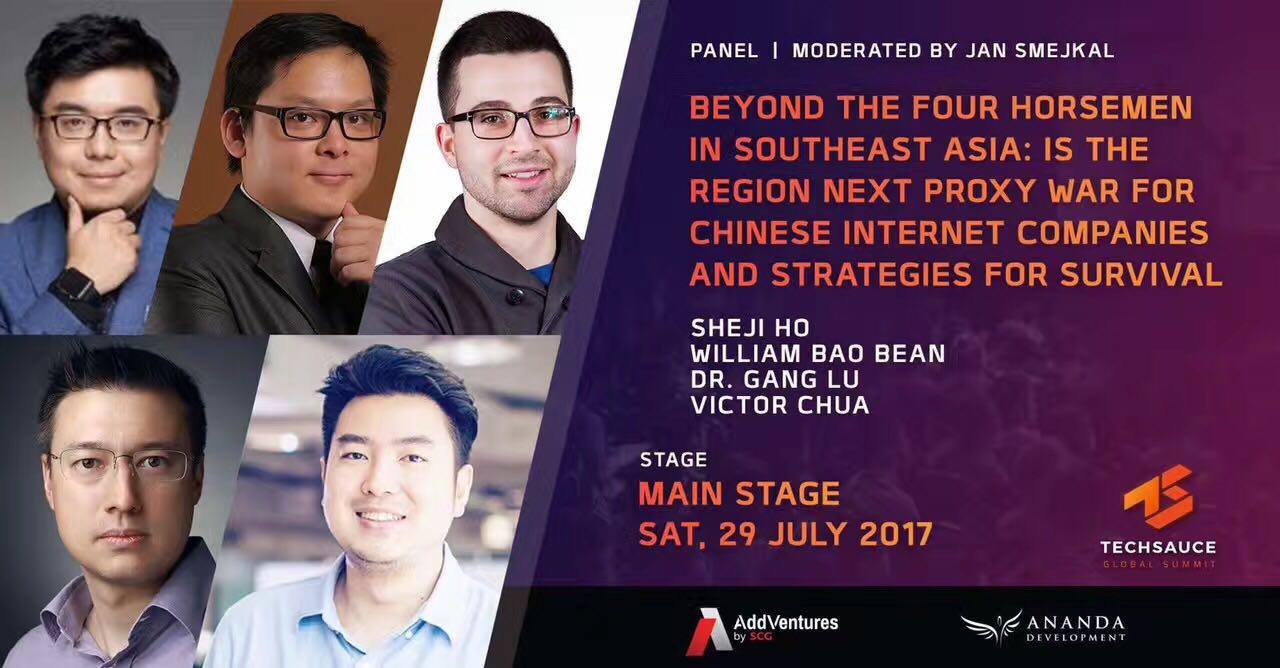 Our panelists shared that start-ups in Southeast Asia may be inclined to look at the US for guidance as their information is accessible and relatable. However, it is advised that start-ups look to China and the business models they have previously used for structure.
This logic comes from the fact that the Southeast Asian market is a  lot like China's, just 5 - 10 years behind - however, SEA is catching up quickly.
It is noted that Southeast Asia should look at China as the 'Crystal Ball' of the future, the way Southeast Asia is now being very concurrent with the way China was before its gigantic growth spurt. By adopting a Chinese business model, Southeast Asian companies can benefit in the long run as they collaborate or learn to dominate in their field.
The panel also strengthened the argument that Southeast Asia is turning into a Chinese colony, and China's total dominion in not just SEA but other regions around the world. It is evident that they are dominating in South American and Indian markets already. And believe it or not, 6 out of 10 Russian apps are now made in China (or Chinese apps).
The West, however, is still quite difficult for China as some Chinese internet companies have already spent a lot on marketing initiatives in the US market yet all the marketing efforts didn't help them dominate the market share.
So, how do Thai start-ups survive, you might ask?
The panelists advised that you need to consider how to grow your business or be taken out. Think about how to be competitive. The Chinese are market-driven, not tech-driven, so therein lies the advantage.
If a Southeast Asian company has new technology or their own technologies, China will certainly look for collaborations or investment. People should be looking to invent the next WeChat, for example.
Currently, China is investing a lot in deep tech - like Artificial Intelligence. But for Southeast Asia, China wants to come and land grab – be a little bit better than everyone else and get a big market share.
Said our panelists, "In China, the big got bigger, the small got crushed and soon that will happen too in Southeast Asia. Start-ups should be prepared for Chinese companies to come in and crush any company that isn't prepared or dominating the market. The Chinese have more capital, talent and an extremely intense work ethic. China is owning e-commerce and taking over payment. If you are a bank, for example you must be ready to go up against Alibaba, the leading e commerce company in China. For Southeast Asian brands though, they could benefit from the arrival of JD (China's largest e-commerce and global online shopping store) - this could be a window of opportunity as more e-commerce sites that come and work B2B will only serve to increase the platforms for brands to use and reach a wider clientele - a win for everyone. Southeast Asian companies also have an advantage as they understand the local market and culture."
Advice from the panel for South East Asian start-ups going into China was split. It could be beneficial for start-ups to understand the market; it is far too competitive and the locals have a better understanding of the market. You would need an unfair advantage like Fin Tech to even be considered.
The lasting impression form the discussion was: "Start-ups should assume that China is here to crush you. They have the capital; they have the talent. It's always good to assume that they will come and fight you and dominate the market."
Southeast Asian markets can benefit greatly from Chinese investment and the larger economy is set to grow exponentially. The people who may suffer are start-ups, however with deep evaluation, preparation and obtaining a unique or dominating stance in their specific market, they should see a harmonious collaboration with China, instead of an all-out war.