As more corporates begin to discover the benefits of cooperating with startups, startups are also tapping on the muscles of experienced corporate players to help them grow. At the Deep Tech Summit in Singapore, Techsauce gained valuable insights of what the future holds for collaborations between corporates and startups eyeing on deep tech. The panel discussion invited 2 experienced speakers in this field.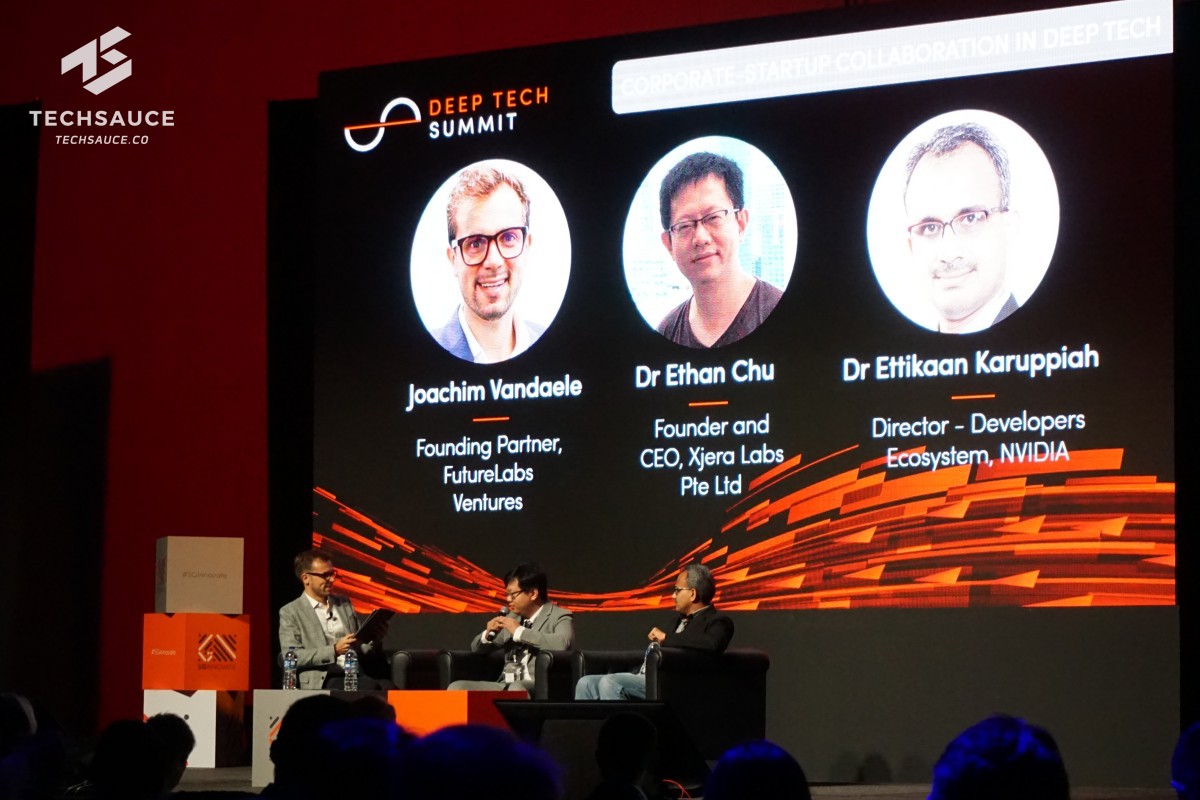 One of the panelist is Dr Ethan Chu, Founder and CEO of Xjera Labs Ptd Ltd. Hailing from Singapore, this startup uses extensive customization, accuracy and security to develop AI based Image and Video Analytics solutions for commercial purposes.
The other panelist is Dr Ettikaan Karuppiah, Director of Developers Ecosystem in NVIDIA. NVIDIA specializes in AI Computing and has built the GPU to meet the combination of high performing computing, AI and virtual reality.
The discussion was moderated by Joachim Vandaele, Founding Partner of FutureLabs Ventures.
What should corporates do other than investment?
Dr Ethan: There are many initiatives for corporate startups collaborations. But for any type of collaboration, it is usually quite complicated as there are many aspects that the corporate and startups must make access to. Sometimes, there is a personal type of field that a startup is better, where a corporate can bring value and not exploit startups. The corporate side also needs to have value in the startup that can bring value to the ecosystem.
When do corporates want to work with startups?
Dr Ettikaan: There are 2 perspectives in this. For Xjera, we have an AI computing company with the hardware and the study case that we make available. As a company, we need to work with approximately 100 startups in Singapore that does innovative work and solve actual real world problems using AI technology, so that it brings value to the people or the estate workers.
Secondly, we believe we have pushed about 3,000 startups. Corporates are generally like giants and elephants. They move, but slowly. Startups are nimble and very fast. They can understand the problem, reach the solution very fast, and are able to test the market. When the product is ready, it can be released immediately. I believe that the startups will be the future disruptive technology companies that we need to help and support.

Photo: Viktor Hanacek from PicJumbo
What is the real benefit of collaborating? Because if you really like the business or product, why not acquire? 
Dr Ettikaan: I disagree with the concept of just buying as you like, because you kill the startups and ideas. As soon as you join the big ship, the small ones will die. Startups should strive to live and excel at a rate that they can, rather than getting into big companies, because corporates are generally too busy to entertain startups, unless their business focuses on startup support. We do not want to abuse startups, but value add them instead.
Why would you like to collaborate with big corporates? Why not have them as a supplier or client?
Dr Ethan: For small startups, the most important aspect about corporates is that they have facilities for regional operations. Hence, corporates can definitely help us to expand regionally.
Dr Ettikaan: For example, what we have done with Xjera in the last 2 months was that they were part of our media inception programme, and we helped to bring them beyond Singapore to regional market to increase opportunity for their growth. At the same time, we provided them with the necessary technology.
What is an ecosystem?
Dr Ettikaan: If a startup wants to venture into a business, especially a traditional existing one, there is a huge gap between what you know and what you can do, like fulfilling production quality, software product and selling it to make money. For example, in terms of a specific software, you have the software price, OEM, SI, end customer, integrators, maintainers, supporters. It is very difficult for them to bridge your unique and capable solution to cut across all these layers before they go on to commercialise. This is to allow the end customer to see the uniqueness and to achieve good deployment and successful implementation for whichever goal they are looking at.
Dr Ethan: Apart from regional business partnerships, one of the most important aspect is tech. The media provider also appraises their case study like the security software or personal data. Our team of engineers are supported by the NVIDIA Tech Support team. That helped us to resolve a lot of parts that would take more time if they were resolved by ourselves.
Do you see the risk of what corporates might want from you, like if they pressurise you to open up your business?
Dr Ethan: Sometimes when we share too much, we can then see the truth. Startups need to have very sound judgement on what corporate to collaborate with. Trust has to be there to move the collaboration forward. Sometimes there is a risk involved, but as an entrepreneur, we need to be able to trust and work with people.

Photo: Daria Shevtsova from Pexels
What kind of mechanisms or approach do you have to build that trust from startups?
Dr Ettikaan: Trust is fundamental. Startup is a key component in every industry. For that, we work with startups selectively. For example in NVIDIA, we provide up to 10 000 worth of free deep learning courses for startups, give them discounted hardware for development purposes, and provide our own engineering time to teach them. This is a very long term effort, as it takes about 1 year for them to come up with something marketable enough to make money. Without any benefits in return, we help them to develop and grow. It is all based on trust that we have on the startups.
What are the opportunities you see for the different industries like Deep Tech? Are there any particular domains appropriate for collaboration?
Dr Ettikaan: We believe certain industries are going to change in the next 10 years. For example, what is changing and has already been invested in is the transportation industry, where autonomous vehicle development has been happening for the last 3 to 4 years and is still ongoing. The next industry we see that is going to change globally is healthcare.
Today, more than 3 million devices are deployed in hospitals and clinics, where large amount of data has been acquired. However, these data have not been touched or analysed yet. In the next 3 to 4 years, we expect a lot of disruptive startups coming out to acquire, analyse the data, and do value added services for health practitioners.
NVIDIA released an AI called Clara. Just last week, they announced that it is going to acquire and understand all the datasets from the images, like MRI machines. There will be a need to extract all the data, provide analytics options at the fingertips of users, practitioners, and others in the healthcare industry. This is going to transform the entire industry, and even though it is still at an early stage, we believe it is one of the sectors to watch out for.
Would it make more sense for you to collaborate with low or no tech? Is the future not about creating partnerships with machines and humans?
Dr Ethan: For Xjera, we are very open to work with traditional industries, and we hope we can work with as many as we can. It is not just our choice, but also the choice of the traditional companies in the industry. For now, we are still making the effort to collaborate with them.
0.8% of all the technical inventions at universities lead to startups, while bigger corporates jointly spend about US$ 700 billion annually on R&D. Why are all these life-changing inventions still shelved?
Dr Ethan: This is the potential role of the startup, and the drive of entrepreneurs. Startups can be a commercialisation engine for patents. Sometimes, that particular patent does not exist or startups are likely to want to build their own patents. Many realise their own ideas and along the way, there may be some deep tech ones available in the universities for the startups to license. If the startup has just commercialised their station engine, the collaboration can just be between the corporate and startup team to head the global startup scale.

Do you see it as a corporate opportunity to fund entrepreneurs focusing on transformational tech?
Dr Ettikaan: Yes, certainly. From NVIDIA's perspective, we select 6 to 8 companies and fund them. We call them disruptive startups who have a totally different idea in solving a specific problem. As part of our programme in GDC, we fund startups strategically. We used to joke among engineers who write patents, that the best patent is when somebody comes to sue you as soon as it releases, because people think the patent and technology are very similar to theirs.
There are 2 classification of patents, one is defensive, and the other is offensive. People have their own interpretations. Defensive refers a patent written to protect themselves. Startups usually go for offensive, because no one has done it, so they try to break down a hundred year old industry with their patent. We believe this type of offensive patent transforms and leads the entire industry. For these type of startups, the corporate should come and help them, because if that is not done today, they may one day buy over or kill the corporate's business.
As our reliance on AI deepens, corporates' and the nation's strategies will be more dependent on that. Isn't this collaborative corporate innovation agenda becoming very geopolitical driven?
Dr Ettikaan: AI is going to be fundamental for human beings and how we are going to carry on with our lives, thus the nation should not leave it only to corporates or startups to drive and benefit from AI. That is why in NVIDIA, there is the AI nation programme, where many entities have seen AI become a very important part of every citizens' lives. Quite a number of nations has similar programmes like AI SG in Singapore. They drive and run programmes targeted at citizens.
Many institutes and government pillars have started using AI to make citizens lives better. Besides getting the corporates and companies to drive AI, the country and government should own the responsibility to embrace AI. It is important and vital, hence they should start investing in it.
Dr Ethan: These AI are too broad and can be applied to so many industries that we have to collaborate with the industry partners in all countries. Thus, I think the future economy is going to be more connected by the AI ventures, and benefit from lower costs.
Dr Ettikaan: From what we see, AI is becoming a topic of how nations define who is going to lead the world.