In this digitalized world, you will notice companies are stepping up to the next level of technological advancement, especially in the Southeast Pacific Region. The question is, will other companies with lesser technologies resources be able to survive in the near future? Do they have to adapt to the pace of society to have a place in the future?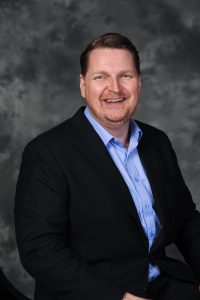 Techsauce Team sat with Glen Burrows, Vice President and General Manager, OEM/IoT Solution APJ to talk about the OEM and embedded technology, and how important are these affecting the transformation to a digitalized world.
Burrows: The OEM Solutions team globally create solutions that power that is embedded or integrated into our customer's technology to create a larger solution. In simple terms, think of us as the team that provides the brains to a larger box. Think of us in this way, Intel is to Dell as we are to our OEM. We are a factor input in a larger solution. We sell anything available from Dell Technologies as long as it's to be embedded, attached, or integrated into a larger Solution. Two years ago, we reached number one in the market worldwide Venture Data Corporation (VDC).
DELL technologies are now more than 25% of the total business worldwide and have been growing at strong double-digit growth rates for each of the last 10 years, and last year they crossed the billion-dollar U.S. threshold.
This is something that we feel demonstrates our customers in Asia are very attracted to the DELL technologies value proposition.
Glen Burrows then share a brief overview of how DELL Technologies are differentiated in the market versus their competitors.
Burrows: When you think about embedded Computing Solutions, you can buy from someone who is an embedded Computing Specialist or a contract manufacturer, an ODM. They can provide a very high level of customisation. However, they do not offer field service and support. You have to bring the goods back to the manufacturer if you need anything repaired. Typically in our industry, most of these goods are manufactured in Taiwan, China, other geographies in Asia. On the other end of the spectrum, Dell Technologies has Global competitors who can provide field service and support worldwide. But they cannot provide customized solutions, they cannot provide customization. However, because of our heritage as the configure to order company, uniquely Dell Technologies can give you a high level of configurability just like a contract manufacturer and at the same time Global field service and support, like any of our other Tier 1 Global competitor on the IT side of the business. This is unique where the only player in the industry that offers customisation and Global field service and support at the same time.
In the Asia Pacific region, DELL has multiple manufacturing facilities and have a very significant investment in its global engineering resources. Therefore, their business is designed in Asia, manufactured in Asia, developed in Asia. Dell technologies is a global company, over the last 10 years they have made very significant investments in Asia.
I would want your audience to know that our success is not about made overseas technologies being developed to Asia. Our success in Asia is all about the entire value chain of solution and creation in Asia, for Asia. Engineered in Asia, Designed in Asia, Sold in Asia, Supported in Asia, that's what driving the strong growth. I believe that's the root of our ability to grow this business beyond a billion US dollars in less than 10 years.
If you can select only one case study that is a successful case study from Asian Pacific, can you mention some brands that you worked with?
Thinking about global customers, the world's leading manufacturer of the distributed controlled system in the industrial automation space is the YOKOGAWA of Japan, a company of more than 1 hundred years of history.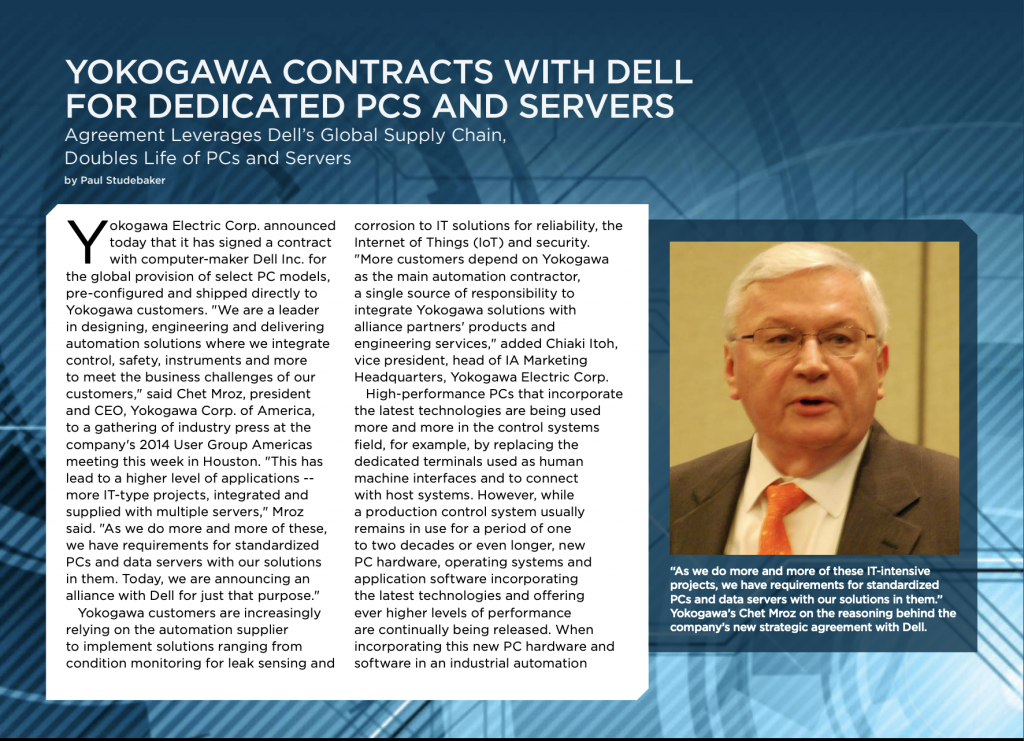 YOKOGAWA is like many Japanese companies historically manufactured the complete solutions themselves. But at their core, they are an operation technology company, they are not an information technology company. Therefore, it doesn't make sense for them to engineer their own computing solutions as part of their global industrial automation business. It makes far more sense for them to partner with Dell, OEM solutions and by so doing, we are bringing the best of IT to their best inbred global OT. We put all of this together to create value for their customers.
In every part of the Dell technology, to improve the value that they create in their industrial automation solutions automatically going out to their customers. I believed that YOKOGAWA chose to partner with Dell because their primary market is around the exploration - natural gas and petroleum processes businesses. These are truly global market and they are not necessarily located in big cities. Those are distributed locations in the Middle East in Russia, in the Gulf of Mexico, Bo Hai Bei in China. There are many many locations around the world where they need field service and support from a leading tier one vendor that can provide high-quality products and back it up globally. And that's our value propositions to that.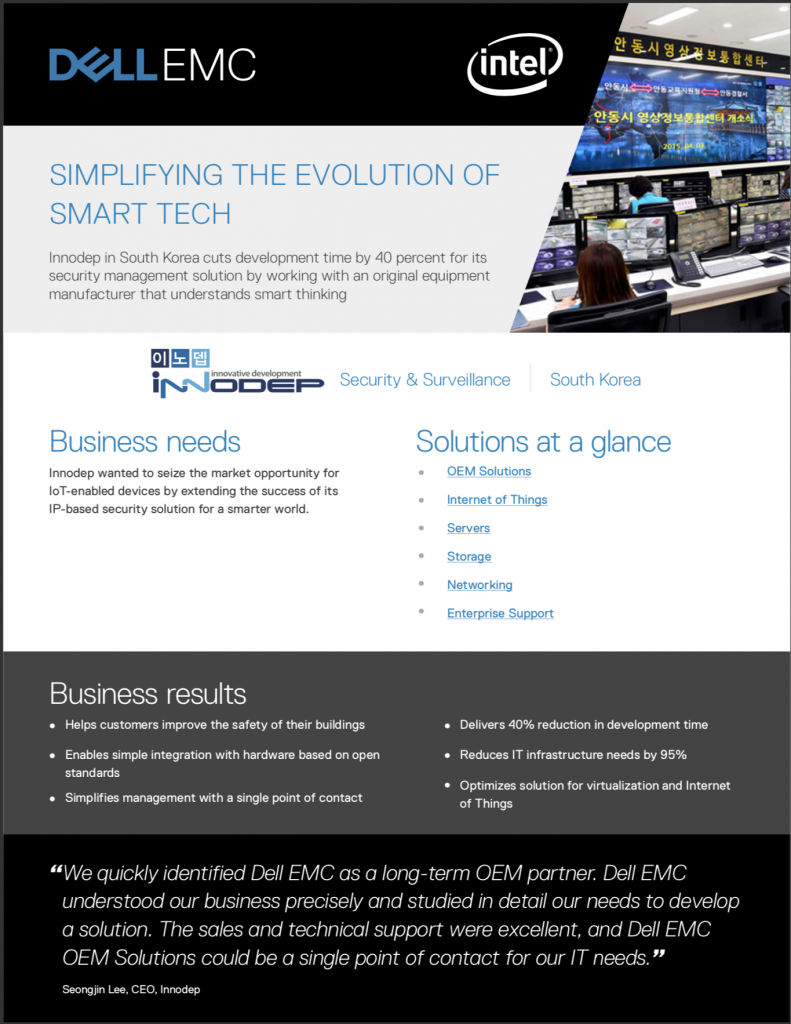 For the last 5 years, Innodep has come and been part of Dell technology solutions showcase. Innodep chairman and founder, Mr. Grand Lee, are partnering with us and showing the world the technology that they create in value adding and analytics for the fifth year. In video surveillance, overlay software that can extract information, intelligent value added for public security, on the core survilliant streams of video imaging. When Innodep wants to go global to sell its product beyond Korea, a contract manufacturer or a local partner will not be sufficient. Dell technology doesn't just bring them the world-class technology, we give them access to a global supply chain. We help them take their business worldwide. Most of our OEM are actually companies that create value at their software layer, they look to Dell technology to be their hardware supply chain. So for this reason, when we put our value propositions together with Innodep. Overnight, Innodep has a global supply chaining in global reach.
Those two companies were highlighted because these are case studies Burrows are very familiar with and can help illustrate the value that DELL technology creates.
Would you please advise for the traditional companies who want to transform to the digital, like using IoT?
When you think about the promise of digital transformation, I think at the highest level. You need to rethink your strategy and make sure that the position you are in is a defensible one and you will not be disrupted by a new market entrance. For example YOKOGAWA, they are the market leader at what they do. They have been around for a hundred years. Their leadership in headquarters located in Tokyo is very wise, very thoughtful. They must disrupt the industrial automation landscape with their generation of product, leveraging all of the digital technologies we can provide to them. Because if they do not, then other new entrances in the industrial automation space could disrupt them.
It is two different levels: If I were an established company, I would want to be the disruptor. Because if i am not the disruptor, someone else would come and disrupt me. On the other hand, if I was a startup, and I have a small business, I would look for the opportunities for disruption.
The digital technology opens up, that creates. There is a great law about innovator dilemma. An innovator dilemma basically says:
If you invent something and you are running that way for many years and it's working for you. You are afraid to leave what you know. You are afraid to change your business model. Because you are trapped by the success of the past and that's your dilemma.
A great thing about being a disruptor, small, nimble, agile disruptive company is that there is no dilemma. You have nothing to lose by going in to disrupt. There are two messages here. Am I trying to make sure I am still relevant in 10 years or am I the company that has a chance to disrupt? Then look at what technology can offer you. Look at leverage to 5G. It is well understood that 5G deployments will be step by step. It is well understood that the 5G deployments will not a light switch, the world will not go to 5G overnight.
Through the next wave of digital transformation as we enable the new workflow because of the big low-cost high-speed network connectivity, there are a set of opportunities there that didn't exist before. There are a set of opportunities to push intelligence out to the edge because now people can connect the edge back to the core in real time, something that couldn't have been done in the past.
The promise of faster network connectivity, more intelligence at the edge, better processes at lower cost that can run on ruggedised systems, desktops, laptops, gateway devices means we can actually push the decision making, push the processing closer to the edge or out to the edge, next to the system that are being managed and we can transform workflow. We can do that because the technology building blocks are nowhere. They are in place today. We have a ruggedised PCs, ruggedised servers, ruggedised clients products that can be considered in shops environment today and we supply those through APJ OEM right now. But 5G will take that to the next level because it will allow us to link all of this together with a wireless network that is not local area but why area by definition.