The financial services industry is clearly in transition and the way forward is to move beyond the current narrative of Financial Technology (FinTech) which has a narrow focus on what FinTech currently is and should be. According to EY's ASEAN FinTech Census 2018 , 1 in 3 FinTech companies are engaged in the payments space and this grows to more than half (54%) if money-transfer or remittance is included. Investors have started to build teams around capabilities of data analytics, blockchain, financing, payment solutions, RegTech and InsurTech. However, sub-specialization of investors has led to varying degrees of maturity across each sub-sector and thereby crowding and depleting innovation.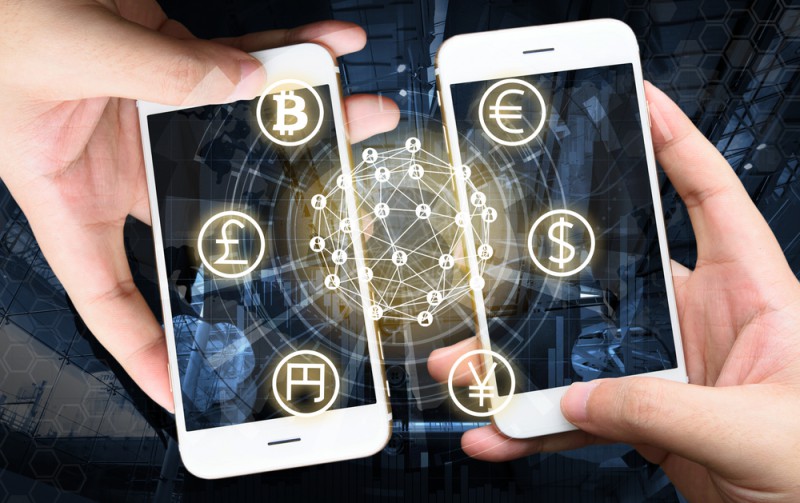 Image source: Australian FinTech
This week, Techsauce sat down in an interview with Mark Suckling, Principal at Southeast Asia-focused venture capital (VC) firm, Cento Ventures (formerly known as Digital Media Partners), who shared his insights into the FinTech industry in the region and provided an alternative perspective to the on-going conversation about investor specialization within sub-sectors of FinTech from a VC point of view.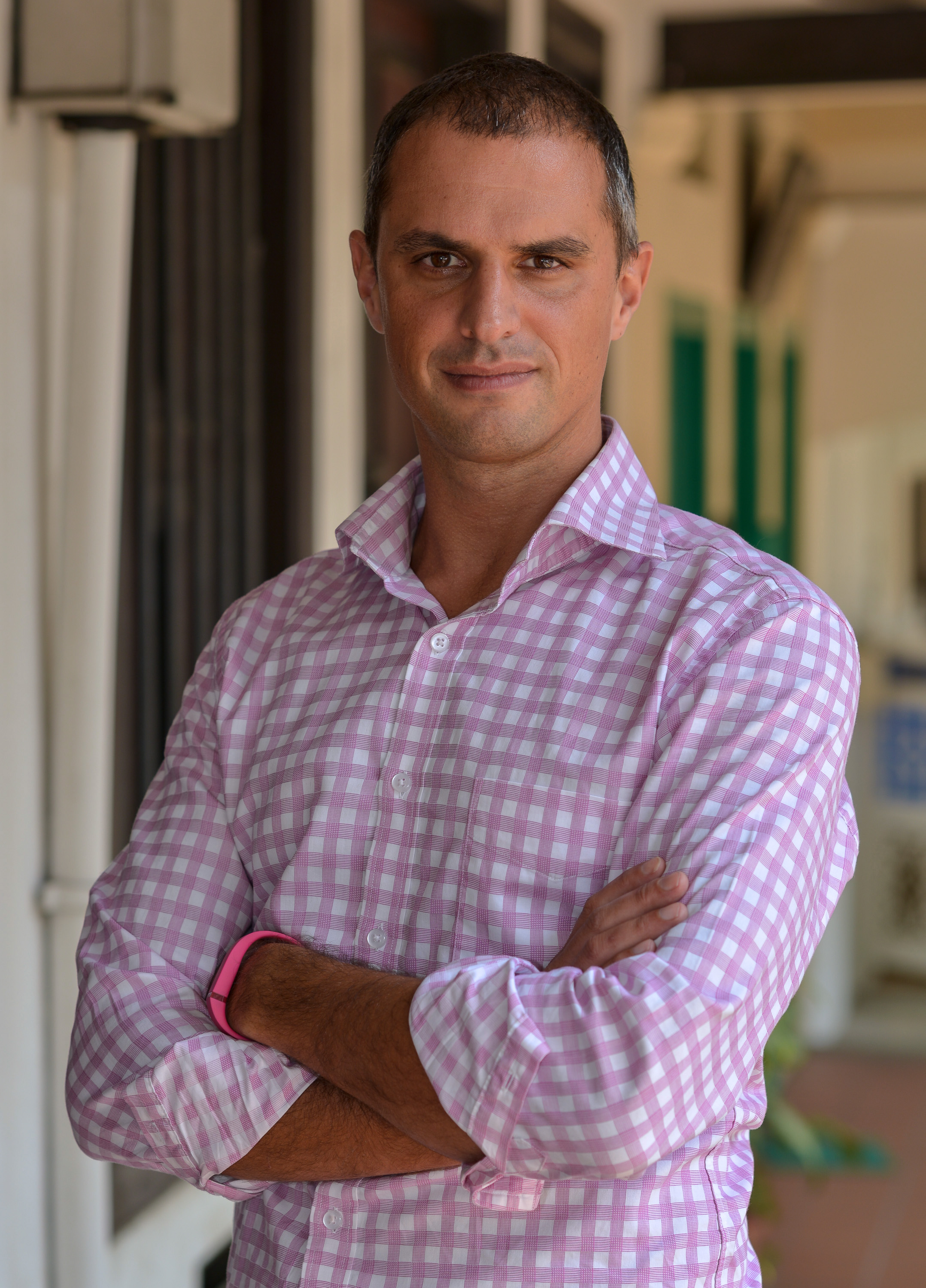 Mark Suckling from Cento Ventures
What are the FinTech waves and who are the main players in Southeast Asia?
FinTech is the industry with a lot of opportunities for investment. In FinTech, there are different waves of development. First FinTech thing that happened was always in payment. Grab Pay, CodaPay and 2C2P are all payment companies, with most of them being B2C. The next wave tends to be about lending, specifically peer-to-peer lending through e-Wallet. The concept is built around helping people borrow money in order to make payment, which is still at its early stage. The next big wave that is barely touched upon is insurance, and there hasn't been any big InsurTech startup out there yet. In the future, the main focus will not just be in the consumer-facing product, but it will also greatly involve B2B.
Different FinTech players are scattered around the region, not just in Singapore. Although Singapore is still Asia's FinTech hotspot topping with 490 FinTechs in the country, Indonesia, with 262 FinTechs, has in fact become the booming market for digital payment, attracting the highest number of investors to the market. Singapore is just a good place to start because it has a lot of expertise in the financial industry, but Thailand, Malaysia and Vietnam are also gradually catching up in FinTech.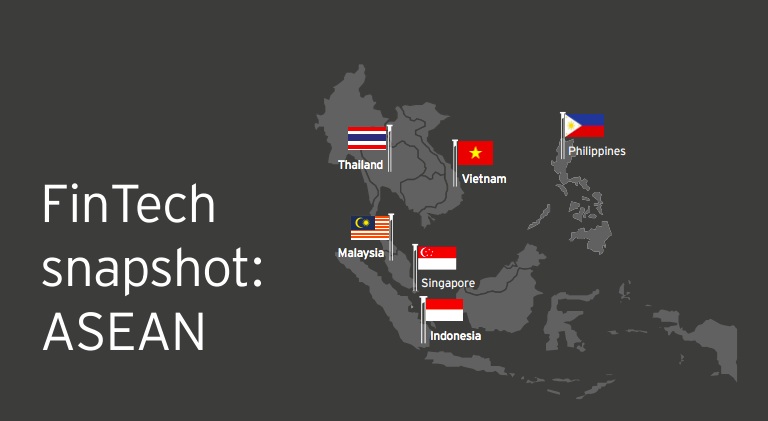 Image source: EY's ASEAN FinTech report 2018
What is the role of FinTech on the insurance industry?
Insurance is an industry that can be greatly disrupted. Insurance policies are not cheap and might not be best designed to what people need. Let's say, if I never made a claim for insurance, why do I have to pay the same amount as someone who does? This pain point leads tech startups into creating a value chain that can help in producing a more cleverly designed insurance policy: to make sure insurance sells better, service is better and to help insurance company design better products. In order to get there, we need data.
The most common type of insurance we see in Southeast Asia is car insurance, but what we haven't seen much is a well-designed insurance policy in that specialization. How tech startups can come into play is to help those companies design insurance policy around usage, by collecting data on how good the driver is or how often the driver drives, using that to allow customers to pay an appropriate premium instead of just a flat premium.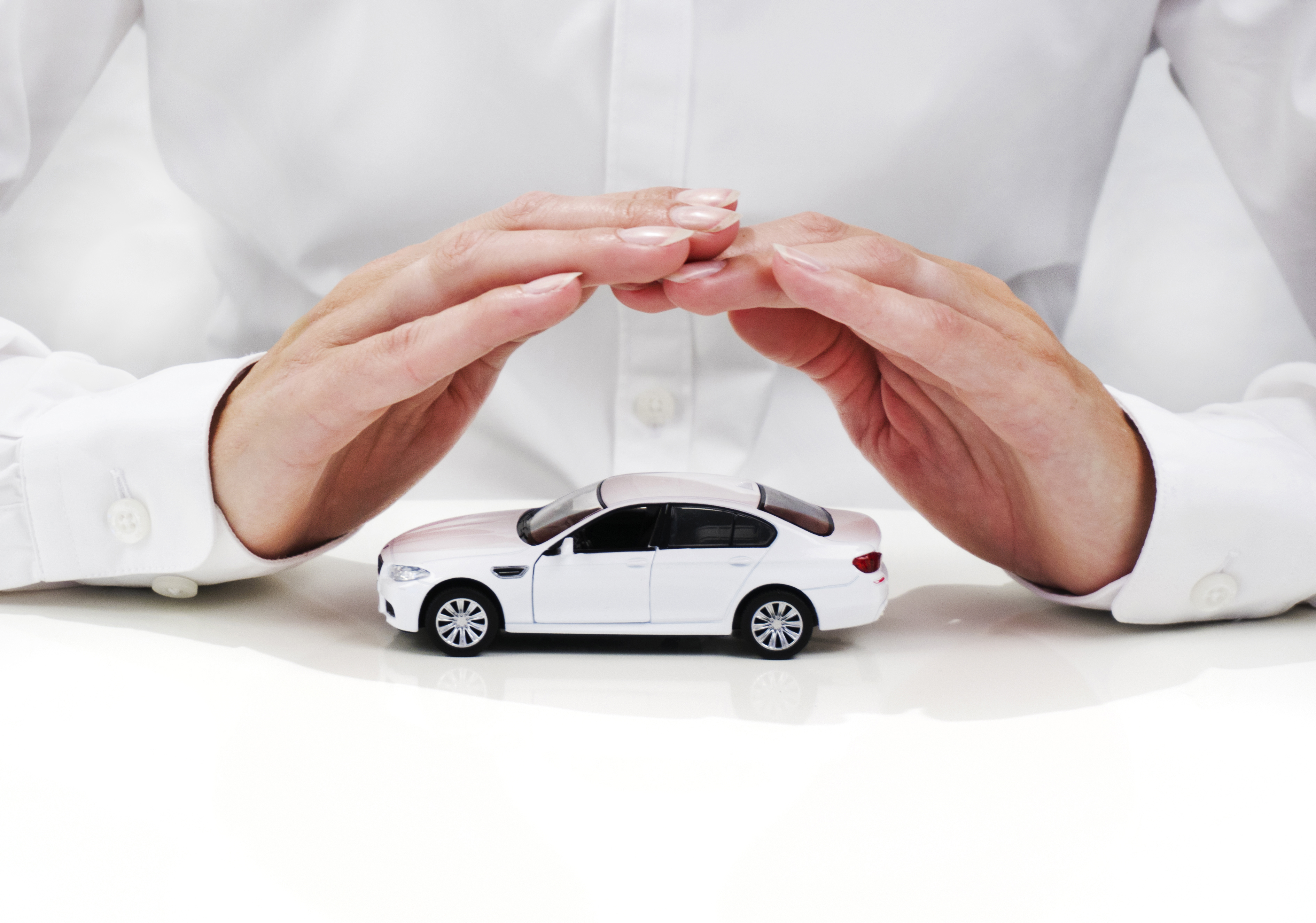 Image source: Cheap Full Coverage Auto Insurance
What are some values to be unlocked in online digital platform?
FinTech is not just disrupting banks - any online transaction can have a financial component to it. For example, Grab is primarily best known for its taxi booking app. But it's not just that because Grab also has a whole bunch of users on the platform making transaction everyday. Users can use their wallet to pay for other things which are not limited to just taxi services, and can potentially lend money to other users too. This way, Grab can take advantage of the wide user base and become a FinTech service on top of its ride-hailing service. All these transactions happen on the platform, and as the person who runs the platform, transactions can expand to insurance services too. This is the potential of transaction and how startups and companies can make use of FinTech.
How can blockchain come into play in the FinTech industry?
Most of the blockchain-related FinTech startups out there today are built around bitcoin concept, but there'll surely be more application of blockchain that's not just limited to cryptocurrency. Each industry has its own timeline, and blockchain is still at the experimental stage. At blockchain conferences, industry leaders are saying blockchain is going to enable everything technology-related. We just have to wait and see the result.
Everything with technology is very timely. Eventually, all things are going to get digitized. The question is not what, but when. If you look back at the old times media of the 90s and read about the tech excitement there, people were all hyped about the internet, whereas many were also very skeptical about it, thinking it completely change the society and take away the existence of school or shops. But look at what is happening today, internet does not necessarily take everything away; schools are still around, pop-up shops are still important channels of retail - internet has become a value-adding part of our lives. Same thing goes for blockchain.
What is the investment trend like in South East Asia?
While e-commerce, travel, entertainment, multi-vertical companies like GoJek and Grab remain most heavily funded categories, other categories gradually attract more attention. Financial services and travel sectors have for some time, and are likely to continue attracting investment. In 2018, there is also an increasing interest in other categories like logistics, real estate and enterprise software. Notice that all the unicorns in Southeast Asia are still in B2C/C2C model.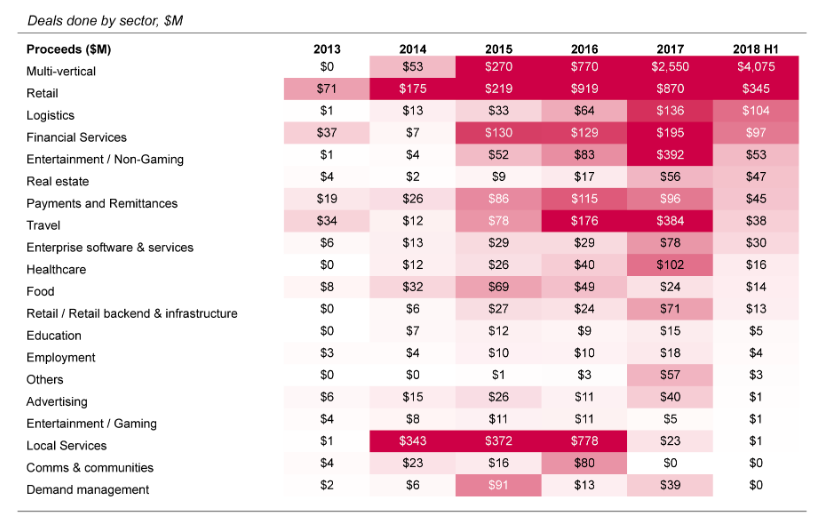 Image source: Cento research
What are some sectors that are not favourable in the current investment climate and why?
First of all, we would avoid investing in things that have already been done. For example, we won't invest in big B2C space because Alibaba is already here. Secondly, we are Series A investor, so we are thinking of what could be successful in the next 5 years time, because that's when we expect to get the share that we invested in. Standing on the opposite side of the timeline, we are not looking for a venture that requires at least 15-20 years to actually matter, that's just too long.
Unlike online shopping, the full scope of FinTech is a little too advanced and there are still plenty to be done. Banks are not ready, important players are still lacking and regulations are still not as transparent as they should be. There is no reason why those sectors cannot succeed, but the time just hasn't come yet. As a VC, it is essential to invest in businesses that are ready in the industry timeline.
From your experience of working with entrepreneurs, why do startups fail? And what are their current biggest challenges?
Product-market fit really can't be underestimated. When we invest, normally the company would already be selling its products. Your first 1,000 customers don't necessarily mean you will go on to reach 1,000,000 customers. Overestimating the market can kill any startup and it's essential to know when to pivot to gain more customers.
The right team and people: running and building a startup is a long journey, and it takes a long time for a startup to exit. The founding members often get too stressed out and this often leads to team fallout. At the same time, not having the right team or passionate people can lead to the downfall of any enterprise.
Money shortage: many startups burn cash too fast and end up with no more money left to spend. This is one of the very common reasons why startups fail. Financial planning is crucial and so is fundraising.
Competition. At the beginning, there might not be any competitor in the market. But after some time, big corporates with unlimited money and resources can easily move in from outside the region as competitors. More often than not, startups die because they either don't have enough money and resources to compete or they aren't able to sustain at the later stage.
First-time and new founders. From the many years working with startups, we notice that there aren't that many repeating founders out there. There are many first-time founders and many of them are not too familiar with fundraising stuff or sustaining a startup.
About Cento Ventures
Started in 2011 and based in Singapore, Cento Ventures is a Series A VC focusing on growth markets, such as Southeast Asia, to capitalize on underserved geographies and industry verticals. Companies which operate within Thailand in its current portfolio https://www.cento.vc/portfolio/ include: iPrice, Medical Departures, WearYouWant, Ctrl/Shift, CodaPay and 2C2P.