With the tech world rapidly making an impact across all industries, the education sector can expect to see revolutionary technology embedded into its very traditional systems, uprooting and reforming the whole framework that exists today. 
A panel of MIT experts and ED tech startup CEOs came together to talk with Techsauce about the tech that will enable more access for all, more constructive ways of conducting classes, homework and overall learning while changing the dynamics of the education industry as a whole.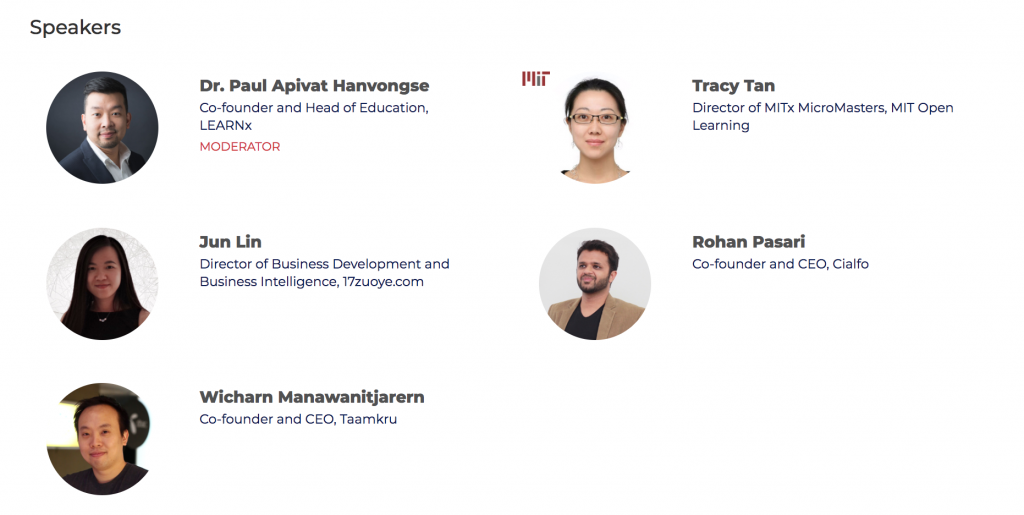 Jun Lin: Director of business development and business intelligence - 17zuoye.com
17zuoye.com, also known as homework together is an education system that operates in China with digitized homework platforms. The platform can mark homework automatically and help students learn particular subjects from the digital platform.
Rohan Pasadi: Co-founder and CEO, Cialfo
Cialfo is an education platform working with students to manage their college application forms. Cialfo marketises college education, access to information, resources and scaling personalised counselling for college applications.  Gives applicants access to financial help and this platform helps students get to the best colleges for their desired degrees.
Tracy Tan: Director of MITx Micromasters, MIT open learning credits. 
Micromasters program: a platform that is funded by MIT. 
MIT runs 3 programs:
Data economics, principles in data science and online learning. The courses cost less than 1500 dollars for this masters program. It's designed to be a stand-alone credential. Supply chain management is rated number one which is looking to grow the global ecosystem with this easy pass way to credits and hopefully, schools from Thailand will join us. . Micromasters program is a platform that is funded by MIT. 
Mediator/mentor: Dr Paul Apivat Hanvongse - co-founder and head of education, LearnX
LEARNx has re-designed how and why people learn English using human-centred design. LEARNx is a one-on-one online video platform for English language learning designed to improve the speaking fluency, confidence, and communication skills of students and working professionals in Asia
Education Tech is taking over Asia. Technology such as augmented reality are becoming developed into educational tools, however, it is not without its own trials and errors, as it stirs up a shift in very traditional institutions. 
How have you found navigating this industry of EdTech and what challenges do you face and how have you got your tech innovation adopted by these traditional institutions?
Jun Lin - Since our business model is all about disrupting the traditional way of doing homework, students in China would do their homework on paper, copy the questions and do it in a book. What we have done is digitalise the homework content. Initially when we rolled it out to schools teachers weren't interested. There were internet issues and infrastructure issues that had to be solved.
We made the content very interactive and gamified to attract students. Over the years we have discovered that the content engages the students more with their homework and their grades have actually gone up.  
Production of technology in education is one of the most difficult things to implement. You have to think about teachers, and how they can use the technology. A lot of teachers view technology as another way to do the same thing and it also means they have to learn a new technology which may be difficult for them if they are older, which a lot of teachers tend to be. It makes the adoption of technology very difficult.
Jeffrey Moore wrote a book called the adoption of technology. In this book, he talks about each country and how they are at different stages of adoption. What stage and infrastructure plus working culture is each country at?
As it stands we are working primarily in South East Asia, we see in these countries we see a greater adoption of these technologies, especially in the private sector as they want to be ahead of their competitors and offer better services.
With tech entrepreneurs, a lot of them are coming from outside the educational institutes - you are in a unique position at MIT where you are at a traditional university setting but one that is operating and implementing new ways of technology. How have you found this intersection of entrepreneurs coming into these institutions?
Tracey -I have been approached by entrepreneurs a lot to develop and learn from the entrepreneurs. It's hard to get faculty members to adopt the technology. We are becoming the bridge between entrepreneurs and faculty members, in helping with the adoption of technology. The micrometres program has really disrupted the mission process. This provides another avenue for learners. Learners don't even need to have a masters degree. It's less challenging than it was a few years ago. Teachers have started to use smartphone apps which is helping with the adoption of tech, and eventually, they will start to see the benefits of tech for their job as well.
Virtual reality/augmented reality is being adopted and it is really changing the interaction between students and teachers and even parents.How have your innovations changed this crucial dynamic?
Rohan - We constantly think how this platform will affect the students and the teachers as we build and adapt the platform, also school management. Our platform looks to enable and store information for college applications across the globe, concisely which means we must work closely with our stakeholders. College counsellors spend a lot of time with paperwork contributing to the process, and the relationship between students and teachers. Our platform helps to make students reports manageable and concise for college counsellors to select the best programs for each student.
We can also collect data about how interactive the platform is and how people are using the platform and for what reason. This is what technology is becoming more and more useful for, big data, statistics and information handling. We look at every stakeholder and try to give as much service as possible.
Please tell us how your innovation has changed the interaction between students and teachers?
Jun Lin - Traditionally - it's tedious work grading the homework of the students. It takes at least one or two days. In a way, our platform becomes more and more personalised for each student within the class as the digitalised format allows teachers more time to look at each students performance as they are not focusing on the menial task of marking and more on the grades and how to help the students improve. Also, we give reports to parents directly and they can also look in detail at their child's development as its all online. They can also compare their child's performance records and can compare the scores.
Dr Paul Apivat Hanvongse - Thailand's education system is really bad and we have been waiting for improvements from the government. We want to make a change and feel that tech can do this.
Tracy - Human interaction is something that some parents and teachers may become dubious about adopting tech and the new systems. For micrometres, at MIT they are really dedicated to using new tools and make sure each student is understanding and performing well. They use things such as google hangout with the learners to interact. There are plenty of online forums and portals to encourage more and more interaction online and offline. There is tons of faculty and student interaction on the platform.
With EdTech, we have seen ways that are betting the education system, how teachers work and help students directly but now we are seeing companies positioning themselves as platforms, serving multiple platforms.
How has this platform thinking influenced the way you design your learning solutions? What are the challenges you face as well?
Tracy - Micrometres is not a platform, but if you look at it from a different angle it is a platform with an easy pass way to credits with global schools. Learners finish their MIT masters programs with us and then can go on to study with our affiliated MIT courses across the globe at 9 other faculties in other countries. The number will grow significantly as its a quick global passway to credits and its open to anyone.
Innovation has lowered the cost of education and helped to include more and more people in emerging markets, what can we do to make it better?
Jun- technology has benefited so many people over the last few years, in Asia and less developed countries. As it stands, the technology may only reach the very wealthy and the people who are able to adopt the technologies, whereas if the basic education structure isn't productive or good enough, then you won't have the mindset to adopt the technology. In these emerging markets, it is widening the gap in the beginning as it is marginalising regions that may not have access to internet etc. However, gradually as wifi mobile technology becomes more accessible and the internet is cheaper, in rural areas, for example, the adoption of the technology will definitely become more integrated but I might take another 10 years for that to happen and benefit everyone.
Tracy - Basic access to the internet is still scarce to people in the world. In a way technology closes the gap, however, it doesn't solve the problem for everyone.
Rohan - For low-income families that don't have access to the internet or the help provided by the technologies, it's still too early to tell if we have shortened the gap between the rich and the poor in emerging markets. even if the technology doesn't reach all of the population at least it is reaching 70 - 80% of the population.
As a field, we have a lot more to do it terms of data collecting in order to understand how the industry works, technology being adopted and the effect it is having on the education system in these emerging markets.
The mindset of teachers for example, in Thailand, is not developing fast enough and its a crucial component in developing the adoption of Technology.
Data, privacy and the geopolitical climate are creating quite a turbulent climate. How can we create solutions to the younger generation and what solutions can we offer these students?
Rohan - This is something we talk with our stakeholders extensively about.
There are going to be jobs 10 years from now that doesn't exist right now and it will definitely change the way the education system is as it will require a whole new skill set from the traditional forms already in place. The students of the future will need to be extremely adaptive in order to deal with the ever-changing environment.
Tracy -  60 - 70% of these jobs will require a much higher level education. People will need to go back to school. 250 million more learners will enter the education system and people need to prepare for lifelong learning.
Kids nowadays have become much smarter as they have access to the tools. Everyone can use the internet and gives us unlimited access to information.
What do we need from policymakers to make the transition and implementation of technology possible?
Tracy -Governments have a strong hold on education and learning so we need them to be more proactive in creating policies to make tech courses compulsory and interactive to engage people which gives them the ability to adopt the technologies. It will help them develop skills such as communication that will serve them well in the future. these are the angles that the government can take.
What are you most excited about in tech for the future? 
Tracy - there are so many technologies in so many industries, already adopted. In the future with technology adopted and integrated education will become more efficient and more entertaining with the adoption of tech.
Rohan - Tech will help us gather Big data! personalising learning through the use of tech will really excel the students experience while learning. implementing machine learning and AI.
Jun - I'm really excited by Blockchain and elaborating blockchain credentials.
Dr Paul Apivat Hanvongse - I'm interested in the mindset development and encourage older teachers to adopt the technologies available. 
----------------------------------------------------------------------------------------------------------------------
At the end of June Techsauce will host an event for tech startups to display their products and services, meet investors and like-minded people.
For more information on this event follow the link below: