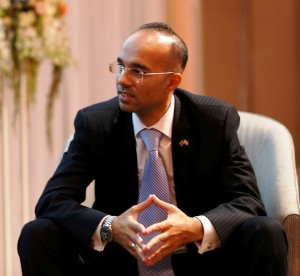 Each time our team thinks of the country like Israel, we will always think of the smart country in creating startups together with advanced innovations. Before Tech Startup has boomed up in our country, whoever used to work in the business related with IT and Telecom would have frequently met the suppliers offering premium solutions with profound technology from this country. What is the most essential factor behind driving this country toward such direction, today let us search for the answer from Head of the Economic and Trade Mission, Israel Embassy in Bangkok.
Briefly tell us about yourself and what is your role in Embassy of Israel
I am the Head of the Economic and Trade Mission, Israel Embassy in Bangkok. I am responsible promoting and supporting the trade and economic affairs of Israel in Thailand, Myanmar and Cambodia as well as increase the business cooperation between the countries and eliminate trade barriers.
How Israel creates many innovative startups 
Israeli tech strength is a result of various factors:
Creativity and Environment Creative & Inventive Culture
Israel Ranked 1# globally for innovative capacity By IMD Global competitive year book 2013; Israel Ranked 3# globally for innovation By WEF Global competitive yearbook 2013-2014)
Israelis love to create, various things and in various sectors.
Creativity is a result of so many reasons, and it's like a vicious cycle, what comes first? Creativity skills or a Supporting ecosystem allowing such creativity to exist? I believe people are creative, each person in his own way, however, people need an ecosystem to support them to do so, to have the encouragement to create.
Thinking outside of the box is just a way of saying that your ecosystem supports a variety of options and not just the trivial one (which leads to no creativity).
On this matter, I would like to quote two well-known Jewish persons who summed up the Jewish way of looking at challenges very well:
On the problem and the way to solve it - Albert Einstein: "we cannot solve our problems with the same thinking we used when we created them"
And on how Israelis look at certain challenges when coming to solve them – Israel's former president Mr. Shimon Peres: "When you have two alternatives, the first thing you have to do is to look for the third that you didn't think about, that doesn't exist"
At the end of the day, please remember that Israelis create to survive and for the greater good of humanity…
Culture The Israeli "Hutzpah" – Go out of the comfort zone and do something that no one has done before and break the rules; Risk taking mentality and High Tolerance for Failure; Answering a question with a question
Israel Ranked 1# for density of startup ventures per capita (2nd only to Silicon valley in total # of startups); Tel-Aviv, Israel's business center, is ranked the 2nd best innovation ecosystem globally By The startup Ecosystem Report 2012.
Ecosystem and Education: Israel has a small, closely-knit country with a highly inter-connected ecosystem that helps business thrive.
The Entrepreneurial Spirit in Israel may start early in life with a strong family dynamic as well as the education system. The Education system in Israel promotes excellence, active participation, as well as encouragement to be creative and to think outside of the box.
Israel has 1,000 new innovative startups a year (that's a new breakthrough every 8 hours)
Israel has Top Educational & Academic Institutions (ranked #1 for scientific publications per capita, as well as in number of engineers per capita – followed by the US)
More than 250 Multi-National Corporations opened R&D Centers in Israel (some of them as a first choice outside of their main HQs).
Army Experience and Problem Solving Orientation The compulsory military service young Israelis (boys and girls) fulfill when they turn 18 as a driver of high achievement. Some of them deal on a daily basis with high technologies, some continue to officer position and training, which put them in a unique position to be problem solvers and think in a strategic way. In addition, the continuous external threats to Israel are also a contributing factor to cultivate a seriousness of purpose and a cultural willingness to accept economic risks.
Immigrant Society Israel is an immigrant and multicultural nation, allowing for diversity and different viewpoints. This facilitates creativity and innovation, by encouraging the free flow of ideas and collaboration among individuals with very different perspectives. Immigrants already took a chance in their own lives, left what they had and move to another place.
Government Guidance In Israel there's a unique collaboration between the Government, Academia and Private Sector, and the Israeli government made several crucial strategic decisions to jump start a science-based sector by providing financial support for commercial R&D (through the chief scientists' arms). These smart policies played a key role in spurring innovation and made up for market failures and the heightened risk in managing a company.
Israel has various programs to support R&D and Investments – i.e.: Programs to support Industrial R&D, Capital Investments & Employment Tracks, Tax benefits for investors in Israeli VCs, Vocational Training Support
Israel is ranked #1 in the world for both country and business sector expenditure on R&D (as % of GDP)
Which industries and trends that Israel is focusing right now?
Israel has a multi sector innovation system with strong clusters of novelty and innovation across a broad range of industrial sectors. You can find Israel Innovative technologies (I.I.T.) in the following sectors:
IT, Telecom, Cyber Security, Internet and New Media, Life Science and Health Industries, Home Land Security (HLS) and Aerospace, Industrial Technologies, Agricultural and Food Technologies and Clean-Tech (Water and Renewable Energies Technologies).
These innovations are improving the lives of many daily worldwide, CONNECTING them to each other with Telecom and Aerospace technologies, DIAGNOSING and HEALING with Medical Technologies, CREATING food and PROVIDING water and energy when there's none (Agro, Water and Clean Tech), PROTECTING them (HLS) and more.
With 15 billion dollars FDI a year Israel Innovative Techs are attracting MNCs and Investors from all over the world to provide them with a cutting edge to complement their current solutions.
Because you are one of the key supporters in startup ecosystem, please share your opinion about Thai startups in different perspectives
Business opportunities/Challenges As a developing country, Thailand requires various technologies to strengthen its existing operations. However, the country differentiates within itself; surely, people can't compare BKK to other provinces in Thailand, and it's true with regards to other provinces within themselves. The development in BKK is far more advanced than in other parts of the country. And when we talk about Thailand it's important that we will include whole the country's provinces, and yes, it might not be easy, but there are opportunities everywhere and in every field.
In the telecom market for example, the infrastructure deployment and the high competition among the mobile operators bring opportunities to the startups (wherever they are) to create value-added services that could retain customers' royalty and attract new customers.
Social Media is also playing a key role in this inclusiveness: Thailand is a leader in South East Asia in social media adoption (namely, LINE, FB, Twitter, IG etc.), mobile penetration and the emergence of social business models. With more and more Thais moving from rural outskirts of the country to the urban centers, Thailand's capital of Bangkok has become a hub for creative tech innovations. Unfortunately, it's not translated to creating such applications in a mass scale… Thailand is considered as user at the moment not a creator of these apps…
However, as Thailand continues to develop as an emerging leader in Southeast Asia, social media will play a significant role in the development of the country's key industries and markets and you can see it in every product coming out to the market in Thailand.
I already see a huge change in Thailand in the 3 years I've been here. I see young leaders, with knowledge, experience, who dare to do! And maybe that's the biggest change.
Those entrepreneurs decided to take life in their hands and create. Companies like aCommerce, Hubba, PocketPlay, Ookbee and 500TukTuks are just an example of the awakening of the ecosystems and the entrepreneurship and innovation path.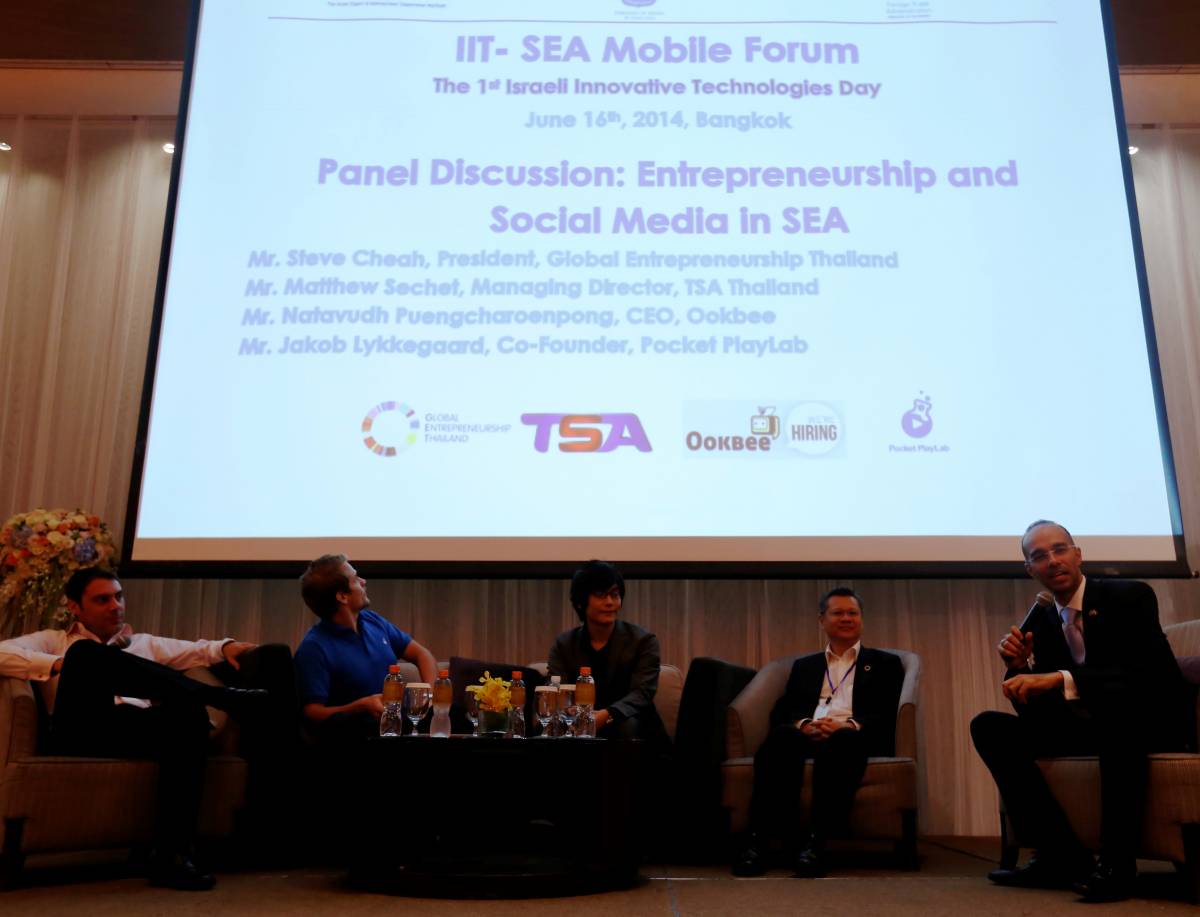 The ecosystem is developing as we speak, but there's much to do. More events, more role models, more risk taking, and most importantly… more support…
Thailand's public sector, private sector and academia will have to find a way to collaborate and assist them in the creation of this ecosystem, to develop new technologies and to increase investments in R&D.
Thailand will have to support experience and knowledge transfer, which will lead to a higher income, increased GDP and attract more FDI - all within the goals Thailand has set for itself to achieve by 2020.
As today there's a shift in the financing methods and you see more and more funds coming from both large corporations and individuals (crowdfunding methods) in addition to the traditional VCs, Angels, Gov etc.
The latest trends of the mobile market place - cloud-based solutions, mobile finance solutions, mobile advertising solutions, M2M, personal communication and social-networking solutions, mobile workforce and organizational process management, all cross a variety of sectors and allow access of the customers to the companies and within the companies.
Innovation Research and Development (R&D) is a key aspect of innovation, In addition to the conventional role of generating innovations that are "new to the world", R&D is also important to enhance the technological catch-up and generate innovations that are "new-to-the-firm".
However, Innovation is everywhere, not just R&D, it's in the way of thinking, the way of creating etc.
Unfortunately, Thailand is not fulfilling its capability yet in that field. There are so many innovators in the country and it's the country's role to find them and support them.
From what I've seen in the past few years in Thailand, more and more show innovative thinking and create, but still not enough… creating a supportive ecosystem will play a key role to strengthen the innovative thinking and creations in Thailand.
Israel has many angels/VCs. Any kind of advice or new collaboration that Embassy of Israel and thai startups can work together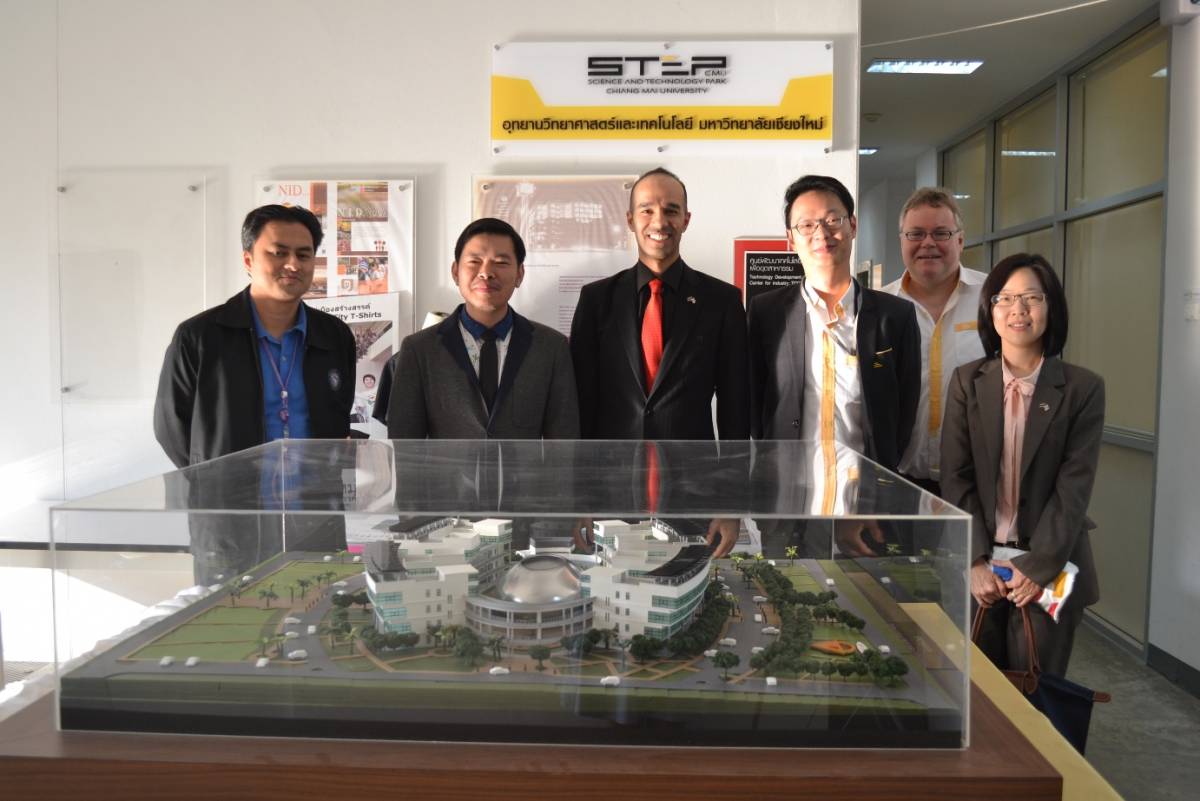 Adopting Israel innovation technologies (IIT) will enable Thai Industries to reduce production costs and increase yields, with the emphasis on timing before the ASEAN Economic Community comes fully into effect at the end of this year.
There are many possibilities of Thai companies to work with Israeli companies, anything from Conducting R&D together, which is supported by my office as a new channel of funding to SMEs, Adaptation of technologies to the Thai culture and market, all the way to Implementation of Israeli innovation in Thai companies, which will bring them an added value and cutting edge vs. the competitors.
I believe that more events together, more support by both governments and private sectors in young entrepreneurs, implementing courses for innovative and open thinking as part of programs for entrepreneurship in the top universities, improving foreign language proficiency, exposing and sharing ideas – brainstorming, all those and more will assist Thailand moving to the next phase, and Israel will be proud to support this move.