Speakers from Thailand and Hong Kong gather to share their insight from real case studies on how corporate ventures drive growth through innovations. In this panel, joined by Peter Mok, Head of Strategic Partnership of HKSTP (Hong Kong Science and Technology Parks Corporation), Natwut Amornvivat, President of True Digital Group, Chakramon Nitibhon, Head of Investment of Singha Ventures, and Jirapat Janjerdsak, CTO of Siri Ventures. Along with the moderator of this session is Relena Sei, CEO of Jumpstart Media Limited. What are the challenges when innovations are smart enough to transform themselves and the culture is aligned, they all believe an amazing thing can happen.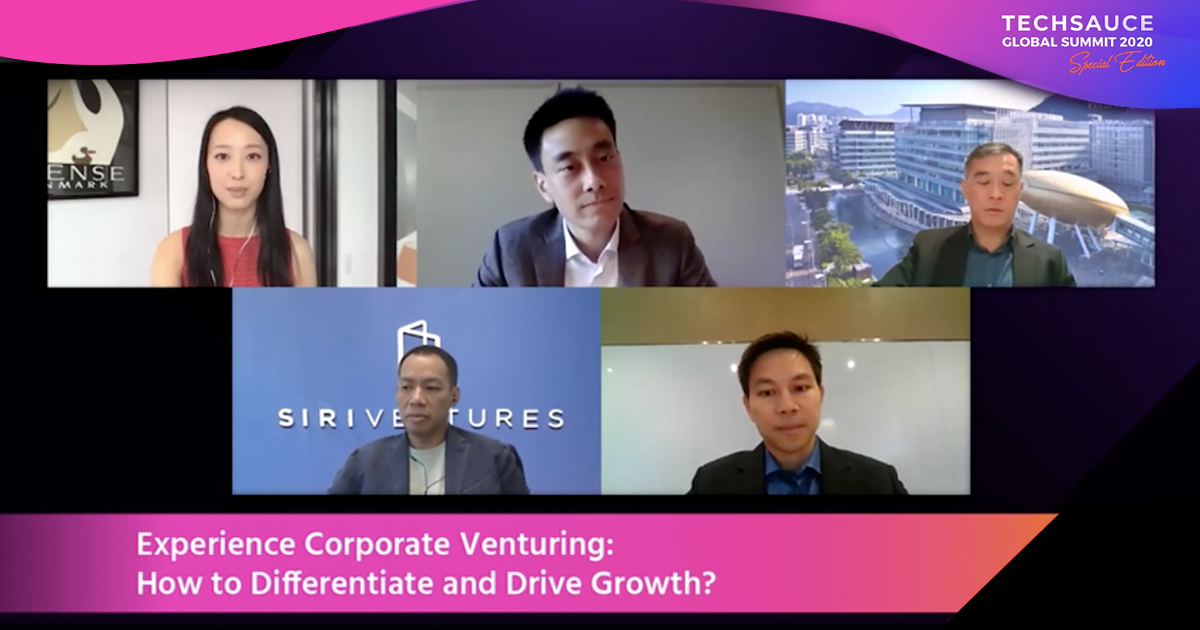 Corporate Ventures Capital Positioning
First, starting with the mandatory question about the positioning of corporate venture capital in the business world, Peter believes that CVC is such a unique positioning. Because it can serve both strategic values and funding return. Since it portrayed uniqueness in the business industry, corporations need to remain special and outstanding. Then Jitapat, CTO of Siri Ventures, has added on the positioning of corporate ventures that make it so popular because of its synergy credits. Synergy credits between CVC and companies help build a good reputation and make it more credential than startups in general. Jirapat also gave an example of how his company provides solutions and strategies that could be useful for startups that would like to improve their business scale. Then Natwut, President of True Digital Group, explained more about the relationship of synergy credits from the startups side as he has experience in the startups industry. CVC has a bigger scale. So basically, they have a lot on the table to be focused on. But for the startup side, they are single-minded. They can focus on only one thing. They have pretty much nothing to distract them. They have the ability to only focus and improve on the strategy. Meanwhile, corporate has many aspects of being taken care of at the same time. To be concluded about the synergy credits, it is that startups can provide new technologies with particular segments, and corporates can give back the customer base and funding to them. It is the pattern of two needing each other and aligned together.
The difference in HKSTP and other corporates' strategic corporate partnerships, Peter has pointed out that Research and Development or R & D plays an important role in driving corporate innovation of HKSTP. Starting with the existing domain knowledge towards the employees. It is significant to make sure that the employees know better about the company than the industry. Also, big corporate ventures can hire professionals and experts in similar fields to manage the organization. They have funding to invest in professionalism. However, this must be traded by high cost and expensive salary. Furthermore, hiring expertise could be a disadvantage. Since the expert is highly professional in a particular field. They sometimes forget to think outside the box and try new things. This could prevent corporate ventures from a different solution in managing their business because they stick to the same strategy.
And there is no rocket science solution for a problem like this. The most practical way is to set a clear objective for their corporate ventures and try to archive it the best they can. Since the world is changing every day in so many aspects, including digital and business terms. Jirapat has given an insight example from where he's positioned with Siri Ventures. He focused on corporate innovation activities and house development. They have looked for new investment opportunities to gain new insight and teamed up with 10 internal ventures to work together for better results. He suggests corporate ventures to always look for new opportunities. Setting the right expectation at the beginning is crucial, it is okay to allow themselves to fail.
Corporate Culture
Culture in transformation digital innovation is also significant for corporate ventures. Natwut added on how True Digital Group aligns the corporate culture with the company's vision. Innovative culture needs to be based on the ability to accept failures, accept the risk, and learn from those mistakes, and go down from the department level to the individual level. The employees must feel secure with the company. And the company must give them room to experiment and to make some failures. Another thing is the eagerness to work with diverse people. In that case, they will find a different point of view, to find new segments and new solutions for the company. Moreover, companies need to utilize new generations, open up to the challenge of hierarchy. All of this wouldn't matter if the CEO were a good example for the employees. Top-level executives and management are the keys to make cultural innovation possible by being the role of lower levels.
To make the corporate ventures go globally, Chakramon from Singha Ventures will explain how Singha can enable its portfolio startups to scale in Thailand and expand internationally.
It is important for Singha Ventures to not only invest in Thailand but also focus on international investment. Basically, Singha is looking to work with companies that wish to expand their business to Thailand. At the same time, Singha loves to invest in regional platforms that have a strong preference overseas. They tend to work with all those types of companies more actively by investing in them and then supporting them in terms of having a relationship commercially to help them launch in Thailand on a commercial agreement for joint venture structure cases. And make sure there is an alignment between the management sector to get involved with the local joint venture project.
Culture Collaboration
It is important to make startups feel secure and willing to risk working with corporate ventures. Natwut has high experience working with the startup industry and now on the top management of the corporate ventures world, understands the risk from both sides. His suggestion for any startup is to first start on their clear business plan. They need to plan the objectives that they want to achieve specifically, either it's B2B model or customer target based. And after they come up with the priority plan, they can seek help from corporate ventures by presenting your best ideas. Startups offer corporate ventures their strategy and business ideas in exchange. The corporate ventures will then select the best one that suits their company's vision or model plan. This is one way to create cultural collaboration between two scales of businesses.
This is just a sampling of the great content you'll find at the Techsauce Global Summit 2020. Check out all the sessions here http://summit.techsauce.co