Changes in technology and innovation have transformed manufacturing industry into the age of 'Exponential Growth'. It is essential for the Thai industrial sector to adjust itself hard and fast in a bid to upscale its competitiveness in the global arena.  
With collaboration from Singularity University, the global community of think tanks and world-class innovators from the Silicon Valley, Exponential Manufacturing Thailand 2019 is the summit that will transform the Thai industrial sector big time. This summit is also the first national agenda that will help businesses leap towards growth and development.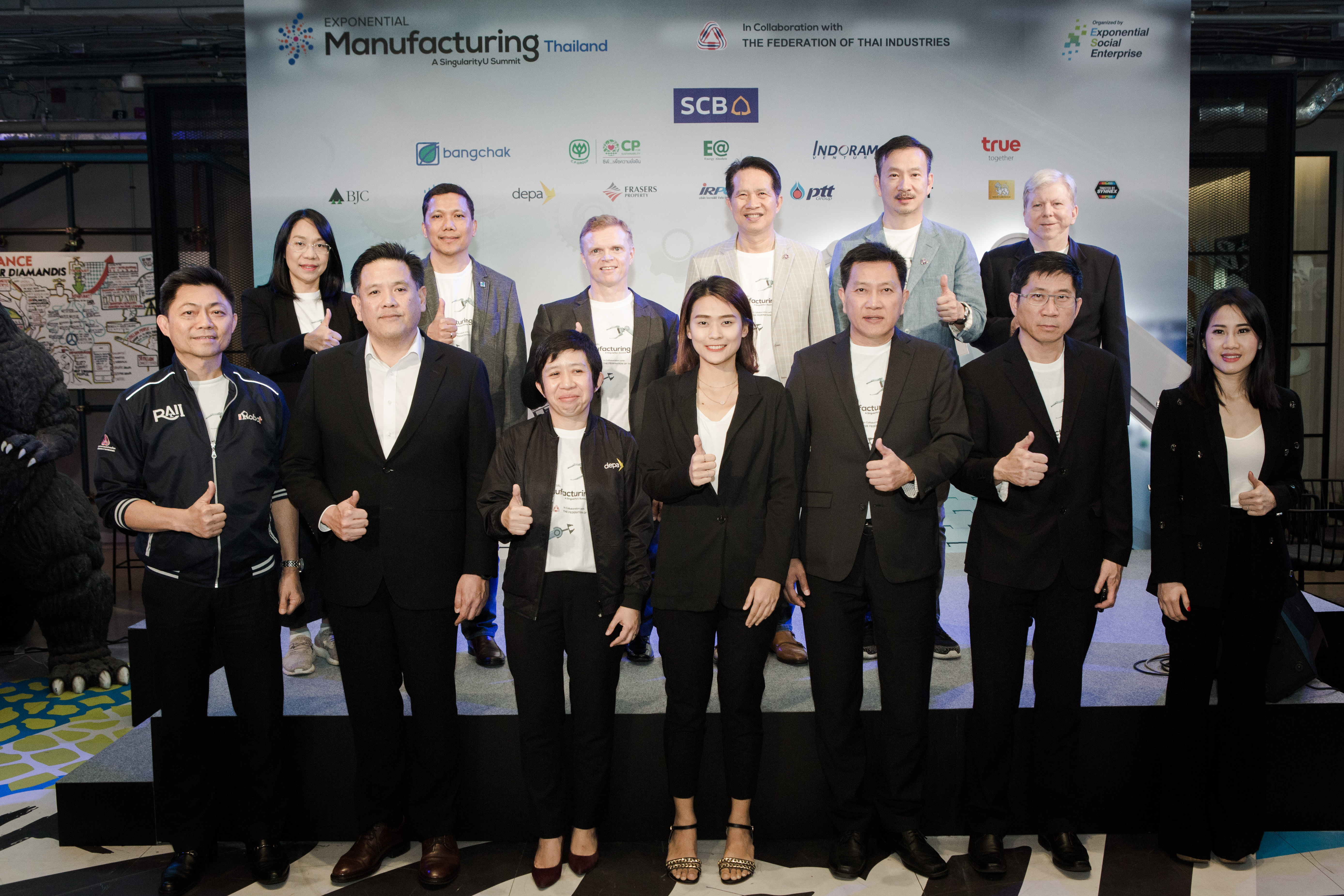 Throughout the two-day summit, innovation leaders from the Silicon Valley's Singularity University will travel to Bangkok to share their knowledge on advanced disruptive technologies playing a key role to a rapid change in the industrial sector.
Supant Mongkolsuthree, Honorary Chairman of the Federation of Thai Industries, said "Disruptive technologies and innovation have become influential to the manufacturing industry. Every business needs to adjust itself and keep up with such a major change by utilising innovative technologies to enhance its competitiveness beneficial for sustainable business growth and development of the industrial sector. Automation and robot have been widely adopted for use in the manufacturing process.
"The Federation of Thai Industries is the center that helps leverage Thailand's industrial development in the global arena, and bridge a network of private, public and international sectors.  The majority of the members are small and medium enterprises (SMEs). We're well aware of the industrial sector's need to keep up with future innovation and technology. That's why we're hosting the Exponential Manufacturing Thailand 2019 scheduled on May 15-16 in order to emphasise our objective of technological transformation while enhancing the industrial sector with new innovation and technology. Over 15 keynote speakers attending the summit are world class experts in different fields, for example, new production technology and innovation, artificial intelligence (AI), energy and environment. It is time for Thailand to open up and learn to accept changes that will enable the industrial sector to move forward with new business outlook that and efficiency.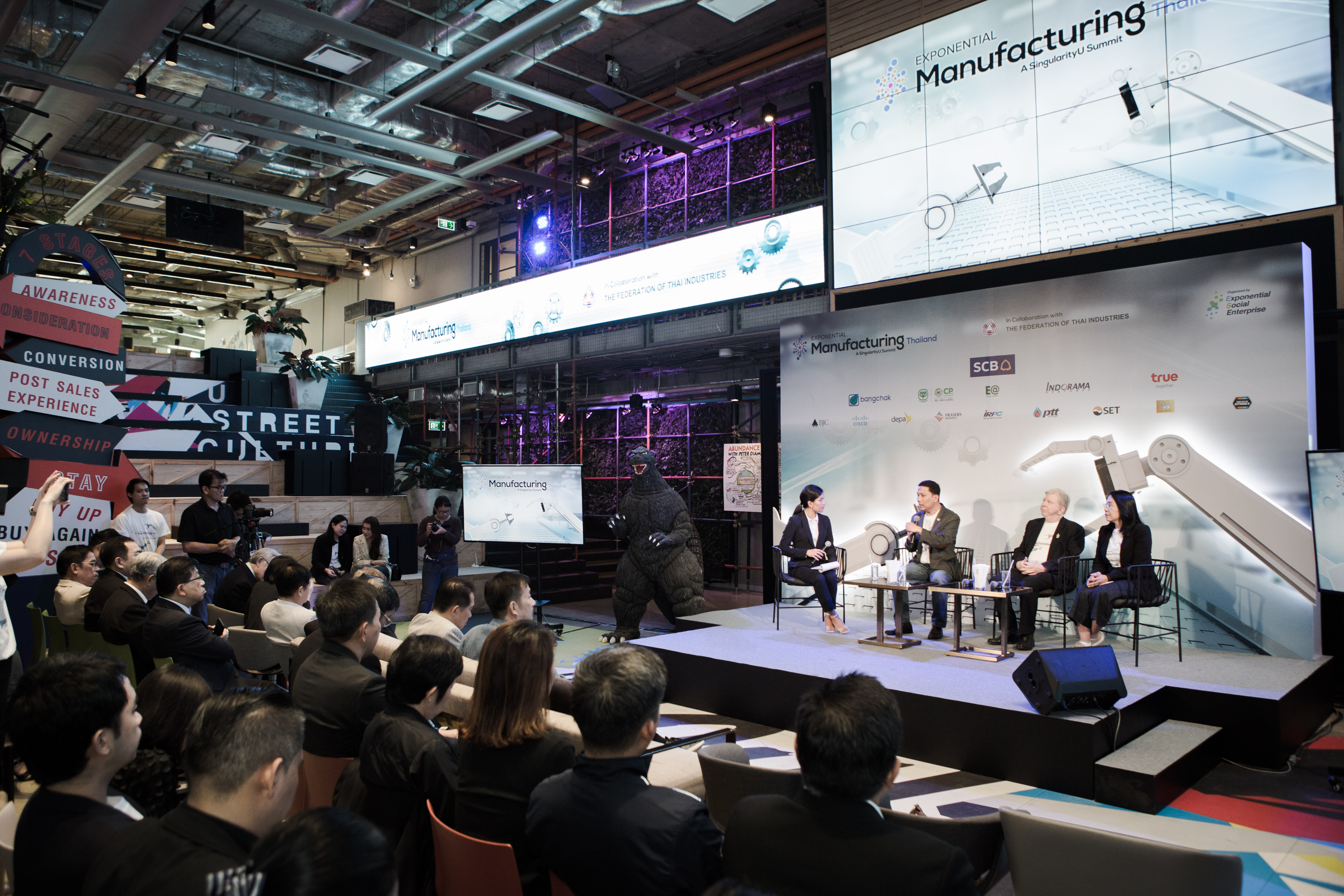 "On top of everything else, I do believe this event will bring significant change in both public and private sectors as well as FTI members, leading to technological adjustment and innovation integration in the manufacturing industry. Eventually, strong, sustainable alliance of Thai industries will be established following the FTI objective.
"High-level executives from public and private sectors, new entrepreneurs and international business leaders worldwide are expected to attend the two-day summit. The major details will focus on new innovation and technological advance playing a key role in a rapid change of the Thai industries. Participants can learn about experiences and knowledge sharing from experts and leading innovation leaders from Singularity University from the Silicon Valley. This is very special and truly makes Exponential Manufacturing Thailand 2019 unique."
Similar to Mr Supant, President and Chief Executive Officer Bangchak Corporation and FTI Vice President Chaiwat Kovavisarach sees the importance of preparing the Thai industries to leap towards global change. Apart from providing support to the event, Mr Chaiwat also believes the energy sector needs to adjust itself.
How is the Thai industrial situation from Bangchak's point of view? Is there any significant and crucial change?
The impact of industrial change at present keeps coming like waves. Without preparation, business could be affected. The printing industry, for example, has been affected for over a decade. However, a new platform which can replace the printing industry have been clearly identified and established. Such change will sooner or later affect other industries such as retailing and finance.
Bangchak is a Thai energy company. We have seen quite a few changes in our industry, for example, a trend of 'Electrification', which electricity will be used in every step of manufacturing process. In addition, 'Decarbonisation' will also be the upcoming business trend aimed at reducing carbon emission.
Last year, plastic waste was of the public concern. Eventually, the momentum will be more established and have an impact on every business. Therefore, it is important for high-level executives to be agile, prepare and think ahead of factors that will affect the business, so that corporate staff will understand the situation and the context that may happen.
What are the challenges facing the Thai industry at present? How can we utilise resources for optimum benefits?
Thirty years ago, there were just 3.5 billion population, compared to 7.5 billion at present. The number will jump to nine billion in the next ten years. However, over 40% of the total population lived and earned below the poverty line of USD 1/day 30 years ago. Nowadays, less than 10% of the total 7.5 billion world population live below poverty line.
Everything grows rapidly and so does resource consumption. As a result, we are currently facing  climate change, polluted waste, and depleting resources.
How to use the energy without wasting or losing it for good is an obvious trend. Natural gas, coal, crude oil are irreplaceable resources while sunlight can be recycled, similarly to the air we breathe. We can generate electricity from the sunlight. Growth is fast, however, is not sufficient enough. We can only generate electricity from the sunlight at less than 1% of its capacity. The world should have generated the electricity from the sunlight or wind 100 or even 1,000 times more what we are doing nowadays. It is called energy recycling.
For plastic, some says why we do not use plant-based products as these are more sustainable than using petroleum for clothing, or working desk, glassware or kitchenware. It can be seen that the world is changing towards sustainability as seen from various activities being carried out.
How can technologies solve pain the energy industry?
Digital in energy is what everyone is taking surveillance. Prior to the energy business is the electricity business. At present, we have been to the point of the so-called 'democratic energy'. Everyone is free to do whatever with the electricity, be it electricity generation, consumption or selling. The next step is that we should have the direct current transmission poles in different routes.
Traditional direct current transmission system is like a one-way rail track. If we can integrate AI or Smart Grid to administrate the system so that there will not be any wasteful excessive energy or energy deficiency during the day or the night. Peak load can also be better managed.
In terms of business, production process and oil penetration, having big data and data lake help analyse the depth of petroleum oil penetration more precisely. However, we can foresee that future car may be more efficient with autonomous driving and sharing system-oriented rather than ownership. Ultimately, such development and technological advance will lead to a decrease in oil consumption. Efficiency of energy consumption is like people know the less-congested route for driving. There are many factors, depending on how to digest and strategize corporate strategy.
How to prepare personnel for dealing with any possible change?
Bangchak Initiative and Innovation Centre has been established as a unit that gathers like-minded people who understand the current global situation to digest, share, strategize corporate. The whole corporate must understand things that are happening.
However, difference in each pace of development and each unit. It doesn't mean that everyone will understand the same thing equally. Some may understand production process while others need to catch up
For marketing, we need to understand consumers. We may use IT, technology and Big Data to analyse consumer behavior and study to what extend personalized marketing can be done. Therefore, everyone must know how to emphasize agile work and understand different technologies.
How can each sector work together to help develop Thai industrial sector to go forward?
In the future, all industries will not be able to rely only on a single smart individual.  I believe working together and sharing strengths will be on trend.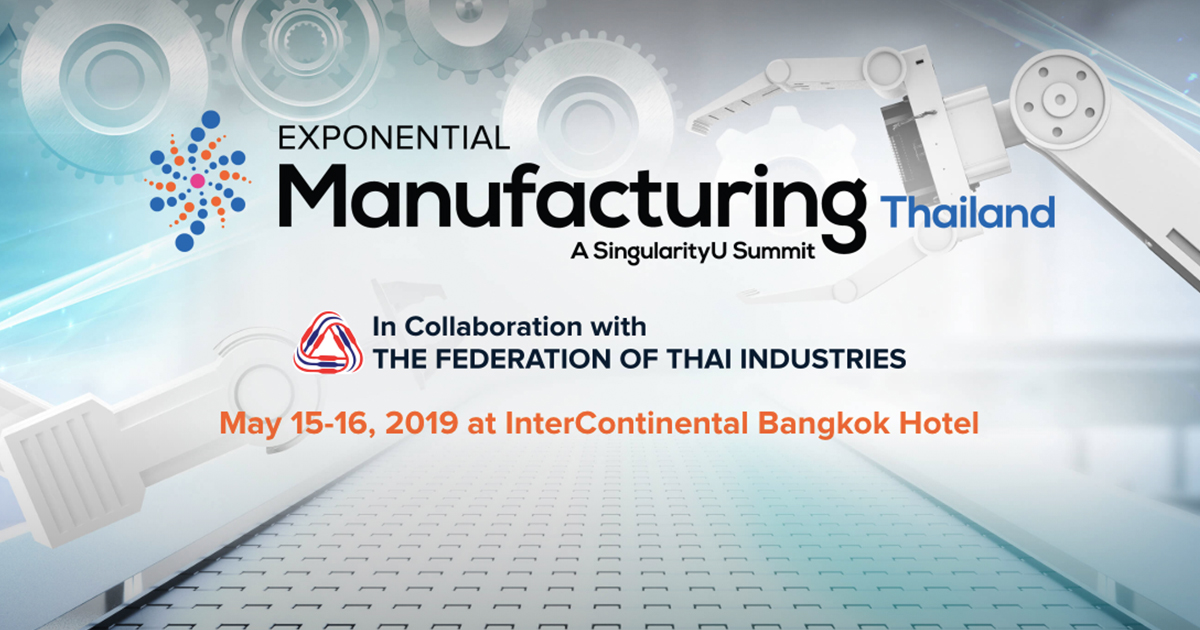 Exponential Manufacturing Thailand 2019 will be taken place at InterContinental Bangkok on May 15-16. Here is a preliminary list of participants:
Andre Wegner,

Chair of Digital Production Department from Singularity University, Founder and CEO of Authentise. As an expert on 3D printing and opportunities for production distribution, Mr Wegner will share his knowledge on topic:

"Highly flexible production towards Industry 4.0"

.

Anja Boisen

is lecturer and head of the excellence centre on microtechnology and nanotechnology at Technical University of Denmark and Singularity University. Dr Boisen is a recipient of numerous awards, for example, the Villum Kann Rasmussen, the Elite Forsk Award and the outstanding 'Sapere Aude' Award from the Danish Council for Independent Research. She will talk on the topic:

"How will biology printing technology change the medical field?".

Jason Dunn is an international pioneer in the fields of commercial space, computer technology for manufacturing process and disruptive technologies. Listed among the 2014 Forbes' "30 Under 30" as one of the young talented, successful entrepreneurs, Mr Dunn will be a keynote speaker on the topic:

"Outer Space Manufacturing"

.

Russ Angold, CTO and Co-founder of

Ekso Bionics. His

Exoskeleton

technology helps patients suffering from brain and spinal cord injuries during recovery period. Mr Angold will talk on the topic:

"The latest engineering technology which helps people change their ways of thinking towards physical limitation to successfully create the miracle."
This summit is also supported by the following leading corporates: Siam Commercial Bank Public Company Limited, Bang Chak Corporation Public Company Limited, Charoen Pokphand Group Public Company Limited, Energy Absolute Public Company Limited, Indorama Ventures Public Company Limited, True Corporation Public Company Limited, Berli Jucker Public Company Limited, Cisco Systems (Thailand), the Digital Economy Promotion Agency, Fraser Property Thailand, IRPC Public Company Limited, PTT Public Company Limited, Stock Exchange of Thailand, Singh Corporation and Synnex (Thailand) Public Company Limited.   
For more details about the summit and tickets, visit http://www.singularityuthailandsummit.org.
Advertorial Article