CMKL Tech Summit: Making AI Reality in Thailand
For the first time, Bangkok has organized the first Artificial Intelligence (AI) summit in Thailand, CMKL Tech Summit 2018.  Leading universities Carnegie Mellon University and King Mongkut's Insitute of Technology Ladkrapang joined hands to provide a stage to the advancements made in AI in various industries such as Finance, Energy, Retail and Agriculture.  At the summit, world-renowned professors shared breakthroughs made by their global research and development team. Participants got insight on initiatives already being made for digital and AI transformation. Here are the highlights of the talks.


AI Case Study from KTB : Financial Sector
At CMKL Tech Summit 2018 Dr. Tiravat Assavapokee, Executive Vice President at KTB- Krung Thai Bank and Dr. Osman Yagan, Associated Research Professor, Electrical and Computer Engineering of Carnegie Mellon University discuss how AI is set to transform future banking.
Some use cases for AI includes smart projects that look at people's behavior, different services, recommendations and experiences, which then provides smart advice and promotions. AI is also changing the customer experience. As apps become more customized, they too slowly expect that feature.  Dr. Tiravat says consumer behavior will no longer be from clusters of customers, but individual customers. It will be a "cluster of one".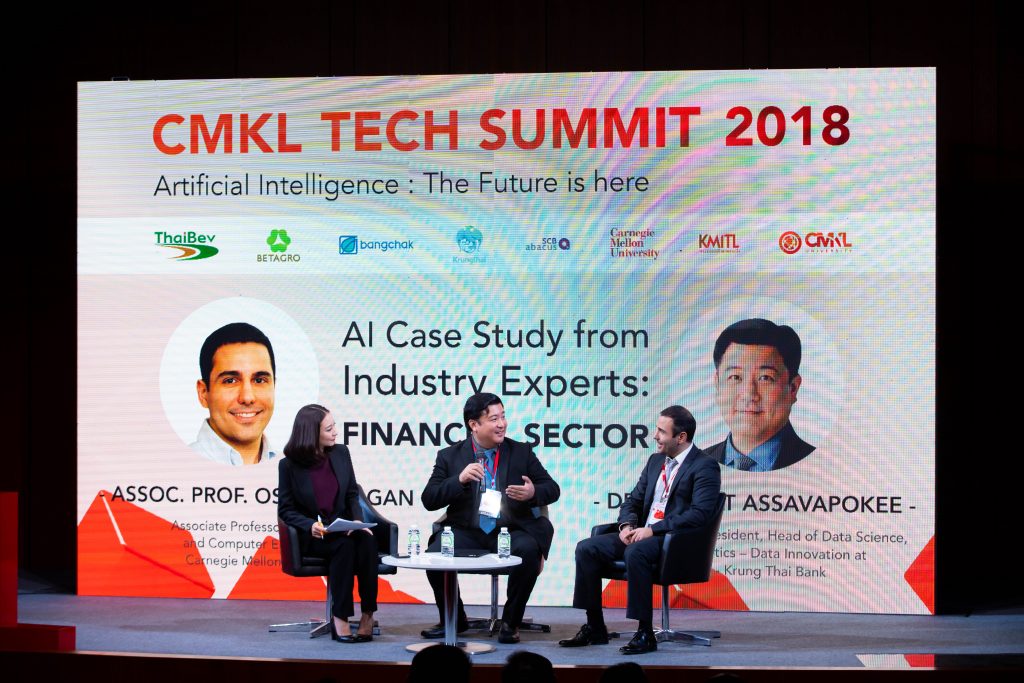 Companies in the financial sector like KTB can apply AI in the area of money lending, to expand these services to people without banking access so they do not have to approach illegal lending sources. To enable the business to connect the physical world with the digital world, CMKL explores a lot of smart documents like smart OCR and EKYC. When applying facial recognition to payment, it has to be especially accurate, as there will be liability if mistakes are made.  Dr. Osman says utilizing alternative data rather than traditional sources such as credit scores, is a game changer. This would be especially true in the case of the United States where everything is based on a single credit score. In fact, Dr. Tiravat says alternative information is already being used in China. Information such as whether you have lived at a certain address for a long period or whether you pay all of your bills on time can help give more loan opportunities to those who traditionally would not be able to get credit.  
However, a challenge to note is that the use of data should be regulated to prevent discrimination. For example, race and minority should not be in the model. The management also needs to have the right expectations. If they do not understand AI enough and think of it as a silver bullet, it makes the team afraid of failing, subsequently promoting old and safe ways of doing things.
Another challenge is getting the right talent to work within your company.  Unfortunately, it is often the case that people who lack the experience and knowledge about AI are hired.  What is even more important according to Dr. Tiravat is companies need to realize it is important to have the right management mindset and expectations.  AI and Machine Learning (ML) are just mere tools. You need to give opportunities for failures and your staff to learn from them. If you have high expectations, this may setback progress as your team may opt to not venture with new technology in fear of failure.  
There are both sides to everything, and as evaluated by Dr. Tiravat "…if it is bad, it is not because of AI, it is because of how we use it… If it is controlled well, it is going to evolve our lives like the way internet and mobile phone did."
Your life will change (by AI), but you will have a new norm, meaning you will live with it (AI) seamlessly. -Dr. Tiravat Assavapokee, Executive Vice President at KTB- Krung Thai Bank.
Bangchak: Energy Sector
Bangchak, a leading energy company in Thailand, advances the energy sector with AI and ML. Projects revealed at the CMKL Tech Summit 2018 were solar powered gas stations and predictive maintenance. Suwat Meemook, Executive Vice President, Bangchak Initiative and Innovation Center (BiiC) and Prof. Anupam Datta, Professor, Electrical and Computer Engineering & Computer Science of Carnegie Mellon University gave their thoughts on the future.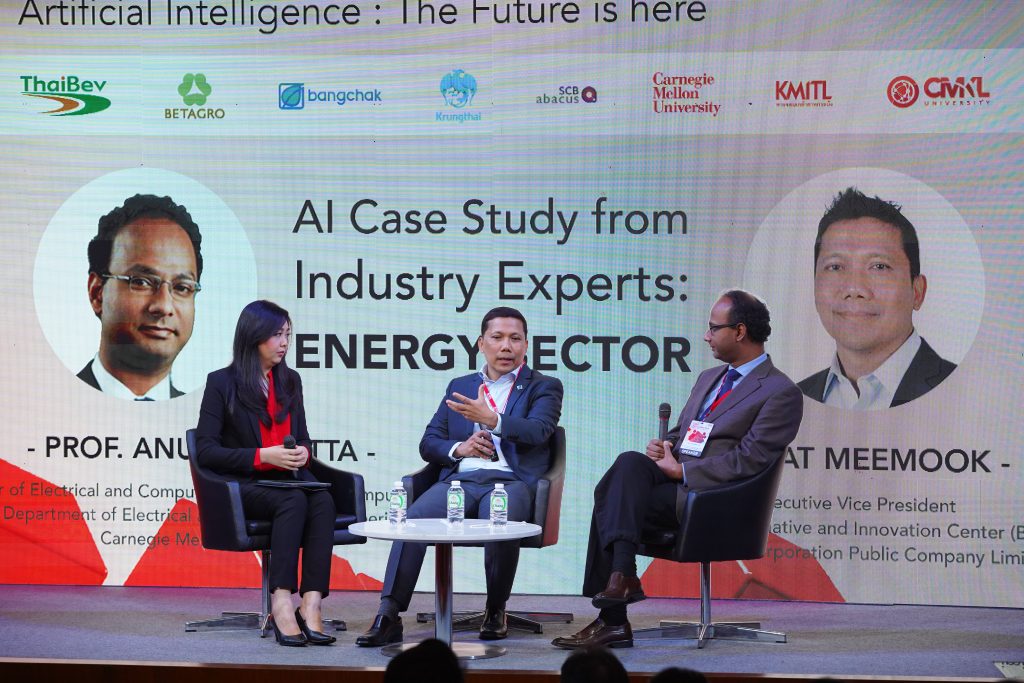 Suwat said that Bangchak has different types of energy namely, solar, wind and geothermal.  This is the company has successfully constructed a gas station powered by solar power.
Along with others in the energy sector, Bangchak is also working on predictive maintenance that could save the company billions of Baht.  Every three years the company has to shut down its machinery for maintenance that costs up to 1.5 billion Baht. With AI and ML, it hopes to extend the maintenance from three to 5 years.  The new system aims to pinpoint the parts of the system that requires fixing. This will not require a whole-system shutdown and save a significant amount of money.
However, there are challenges. Firstly the company realized they needed to make sure they had enough data points by placing the right amount of sensors within the equipment.  Secondly, they are working to make sure the data is within the company's system in order to prevent concept drift where change over time can be unforeseen. Lastly, it aims to support the right talent.  It is essential for them to have the center of AI, a team to do in-house training for the engineering team to become data scientists. This is where collaboration with CMKL is crucial in training their in-house experts to work with new technology.  
In addition to these projects Bangchak is working to become more consumer-centric by using ML in understanding what happens at their gas stations.  This includes what types of vehicles come to gas, what customers purchase at the mini-marts and cafes. Of course, privacy is quite important and the company says it is working to take in the data aggregately.  Prof. Anupam says there is a way to create "noise" to ensure personal privacy is not violated.
To enterprises entering the digital transformation in the energy industry, Mr Suwat's advice is "…learn about your process and data, don't jump into AI if you don't know the data and don't know what you want to do." In doing so, they should bring the data collectors into the project to give advice on the project's needs.
Betagro : AI for Smart Farming
You cannot ignore the agriculture industry when you think of the Thai economy.  The biggest hurdle for Thailand according to Betagro Corporate Strategist Woranun Woramontri is increasing production.  Woranun says most often traditional farmers do not think about incorporating tech when it comes to increasing production.  Most would say they would increase their land. This solution, however, poses a threat to the grassroots farmers as larger players could swallow them up.  There is a threat of inequality.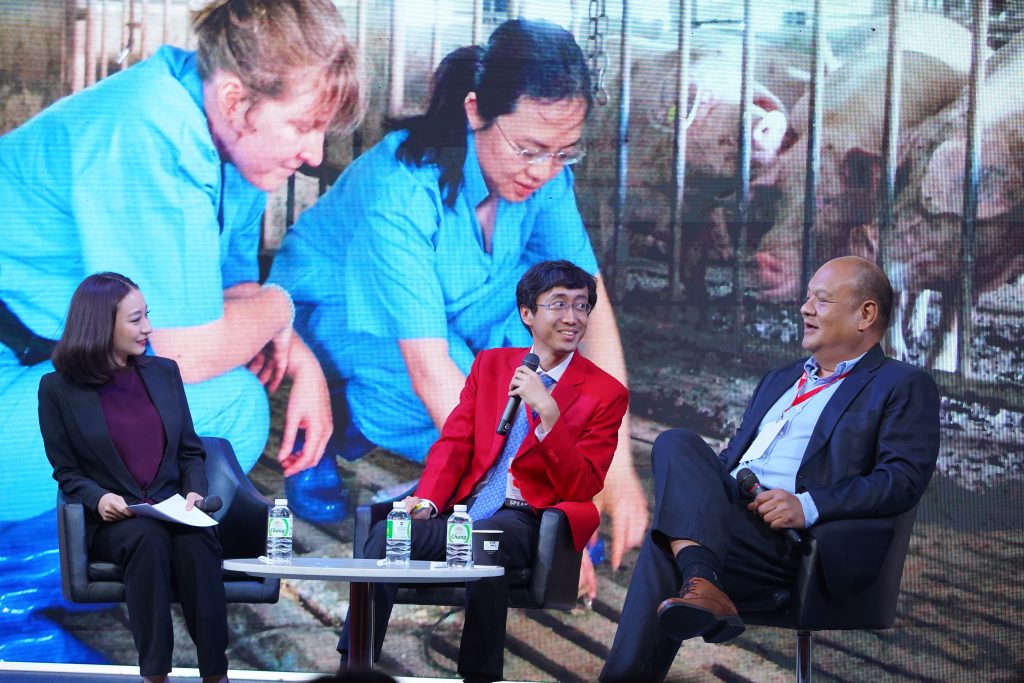 The ultimate hurdle for Betagro is to be able to preserve natural resources and traditional way of small-scale farming, while meeting the demand consumption of safe and nutritious food. The small-scale farmers' problem is the lack of traditional skills due to fewer older people doing farming, and the inflow of inexperienced new generation without enough knowledge to sustain the business. This leads to a vicious cycle, where less skills and attention to detail leads to lower productivity and income.
Betagro leapfrog through collaboration with CMKL, which brings in knowledge, research framework, and coordination.  This is where Dr. Pei Zhang, the Associate Research Professor, Electrical and Computer Engineering & INI of Carnegie Mellon University comes in.  Dr. Pei took a whole team of his students to get their hands literally "dirty" by conducting research based on placing sensors on the floor of pig pens and monitoring their behavior.  
Both Woranun and Dr. Pei both agree that it is important for companies to be open to failures because ultimately they are lessons.  According to them, the opportunities focusing on the agriculture and food industry are quite limitless because "…you don't know what you don't know" But what they do know is that the final project goal is to use very few sensors to be applied on a wide scale. Both say knowing that AI would not be the cause of reducing manpower, but on the contrary, help to assist work for the better when done right, gives meaning to what they do.
Thai Beverage PLC : Preparing your business for AI
ThaiBev and CMKL have a collaboration focusing on two separate tracks, Supply chain agility and Customer insights, which are used as guide to crafting out ideas and research to tackle.  Wrapping up the talks on AI trends was Thai Beverage PCL Office of Information Technology Vice President Teerapan Luengnaruemitchai, Thai Beverage Logistics Co. Ltd. Deputy Managing Director Dr. Totrakool Khongsap and Prof. Hyong Kim, Drew D. Perkins Professor on Electrical and Computer Engineering from Carnegie Mellon University.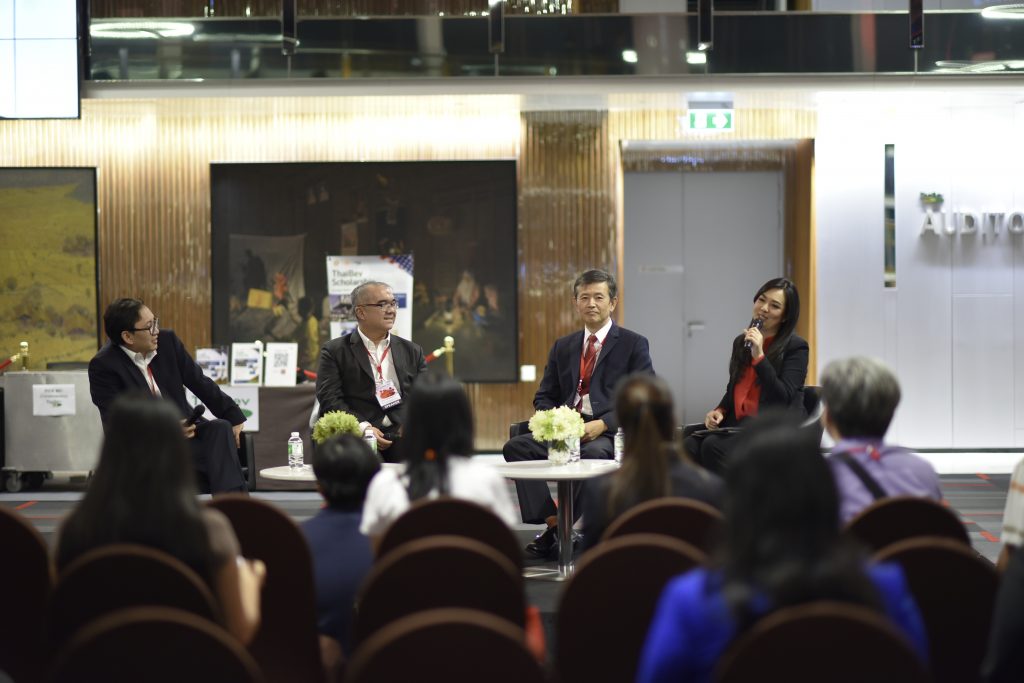 Echoing what other talks on AI have said, all three agree that it is crucial for companies to think of their business strategies first before getting into the buzzwords of AI and ML.  Sometimes solutions may not require large investments. Sometimes simple solutions can be easily found.
Once you know your business strategy, you must anticipate the time and effort you will need to put into research.  You will need to have an open mindset that failures are a part of the picture because they are lessons you can learn from.  
The challenges for any company going through digital transformation is making sure you have enough data and the data collection is enough.  Often times academics such as Carnegie Mellon University are expert researchers, but need collaboration from corporates to make sure research goes in the right direction.  
In ThaiBev's view, the best performance indicator for projects starts with a business goal in mind, which should support 3 key areas, namely, environment, economics and governance. If AI can be leveraged on to assist that goal, that is their kind of success.  In the management's perspective, it usually boils down to cost savings and revenue generation.
It is always good to have a third perspective and academics are sincere in their work.  Professor Kim jokingly says if they wanted to earn money they would not be academics. The difference between collaboration with academics and consultants is clear.  Consulting firms learn their way on corporate funding. Academics such as Carnegie Mellon University have fun in the work they do and have expertise in research worth well over US$100 million.  
Looking into collaboration for the future, it is good to have a fresh eye. This is where CMKL University comes in to provide a wealth of knowledge for the business.
Advertorial Article