As Thailand's startup scene is growing at such a rapid rate with innovation at its core, Techsauce looks to the global accelerator programs, mentorships and investors that can really enhance the financial underpinning of ASEAN and its progression into a more economically stable continent.
Claus J. Karthe, CEO and Founder of German Accelerator Southeast Asia shares with Techsauce his ideas about enhancing global connectivity and deepening the foundations of the startup ecosystem in these emerging markets.
Claus has over 25 years of in-depth business experience in Asia, both in large MNCs and in the startup environment. As an entrepreneur, he has been architecting new businesses across tech, finance, big data and deep learning technologies over the last 13 years. He serves on multiple corporate boards and sees himself as a global citizen, having lived in Finland, Germany, Taiwan, Korea, Japan, Philippines, and Singapore.
Can you tell us about how and why you developed German Accelerator?
The beginning of the accelerator was set by the German government as an incentive to help companies to expand internationally. 
Germany is very tech orientated, so initially, they took the startups to America. Our first program was run in Silicon Valley, followed by New York and later Cambridge Massachusetts, all locations that are very tech focused. Over the years we noticed more startups looking to Asia, and in 2017 decided to set up an accelerator in Singapore with the main goal of helping German startups expand into ASEAN.
We are primarily funded by the German government (the Federal Ministry for Economic Affairs and Energy)
Can you tell us about the program that you have created and what it entails?
It's a very hands-on program that looks to help companies that have revenue and are at a later stage in their development.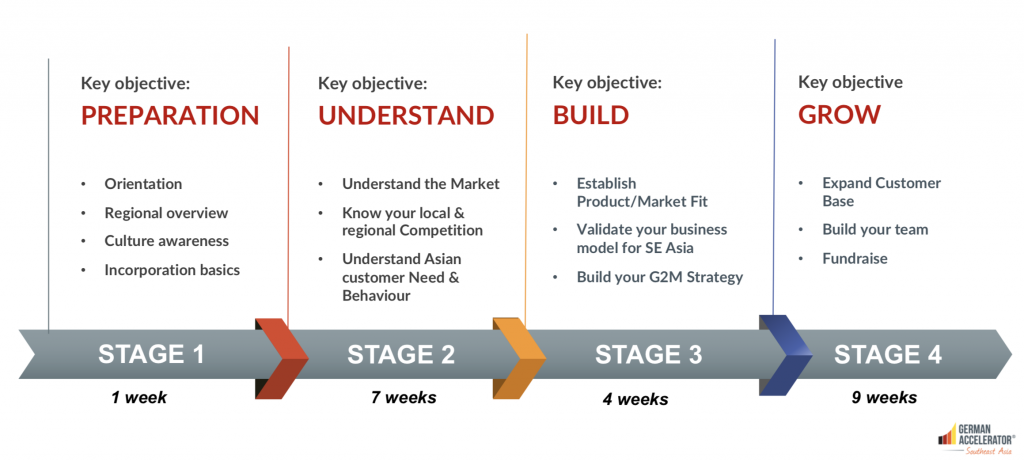 Over the course of our 5-month program in Singapore, we offer them support on many different levels. Besides providing the startups with free office space and easy access to networking opportunities, one of the most important pillars of our program is the mentoring advice. During their time here, each of our startups is matched individually with highly experienced mentors from Singapore and the regional ecosystem. There are broadly three categories of mentors – a Lead mentor who serves as a key partner and is responsible for the startup during its entire participation in the program; an Educator mentor who helps to bridge knowledge gaps and encourages entrepreneurs to avoid the costly mistakes caused by not asking for help or advice; and the Connector mentor who help the startups to access the right network and move their business forward. The intention of the mentorship program is to enable the startups to develop a proof of concept and a value proposition that will fit the Asian market.
What has been your biggest investment to date in South East Asia and can you tell us about your competitors?
We are not an investor per se, we are more of an enabler to the capital that the startup needs. We have access to government funds which allow the startups to grow, and we can help them to find the financial investment that they need along with international expansion.
In terms of competitors, we are really unique and don't take equity or charge the startups anything. We give unbiased advice and we really focus on working with the startups to mentor them into developing their business in the Asian markets. We have the freedom to build the content of the accelerator to fit and adapt to startups' goals in different countries around Southeast Asia, and if we compare to other accelerator programs, they are usually restricted in their business model and structure.
We are more flexible and look for companies that we think will fit the Asian market, and we match them with mentors that can guide them into the new markets.
We have a company in our Summer class in Singapore called 'Fractal Blockchain' (https://trustfractal.com/) which provides know-your-customer and anti-money laundering services for Initial coin offerings. They are extremely successful and have been advising the Thai and Filipino governments along with other ASEAN countries on how to securely source money and legalize the source of said money. It also looks at the specifics of ICOs, increasing their transparency and teaches people the steps for successful investment.
Can you share your opinion about the SEA Startup Ecosystem this year?
I have been in the startup ecosystem development of Asia for over 10 years. I find that the SEA ecosystem has developed quickly and has become extremely vibrant. Thailand, for example, is definitely a thriving ecosystem. Firstly, there are many more companies emerging and the entrepreneurial nature is incredible. You find the entrepreneurship structure ingrained in Indonesians and generally across Asia. For example, to sell and develop products and services, it's a natural part of their make up.
Secondly, it's not easy to set up and run a successful business, however, the level of investment has increased in the region which is a sure sign that the ecosystem is growing and the governments are very active in helping the startups.
Thailand is definitely catching up with Singapore in terms of proactively supporting their startups.
Which business industries are you focusing on right now?
Generally, we are sector agnostic, but if you look at the strengths of Germany, it is more on the industrial side of things like manufacturing, for example, which is an area that we are focusing on. However, there are areas of tech that we are also interested in such as Ad-Tech, FinTech or robot investors, as well as general deep tech companies that have interesting business models that overlap with the interests of Singapore and the interests of Germany.
.
What plans or advice do you have for the global connectivity of the South East Asian ecosystems with the rest of the more developed ecosystems such as Europe and Silicon Valley?
For us as an organization, we have offices in U.S.A, Germany, and Singapore, and we offer a broad view of the global ecosystems. In Silicon Valley, companies now have problems competing for talent with the giants such as Google and Microsoft. The startups find it hard to compete for resources, and a lot of emphases is on location and going where the talent is in order to progress their startups. You can see how ecosystems such as Berlin and Munich for Europe, and Singapore for Asia are positioning themselves as global and regional talent hubs where startups gravitate to.
What has been your biggest challenge to date?
The two practical challenges for the accelerator are: finding relevant mentors and growing our mentor pool across ASEAN, and attracting relevant startups that have products that are fit for ASEAN to our accelerator program.
Silicon Valley is always highly regarded and successful within the tech industry and our biggest challenge is making German startups aware of the innovative and highly successful startup ecosystem that is present in ASEAN as well. 
What are your predictions for trends in the industry and what advice do you have for the South East Asian startup scene?
The trends I see are that local startups are really creating solutions to solve local problems. My advice to local startups within ASEAN is to get to the next level of thinking, to look beyond solving local challenges and instead solve regional or global issues. We work with co-working spaces, government officials and bodies that enable us to be very open in each country that we are helping to develop across South East Asia. In 2019, we will also run a program for Singapore startups to enter Europe via Germany. We want to build the bridge and be the landing pad to help Asian companies to find their way across the global spectrum. We aim to contribute to the system as much as possible by bringing Asian companies into Europe and vice versa.
What do you look for in a startup that you may invest in, or what advice can you give Thailand's tech startup community?
For us it's all about the innovation process, asking what problem they are trying to solve and finding a startup that has a product-market fit. If you are a Thai startup the best advice is to look at the problems on your doorstep but with a regional eye and find a unique solution to the problem and make a product out if it. Most companies, unfortunately, do the opposite - they create a product and then look for the solution.
Another advice is for Entrepreneurs to seek out good mentors and an advisory board. It is important to attract people who will help you and guide your business as mentors and advisors, and it doesn't need to be formal. On the other hand, founders should be very open and willing to connect and share ideas so they can grow the business.
 For more information on the German Accelerator follow the link to their website:
https://germanaccelerator.asia