After changing the behavior of Thais queuing up at restaurants with its virtual queuing system three years ago, now Thai startup QueQ has set its sight on changing the behavior of the world as it dares to take the next step and exit the Thai market with the help of Google's Accelerator class.  This goal is a big step for a company of 20 employees that have built their user base to over 700,000 users with their simple process of electronic queuing to avoid long lines at restaurants.  Now, it has become a norm to go shopping while queuing digitally for a table on the app.
Knowing the challenges that he would face in breaking into new markets CEO Rungsun Promprasith knew he had to get a place in Google's Accelerator class which has successfully supported 78 startups over the past two years.  The program selects startups that have the most potential to bring about change from around the world to be apart of a mentorship program consisting of over 130 international mentors which include Silicon giants Uber, Lyft, and Pinterest.  QueQ along with fellow Thai startup Piggipo are among the 33 startups selected from thousands of teams around the world.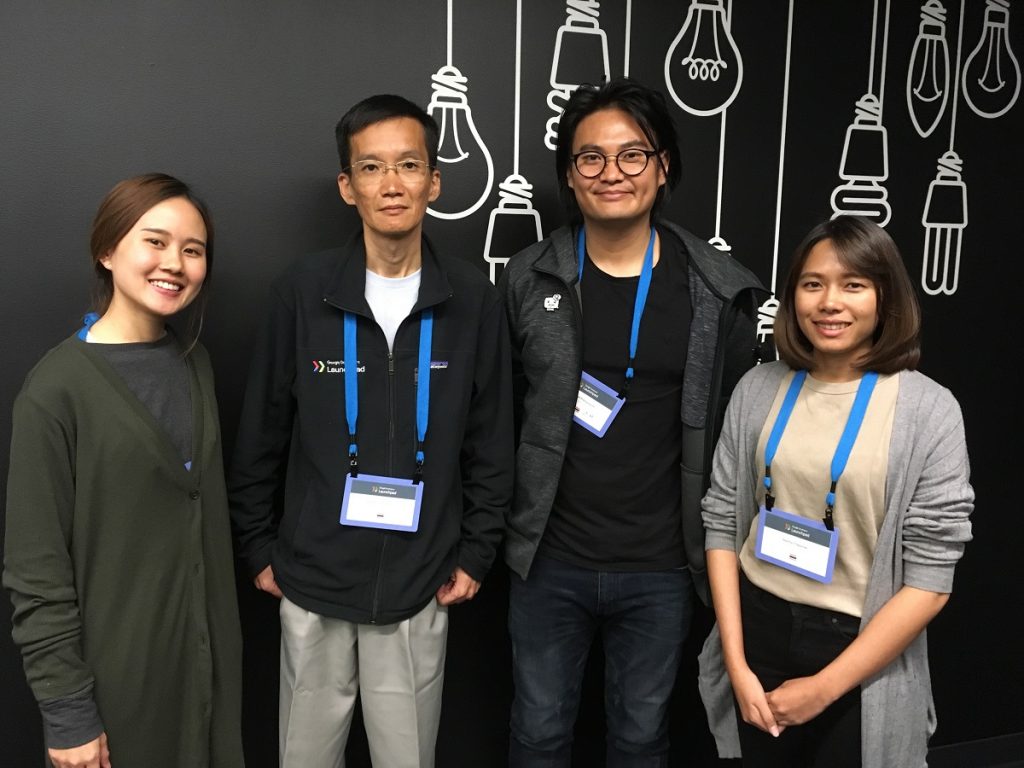 Rungsun says what made QueQ stand out from the rest was its growing user traction of 700,000 customers and the data gathered from their activities indoors in places such as shopping malls.  With this information that Google Maps may lack, QueQ can then utilise the Machine Learning or ML technology that Google has to offer.  In the bigger picture, Rungsun sees Google introducing its platforms and its successful corporate building experience to the newest wave of startups in order to help build stronger ecosystems in emerging markets.  Even though Google does not expect anything in return from startups, Rungsun believes the future is open to acquisitions into businesses that can extend Google's large network.
Once selected, Google analyses each startup's business and sets up a plan for mentorship before a two-week workshop in San Francisco.  Following that is 6 months of on the ground mentorship while each startup works in their home country.  On top of this, each startup receives $50,000 equity free to use to work towards their goals.
However when asked what QueQ benefited the most about from the workshop, like other startups in the program, it said it was not the money, but the customized mentorship they received.  Now back home in Thailand after the intense two-week workshop at the Google Developers Launchpad in San Francisco QueQ feels they have gained:
Unique mentorship: The program carefully analyzed the startups and selected appropriate mentors from around the world to support them. This is gold to Thai startups who lack strong mentorship as the country's ecosystem is still in the beginning stages.
Setting OKRs: Other than providing mentorship, Google has passed on its use of OKRs or Objects and Key Results framework that has unified the company throughout its rapid growth. It is based on focusing on one's main goals and having everyone in the team understand it in order to work together to achieve them.
Finding Value: Google seeks to make startups understand that it is not about sales, but the value that each startup has for customers. QueQ realized their true value was more than just providing a queuing solution, but providing various solutions in managing waiting times for people.  This could mean pre-orders of food or delivery.  The startup believes this can help it adapt to the different markets they plan to enter into.
Having come back to Thailand, CEO Rungsun's eyes are wide open to the potential of his startup with more focus on goals.  Now he is more open to making decisions as a team instead of just making lone decisions and is open to expanding into markets he never thought he would.  For QueQ, their OKRs are:
Selecting the right overseas market to expand to Within a quarter QueQ aims to enter an overseas market.  Instead of making a decision on his own on which market to enter, Rungsun now says it is a team effort with his business development team which will create a criteria for entering into a market.  By October the team is set to pick their next market which will most likely be a highly populated city.  Rungsun is now in discussions with associates in countries who are interested in working with QueQ.  Although he cannot confirm, Rungsun says the focus may be in India, South Korea, Japan, and even the United States in cities such as New York and San Francisco.  QueQ has also taken advice from their main advisor, Jacob Greenshpan, a famous user researcher and interaction designer from Israel and other google mentors who say QueQ must really know the cultural difference of each market and adapt accordingly.  For example should they enter Singapore, instead of providing queues to restaurants, the service may be to provide pre-ordering of food from street hawkers during lunchtimes.
Expanding QueQ Services From the present 250 kiosks that QueQ has spread all over Bangkok, QueQ plans to increase that number to 400 points within a quarter.  To do this it plans to expand to banks and possibly hospitals.  It is also expecting to expand the app's ability to allow customers to pre-order their food at fast-food chains so they do not need to line up to order food.  Talks are already underway with a launch of the service coming soon.
Using ML to develop Customer Information QueQ plans to use part of the $50,000 funding from Google to invest in Google ML technology to learn more about consumers to better its services.  They want to know how long customers usually wait for queues and what their eating behaviours are.
Overall out of the many accelerators QueQ has entered both locally and overseas, CEO Rungsun believes this program is a game changer.  With strong mentors and strong relationships with startups around the world, QueQ is ready to play its role in building a stronger and better Thai ecosystem.