Thana Thienachariya is the Chairman of the Executive Committee of Digital Ventures. Digital Ventures is the FinTech subsidiary of Siam Commercial Bank. He started the TechSauce Summit's FinTech stage first session with the following keynote.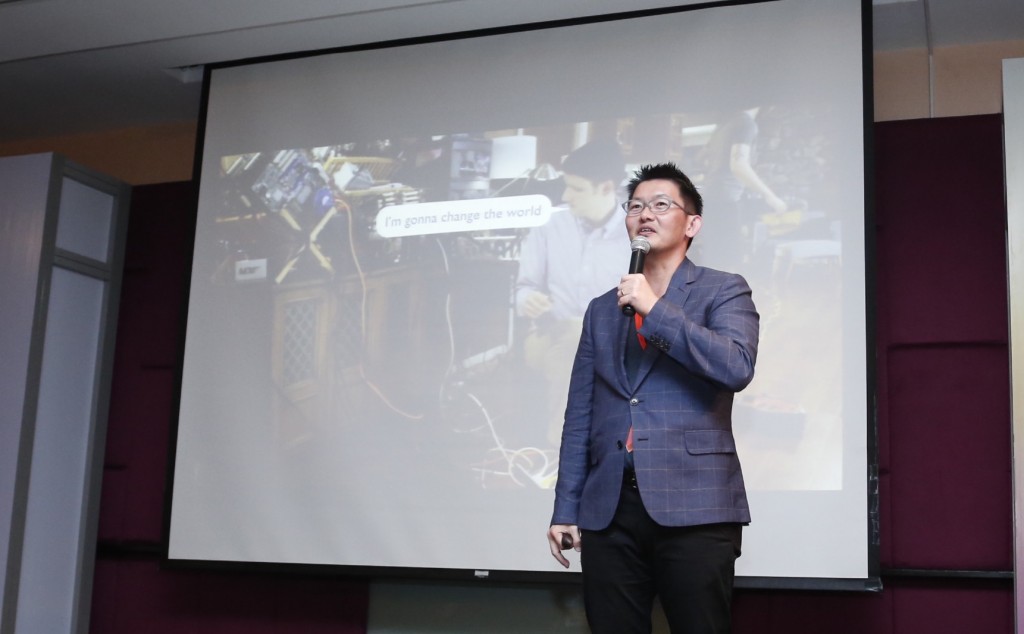 Background on SCB Digital Ventures
Thana started his time at SCB as an advisor. "Learn, unlearn, relearn" by Alvin Toffler – the most important knowledge of SCB back then was knowing that they didn't know much about FinTech. SCB knew FinTech was very new, exciting and they wanted to be a part of it, but being a bank makes them extremely conservative since their main task is to take care of people's deposits. So SCB decided to spin off Digital Ventures to try new things. (Bank of Thailand allowed SCB to do so as $50million is considered small for SCB).
At first SCB wanted to use $50million only to invest but because the FinTech ecosystem in Thailand is relatively small and early so there is not a lot of FinTech startups to invest in. Hence, they adjusted the strategy with Digital Ventures performing more things rather than just investing.
Digital Ventures' logo is a Tangram - Chinese puzzles that can be made into a variety of shapes and things. Khun Thana added that working in Digital Ventures is just like connecting pieces of puzzles.
What are the things that Digital Ventures invests in? Digital Ventures will only invest in things and technologies that their parent, SCB can use. They will not be investing in any unrelated businesses, but startups can come talk to Digital Ventures with the possibility of referring services/products to SCB's clients. In addition, Digital Ventures is not investing for profit. Having money is a good thing because it acts as a pass get to know and learn new things. For example, it allows Digital Ventures to talk to foreign VCs and to share their deal flow. The VC fund also acts as a radar apart from investing, to see what technology may be good for the bank, and Digital Ventures may invest, buy or develop these technologies internally. Brilliant ideas are everywhere and we need to think how to use them in the business. That is why Digital Ventures has 4 business units – Lab, Product, Accelerate, VC.
Lab – scientists who know technology like Blockchain. (Digital Ventures is now looking to fill the Head of Lab position).

Product – use existing technology to develop products - finish rapidly like within 6 months.

VC – bank needs knowledge.  why a part of fund is to invest as a fund of funds (Golden gate and Life. Sreda). There is agreement to go learn how these VCs invest, how they perform valuation etc.

Accelerator –  to build and support the tech startup ecosystem, making Thai startups better. It's the MBA for startups.
Digital Ventures Lab
From talking to many FinTech startups, what they really need is a sandbox – they need data to play with (example: Jitta bought stock information to run analyses, costing thousands of dollars). That's why Digital Ventures is running the SIMLab programme, cloning the whole bank and connecting with FinTech startups using Open API. The first version is mobile banking and this will be expanded later (currently no real customer data but only transaction data – real data may need another year to implement).
Digital Ventures Accelerator
Khun Thana hope that other big corporations will apply the same Digital Ventures model (product, accelerator and VC) to support the Thai startup ecosystem. It doesn't cost much for big corporations to run an accelerator, and the rewards from it are substantial. It's also a very good way for banks to meet good talents. DVA batch 0 is starting now with 8 teams - 4 FinTech startups and 4 other startups. 300,000 baht worth of grants is given to every team. There is no exclusive investment right for SCB and any investor can invest in these accelerated startups, there are mentors to guide the startups and it can lead to investment later. Bank of Thailand also indicated that they could help educate the startups and can work together. Both idea stage and seed stage startups can apply to the accelerator programme.
Digital Ventures Corporate Venture Capital
The VC will only do direct investments in series A and above. VC will invest 1/3 of the funds this year and likely to be fully invested next year. Nevertheless, the board of directors indicated that SCB can top up the fund. The VC fund is not a financial VC, and the objective of investment is not about getting a high return on investment. The VC fund is now looking at some foreign Blockchain FinTech startups. Digital Ventures is also investing through Golden Gate Ventures.