Mr. Sittichoke Nopchinabutr, CMO of dtac, opened his session at the Techsauce Summit 2016 with some intriguing statistics: research indicates that 16% of couples choose to sleep in separate rooms, whilst only 13% of people sleep separate from their smart phones – numbers which suggest that in this day and age more people want to spend their time with their smartphones than their spouse.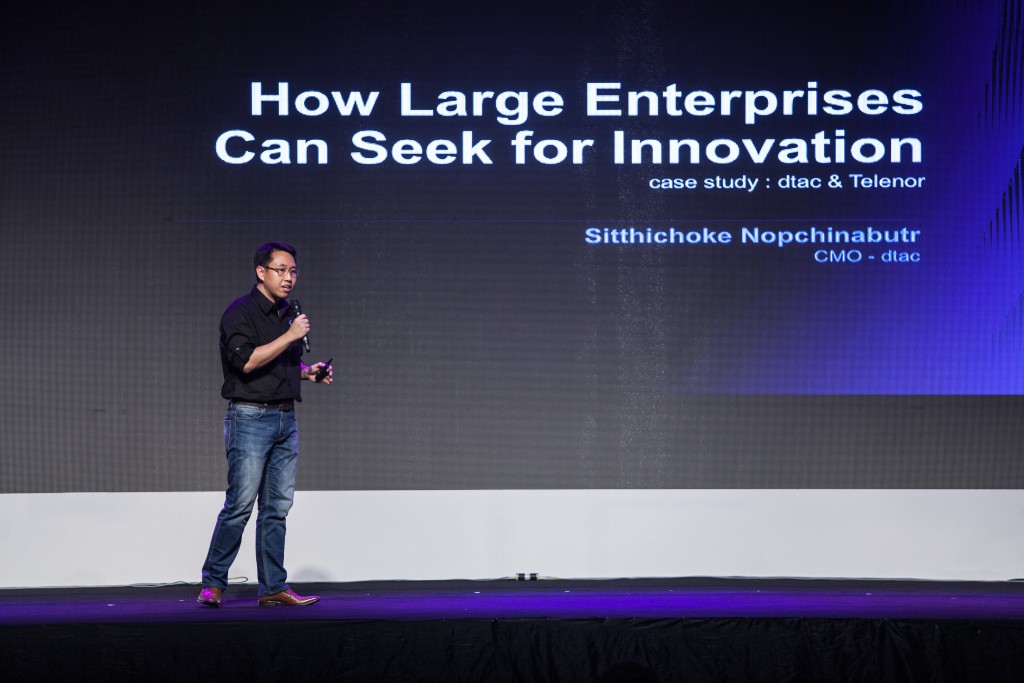 Of course it's not surprising when young Thai urbanites spend an average of 7 hours per day on their smartphones, mostly on Line and Facebook – a phenomenon that has been occurring for the past couple of years, which Mr. Sittichoke identified as something that poses a threat and yet also an opportunity for big giants in Thailand to take advantage of.
Means for big organizations to seek innovation
How do the world's biggest companies deal with the start-up revolution?
The threat is that big organizations are on the brink of extinction. "When we talk about large organizations, we think about a creature that is very big, most of the time very slow, and soon will be extinct," said Mr. Sittichoke, referring to the red-tape and meeting-laden corporate processes which a large organization must wade through each time it decides to make a move. With agile technology and fast-moving start-ups disrupting their well-being, big players who don't move fast might soon be ousted from business by the small guys.
"However, one thing that is different for the big organizations that the start-ups don't have is the resources," said Mr. Sittichoke, referring to those resources which corporations can mobilize to seek innovation. He listed three means for big organizations to seek innovation:
External crowdsourcing for innovation
Open innovation platforms
Internal crowdsourcing for innovation
External crowdsourcing for innovation
Speaking of a means to find innovation, Mr. Sittichoke also referred to the story of Jeff Bezos, CEO of Amazon, who knew that Amazon was going to come to a stop if the company didn't evolve. He turned to Greg Zehr, an engineer behind many Apple products and Palm Computing, to develop a product for him. Together, they launched Kindle under Lab126. Innovation can be done outside of the company – in which case it is about hiring someone best suited to the task to help you, concluded Mr. Sittichoke.
Open innovation platform
In terms of dtac's own initiatives, Mr. Sittichoke also shared more about the company's vision. "dtac's vision is to be the customer's favorite partner in digital life," he said. In order to meet the demands of growth in the switch of voice to data, dtac Accelerate was born. Founded in 2013, dtac Accelerate was initially created to tap into the pool of digital talent and find reasons for customers to use the Internet.
With this program, dtac Accelerate offered a workspace, finances and also the opportunity for participants to tap into dtac data – and of course, the most important thing, mentoring, from both the capital of VCs, Silicon Valley, as well as the local Asian market.
After three years, dtac Accelerate, has made 22 investments, raising more than 150 million baht in funding. The combined valuation of these start-ups stands at approximately 1 billion baht. Examples of start-up projects by dtac Accelerate include TakeMeTour, a platform for personalized tours by local experts and Skootar, an online motorbike messenger-hiring service.
Internal crowdsourcing for innovation
Last but not least, the third way listed by the CMO of dtac is to create innovation inside an organization and promote a sense of ownership. Along these lines, dtac partnered up with Telenor, using the same concept as dtac Accelerator, in order to run the Ignite Incubator program, both in-house and in 13 other countries, which allows dtac employees to pitch their own innovative ideas. Winning teams are awarded with three months of paid leave off of their normal job to go turn their ideas into successful, commercialized products.
"Innovation in any company can happen, especially in large organizations where you have a lot of resources and a lot of money. But the challenge is just getting the right people to actually go and put their heart and mind into it," concluded Mr. Sittichoke.