Today, when digital transformation is a big buzzword, it's not uncommon for corporations to set up innovation functions. However, most had faced difficulties when implementing such initiatives. While some had implemented within the mothership, some had spun out the unit to explore the new frontier.

SCB 10X was spun out as a new company to build ventures from scratch and grow the team from zero to 30 people with diverse backgrounds. The team aims to launch the product to market at 5X speed compared to banks. For Techsauce Global Summit, Kaweewut Tong Temphuwapat, Head of Venture Builder – SCB 10X, shared his experience building the venture inside the organization, including building process, culture and tools.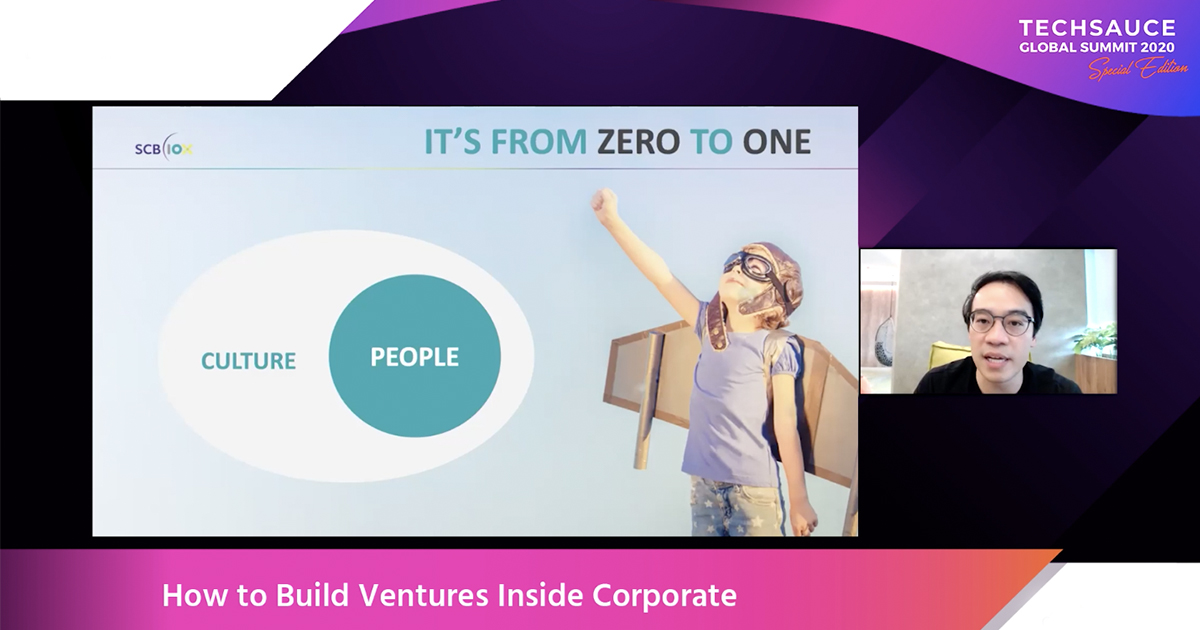 SCB (Siam Commercial Bank) is one of the biggest banks in Thailand and has been established and operating for over 100 years. To respond to the new world fast-pace changes and challenges, it has been venturing and experimenting on a number of projects related to innovation, this includes an innovation lab, VC, accelerator and own internal startups (SCB ABACUS, for example).
One of the most promising startups in their endeavors is their newly initiated "SCB10X". SCB10X was set up to create a new future for Thai startups. It has the mission to aim for a 'moonshot', signifying the aspiration to go beyond and further than the norms and expectations. SCB10X is looking to adopt, intervene and reinforce a number of capabilities and ecosystems, a working model as they call it 3C&4E.
3C represents three capabilities which are:
1.Blockchain technology
2.Design thinking and Lean startup
3.Regulatory excellence
While 4E includes four ecosystems which are:
1.FinTech and financial services
2.Decentralized finance (DeFi)
3.Digital work and lifestyle
4.Digital health and wellness
Within the focus of these 3C&4E in which innovation, creativity and collaboration are the most critical components, SCB10X is looking to tap into them and create impacts by doing these three things:
1. Investing - To invest in future technologies
2. Building - To build businesses from scratch
3. Partnering - To form strategic partnerships to gain advanced capabilities
It also emphasizes the importance of speed of doing things. According to Kaweewut, the Head of Venture Builder, SCB10X always sets itself to launch any product with 5 times the market's normal speed. This expedited process aims to "fail cheap and fast" and quickly learn and adapt along the way.
More importantly, he also stresses that it is not about the processes per se, but the people who work in the company.
"I have to emphasize that It's not a job where you go from one to a hundred. There's something much more important than the process. It's people."
Thus, SCB 10X is doing what they think of as zero to one instead. This means building the right team of people to do something that matters and is impactful. Essentially, it believes that we can be fast with just anything, but one thing you can't go fast with is recruiting. If we recruit the right people, the less process later down the road there will be as you will not have to control or check upon them to make sure they are doing a good job every so often.
Echoing this philosophy, the team and partners of SCB10X are talented individuals from top business schools and leading technology companies, also inducing a doctor school where SCB10X hopes to help them innovate healthcare.
"You need diversity. Diversity is crucial. You cannot have all people who have all the same experience and expect new things from them."
When operating businesses, some tools go with the head (knowledge), heart (empathy), and hand (operation) in creating products and solving problems. However, there's no definitive set of tools to make something work better than the other. You just need a bit of everything.
As a look into the culture in SCB10X, the culture built to achieve the 'moonshot' mission is called BOOST -- standing for Boldness, Open, Ownership, Speed, and Trust of Impacts. It is also leveraging Agile and Scrum (typically Product Owner leading a team of software engineers, UX/UI designers, and digital marketers) to achieve innovative results. Their daily rituals include a standup meeting, all-hands demo and knowledge sharing session, and celebrating. Kaweewut also adds that the people who facilitate these processes are also important as they are the ones who can create an environment conducive to productivity and creativity.
Lastly, to make something that works, It all starts with a lot of ideas. When you're not sure if the ideas will solve the pain, or the pain is legitimate, you go out to validate the pains and get feedback. Incubation of ideas comes next, where you constantly get feedback to improve (at this stage, you need creativity the most). Once you know the solution is viable, you start to develop the product (customers will get it and not get it, it's okay also to get feedback). Finally, you spin out the product into the world.
"In the new world, you need to think about how you can build an organization that can serve your people. And people will surprise you." said Kaweewut.
This is just a sampling of the great content you'll find at the Techsauce Global Summit 2020. Check out all the sessions here http://summit.techsauce.co.