Keep an eye out for exciting innovation trends from CES 2022, the world's largest innovation fair in Las Vegas. The media round kicks off with Steve Koenig, VP of Research from the Consumer Technology Association (CTA), who showcases technology-themed trends in CES 2022.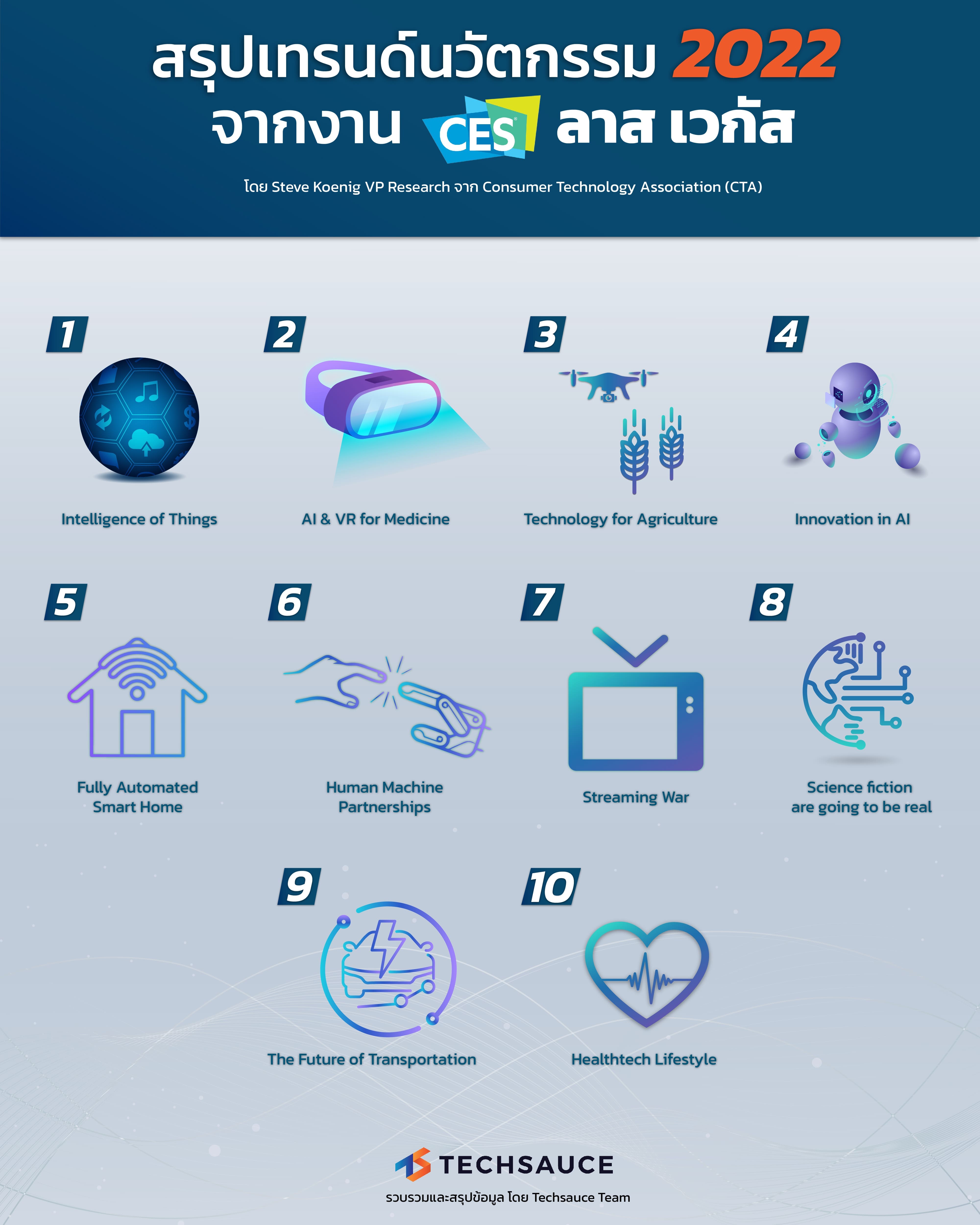 1. The Intelligence of Things: Every device will become more intelligent.
For technology in the consumer sector, the most well-known and talked-about technology is IoT, or the Internet of Things. However, Steve Koenig explained that this new decade of technology has begun a new era where the definition of IoT has become "Intelligence of Things". This confirms that AI is infiltrating every aspect of society, which helps in the growth of the economy where businesses are also leveraging AI and machine learning.
In addition, technology will come to shift cultures - changing the behaviour of consumers. This is something to look forward to in the next 10 years where 5G will play an important role. We are currently in the transition to 5G, but it is important to note that 5G will overlap with the real economy.
2. AI & VR for Medicine: Technology will advance the medical field.
We may also see medical robotics using 5G and AI technologies to perform remote surgeries without the need for patients and doctors to be in the same location. Introducing Virtual Reality (VR) technology in medicine and using AI to help diagnose will help expand the treatment thoroughly to reduce costs and make vast advances in medicine.
3. Technology for Agriculture: Agriculture sector will benefit from technology.
The use of technology in agriculture is helpful in planning for farming where predictions can be made without having to worry about the uncertainty of the weather. Technology will allow agricultural equipment to work unmanned as there is also a drone equipped with sensors that can fly in large farmlands. What's more, it can detect humidity, allowing the option to limit dry areas to water instead of re-watering the entire area.
In addition, future 5G agriculture will be equipped with sensor systems in the ground that can be connected to drones. Agricultural equipment used for ploughing, harvesting or sowing seeds can be operated automatically. The data for advanced analysis is stored on the cloud and connected back to the farmers which avails future price information to the farmers. There could also be harvest forecasting which saves time and increases farmers' profits while reducing food shortages due to predictable production.
4. Innovation in AI: Detection and recognition in AI technology will be continuously developed.
There will be more applications across the device ecosystem for AI technology, such as object detection where cameras can detect parcels right at the doorstep or an oven that can calibrate itself automatically and cooks what you place inside with your command. We can also expect more applications and brands supporting speech and facial recognition as well as voice-activated digital assistance.
5. Smart Homes: Fully automated and integrated homes.
The continuous development of technology is making more devices with the ability to be connected intelligently. Fixtures in the home are becoming more connected and intelligent (bathroom vanities, voice-activated faucets), making the full range of Smart Homes possible.
6. Human-Machine Partnerships: Automating little tasks.
In the next 10 years, the human-robot collaboration will be refined based on the ability to automate small tasks, as already seen in the manufacturing industry and the medical field. Giving the example of McDonald's drive-thru, Koenig explored that this human-machine partnership helps save labour, costs, and specifically aid in things like ameliorating the stress from getting orders right so that the human worker can focus on the monetary transaction and customer service.
7. Streaming War: The fierce battle of the streaming industry.
Currently, there are many video streaming services available, such as Netflix, Amazon Prime, Youtube, Hulu, BBC, and many big studios have turned to make their own streaming services, such as Disney+, HBO Max, NBCUniversal, Apple TV+ to monetize existing content without relying on other platforms while engaging with customers directly. The competition is fierce among these media companies and it is a war that even tech companies like Apple is trying to be a media company and also part of the move in original content.
With this comes the launch of Quibi, a streaming service focused on short-form content for viewing on mobile devices.
8. Immersion: Science fiction is going to be real.
With larger and larger screens, immersion is a theme unavoidable. Steve Koenig said that we are getting closer to Star Trek's Holodeck (augmented reality device) and what it sees as mere science fiction is coming true this decade. This will bring out many more advanced devices no different from eyeglasses or sunglasses which developers are accelerating to develop the ability of AR glasses to beat the competition. It is a competitive marketplace and companies and brands are looking for an edge and consumer technology can provide the edge so across the economy and different economic sectors, companies are really leaning into what AR can do for them.
Examples of commercial use cases of AR and VR are, again, medicine, training doctors on surgeries. They can't work on a real cadaver but they can work on one virtually, more and more.
Another industry - gaming. eSports is already more than a billion dollar industry globally and it can serve as a brand marketing space for these glasses.
9. Transportation: The future of automotive.
Electrification: There will be more advancements in battery technology as we see batteries that are becoming lighter, cheaper, hold more charge. In electric vehicles, there will be more innovations that increase engineering advances, have more durable, more capability and higher safety charging systems, becoming easier to use.
10. Healthtech: Lifestyle health technology will become part of our lives.
Using technology for health benefits will become a huge part of people's lives, with both technology related to sleep, exercise, technology for mom or technology for babies in particular which has a variety of products on the ecosystem of health-related technologies to meet the needs of all lifestyles of people.