After launching the KATALYST STARTUP LAUNCHPAD 2022 for more than 8 weeks, the program aims to encourage growth for Thai startups and elevate their business infrastructure by applying practical lessons from the global proven knowledge through an online learning course, which enable participants to gain first-hand insights at their fingertips. This year, the business supportive program is organized under the concept of 'Jumpstart your idea through entrepreneurial mindset', as a part of a research project under The Stanford Thailand Research Consortium led by Associate Professor Charles (Chuck) Eesley of Stanford University.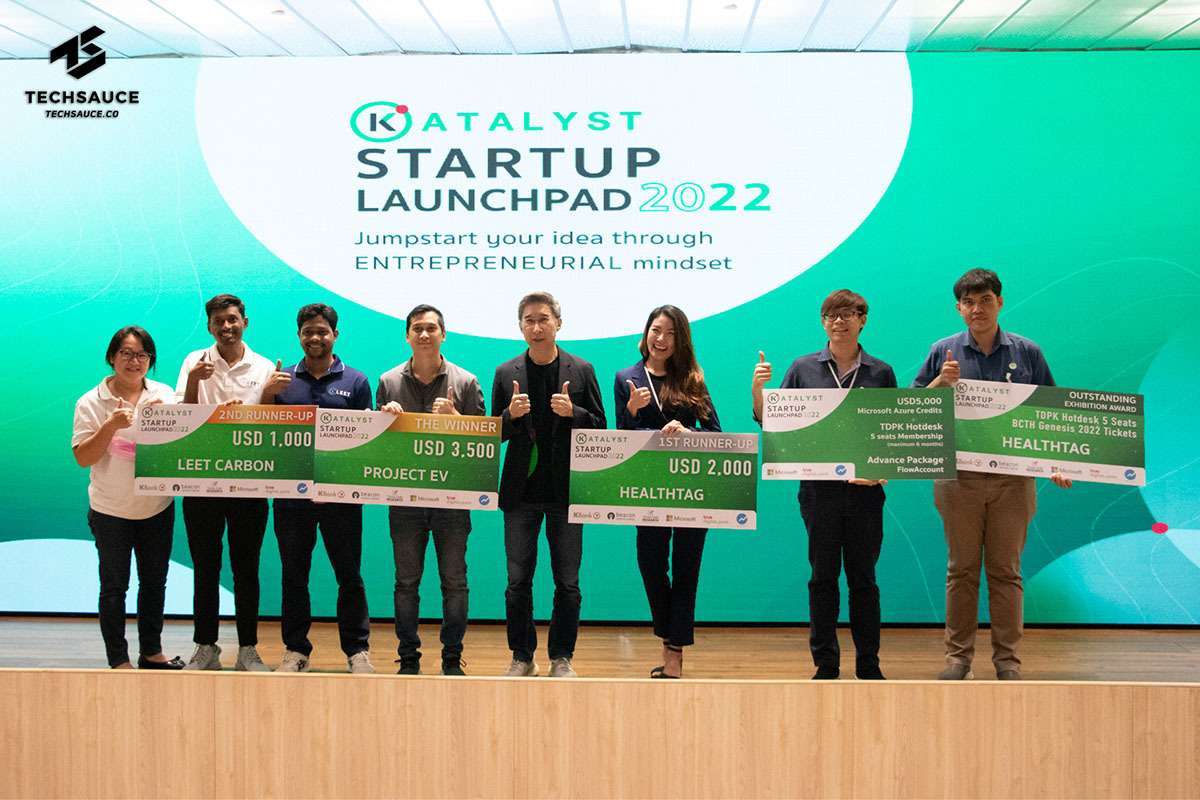 The curriculum includes a series of online classes via webinars and workshops with domestic and international expert mentors, including the offline event of a networking session for the participants to exchange and strengthen their ideas and connection within the startup ecosystem, before attending the Pitching Day at K+ Building.
The Winner's key takeaways from KATALYST STARTUP LAUNCHPAD 2022
Following the final judgment of the program, the 1st prize award of $3,000 (approximately 100,000 Baht) went to the winner, Mr Pariwat Wongsamran, Founder of 'Project EV', who is aiming to provide fully integrated solutions to convert internal combustion vehicles (ICE) into electric vehicles (EV) for the logistics transportation sectors. The project service covers the installation of electric charging stations at major logistic distribution centers, partnering with EV charger providers across the country, and providing comprehensive maintenance of modified EVs throughout their life cycle.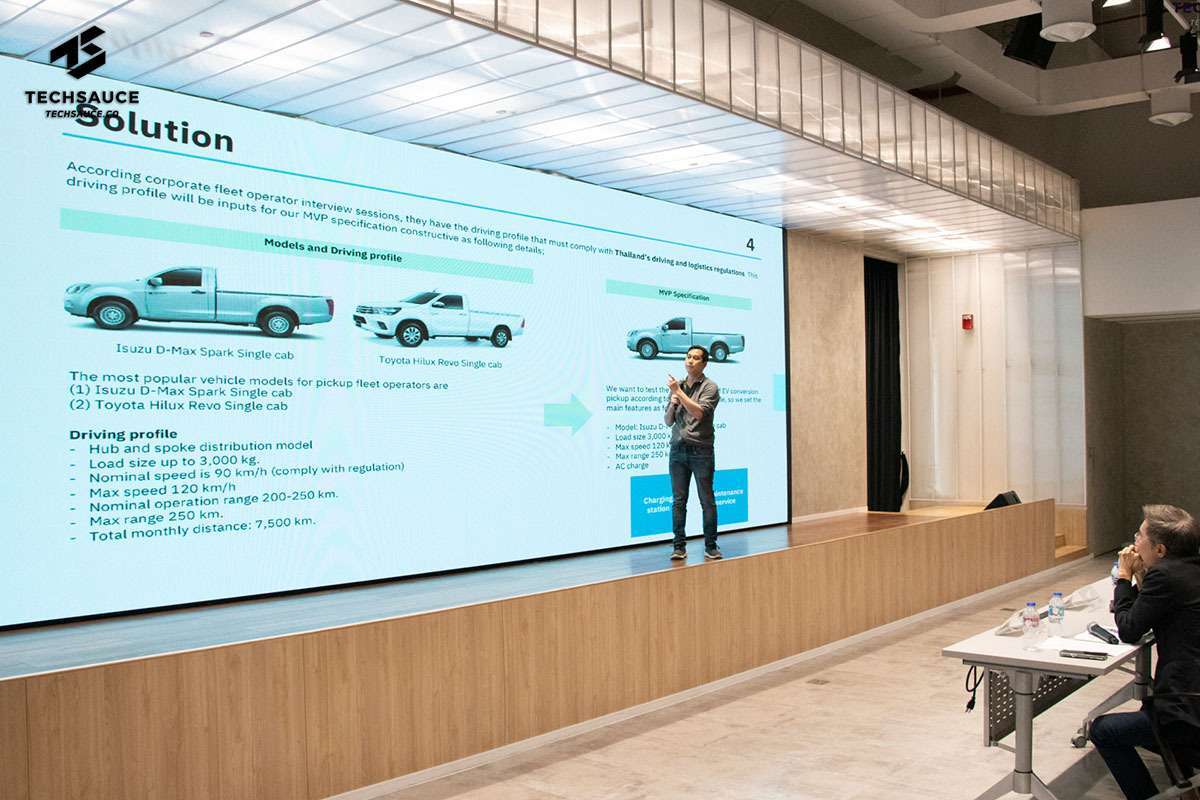 Given the increasingly stringent requirement for limiting carbon outputs, using Project EV's modified EVs can significantly help reduce carbon taxes and transportation costs for logistics companies, while its EV charger is tailored toward logistic DC with a distribution range of no more than 250 km. per day. Adopting the solutions, Pariwat stated that logistics companies could look toward reducing their carbon dioxide emission by 30.8 tons per vehicle per year, assuming their vehicle runs 90,000 km yearly.
Currently, his solutions are still undergoing real-world efficiency and performance testing.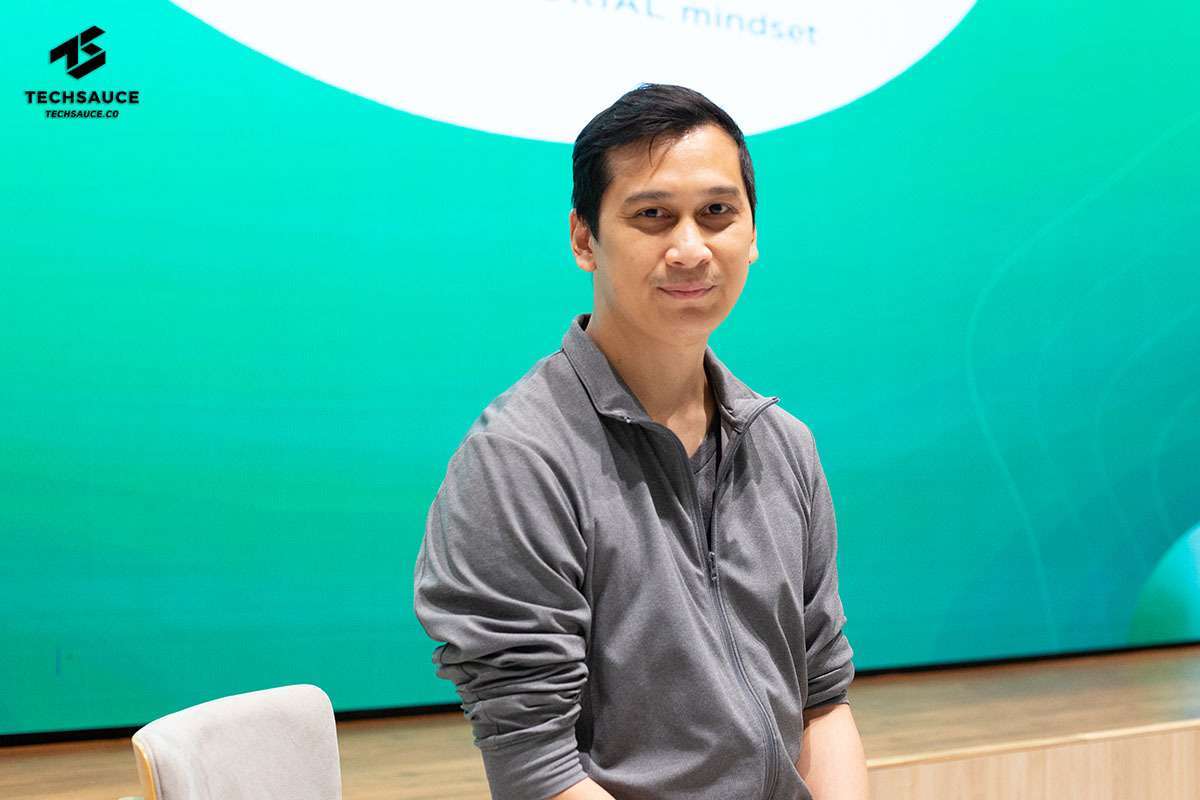 Addressing his notion toward the creation of Project EV, Pariwat shares his thoughts on the push for a Net Zero Emission policy, stating that his solutions aim to promote Thailand's domestic production of EVs to catch up with a global trend. The push is also in line with Thailand's [email protected] policy, which aims to drive 30% total vehicle production to be ZEV (Zero-Emission Vehicle) by 2030. Though presently, the number is still far-fetched given Thai industry capabilities and how its vehicle market is import-dependent.
Furthermore, given that Thailand houses a large number of decade-old combustion vehicles that could potentially be converted to electric vehicles, it's a whole new industry that can be manufactured in Thailand, specifically for commercial pickup trucks for enterprise.
It's the best time to push for Thailand's own EV production, as Pariwat believed. The project itself was able to bear fruit given the EV modification technology developed by Burapha University with the support of an EV development unit in the Eastern Economic Corridor Zone (EEC).
"We found that many logistics companies' aim of becoming green is evident. Because of the pressure from increasing fuel costs and carbon taxes in recent years, commercial use of electric vehicles will be a significant solution especially the pickup trucks, which each logistic company has in abundance"
Being one of the program's participants and its winner, Pariwat was wholly impressed with the courses, sharing how the adaptive content and direct feedback from mentors have helped him elevate his business models and approach toward understanding customers to the next level. Additionally, citing how the project followed up and motivated learners to be self-determined, "It's an opportunity not to be missed" as Pariwat concluded.
Innovation through the lens of KBTG Labs
Glancing through the ideas that the eight finalists have presented, it is evident that Thai startups are fully embracing the trend of sustainability. Chetaphan Siridanuphat, Managing Director at KLabs, has commented on the future innovations as one of this year's judges. He points toward abundance in Deep Tech, Green Tech, Health Tech, and other startups that derive their solutions from scientific-based ideas.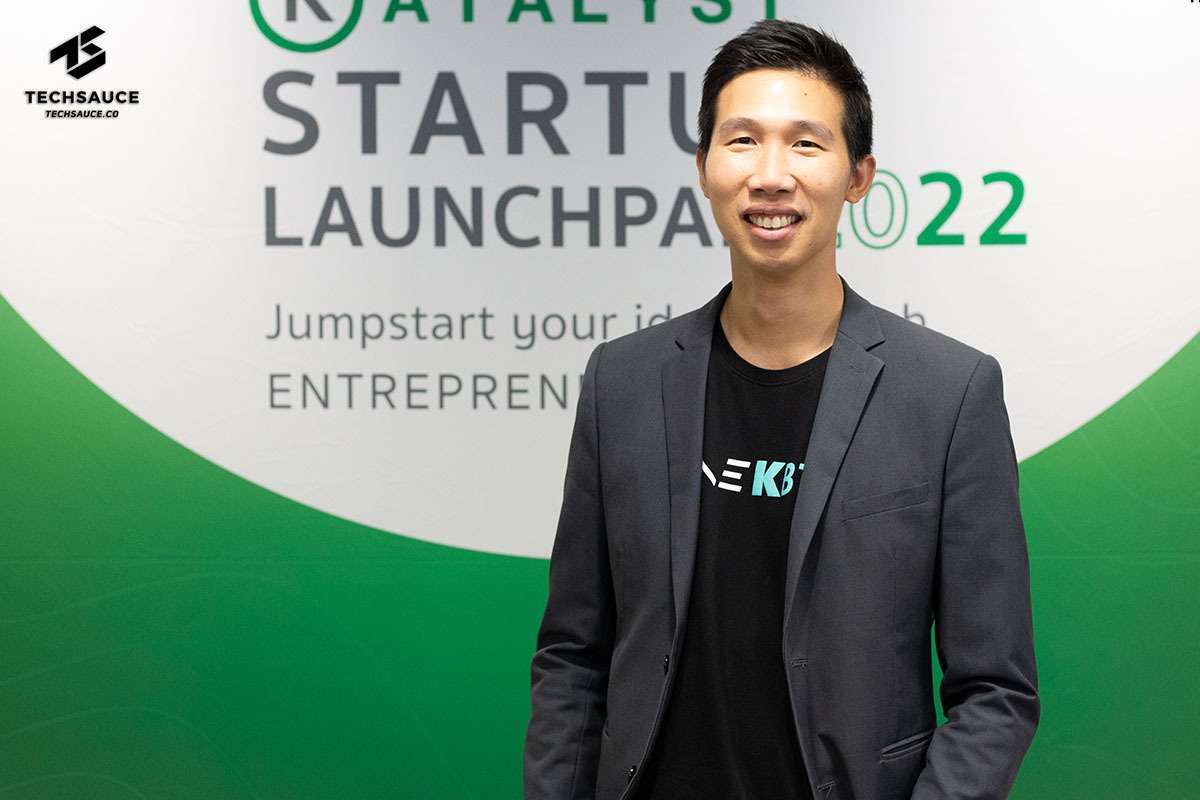 "In the near future, Green Tech will be a major trend which KBank will pursue. Currently, many business sectors are turning towards innovative solutions, not only to meet their customers need but also their businesses need"
The definition of 'Good Innovation' is not just about being reactive to trends or solving customer problems, but rather starts from using the right innovation and having actionable business plans that generate income.
"A good innovation or solution begins from the pain point. It's the truth that will dictate the success and failure thereafter. Most importantly it must be big, since it'll answer how we generate profit and real value for customers."
Judging the finalist of the 2022 program, Chetaphan uses these two points as the criteria for evaluating the winner's pitching. He personally shared his preference for a simple business model that every audience could understand, while a complicated one would be difficult to be implemented.
ESG is the Future for KBank
Toward the development of any future business, ESG trends and its criteria will be a major indicator of success - Business therefore should heed ESG practices. Mr. Thanapong Na Ranong, Managing Director at Beacon VC revealed the importance of adhering to ESG criteria.
"Running for its 3rd consecutive year, the course has been focusing on providing academic knowledge to enable startups to jumpstart and grow to its maximum caliber. With the current market conditions, startups need to rethink their approach, integrate ESG approaches to their practice as it can make a difference and appeal more toward investors"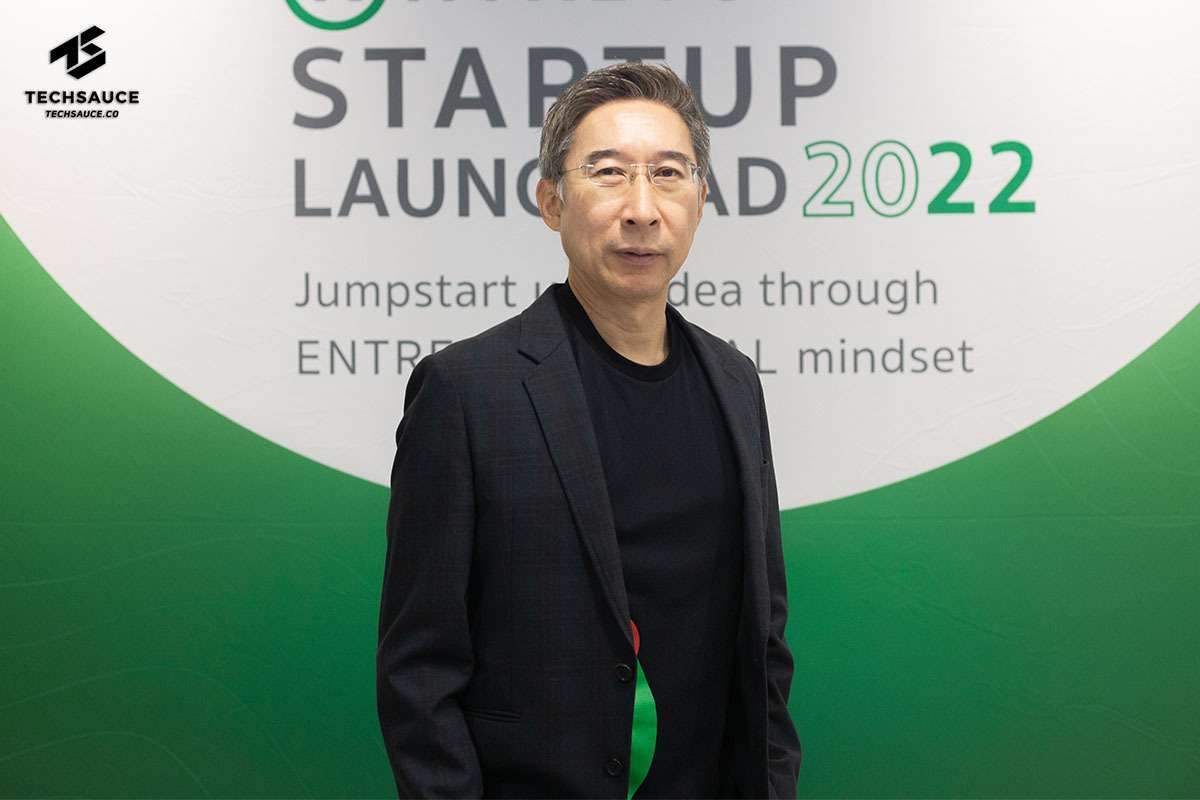 Companies all around Thailand have been incrementally focusing on ESG, with Beacon VC already doubling on its investment criterion that is non-destructive and in adherence to good governance following the guidelines given by KBank.
"Governance will be the decisive factor that investors will look for in an investment. And this is likely to be an important approach for other VCs as well."
Looking forward to next year's KATALYST project, Thanapong shared that he has given his full support, believing that knowledge can assist startups to grow. He also plans for the project to be yearly in-continuity, believing it will contribute positive impact Thai startup ecosystem and society - one indicator of that is how the previous alumni still have continued to help emerging startups and the new faces.
Though the project has ended, the finalist this year has potential to grow, and may eventually be qualified to become one of the startups in the portfolio of Beacon VC.
"In the future, Beacon VC plans to open a fund that directly deals with ESG, focusing on projects related to the environment or society that KBank can use to build on," Thanapong concluded in his final remarks.
This is an Advertorial Article