Krungthai-AXA Life is shedding its "grandfather" image for a new millennial look.
Is it possible to turn back the time and become young again? This is exactly what Krungthai-AXA Life is doing as it works to "disrupt" the common perception that the insurance industry is a "grandfather/grandmother" industry. Gone are the days with paperwork, in with tablets and innovative ways to integrate as a partner for customers rather than being seen solely as a payer of claims.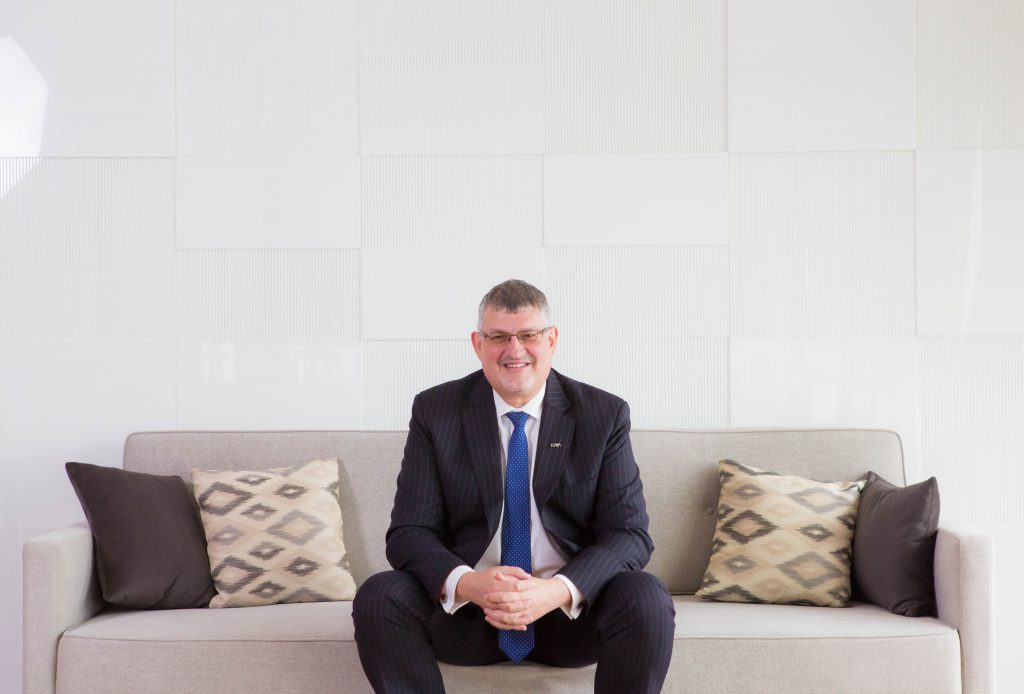 Techsauce Co-Founder and CEO Oranuch Lerdsuwankij or Mimee sits with David Korunic, Country CEO of AXA Thailand and CEO of Krungthai-AXA Life to have a one-on-one talk on the challenges of the Thai insurance industry and how Krungthai-AXA Life is planning to disrupt it.
No longer the grandparent
"We need to change the market. We need to disrupt. We need to be seen not as the grandparent, but as the millennial, a peer. We need to be seen as being different today."
"Yes", says Korunic, a New Zealander who has been working in Asia for nearly 29 years and now on his 11th year in Thailand. After leading Krungthai-AXA Life into the number 1 position for new business premiums in the first quarter of this year, Korunic says it is now time for the company to shed its old image and change into a new innovative one.
"If we continue to be grandparents, we will never move above the curve. If we are always slow, we are never going to catch up."
Be the first to change
Krungthai-AXA Life has begun its transformation as it realises that it can no longer be the payer of claims, but a "partner" within its customers' lives. Already it has been a pioneer in adopting new technology to build stronger relationships with its customers. It was one of the first companies to target customers on Facebook, where Bangkok is the world's biggest city for Facebook users of 27 million users in 2017.
Korunic: We do a lot with Facebook, a lot of advertising, or having customers redirected to our website though the Facebook site. We were the first company to link up with LINE. We have just created and launched our new next gen LINE stickers which have been used over 24 million times which translates to over half the population of LINE users in Thailand today. We have LINE business connect. We were also the first company to use LINE Pay insurance.
Thailand's challenge in digital adoption, from paper to digital
Although Thailand is the biggest user of Facebook and number two LINE user in the world, Korunic says there is a lot to catch up to when it comes to adopting the digital era fully.
Korunic: I think we are still a little bit behind in adopting new things. If you look at China, a lot of services and products are purchased online. In Thailand I think the e-commerce is still low. So, I think we have tried to look at our customers to see what they want and what they need and then try and fit towards those needs. We are trying to get people to use digital tools.
3 Goals of digital transformation
Korunic: When people start with us the first day, they start with me.
"Everyone who starts in this company has one and a half hours with me."
We talk about what we want to do in terms of transformation, where we want to go. We talk about how the pace of change is increasing every day. Exponentially changes are increasing. We need to get above that curve. Digital is the way we need to be.
Korunic says that the focus for Krungthai-AXA Life is on accomplishing three main goals: creating an innovation of effortless sales journey, being more involved with HealthTech, and doing business more efficiently.
1. Effortless sales journey
Krungthai-AXA Life is working to wean consumers from filling out papers to giving their information on a tablet and have that information quickly analysed.
Korunic: So, at the end for our distributers we want an end-to-end customer journey in a digital way that is straight though processing.
"The idea is, I want a policy issued in two minutes on your mobile device."
2. Integrating with HealthTech
Korunic: Health is something that has a lot of potential in Thailand. There is a very low rate of private health insurance here. So, it is important to link up with hospitals, look at the different health techs out there. One of them being a camera that takes photos and can show the body fat of a person. We are looking at this tech to see how we can use it within our sales process.
Korunic says the key is to use technology to decrease the processing time for customers so that the process takes less time and is hassle free. The company is also working with an app that asks customers variable questions to assess their health status.
3. Work efficiently
"We have been building a lot of robotics within the operations areas to take away manual labour tasks from the people so we can reskill people to do the more high value added roles within the organisation."
Korunic say that the company is already assessing what the workforce will look like by 2020 and 2030, with a focus on seeing how they can fill in the skills gaps through training and hiring new talent.
"The workforce we will need in the future is going to be different to the workforce we need today. They need to be more tech savvy. They need to do things completely differently."
AXA Innovation Program
In 2016, AXA set up AXA Strategic Ventures and it has now invested in 36 start-up companies.
"Of course in start-ups as you know, not everyone is going to work. Some of them are going to go by the way, but there will be some crown jewels" says Korunic.
One such success has been Fizzy, an app that provides insurance for flight delays. Using parametric, it automatically looks at every flight and automatically transfers money to your account once a flight is delayed beyond 2 hours. It has been a great success in China and is now in other countries. This is something Korunic is looking at bringing to Thailand.
AXA has also set-up AXA labs in Silicon Valley and Shanghai to look at all start-ups and innovation. Korunic says setting up in Shanghai was logical because that is where innovation is. AXA's group CEO is in direct communication and takes a personal interest in the innovation within the group.
Advice for start-ups who want to work with Krungthai-AXA Life
"If they come with compelling business cases on what they can do for us we will listen."
Korunic: We are willing to really look at anything. If it will help in our customer journey, or if it will help provide value to our customers, then we will consider it. One of the things that we are looking at is insurance companies are usually seen as payers of claims, so you think that what we do is to pay claims. We want to move from the payer to be a partner with our customers. The health space has one of the best opportunities where we can do this. If you work with a customer in terms of the internet of things (IOT) etc., we help improve the health of the customers. There is a lot of work happening on moving us from payer to partner and we are empowering people to live a better life.