We have to admit that there has been a development in investment and fundraising patterns to be of more variety; especially in Digital Asset which has been accepted to such an extent that it has become one of the most popular ways in investing. With these new emerging opportunities, KBTG has created Kubix which is a digital token selling system or the so-called ICO Portal by KASIKORN Bank. The bank is considered the first financial institution granted permission to do so by The Securities and Exchange Commission or SEC.
This is also an opportunity to build on the success of "Aor Jao fever" which was once a total phenomenon. GDH, therefore, would like to take this chance to make the audience experience such an atmosphere once again.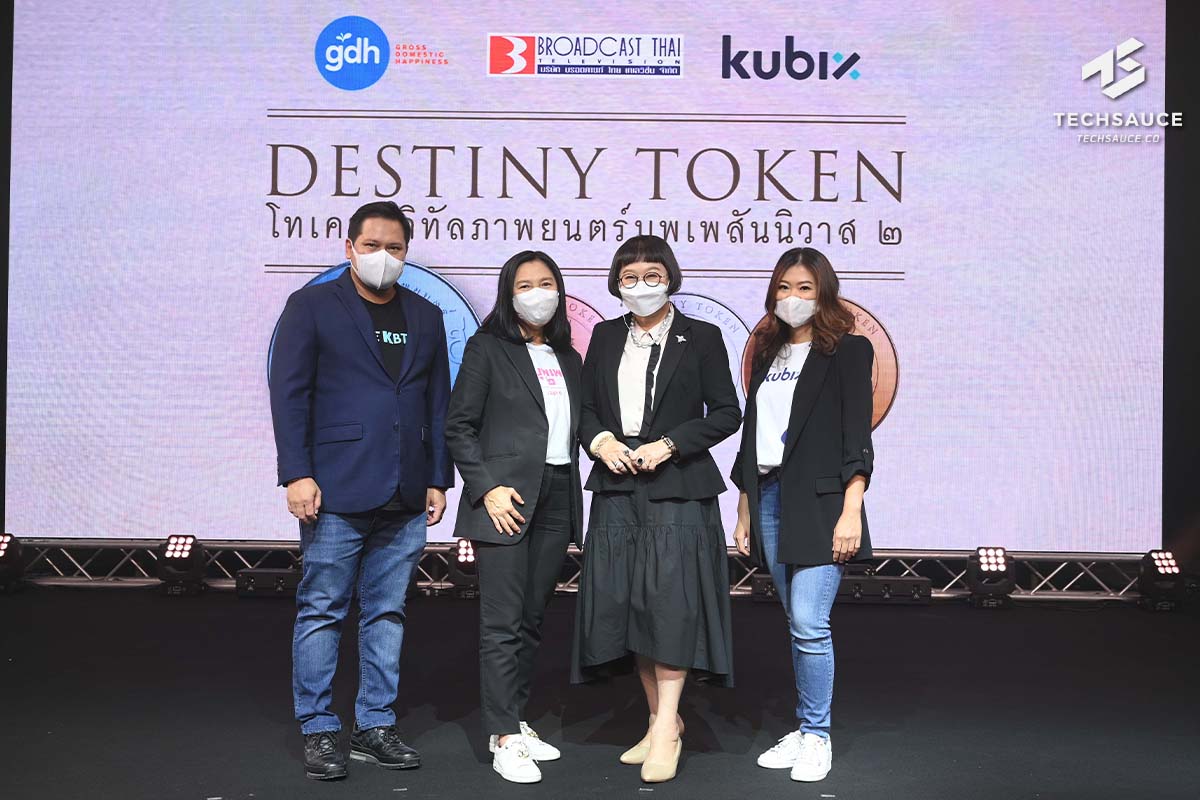 Kubix is a full ICO Portal service provider.
An ICO fundraising or digital token selling is a process in which physical assets are tokenized; these assets are turned into its digital format through Blockchain and Smart Contract technologies which come with higher security, transparency and credibility.
Once an asset is in the format of Digital Token, investors can designate the ownership and they are entitled to a return from such transformed assets. This is a turning point for those who are interested in fundraising. Project owners can offer Token to the investors more easily through the process which gives a complete digital experience. Kubix, which is the ICO Portal, will be in charge of the whole process.
Kubix is among the so-called One Stop Service ICO Portal for issuing the ICO with full 5 core services as follow;
Financial Advisory provides the fundraisers with helpful financial advices

Business Due Diligence will help in filtering and selecting the project based on the regulated requirements

Whitepaper Preparation helps the interested parties to prepare all the important document as requested by the SEC for an approval of the token filing

Smart Contract offers a system that can be run on Blockchain technologies in creating tokens based on whitepaper document

Token Offering Platform comes with a mobile application to take care of investors and accommodate the purchase of tokens for the investors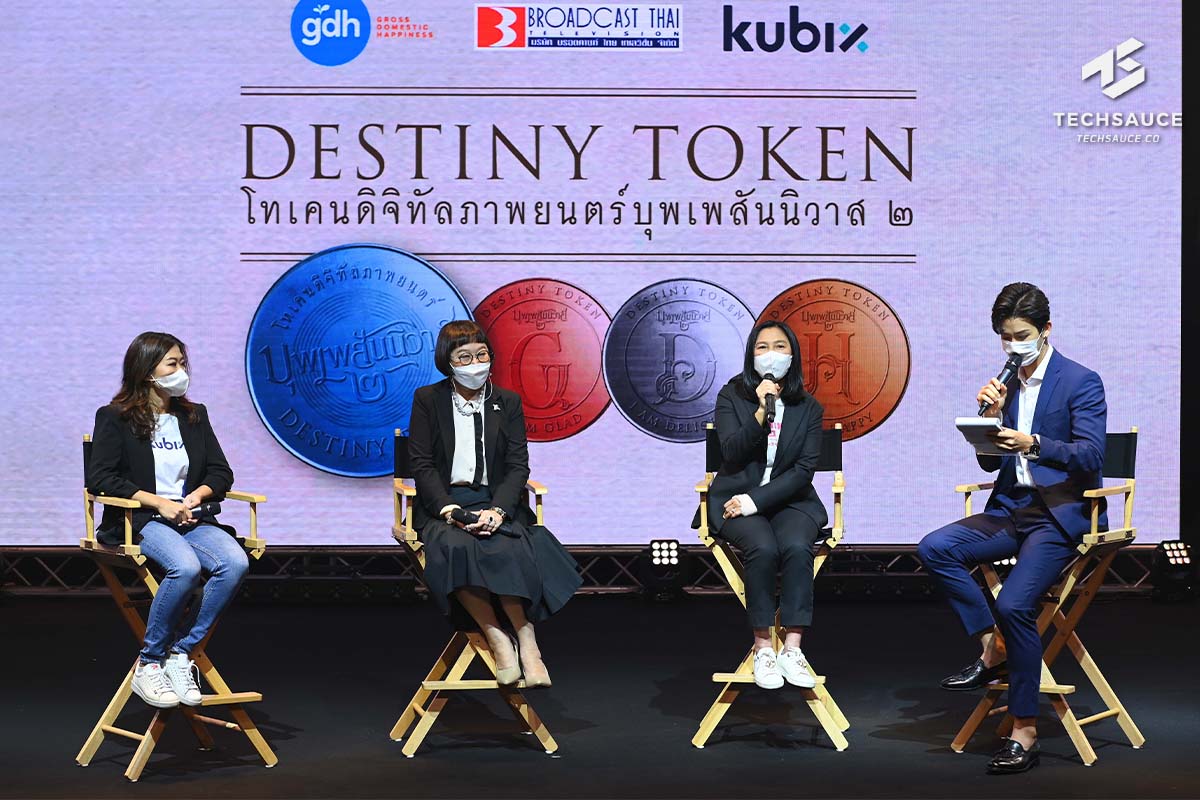 DESTINY TOKEN: the first project to take on a new way of investment in the film industry
Kubix has recently officially launched itself as an ICO Portal with DESTINY TOKEN as its very first token to be offered. The token is a result of the collaboration between Special Destiny Co., Ltd. owned by GDH 559 Co., Ltd. or GDH as well as Broadcast Thai Television Co., Ltd. or BTV. The token is for an investment in the Thai film called Destiny the Movie.
Jina Osothsilp, CEO of GDH 559 Co., Ltd. has said "in building on for Destiny the Movie's success, we have a discussion about what would make the movie different and special for the audience and the movie's fans; how to get their engagement apart from just being an audience. That was the beginning of the digital token in the market. It would offer the fans and Thai movies' audience a chance to become an investor in Thai movies of their preference, to support Thailand's film industry to grow in a sustainable way".
DESTINY TOKEN is the first project in Movie Financing and is considered a turning point in the traditional investment's world in which investors would focus on investing in financial products and wait for the due return in time. This is why people perceive investment as something difficult to understand. The new image would originate from the token offering which is in the concept of Invest Earn Experience by Kubix. It would be a combination between Investment Token and Utility Token together. This way, the investors of DESTINY TOKEN would get a monetary return as well as other benefits from owning the token.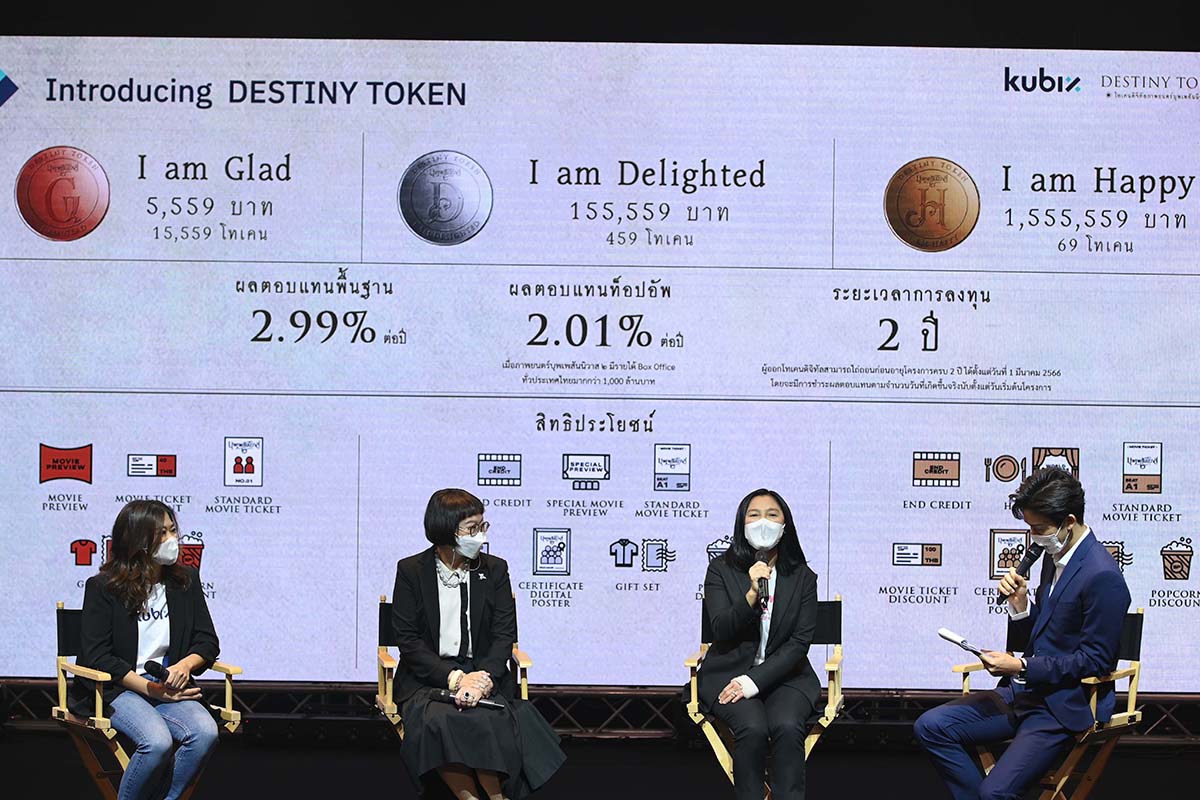 There will be a total of 16,087 digital tokens on offer with a total fundraising value of 265 million Baht in 3 types as follows.
I am Glad Token at 5,559 Baht with a total of 15,559 tokens

I am Delighted Token at 155,559 Baht with a total of 459 tokens

I am Happy Token at 1,555,559 Baht with a total of 69 tokens
All of these options would not take more than 2 years in investment and would yield 2.99% a year. There would also be an extra return of 2.01% if Destiny the Movie has a national Box Office revenue of more than one billion Baht.
A journey back in time with a futuristic technology that comes with exclusive benefits
Apart from the aforementioned benefits, the investors would get a lot more privileges based on the type of token they own such as a premiere ticket for Destiny the Movie, being in the end credit of Destiny the Movie as a Special Destiny Executive Producer and a special edition souvenir.
These privileges and rewards are another important selling point of the token Kubix and the project owner like GDH 559 would like to offer to their investors. They can own the token until the project expires. After that, they will get both the capital and the returns on investment back. While holding the token, there will be no trading on the Cryptocurrency platform. Therefore, there is nothing to worry about in terms of the token's fluctuation. This is currently under SEC's review and will eventually be on offer through Kubix application once the project is approved.
However, the collaboration between Kubix as the ICO Portal and GDH 559 which is a successful production house with many renowned films as well as Broadcast Thai Television which is a leading entertainment company in Thailand for more than 20 years, is a new next step for both financial and investment and the Thai film industry. It can draw more attention and popularity as well as the fans in the capacity of the investors to push their own favorite works forward. With this, investment would no longer be considered something that is difficult to access or understand. This, along with the Blockchain technology which has been progressing with more and more use cases, can increase a variety of financial products to be launched and offer easier access for the general public; creating a new experience which enables everyone to enjoy investing even more.
This is an Advertorial.