KASIKORN X or KX, the new company under KASIKORNBANK Group was launched last October with an aim to run business in Decentralized Finance and Beyond. KX has successfully launched its 3 main businesses which are Kubix as the ICO Portal, Coral NFT Marketplace platform and Endless Capital fund which is a new venture investment focusing on startups in the Web 3.0 ecosystem. The Coral platform offers limitless opportunities through NFTs for both Thai and Asean artists and collectors. To bridge the gap between online and offline worlds even further, Coral is the key partner behind the launch of Thailand Digital Art Festival 2022. his article gives you an overview of what the company has achieved in the past few months.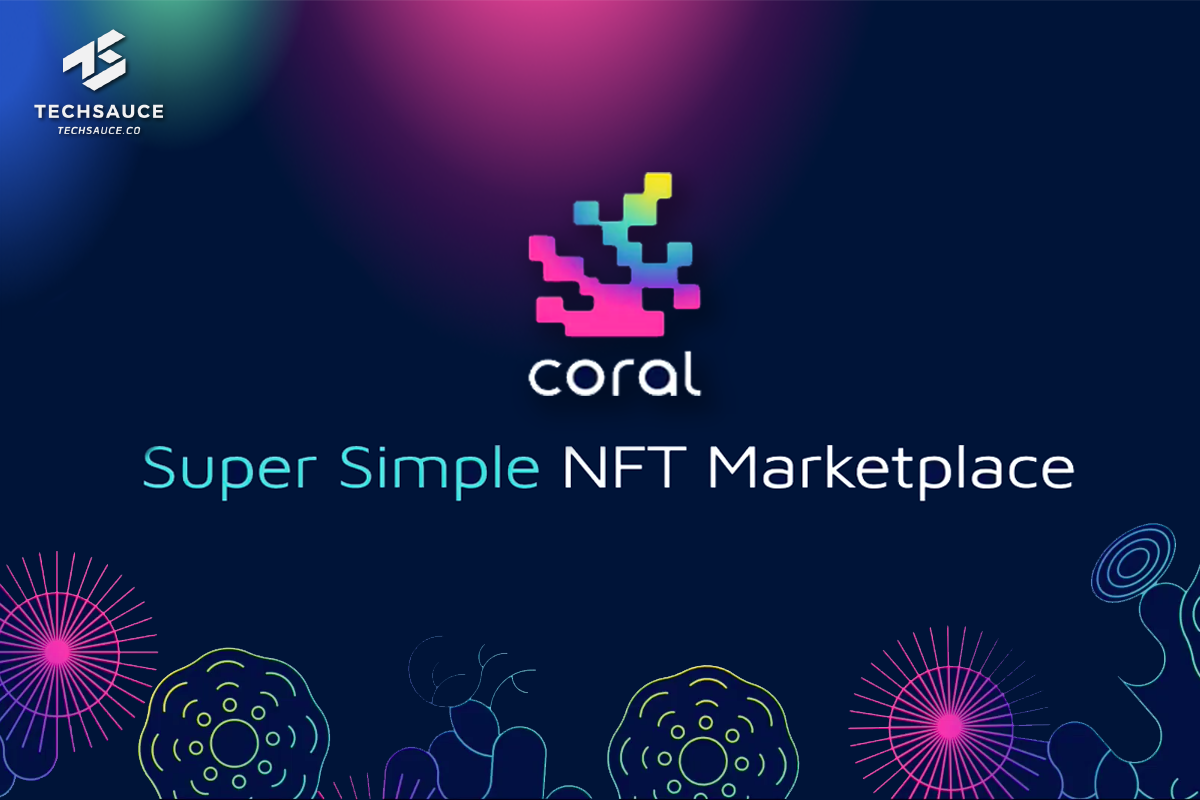 KASIKORN X - a new business aiming for the international level
This Autonomous Venture Builder company in the field of Decentralized Finance and Beyond with a focus on building a new business in financial and non-financial services started operating on 18 October 2022. Led by Khun Paul or Mr. Thanaarmates Arriyavat, Head of Venture Builder, the company runs autonomously with solid support regionally from KBank and KBTG. This is to ensure the company can draw the best potentials in each aspect to support KX at its fullest. KX has currently got one of the best teams composed of talents from all over the world like Thailand, Vietnam, and China. This is to realize one of KX's ultimate goals, which is to be an International Company to accommodate its global expansion plan for each business. This is also a way to leverage footprint from the whole group to respond to the needs of the customers in each region. As for the work process of the company, KX would incubate ideas, scale them up and eventually spin-off into a new company to achieve its goal of continuous growth. After successfully launching a financial service, the company is now working their way to produce more non-financial services in the year of 2022.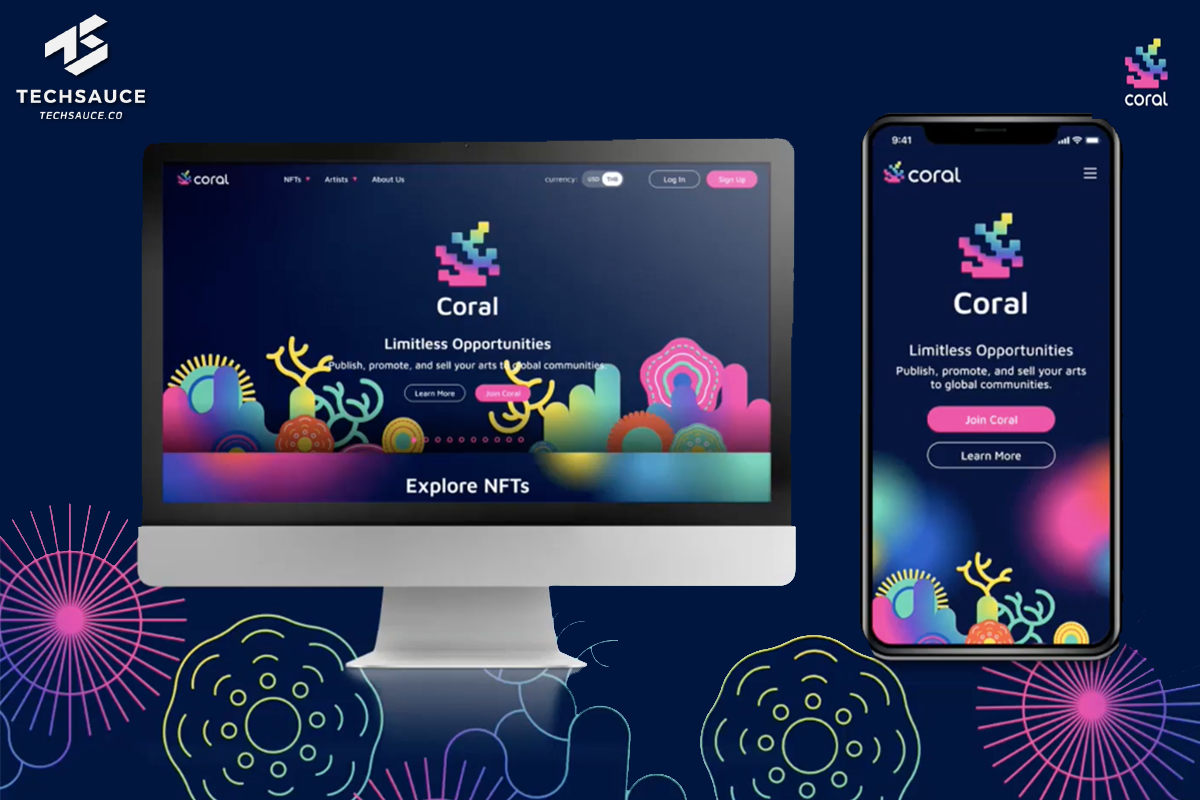 Coral - an easy-to use NFT Marketplace that can unlock new opportunities for everyone
'Coral' NFT Marketplace, launched together with KX in 2021, is a super simple NFT Marketplace platform with a distinctive difference in its original development concept. The platform was developed based on an understanding of the issues faced by collectors, artists and brands. It also comes with a strong commitment to support Thai and Asian artists to be known worldwide. One of the issues the company has discovered is that there are a number of talented artists and creators in the region, but they do not have any opportunities to self-promote or even a channel with sufficient inclusiveness to showcase; let alone to sell their work of art as NFT. Mr.Thanaarmates said "Coral is obviously different from other marketplace platforms. We have set our platform to be a door of opportunities for a huge number of people, to be a channel where artists and others with talents can create and showcase their work as well as generate an income for themselves. Artists, partners and brands on our platform can always collaborate together there. Coral will unlock new opportunities for everyone in their chosen career paths."
The difference of Coral
Coral is aware of the world-class NFT marketplace's issue which is the loophole in copying an artist's work of art. This can have a huge impact on the artists themselves, and they usually do not have any idea on how to deal with it. Coral, therefore, puts an emphasis on how the platform takes care of the work and the artist. It has come up with a process for each artist on the platform to verify the Original Artist & Authentic NFTs status. The process is set out through the collaboration with the Department of Intellectual Property (DIP) to oversee the copyright issues. Each artist with their work on the Coral Platform is eligible to get a pink batch by registering their work with the Department of Intellectual Property and include the registration number in the description of their work. The platform can also make use of such a procedure to take care of the ownership when it comes to the traders as well as the data and the minted file. Once it is minted, the data will be stored in the Metadata on Blockchain which is accessible for everyone to verify. Moreover, Coral has also got a team ready to provide assistance for every single artist on the platform from the very beginning when they would like to register their work to the very moment once there is a copyright infringement issue.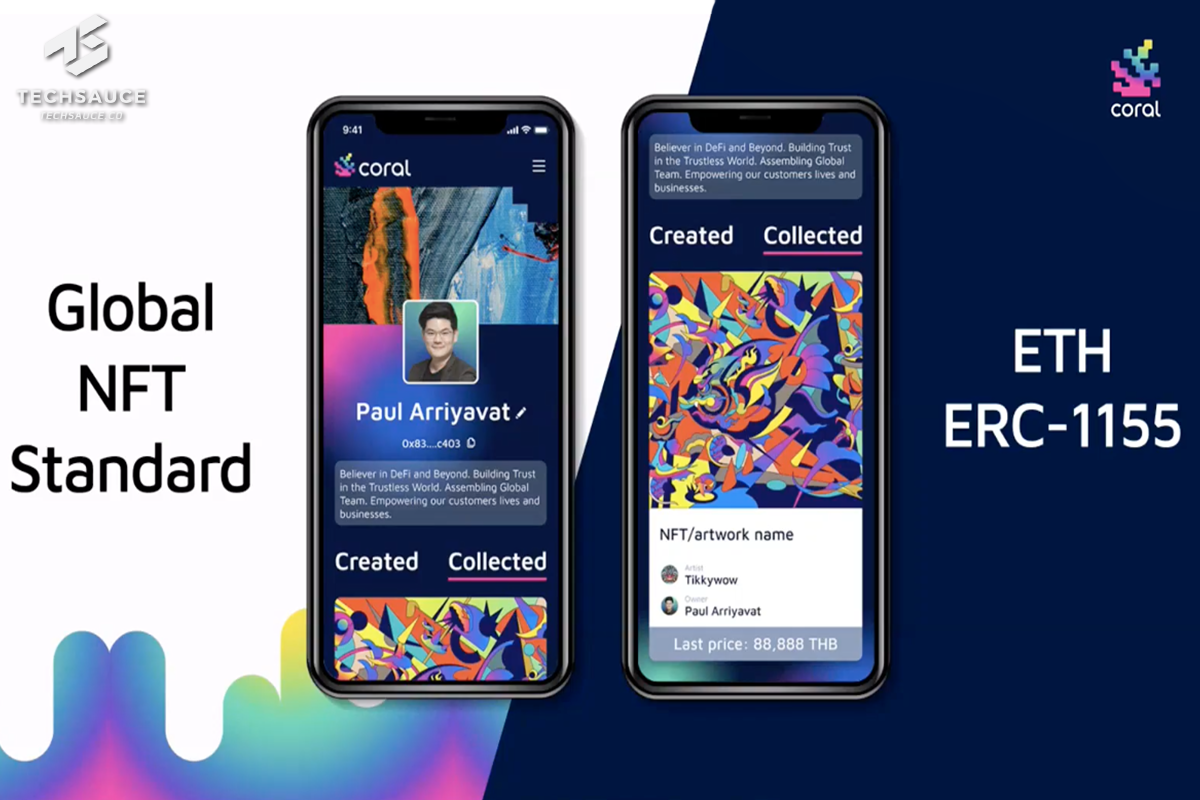 Coral has chosen to provide its services on Blockchain Ethereum that comes with a global standard. This is because the relevant statistics in the Chain indicate that Blockchain Ethereum has an overall NFT trading rate of more than 70%. ETH ERC-1155 is a standard approved worldwide and can be applied with both Non-fungible and Fungible tokens.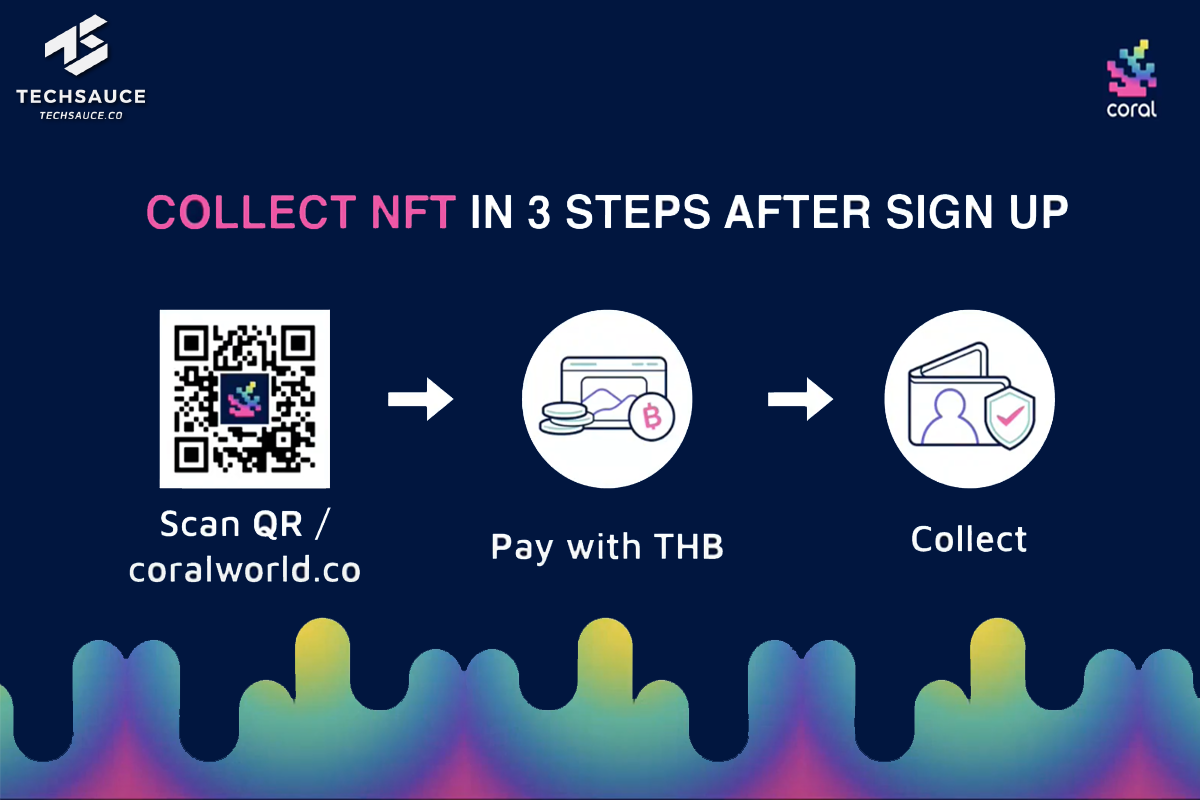 Coral platform will make creating and trading NFT as simple as other forms of online shopping. It can be easily done by scanning a QR code to access https://coralworld.co/. Coral customers can purchase NFTs using local currencies such as Thai Baht or US dollars while customers on other platforms need to exchange their money into a cryptocurrency which can be more difficult. Coral platform can accommodate different payment methods that everyone might find convenient for themselves; this can be via Credit Card, Debit Card, QR Code and Mobile Banking (K PLUS).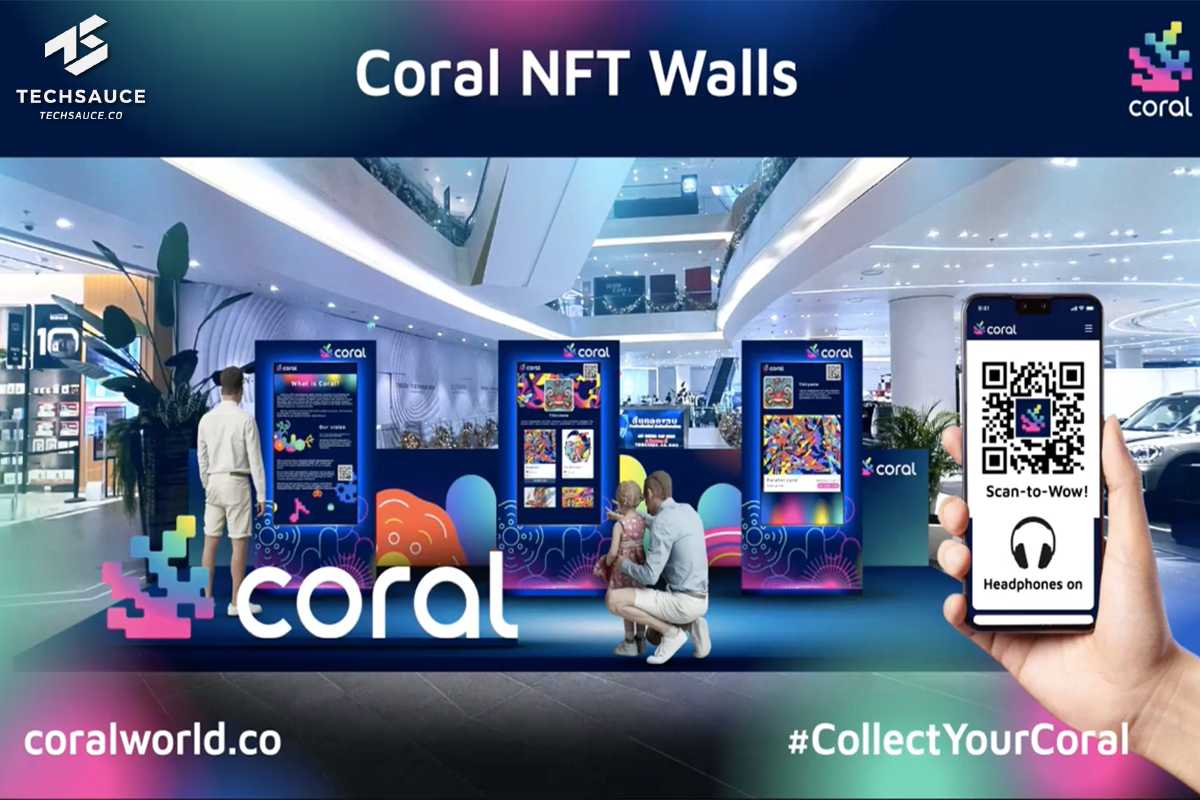 Coral has also announced an official partnership with different organizations in Thailand. Recently the platform has partnered with Siam Piwat Group to incorporate an NFT Wall within the area of Siam Paragon and ICONSIAM. This enables the department stores' visitors to get a closer look at the NFT arts. It also goes along with what Coral platform emphasizes on which is the offline-experience that should go hand-in-hand with the online experience. This concept should be incorporated into every event to increase a space for relevant storytelling and to get a closer engagement from those who are interested.
Coral has also hosted "Thailand Digital Arts Festival 2022" or TDAF2022 in March 2022. The event is Thailand's and Asia's first and probably the largest digital art exhibition. It has created a great phenomenon and reinvented Thailand's art circle. Coral has gathered leading artists from every single discipline; national artists, outstanding artists, senior artists, new-generation artists, new artists on a rise and professional artists as well as other celebrities and influencers are invited to launch the event. The art is exhibited both online and offline through the combination of the work of art and the new technology of NFT. The collectors would get both the physical work of art and its converted digital file in the format of NFT on the Coral platform.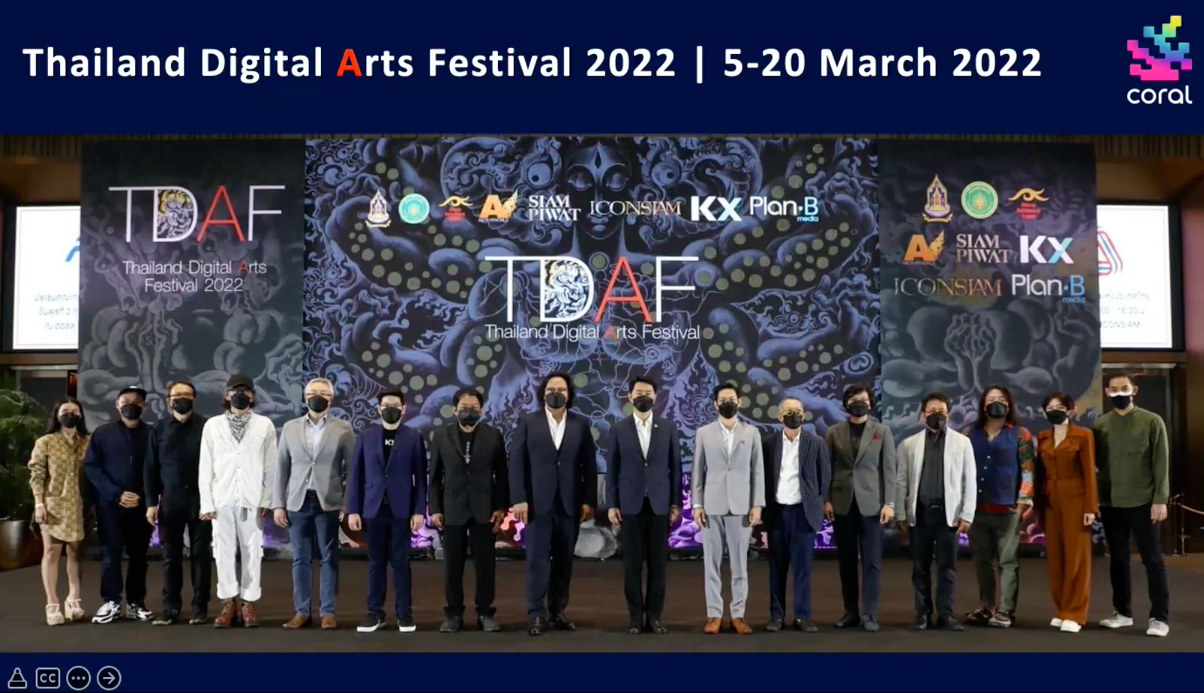 Mr.Thanaarmates also said There has been talks and discussions on possible collaboration and partnership to take not only Thailand's, but also Asia's work of art to the global stage. We have been honored by more than 150 professional artists of different generations from the senior artists to the new-generation ones. They are also from a variety of disciplines and participated in the event with more than 1,000 pieces of artwork. Coral has proven that the work of art by the real artists can really be sold in the format of NFT with the value of millions Baht. The value of the work of art on the Coral platform is relatively high when compared with other platforms; it ranges from 25,000-2,850,000 Baht. There are also some buyers who purchased a number of art collections with the highest values of more than 10 million Baht and others with a smaller amount. It can be said that Coral NFT Marketplace is currently Thailand's largest and highest-value market featuring works of art of true cross-discipline."
As for the success of Coral's organized event, Khun Paul has revealed "The success of TDAF2022 is like lighting up a firework for the digital art industry. It is quite an important opportunity for the artist community of all disciplines. The event enabled new experience and new opportunities for every single artist and we have got close to the buyers and seen what they are looking for and that can be applied in organizing our next events. People we have met paid so much attention and importance to the work of art, the talents of the artists and the messages behind those works. If these messages can reach the buyers in a personalized way; they do not mind the price. With these understandings, Coral can improve their art exhibition and presentation. We have received quite a positive feedback. The overall value of the work of art has also reflected such good feedback and most importantly, we get to know more about our target audience who are the real customers."
'Endless Capital' the fund for technology and business of the future
'Endless Capital' is a fund that would be invested in supporting startups in the seed stage and Series-A whose work focuses on Web 3.0, Blockchain and the field of Metaverse from all over the world. It will be under the supervision of Khun Krating or Mr. Ruangroj Poonpol, Chairman of KASIKORN Business Technology Group (KBTG) and Khun Paul will be the Investment Committee (IC). Launched in March 2022, Endless Capital has got a team of lengthy experience in being VC, Angel Investor and Entrepreneur. Therefore, when it comes to the fund's investment criteria and consideration, Khun Paul said "We are the Angel investment. The fund has its built-in partnership that would collaboratively develop the technology usage and support the startups to deal with different issues they are facing. As for the investors and the startups looking for strategic partners with footprints and regional working standards, they can stop worrying about their partnership sourcing."
The next steps of KX and Coral
Mr.Thanaarmates added "KX currently has a number of projects in their incubating stage. What we have already launched will be pushed further until they can reach their intended targets. We would try to minimize the risks and work with partners as much as we could. KX is now focusing on the Coral NFT Marketplace and we have just announced a partnership with The Thai Red Cross Society to set up an emergency fund of "Response Disaster". Coral has also been honored by Her Royal Highness Princess Maha Chakri Sirindhorn to set up the Foundational Artist on the platform to campaign for donation and fundraising via NFTs in order to help out the unfortunate when there is a crisis."
'Trust' from artists and users.
Another goal Coral has set out is to be trusted by every artist and creator on the platform. This also goes along with the main mission of KX 'Building Trust in the Trustless World'. Mr.Thanaarmates also mentioned that he wanted the power of DeFi to be under people's control. He wanted people to use the products and services of the business KX has built on. Coral would like to get such feedback saying that Coral helps artists have a better life, that they can make extra money and can take another step forward in the international stage.
Coral would now focus on increasing the number of Thai artists on the platform by expanding the platform's reach to cover the whole country and offering services to all artists. Currently, there are about 150 Thai artists showcasing their work of art on board with more than 1,000 pieces of image and video files. As for the visitor's side, 80% of them are Thai buyers while the other 20% are from overseas.
Apart from that, the platform is now planning to increase the ratio of overseas buyers through their online campaign. It is also to ensure that the artists on the platform are known internationally. Simultaneously, they are also building up the Coral Community to attract more audience from both sides; buyers and artists themselves. Coral aims to have 80% of the buyers from within the region and 20% from Thailand. Comparing the NFT market ratio of both Crypto and Non-Crypto, Thailand has quite a limited number of target audience. In the beginning of the Community-based campaign, Coral has, therefore, aimed to create more engagement and awareness in the international market.
For the expenses that would be incurred by the artists, there are 3 main parts which are minting fees on Ethereum Network; the rate is currently around 8,000 - 10,000 Baht, the platform fee of 10% and the payment gateway fee of 2.5%. Coral is using Lazy Minting which means the fee will only be charged once the work of art is sold. The next step would be to lower these expenses which, in turn, can mean cheaper selling prices and gaining access to even more people.
The vision of Beyond Finance is to develop a business with a focus on other matters apart from that of financial services. The first and a very obvious example here is the work of art. Mr.Thanaarmates stated "as we have launched Coral NFT Marketplace among our first businesses, we hope it can give you a glimpse of the potential in creating digital assets. Finance will be among the supporting businesses. This is just like what it is in our usual world. Banks or financial institutions are just the supporting organizations. When it comes to finance, it is basically about trading and manufacturing; the purchase or the sales of stuff that eventually create an economy. Apart from that, KX and Coral also have many more innovations in store for further adaptation to support other industries other than the financial sectors. Our goal is to empower customers and solve with different issues to open up an opportunity for a huge number of people out there."
Mr. Thanaarmates has also given a statement on the company's overall direction moving forward, "the art market is still in its infancy and there are a lot more to unlock. Artists believe in their work of art and the platform as well as the NFT industry which has been trending and growing lately. I believe that the market would grow rapidly and get much bigger than it is now. Naturally, each industry will be re-standardized to find out which business is actually a success. At that point there will be only a few players left. The artists, on the other hand, will be able to set out their own direction even more; they will find out about what suits them best over time. We will also get to see a number of new use cases and more impact on our lives as well."
This is an Advertorial.