A discussion held at the Singularity University summit talked about why challenging organizations that invest in innovation that eliminates jobs instead of creating jobs are important, and why scalable learning should be adopted. The discussion panel consisted of Clayton Christensen, a professor of Business Administration at Harvard Business School and John Hagel, the Co-Chairman Center for the Edge of Deloitte & Touche, and was moderated by Carin Watson, the EVP Learning and Innovation of Singularity University.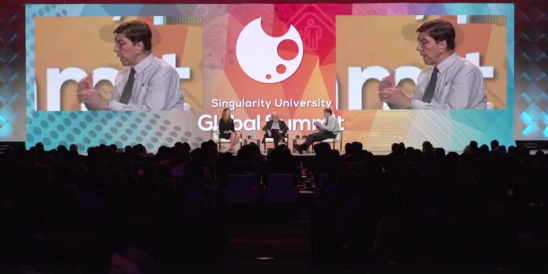 Carin opened the discussion with a question about how large established organizations can survive and find new sources of growth in this era of disrupting technologies and innovation, as the climate favors the individual, startups, and entrepreneurs.  According to Prof. Christensen, organizations need to ascertain where the niche markets are.  They need to look at what people are doing and establish whether the solutions are complicated and costly, as these types of solutions are only available to those that have access and funds.  Unfortunately, there is no data about the non-consumer, so organizations need to find a way of addressing the uncatered to market.  He also pointed out that organizations by their very definition are innovative and will always improve on existing technologies to meet the needs of the consumer.  He calls this sustainable innovation, where sustainable innovations are geared for replacing or upgrading, and the accounting bottom line will dictate that this is right for the organization, but does very little in the way of creating and opening new paths to growth.
Carin then also posed the question to John and asked him to explain the concept of leveraged growth.  John explained that companies are pressurized for growth, as investors are no longer satisfied with profits and are more focused on growth.  The shortfall for most businesses is that they only look at two paths for growth, - make or buy.  And the focus is on the question of balance, how much do they spend on organic growth and what do they buy-in with regards to acquisitions.  These two questions miss an important third path to growth, and that is of leveraged growth.  Leverage growth addresses the question of how do companies create and deliver more value to the market by mobilizing third-party capabilities that add value to the customer and the company.  This path of growth reduces the size of investment for the organization, and it accelerates the time to revenue.  However, there are challenges to accepting this route, for example, companies need to expand their horizons on what is the unmet requirements of the customer and companies should think more broadly about how they can use third-party capabilities to address those needs.  Also, companies need to abandon the model of control and command of all resources, as when using third-party capacity, companies can shape and influence but not control.  
John further explained the concept of scaling edges and what it means for large organizations.  Large companies are always asking how to stay ahead in the ever changing tech world, but with experience, transformation in big organizations always fail on reaching their objectives.  Scaling edges means that organizations need to find the existing edge of the business and scale it so that it eventually becomes the core business of the organization.  Scaling edges requires little investment, at first will deliver modest profits and will need an understanding of the exponential forces that shape your business.
What is the future of the organization?
According to Prof. Christensen digitization is the essence of modulation.  Modulation allows companies to innovate quickly as the existing systems allow that.  At the very core of the organization is digitalization and some markets allow for rapid innovation.
John believes that digital and exponential forces will significantly fragment aspects of the economy.  Smaller businesses will be profitable in one part of the economy, and in another part of the economy, there will be a lot more consolidation and concentration.  These two trends will reinforce each other. Large companies will need to be clear about what section of the economy they want to be.
Concluding the discussion, Carin posed the question of ethics and moral for the organization of the future.  John clarified that ethics and morality would be central to business success.  More broadly people will need to think about the business opportunities that open up with pursuing ethics in business.  For example, diversity is morally important but also critical to business success.  We will create more value by having more diversity.  Trust will be a critical determiner of business success in the future.
Editor's note: Thank you Ananda Development for inviting techsauce to join Thai corporate delegation trip at Silicon Valley and SU Global Summit 2017