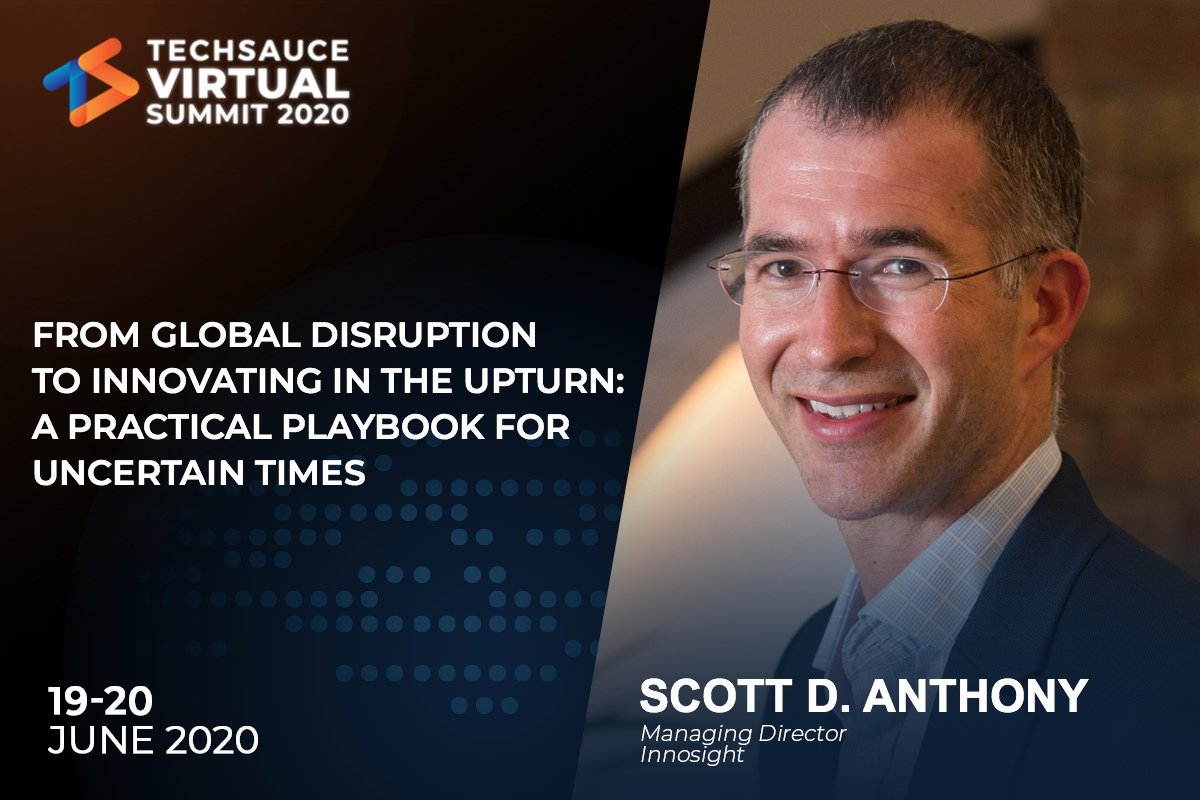 From small business owners, to medium business owners, to large business owners, we've all heard the concept of innovation at one point. But many of us are probably intimidated, or even scared by the idea of innovation because this means changing your business model and making changes in your existing environment. And who knows what's on the other end of that change. While many people stalled at the crossroads to innovate, this is not the case for a Senior Partner of Innosight, Scott D. Anthony. With his leadership and team, Innosights transformed itself into "The Best Management Consulting Firms 2020" ranked by Forbes through innovation and growth.
Join us for a LIVE streaming virtual summit. To hear Scott Anthony, Innosight's Senior Partner & Managing Director as he shares his insights on innovation and growth, plus advice on finding great opportunity when it seems like there's no hope. Buy your tickets at https://bit.ly/2ZmnIN9
Can you tell us a bit more about what you do at Innosight?
As a leading expert on disruptive innovation and strategic transformation, Anthony helps business leaders develop deep insights into the needs of tomorrow's customers through a shared vision of the future and creating a means for the organization to get there. As the company's purpose is to "empower forward-thinking organizations to navigate disruptive change and own the future".
Do you consider these uncertain times as the signal of new disruption for the whole ecosystem?
For him, COVID-19 is an obvious unprecedented situation with its own unique aspects. But at the end of the day, it's a "genre of movie" we've all seen before. In the past, we've seen a world war, pandemic, and many other forms of socio-economic changes. But one thing we see persistently is that innovation continues
"No matter how dark the time, there's always a silverline. There's always a great opportunities for people who can think and act in the right way"
What is your recommendation for many businesses who want and wish to transform themselves in time like this?
Innosight like many companies historically did it's work, working side-by-side with clients… yet like the rest of the world, we have had to figure out how to live with things remotely. And we've learned some surprising things.
Innosight figured out how to have clear guidelines for virtual meetings, how to use tools to encourage debate and discussion, and how to maintain inclusivity, and through these things, they were able to better themselves. As a firm believer in finding opportunities on the other side of the challenge, the opportunity is no doubt there.
We all understand that innovation is key, but how do we actually start to innovate? Especially during a tough time.
Prudently pruning your portfolio or honing down your task list and by prioritizing the task that will be impactful for the company's short and long term prospects.
Get rid of the zombie project
Look for the reverb opportunities when somethings affecting the market
When you find the new opportunities, you can then take the resources you got rid of before, and focus them on the new opportunities. Then all the sudden you can find your silver lining.
Do you have any message you'd like to give to someone who wants to take that step towards innovation but still weighing the risks and rewards?
When you innovate, the worst thing that can happen is you're wrong and you have to write off the money you invested. But if you succeed, you will gain huge success, create a new ecosystem, a new business unit, and so on! On the other hand, if you don't innovate you will any see any benefit. And even worse, you could go out of business because you miss the big shift in your industry.
We are so excited to have you as one of our speakers at Techsauce Virtual Summit this year. Do you have any message for them?

Leaders need to show courage and think about the future they want to create. And think about the near term action that will maximize their chance to create those opportunities. Never forget that no matter how dark it is, no matter how tough it is, history shows conclusively that there are opportunities to innovate and grow. I'm thrilled to be a part of this year's virtual summit and look forward to sharing thoughts and insights on these topics and many others with everyone!
Still not quite convinced that innovation will bring success, well join us to listen for yourself at Techsauce Virtual Summit 2020. Maybe you will change your mind and if you don't at least you will learn some new concepts like zombie projects and reverb opportunities. What are you waiting for?
Buy your tickets at https://bit.ly/2ZmnIN9
For more information, please visit: http://virtualsummit.techsauce.co