As Techsauce is helping to expand our ecosystem, networking on a global scale and growing Thailand's investment, accelerator and incubator facilities, it is important to look to the established ecosystems that have successfully elevated the technology industry and have cultivated innovation rapidly through education and extensive accelerator and mentor programs.
Techsauce took the time to interview Sarah Jane Maxted, Director of the Regional and entrepreneur program for the Massachusetts Institute of Technology, (MIT) & Sloan School of Management Global Programs about the MIT REAP regional program to gain insight into what they can offer startups and the wider, collective ecosystem.
Innovation-Driven Entrepreneurial Ecosystems are regional environments that effectively support startups focused on addressing global markets based on technological, process or business model innovation. Based in Massachusetts, MIT offers some of the best services to the worlds startup and entrepreneurial community. 
1. Can you tell us about the MIT REAP acceleration program?
We look to help regions and the global ecosystem as a whole by promoting innovation and entrepreneurship. We want to help with social progress and economic strength. We take on 8 or 9 regions that we work closely with globally every year, from within the US, from Sydney to Hong Kong and even Equador. We really try to take on a diverse range of regions so we have a broad range of societies across the world with social and economic differences to really learn from each other and grow as a university and as a global accelerator.
Our aim is to allow the regions to bring something unique to the entrepreneur game and acceleration program and learn from each other. The goal is to develop strategies that they can take back to their growing ecosystem with skills that we can teach them.
We want to help with ecosystem innovations like launching a centre of innovation or changing tax policies within a government to allow for the better business environment. We encourage regions 3 - 5 strategy for the whole ecosystem by working through every single team which has a government official to negotiate the terms of how to strengthen each ecosystem which in turn will grow the collective business ecosystem. It takes a long time and there are challenges as each team comes with their own viewpoints on global and business perspectives but in the end, teams really walk away with a stronger set of skills that they can implement into their market/country to build robust strategies.
2. In Asia and Thailand, in particular, can you tell us about the successful programs you have run in the area?
Within south-east Asia, we have been successful with a lot of things at a macro level in terms of startups. There have been a lot of copycat companies that want to become the Ubers of the world for example that are trying to dominate in the south-east Asian market.
We want to help companies to build on cultural norms for the region and innovate new startups instead of just creating copycat companies. E-commerce sites are becoming prevalent and are dominating in the south-east Asian market and are trying to create unique things for the region. They may not be the next Uber but they will maintain the cultural norms and push the region forward such as 500 startups that are really making a difference in the region. MIT teams within south-east Asia have worked with 500 startups to enable investment and growth for startups and entrepreneurs in the region.
We want to look at what interventions are needed and what the region needs in terms of regional development. We want to empower the region to build the ecosystem themselves and encourage startups and entrepreneurs to push forward and ask for investment. We have initiatives within Thailand already like the 'Innovation development centre'.
We have a lot of partners in the whole of the south-east Asian region who have put together workshops and other opportunities to grow and advance the developing ecosystem and get ahead of their competitors. What we are really trying to do is build up the whole of the region, not just a country as it all depends on the connectedness of the markets.
3. What makes a regional executive team desirable for your  MIT REAP program?
We want to see real innovation within the Asian region and less of the copycat companies which we are already seeing and we are always exploring new partners all the time and have just launched a new partner in China. The regional leaders themselves have to develop the best possible team who can work together well and have a track record of benefiting the region. What are their interests and why are they doing this and can MIT REAP work together with this team.
What sort of challenges are they trying to solve? That's what we want to see in their portfolio and trying to work on new innovation for the region which will elevate the ecosystem.
We want to help people to connect with the right people within the region.
4. What can MIT REAP offer emerging markets in terms of entrepreneurial stability and what is your overall goal for the accelerator program?  
MIT is in a very established market in the world, however, MIT attracts people on a global scale and have this ability to learn and attract diverse regions to empower people to learn new skills and grow their regions. It's this idea of deployment, to take ideas and concepts from established frameworks that can be implemented and to figure out the weaknesses within the region and strengthen the region to grow the entrepreneurial leaders.
We only want to take around 8 teams a year as it is a very customised program.
The components of a cohesive team that we look for has to have:
Capital
Government personnel
Universities
Entrepreneurs
Stakeholders
Our goal is to collaborate, inspire and grow entrepreneurs to work with small yet effective economic and ecosystem builders.
We don't want you to replicate Silicon Valley or Boston for example. It doesn't work to simply just replicate as there are so many cultural and economic dynamics that it takes to make an ecosystem work. It's essential that each ecosystem keeps their individual innovative business and entrepreneurial ideas. We need people to build on what already exists within the unique ecosystems and expand instead of copying other businesses and entrepreneurial innovations.
5. What are some of the challenges that you face while running the program and how do you fund it?
We are very transparent on our program and it is all outlined on our website. It does cost money for the regional leaders who want to apply to this accelerator program. It is expensive, which may put other regions off from applying but if you way it all up - the course/accelerator program is spanned over 2 years and can really benefit regions all over the world as the skills we supply is world renowned. This financial barrier has never been too much of a problem. Some of the other problems faced by regions can be the stakeholders, governments, private sectors and entrepreneurs who may not be collaborating and working together can prohibit a region's success.
The key is the stakeholder dynamics that need to be supportive of the rest of the regional team for success to ensue.
In a innovation and emerging ecosystem, there really is no one person in charge and collaboration is key to strengthen and progress into a fully developed entrepreneur.
6. What advice do you have for Thailand Entrepreneurs and startups?
Be transparent, be innovative and be unique. Build a cohesive and cooperative team that can compromise and grow together which will attract investors and other program initiatives to want to help and nurture your idea/business.
More details on the Bangkok program: 
We work with other stakeholder teams from other regions in how they support innovation-driven entrepreneurship. We work with regional executive teams instead of startups.
MIT REAP Team Bangkok's regional focus is on the Bangkok metropolitan area.
The team has strong support from the government and other stakeholders, including University of Thai Chamber Commerce, The Brooker Group PLC, Office of Ministry of Finance, and General Electronic Commerce Services.
The Bangkok program:
Bio of Sarah Jane Maxted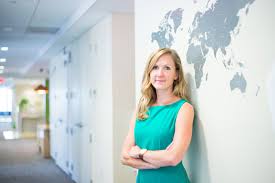 Sarah accelerates innovation ecosystems whether it is within an institution or in the community, a broader region, or globally. This is clearly highlighted by her current position leading the MIT Regional Entrepreneurship Acceleration Program (MIT REAP) where she fosters innovation and entrepreneurial (I&E) growth strategies for regions globally. Her responsibilities at MIT also include being a Director in the MIT Office of International Programs as well as mentoring and evaluating start-ups, and serving on several I&E boards across the institute. Of note, she launched the inaugural MIT Innovation Ecosystem Symposium.