The upcoming Techsauce Global Summit 2017 will feature several highlights including an open stage for bio-based startups to pitch their ideas and innovations to Mitr Phol Group. The pitch session will provide unique opportunities to bio-based startups and individuals to present in front of and exchange ideas with Value Creation experts from Mitr Phol Group. Special prizes include an exclusive dinner with management from Mitr Phol Group, one of Thailand's leading organizations that uses innovation and technology to create added value for Thailand's economic crops throughout the supply chain. The company is also equipped with capabilities in human capital, innovation, and funding, which will help propel bio-based startups in all five sectors, namely bio-based chemical, bio-based material, bio-fertilizer, food for the future, and feed for the future, to achieve success. Interested startups may reserve their spots in the pitch session via email at [email protected]. Limited spots are available.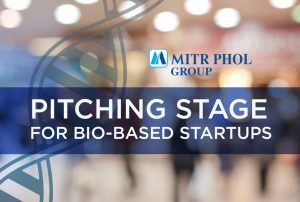 The Techsauce Global Summit 2017, which will be held during July 28-29, 2017, will provide opportunities for startups, business operators, as well as experts in various technological fields to learn the latest in bio-based industry at Mitr Phol Group's booth. Highlights of activities at the booth are
July 28, 2017
11.00 – 12.00 hrs.     First time in Thailand, a Value Creation Showcase by Mr. Pravit Prakitsri, Chief Operating Officer – Renewable Energy Business Group. He will share his knowledge and experience of more than 40 years in the business. Topics include Value Creation, the New S-Curve, and bioeconomy.
13.00 – 16.00 hrs.    Business round table with Mitr Phol Group to discuss bio-material, bio-chemical, bio-fertilizer, and bio-innovation process.
July 29, 2017
11.00 – 12.00 hrs.    Business matching session exclusively for bio-based startups and operators
13.00 – 16.00 hrs.   Private pitching stage for bio-based startups to pitch their ideas to experts in Value Creation, exchange ideas, and win a seat at an exclusive dinner with Mitr Phol Group's management. Reserve your spot in advance via email at [email protected] Limited spots are          available.
Discover and immerse yourself in these interesting topics at Mitr Phol Group's booth at the Techsauce Global Summit 2017 on July 28-29, 2017 at Centara Grand @CentralWorld. The event is specifically for those looking to gain knowledge, learn about new innovations, and expand business networks.