Always wanted to reach out to your favourite celebrity but you're too far away? Fret not. Maximising the technologies we own nowadays, Twitch has created the world's leading live streaming platform for gamers and the things we love. Kevin Lin, Co-founder of Twitch, will go in depth explaining what Twitch does outside of building a gaming community, as well as how Twitch came about. 
Origin of Twitch
We started off as a live video platform called Justin.tv, which is about this guy called Justin Kan streaming 24/7 in San Francisco with a camera on his head while building a business – Justin.tv. Part of the business is building a live streaming platform to distribute live video around the world.
The goal was to make a free platform where anyone in the world can reach anywhere and anytime in the world for free, live, and interactively. This project was called Justin.tv.
Video and chat, that's the engagement. It's one of the many broadcasts where people are interacting in the chatroom. Most importantly, the broadcaster reacts to what is going on in the chatroom. Sounds very simple, but it's a very engaging experience as it turns out. 
When & How was Twitch launched?
We got through the recession 2008/2009 and got ourselves to profitability. Starcraft 2 beta was released and somehow, we got access to this game. We're all gamers, we got obsessed and we quickly realized that if we don't turn this passion of ours in video game into this business that we were building, we might be in a little trouble.  
One day, we realize that this behavior we are exhibiting could potentially be a habit that translate into the product that we were building. So, we convinced our investors to do that and in June 2011 at E3, where we launched Twitch. 
Twitch is specifically made with creator feedbacks in mind. One of the biggest things we do as we started to think about video games was actually to talk to creators. We reached out to them and ask "Would you do this live if you have the opportunity, how would you want to make money, career hopes in being a content creator" etc. 
In 2014, Twitch was the 4thlargest pusher of bits, of internet traffic (behind Netflix, Google and Apple) in the US. But no one really knew who we were. At the end of 2014, we got bought by Amazon. 
What's Twitch?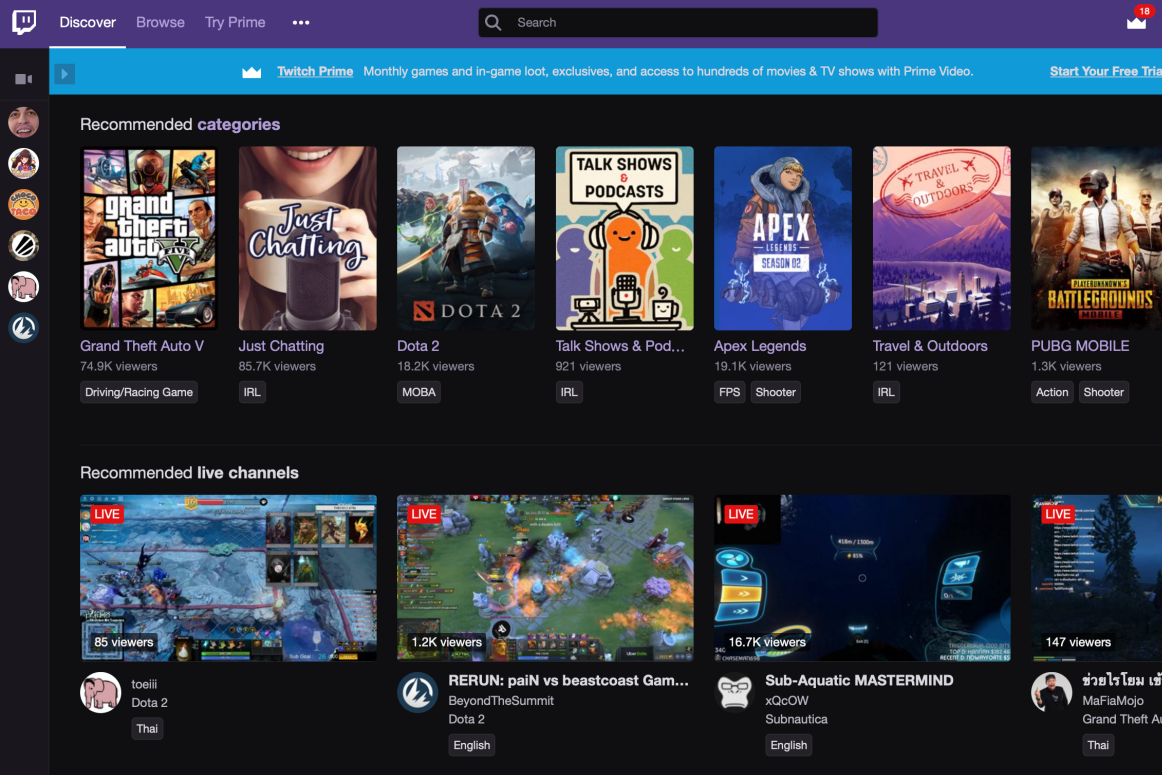 Twitch is a platform for creators to stream a video game while people chat, interacting with each other with emoticons, and the broadcaster will very regularly acknowledge people in the chat room. 
There's this feeling, depth of the relationship that you can have with the creator because he can react to you in real time which distinguishes a lot of what we do vs tradition social media where it feels kind of real time, but you're getting real reaction from the person you're watching. 
What's better than entertaining content?
Importantly, this is really about co-creation of content. Multiplayer entertainment where we call it in Twitch, is about one to many broadcasts, not just about the creator creating content. It really is about the audience affecting the content goes. We're trying to change entertainment to make it a bit more interesting, more interactive, really bringing the audience into the show itself. 
It's massively engaging. Twitch reached about 120 million users/month, 18 million views on a daily basis. The interesting stats is, we're almost 2 hours a day for our user based. That's roughly half the amount of time people spend watching television, that's more than double of Youtube, and about the same amount of time people spent on Netflix. Our average audience is about 25 years old. This is an audience completely migrated off television. They want more section of content, deeper engagement, a feeling of connecting with the celebrities. 
Something that's very different about this digital natives' celebrities that we have on Twitch, is someone who has been very accessible since the start of their career. You can hang out with them, they can answer your question, and you might even get to play games with them. 
E-sports
We're known for esports, it's a big part of what we do, an industry we care a lot about. And it's growing.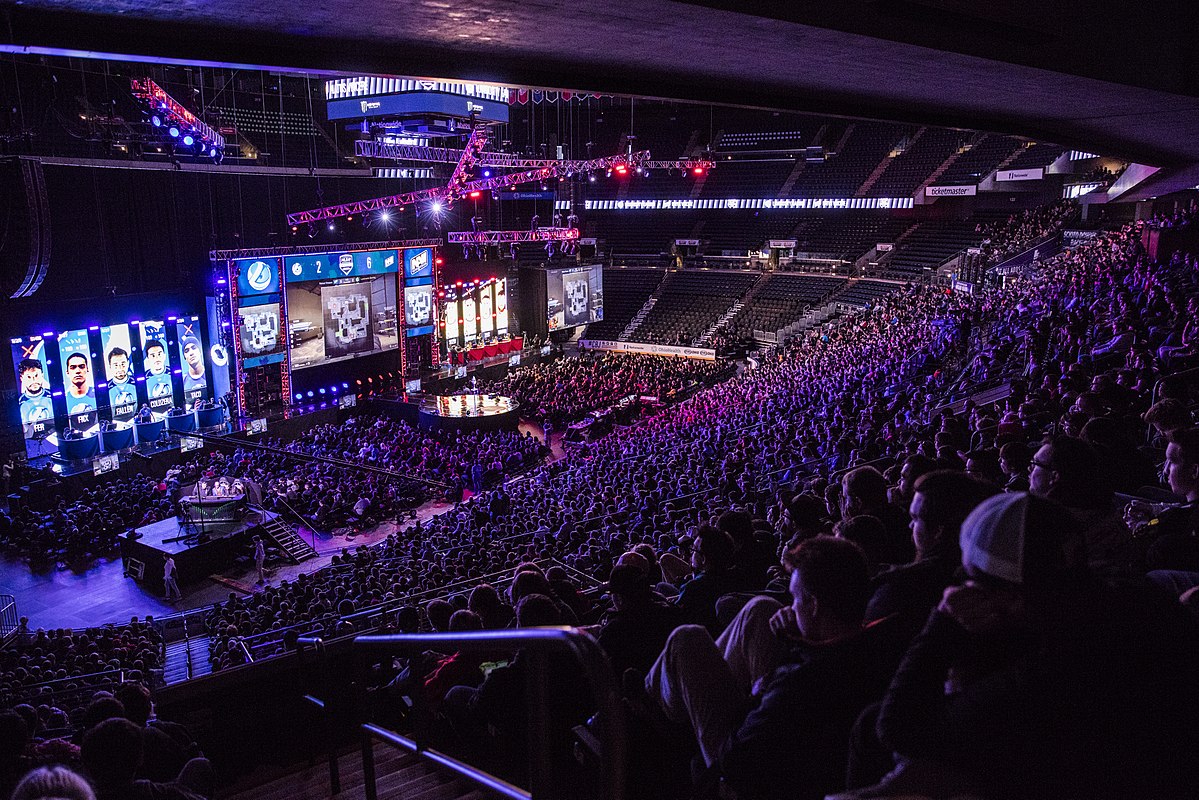 The International
The prize pool of 25 million dollars is fully funded by the audiences. Valve, the creator of the game Dota 2, sells what they call Battle pass, which cost 20 bucks. 25% of that battle pass goes towards prize pool. The winner of the tournament (5 players + coaches + subs) walks away millionaire. The average age of the players is 20-21. This is a fully funded tournament. 
"Esports as an overall industry is growing very quickly. We think within the next 6 years or so, it can grow somewhere between 20 and 40billion a year industry. Largely funded by ticket sales, merchandise, sponsorships, and advertising."
How creators monetize?
Alternatively, you can subscribe. Twitch is free to use and watch, yet people will pay money to creators, millions of dollars at a time just to support them as their entertainer of choice. Free content, free platform, yet people pay $5 a month to creators just to support them directly. Very emotional reason for purchasing on Twitch, very patriotic model. Then we have bits (our virtual good), a tipping style model. Other game sales like merchandise etc.
Commercial break (Optional)
Twitch run ads call commercial break, which can be triggered by the broadcaster. Creators run commercial breaks at opportune times during a show and earn a revenue of the advertising revenue.  
Subscriptions (Twitch Prime)
Optional $5 (and above) monthly subscriptions for individual channels that grant entitlements (emoticons, badges in chat) and directly support creators. 
Bits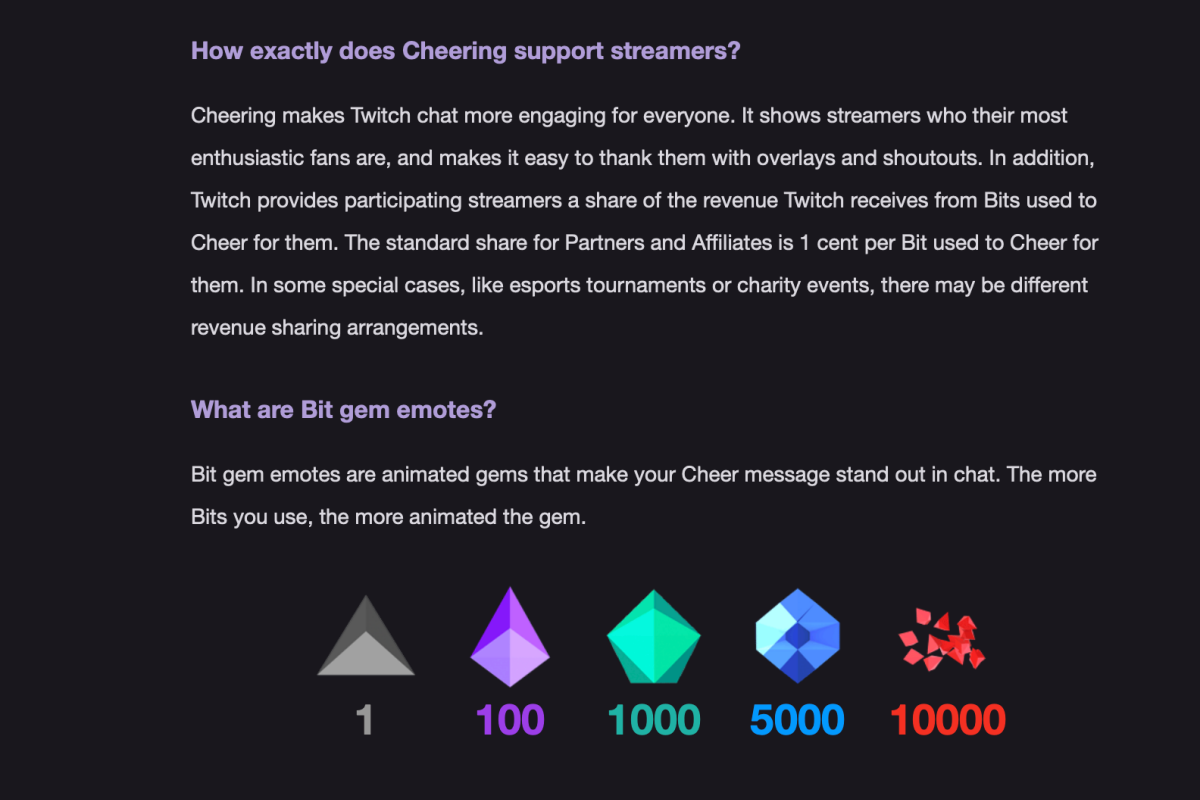 Optional consumable virtual goods that fans can use to celebrate moments during a broadcast, directly benefiting creators monetarily. Creators earn $0.01 per bit that an audience member user in their chat.  
The Future of Entertainment 
We've been testing a lot of things outside of gaming. We've been testing things with NFL, NBA, with TV content. This is where I think the future of all different types of content, not just user generated, esports, or gaming content but everything.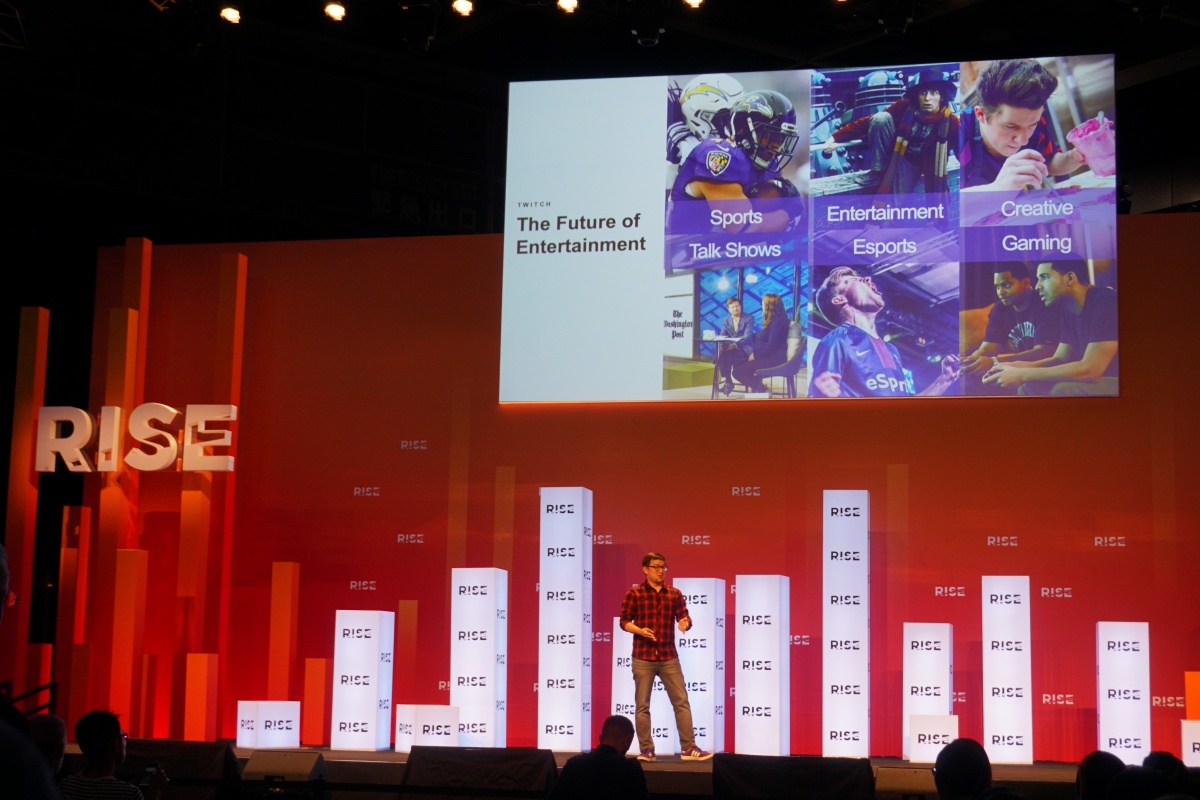 "We believe that the future is not just broadcasting through the internet but creating differentiated engagement opportunity around this content."
Thanks to our mothership, Amazon, we have the right to NFL football games. So rather than just broadcasting those on Twitch just like anywhere else, we actually take a naked feat of the NFL game, hand it over to one of our broadcasters and they become the commentator. Now, the feeling is basically watching sports with your friends on a coach in the living room with your own friend commentating. That's the fundamental thing we did differently that sports companies are starting to really like. So, we do this with the NBA, G league. We have 100s of creators over the world doing commentating in their local languages on NBA content. 
Creative
We've tested other things too like Creative, one of our first big sections that we launched on Twitch that was not about game. It's about sharing the artistic process. Be it you're a painter, graphic designer, blacksmith, you name it, you can stream that, and we found that to work.
 A lot of people actually just like sitting there, hanging out with their fans.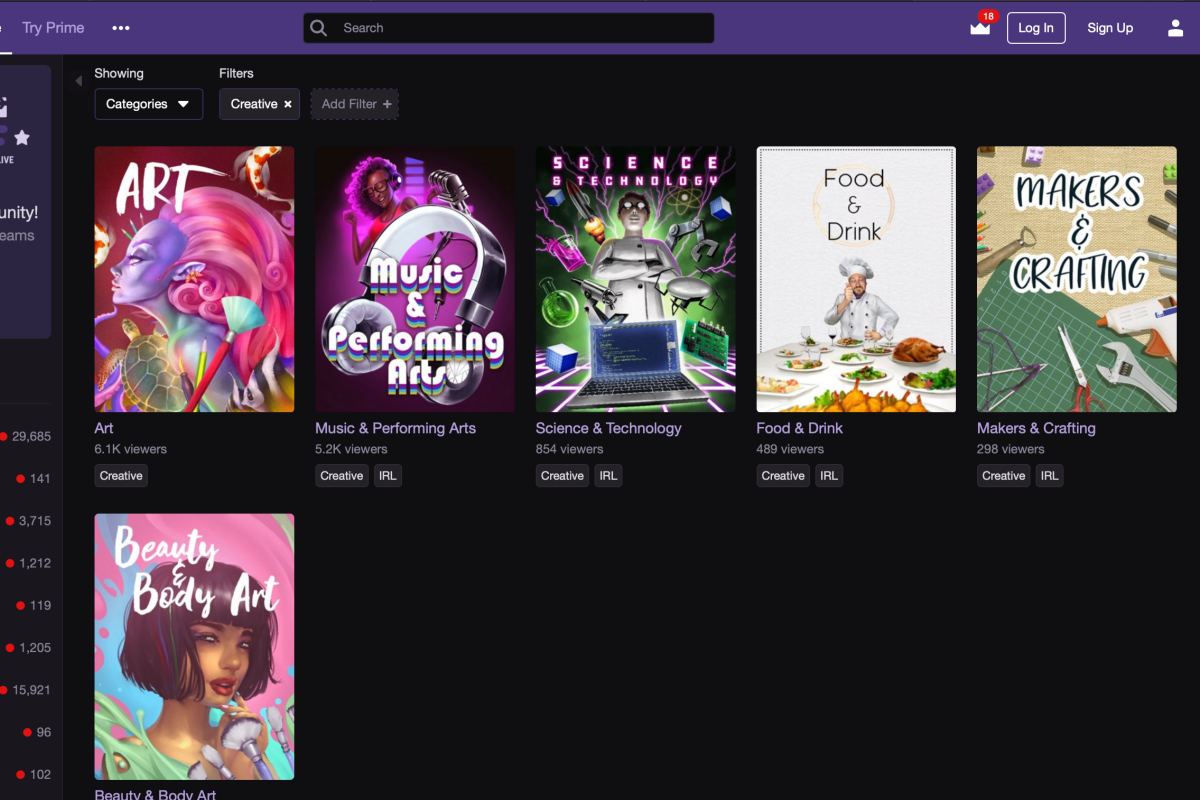 "The important thing that a lot of people don't understand is that the games are not an important part of the show, it's a backdrop for the creators' personality. It's really about how you engage as a content creator with you audience. You can switch games, you can do other things, but what you're doing is building this personal relationship that has a lot of depth around there. "
We found that this format has worked for things outside of gaming quite well.