Ever since opening its country up, Myanmar has got startups salivating for the taste of opportunities. Here's what Techsauce has found out so far on how to create the right sauce for this new market.
There is no question that Myanmar is quickly transforming itself from a country of energy blackouts and dusty dirt roads into a modern ecosystem with accelerators and incubators. Developing during the digital age has given the country the opportunity to leapfrog into the new era of doing business, where traditional corporations work hand in hand with new age startups to create new products and solutions.
Co-working spaces by locals and foreigners are popping up and it was only in 2017 that Myanmar's government decided to update its Companies Law to redefine a foreign company as one with more than 35% of foreign corporation or individual or both. Previously it was a company was classified as an overseas entity with just 1% of foreign shareholding.
Once it is enforced in August 2018 it will unlock restricted sectors for foreign investors to go into sectors such as banking and insurance.*
Global startups Uber and Grab have already entered the market in early 2017. Grab alone is committing $100 million over the next 3 years and has plans to develop its Grabpay.
What is the right sauce for Myanmar?
Exciting yes, but just like any other new market there are remains to be challenges everywhere, whether it be the lack of infrastructure or regulatory hurdles. A startup has to tread carefully to avoid getting burnt, but also be quick in making its entrance to take its piece of the pie. That's why Techsauce was excited to get the chance to speak to Linna Kry, a management consultant for Emerging Market Entrepreneurs or EME, a consulting firm researching SEA markets Cambodia, Laos, Myanmar, and Vietnam. By June 2018, EME is expected to finish its findings on Myanmar's ecosystem. Kry says startups should really do their homework before entering Myanmar.
Reach out to local stakeholders
Reach out to accelerators and incubators.
Kry says Myanmar already has co-working spaces working together with startups to develop the market. All you have to do is reach out to them and get started. One co-workings space Kry recommends is Impact Hub Co-working space, an international co-working space that provides incubation and acceleration. With its network of 80 Impact Hubs in 50 countries Impact Hub has customized its programs for Myanmar and has organized social enterprise development workshops, social enterprise capacity and community development events, and a social enterprise day with over 500 participants.
There is of course EME as well, with its Emerging Entrepreneurship Program targeting startups and giving access to finance with its incubation program.
Still a long way to go for Myanmar
Myanmar is similar to other countries in the region. There still needs to be a lot of effort to be done that needs a lot of local stakeholders to come together to improve the ecosystem.
Change is not going to happen over night. Kry says education is the key to developing the market. An example is 360⁰ed, a non-profit education technology enterprise based out of Singularity University in NASA Research Park, Silicon Valley. It is working to transform Myanmar's education system with the use of Virtual Reality (VR) and Augmented Reality (AR). Since February 2017 it successfully hosted three VR Hackathons to promote VR technology in the country. It is currently working with local and international companies, universities and government organizations, University of Mandalay, Myanmar Institute of Information Technology (MIIT) and Bard College in New York.**
There still needs to be a lot of support from local stakeholders, policies, human resource, educators, finance, to help them at the moment. In my opinion it is still underdeveloped, says Kry.
With that said, Kry remains optimistic and still sees progress in the next 3-5 years. Her final words to Techsauce pretty much sums up what everyone is thinking:
It is a good market. Everyone is looking it.
Don't miss out on Techsauce Global Summit 2018!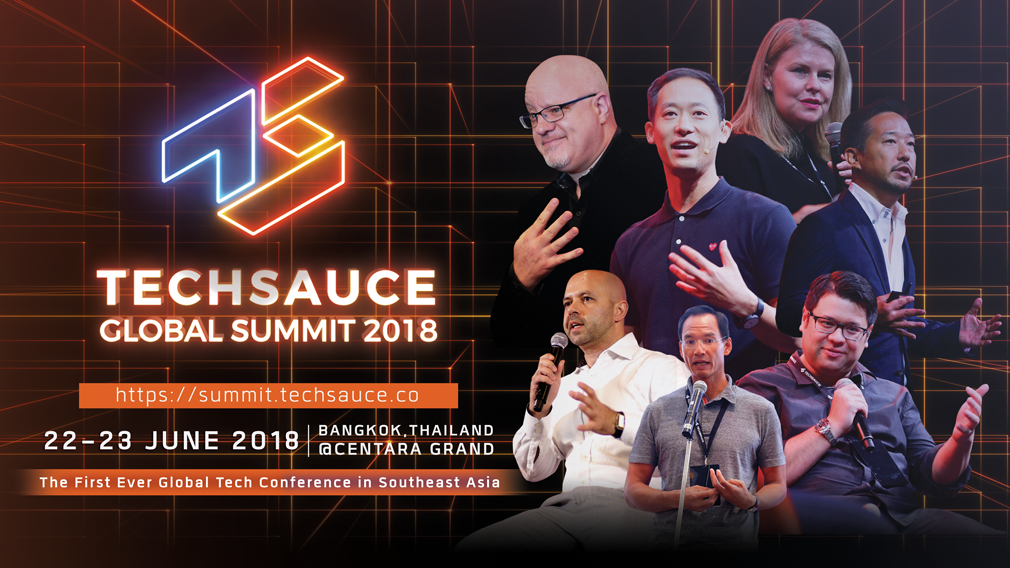 The timing couldn't be better! With EME concluding their study on Myanmar's ecosystem in June 2018, there is definitely going to be updates on market at Techsauce Global Summit 2018 being held June 22-23, 2018 at Centara Grand, Bangkok. Get your tickets nice at https://summit.techsauce.co/
*Source: Over a dozen VC transactions, PE exits mark Myanmar dealscape in 2017 by Juliet Shwe Gaung, Deal Street Asia, January 19, 2018
**Source: 360⁰ed democratises education with virtual headsets by Shiu Wang Chau, Myanmar Times, September 29, 2017