In this online era where everything is accessible through the internet, consumers and shoppers have more options to choose from than ever. It is the age in which retailers can no longer count on brick-and-mortar shops, especially with the rapid rise of e-commerce and advanced data analytic tools. According to Bain Digital,
South East Asia now has 200 million digital consumers, a 50% increase in a year
. This shows the massive dramatic change of how consumers engage with different technology when it comes to shopping.
At Meet Magento Asia 2018, Techsauce gained valuable insights on the disruption retail industry is undergoing, the importance of customer journey and the priorities across different brands. The panel discussion invited 4 experts in the field of retail and e-commerce, featuring:
Pawoot Pongvitayapanu, CEO & Founder of TARAD.com Santit Jirawongkraisorn, Regional Director of Lalamove Thailand Bhavin Patel, Group Omni-channel Director of Kanmo Retail Group Stan Kim, Group COO & CIO of Courts Asia
Moderator: Nicholas Kontopoulos, Head of APAC and EMEA Commerce Marketing of Magento, an Adobe company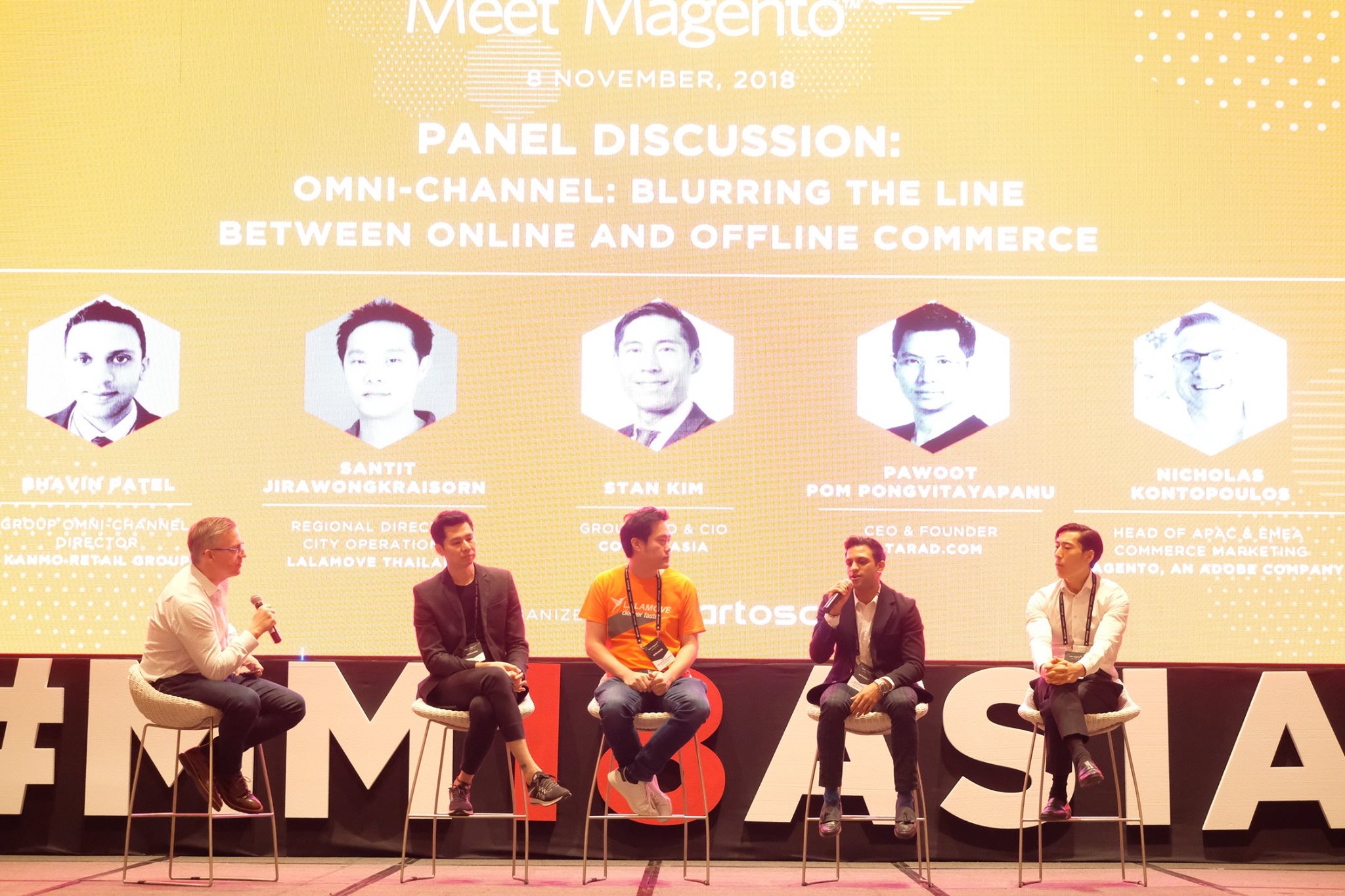 What is your understanding of the ideal customer journey for your brand? What aspect of the customer experience do you prioritize most?
Stan: I see a growth in business shares of retail in the next 3-5 years. One forward-looking action we are taking is the usage of technology. We have taken quite a different approach toward omni-channel than different businesses out there, seeing in the light of what information we can gather from the digital footprint left on our website. With the majority of South East Asian shares of business still coming from brick-and-mortar, with Singapore leading in the space, a platform can provide us the opportunity to understand how consumers are shopping online, browsing, researching and transacting a payment online, hence providing us to use those information to optimize the brick and mortar business.
Bhavin: From a data perspective, the ultimate goal is to turn those data into actions. We get a lot of data across multiple channels, but until we can turn these into actions, the data won't be of any use. So for retailers, making the data useful to drive forward revenue is priority. Likewise, until you connect the online to offline channel, it will not be omni-channel. In our environment, we always use the word "connected", and we try to connect all these in one seamless way. On the customer side, simplicity is key.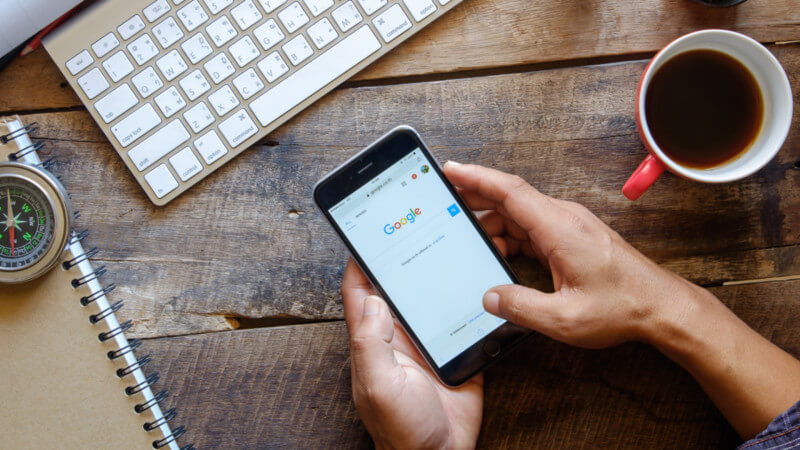 Photo: Adriweb
Santit: User journey is what our company is focusing. Mobile penetration rate in Thailand is 113% on average, which when you look at it, means there is more mobile connection than the population itself. If you look into the future, mobile is a good place to start. For Lalamove, we focus on customer experience. It is important that when an order comes in, the data matches. Lalamove focuses on customer experience in a way that the customers can rely on the application when it comes to logistics. This is multi channel though.
On the other hand, when you look from an omni-channel perspective, we can work with retailers to get insightful information: every time a customer places an order, we can take the data on what parcel the customer received, and from the data there, we can understand what the customer is tending to buy in the future. When partnered with e-commerce and retailers, these data can provide useful insight on what to advertise to each and different group of customer in order to optimize their buying experience.
Putting the technology piece aside, what are some big hurdles when you engage with customers if you try to drive forward digital transformation?
Pawoot: Sometimes we can't use normal practice for every customer. In Thailand, each customer uses different channel. Thai baby bloomers use Line as their main social media channel, and by having that in mind, we can't use Facebook to interact with them. It really depends on the target customer, and through identifying that, we can reach our target market. It is crucial to be able to understand your customer and engage with them in the right channel. But these are not enough, we also need to know who they are, what makes them tick, how they engage back then and how they engage today.
Santit: I personally see challenges in the online payment system in Thailand: it is a closed system, where you put money into the system, in order to make a payment. This can also place an issue on the supply side. I myself don't use this online payment system much as I don't want to transfer money into the system, all I want is to just make it work. I am not an expert in online payment, but I just know that personally, I am not adopting it because it is not simple enough. Simplicity is actually very important when it comes to user experience.
Bhavin: Let's take this scenario: you have a digital marketing manager in an organization, visual merchandiser who manages your store, and a PR manager who does your advertising. The challenge starts when we have all sort of kinds of data, sales data, marketing data, consumer data, merchandizing data or visual data, but not knowing how to connect these data in relation to the other - that's the challenge in Thailand. When a visual merchandiser walks into the board meeting, he is going to talk mostly about his department's KPI, while the digital marketing specialist will talk about conversion rate and optimization rate based on the same data.
From my experience, it is all about creating combined KPI within the business. In building a "360" KPI, you're making the most out of your data. Getting a single view of data is fantastic. But getting a single view of KPI is even better. So aligning the structure of data and creating a clear-cut KPI are highly important.
How is digital transformation becoming a core part of your business?
Average Thai people spend 9 hours 38 minutes daily connected to the internet across multiple channels. 3 hours 10 minutes spent on social media. 4 hours and 3 minutes viewing online media and TV program, and 1 hour 35 minutes on music. Web trafficking, when you think about how local community engages in terms of devices: about 28% is spent on laptop and PC, 69% on mobile, and only mere 4% on tablets.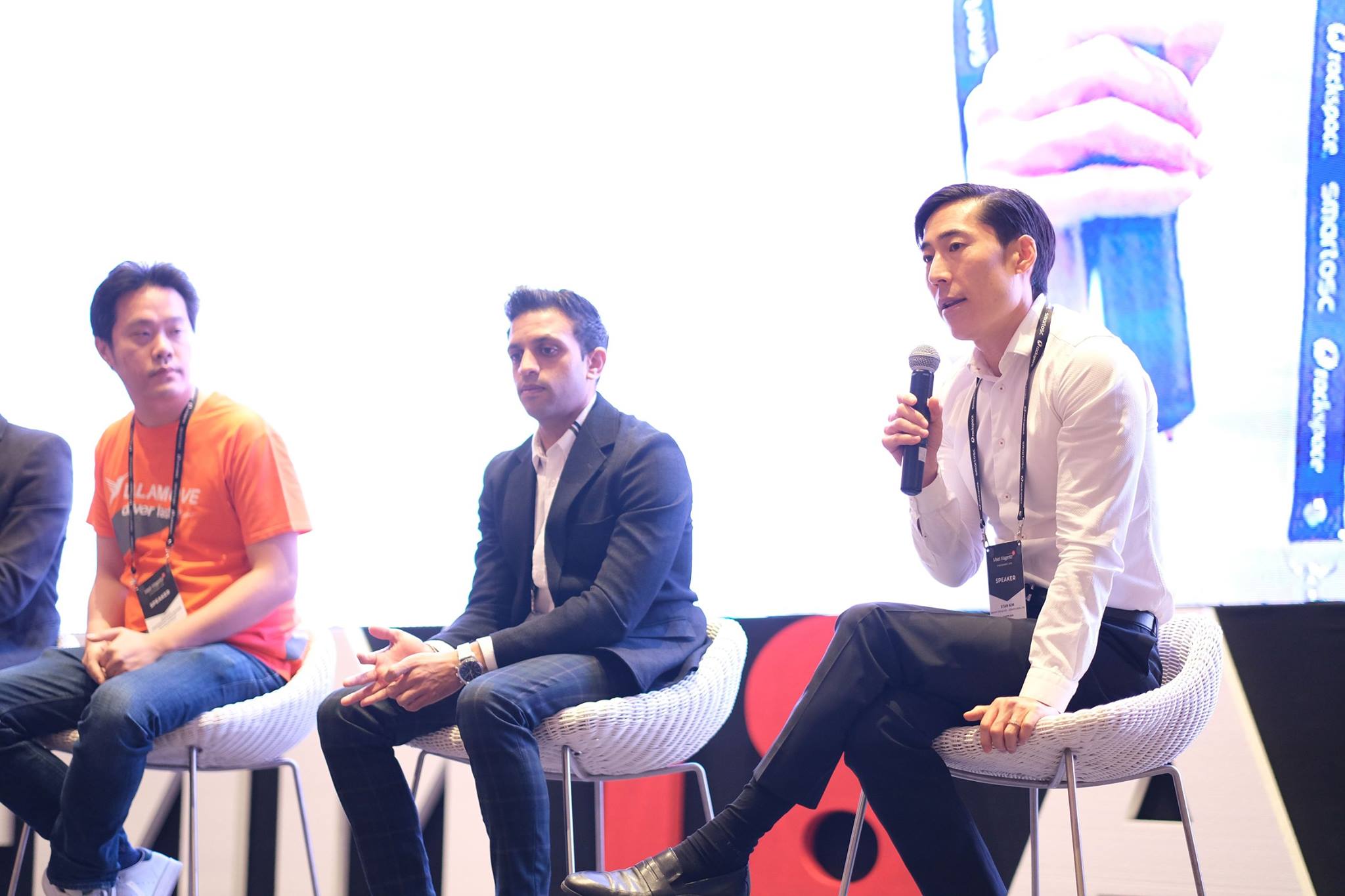 Stan: It's not a choice. Retail is a cut-throat industry, and it is transforming in a pace that's never been seen before. The avoidance of it is not going to be forgiven. How each retailer approaches digital transformation differs through different strategies. We take all the learnings, all the breadcrumbs, the digital impression, footprints, and we spend more time testing and learning about what the customer looks at, which gives us the insights to improve our business offline and improve transaction in our channel.
Bhavin: The adoption of e-commerce in retail has come a lot later in Asia than it is in Europe, so here, we have a lot of opportunities to learn from the past mistakes we made in the West. What we can see: stores are closing down, consumer behaviour is changing, online is taking over, and retailers are merging together. For customer element, the whole board is well aware of the fact that customers have become purely digital. In Indonesia, Youtube has become the biggest channel as a way of engagement among netizen, followed by Instagram. Whether it makes sense or not, it is all about digital channel. We shouldn't see this movement as a threat, but rather, a part of the ecosystem.
Pawoot: The reason why we sit down here is because customers change. When customers change, we have to change. Before, we had hardcopy catalogue, then online catalogue, followed by online store, before things migrate to online marketplace.
People often focus on big corporations, but really, SMEs are what we should focus more on transforming digitally because they are the foundation of businesses in Thailand. Big companies have money, the people and resources. Now, we have giant e-commerce companies penetrating the Thai market aggressively, while small pop-up shops and SMEs are dying due to intense competition from big corporations. That's what our company is trying to help smaller businesses in migrating online to survive among the competition going on.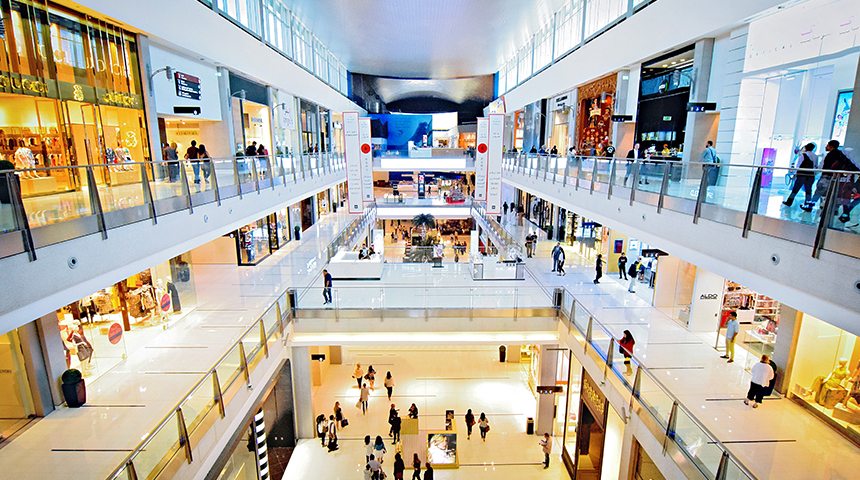 Photo: SGS
What do you see as the biggest challenges of your business?
Pawoot: In the next 3-5 years, when the retail industry is largely controlled by the big giants, small to medium businesses will be threatened and squeezed out of the market. E-commerce platform like Shopee, Lazada, and other players are constantly fighting for bigger market share. In the future, we have to accept that the control is mostly handled by the big guys.
Bhavin: For our business, it's about managing customer expectation. Because there is so much technology, so much platform, so many partners out there, this confuses the customers, and customers always count on the brand to make it simple. We can't stop platformation, we can't stop integration, for us, it's our business to keep up with them, and that's reality.
If your entire process is not keeping up with customer expectation through adoption of advanced technology, it can be a dangerous spiral. Some platforms are dying while some are evolving. From a business aspect, who you partner with is very important. But from a customer perspective, knowing which platform they are communicating with is an essential piece of information for the business.
Stan: We are in a commoditized business, the products we have are from Apple, some from Sony, some from Panasonic and so forth. If you are in a commoditized business, as far as customers are concerned, the power of the computer in our pockets democratizes the ability for them to have access to pricing. All has gone away to price comparison site where customers have become more tech-savvy. This presents some challenge in that market.
As a retailer, whether you are digital or brick-and-mortar, the cost of acquiring customer is high and the cost of retaining customer is even more. Digital channels these days contain a lot of distraction like advertising and recommendation tab. Customer attention span falls due to digital distraction, and what that means is customers have less loyalty. It all comes back down to the cost of equation: how much you are prepared to invest and how much you can afford to invest. At the end of the day, we can't entirely ditch brick-and-mortar channel.