Today we have truly entered a new era. No matter what the industry is, everyone has to constantly adapt and keep up with new technologies. This is especially true for the financial sector, which has witnessed a massive investment of US$3.4 billion in Southeast Asia's FinTech, proving that there is a need for expansion through new innovation. As a key player responsible for driving new financial innovation for society, KBTG has shown great interest in the new financial world.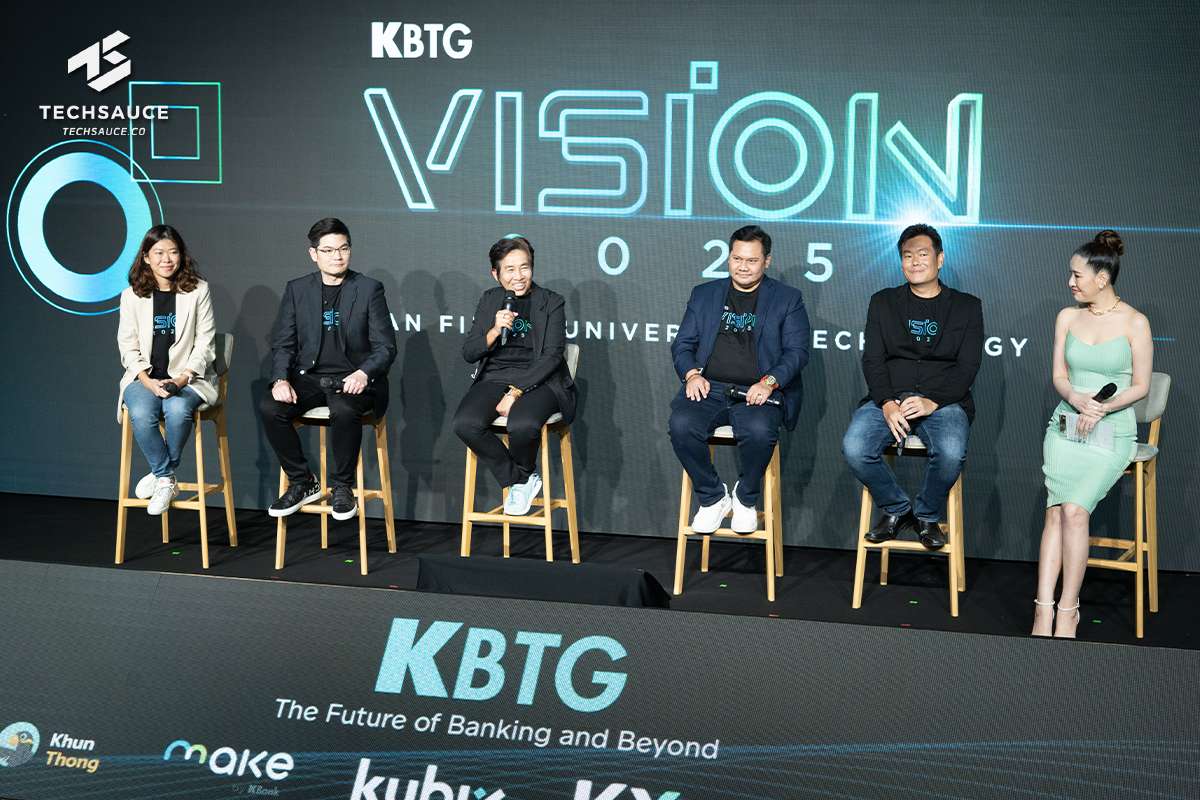 Recently, KBTG hosted "KBTG Vision 2025" to announce its goal of becoming the best organization in Southeast Asia by 2025. Driving the concept of "Human First, Universe of Technology" KBTG puts its focus on building technology personnel and developing innovations through KBTG Labs. It also presents the creations within the financial technology universe, including new products and services for customers in every ecosystem, along with exhibiting samples of work for participants.
Overview of Southeast Asia's Financial Industry
On the overview of Southeast Asia's financial industry, KASIKORN Business-Technology Group (KBTG) Chairman, Ruangroj Poonpol reveals that a leading venture capital firm, SEQUOIA, created a US$850 million fund specifically for Southeast Asia. It can be said the region has become quite attractive with high growth potential. KBTG also has the same opinion and expects that by 2030 Asia will be in a golden era, so it wants to be fully equipped. Currently KBTG has expanded its team in two more countries, with tech professionals in China focusing on blockchain development and in Vietnam developing a lending-as-a-service platform. In addition, the expansion plan will soon cover Indonesia. This is all part of KBank's goal of becoming a regional challenger within the next two years.
Southeast Asia is expected to become an innovation incubator for Web 3.0, from customers, service providers, to startups. Various factors are driving financial institutions to develop technology in order to prepare for anticipated opportunities. We will see an interesting ecosystem in terms of Web 2.0 and Web 3.0. World-class players will also start entering the market. It will take about three years to see an interesting ecosystem, so KBTG has to start doing something now, whether it is in creating or investing in innovation.
Past Achievements and the Next Step for KBTG in Becoming the Best Organization in Southeast Asia
From 2019 to 2021 KBTG has continuously worked on projects, increasing the number of its projects by 50%. It has also started three new companies: K-TECH, KX, and KUBIX. Its flagship app, K PLUS, currently has over 18.6 million users and it is expected to reach 20 million users soon. Therefore, K PLUS is now holding a credible importance for the Thai financial sector, which is why KBTG continues to improve the application's stability and security lowering the down time by 66%. This is followed by Khunthong, which has more than 850,000 members and MAKE by KBank with 400,000 users. There is also the launch of Kubix, a Thai ICO portal (a digital token offering system), and Coral, a Thai NFT platform developed by KASIKORN X (KX).
In the past, KBTG has developed intensive research and innovation such as face recognition and face liveness, NLP, and AI in marketing. Ruangroj says, "Our next goal is to prepare ourselves to be the best organization in Southeast Asia and be one of the top 100 companies people aspire to work with. These goals can be achieved by the people within the organization, so we are ready to adjust our organization to increase employee engagement and care for our people. At KBTG, we create technology and innovation to help humans through human hands. This is why KBTG is turning a new page with the launch of Human First, Universe of Technology."
KBTG Aims to Develop People with 'Human First, Universe of Technology'
In addition to fully developing innovation, this year KBTG is ready to advance their human resources. KBTG Executive Chairman, Voranuch Dejakaisaya, says the focus today is not just on the banking competition, but on the economy. How can we make it easier for people to access financial institutions? The top three KBTG goals are (1) to be the best bank for everyone, (2) to be the best technology organization, and (3) to provide the best customer experience. At the event, Voranuch also invited everyone to see the atmosphere of K-TECH's office in China.
One of the key issues for K PLUS is maintaining its system, especially during peak periods like at the end of the month. During this period, the system has to be able to support a large number of transactions. Currently, KBTG has more than 500 applications so it has to decide which ones to keep, develop further, and retire.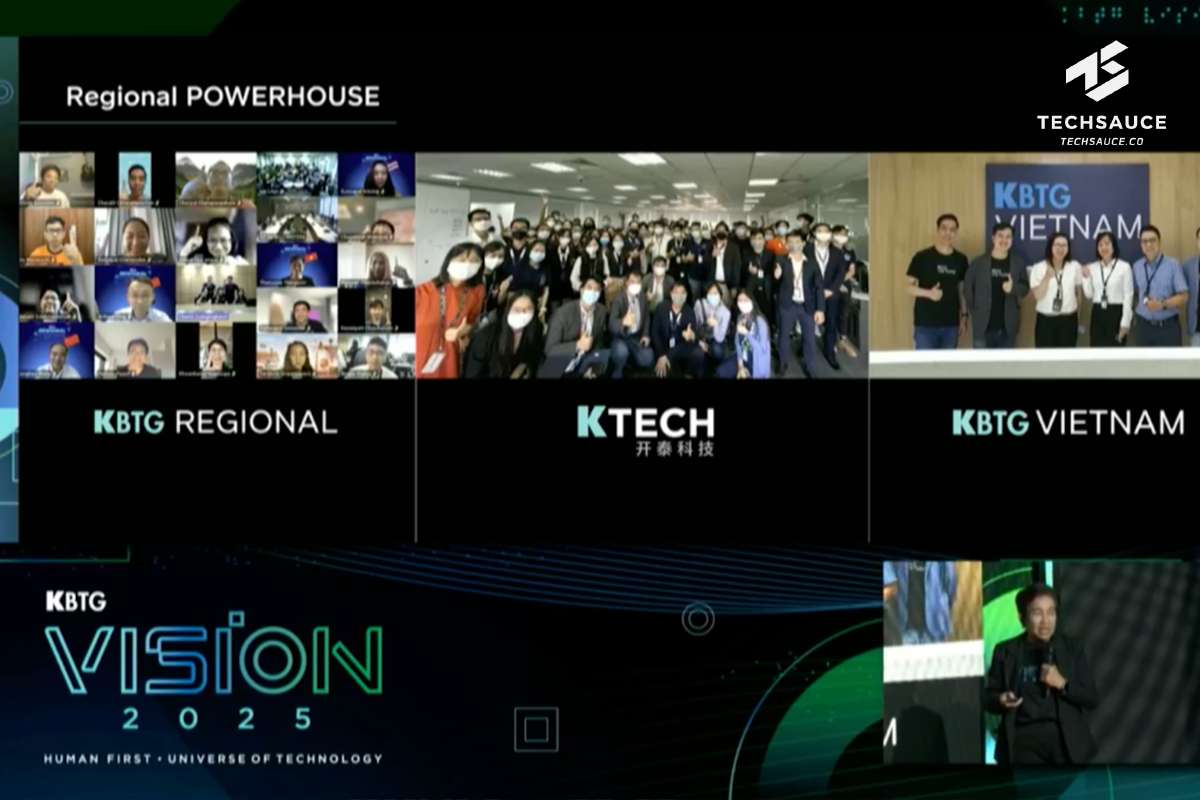 As for the current direction, KBTG has expanded its operations to cover both the customer's and partner's ecosystem services. This prompts KBTG to diligently build the organization as the best in Southeast Asia for everyone.
Voranuch told the Techsauce team the reason why KBTG set its vision for 2025, or to complete its goal within the next 3 years, is because it is a feasible time frame to show how much it can do. KBTG is not experiencing growth alone. The organization wants to reach 100 million customers, so it is accelerating the development of both customers and partners. The most important thing is speed and value being created together. When it comes to innovation, we can achieve more than 50% of our target, as well as on our Chinese office's side. Therefore, we should be able to increase more personnel overseas.
Ruangroj tells Techsauce the concept of "Human First" starts with the users, "We want to create the best user experience, meaning we help customers have better lives and we create a good customer journey for them. Next, all of our partners and employees get the best experiences to support a good ecosystem. he company is also ready to enter other industries with innovations that meet the needs of users. This is under the concept of creating something meaningful to help improve the quality of life for people that KBTG has established since 2018.
The launch of New KX Products and Services, Along with its Investments in Social Innovation
Thanaarmates Arriyavat, Venture Director of KASIKORN X (KX), says "KX took the first step in the past year and continues to grow. It focuses on establishingtrust in the new and sophisticated forms of finance like digital assets and DeFi under the "Build Trust in the Trustless World" concept. Right now, there are new regulated products such as KUBIX, an ICO (initial coin offering) portal that recently gained success with DESTINY TOKEN offerings and Coral, a highly reliable Thai NFT marketplace, with a means to patent the work through cooperation with the Department of Intellectual Property. There is a process in place for ownership verification. At the same time, ease of purchase is guaranteed as payment can be made in Thai Baht, and Coral also adheres to international standards. Currently, there are more than 120 artists onboarded with each artwork deemed high value."
Coral aims to be a regional platform that builds an ecosystem and creates a great user experience by 2025, beginning with the launch of Coralverse and Coral Wall 2.0, a place to showcase works and NFT collections of Coral users. It is easy to use. With just a scan, you can connect to Coral with the assistance of Coggles, the platform's official guide. Another interesting product by KX this year is Bigfin, a crypto tracker tool that helps users manage their digital asset portfolio. The platform also comes with special assistants to help guide users.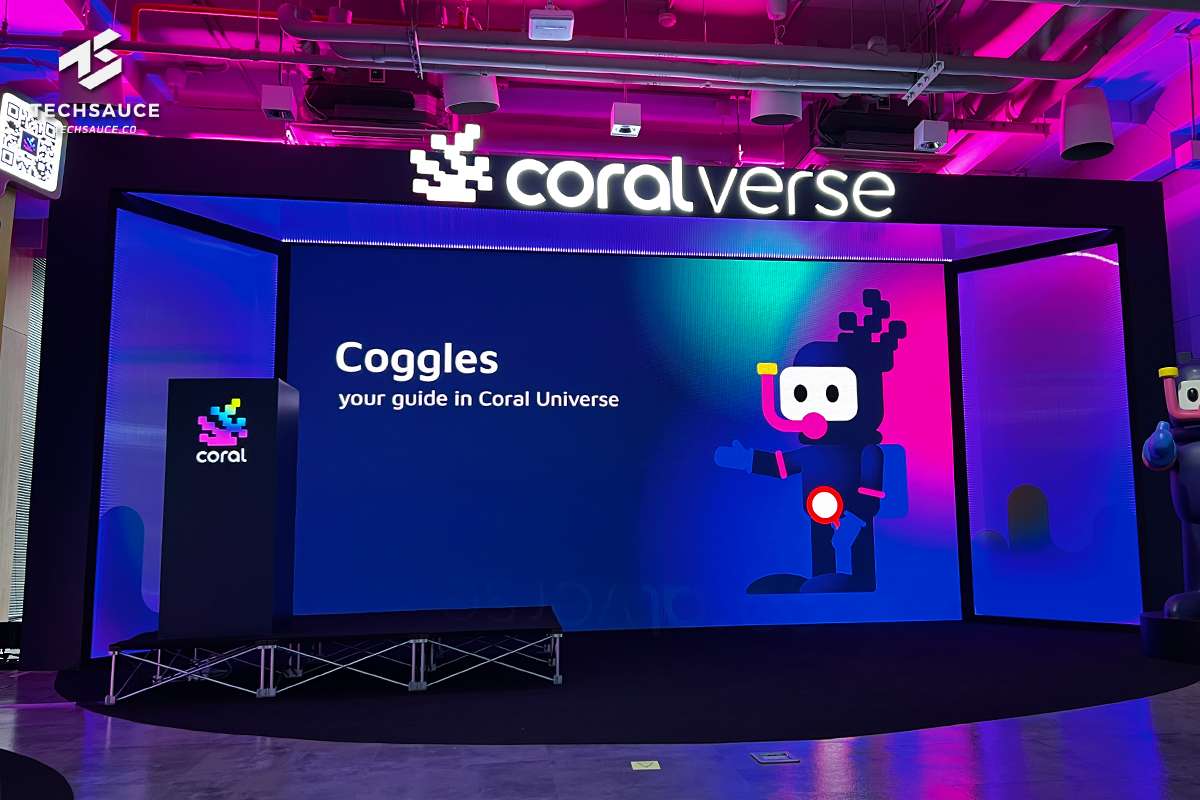 Lastly, Thanaarmates mentioned KX Endless Capital, a fund launched to solve the pain points of startups by offering investment and partnership, building an ecosystem where they work alongside startups. While this may not be a good time for investors, it is a good time to develop new solutions and innovations. We see KX Endless Capital as one of the cogs that support startups and it is ready to make valuable contributions to society.
In regards to the depreciation of the Baht and the current inflation rate, Thanaarmates tells Techsauce, Coral users may be somewhat affected as the Thai Baht is used as the base currency on the platform. However, when compared with other currencies, the Baht is still very stable. For example, artists on Coral would not be affected. When artwork is sold for 100,000 Baht, you will most likely get 100,000 Baht for it. There is no fluctuation caused by other currencies.
Thanaarmates also says KX is ready to work with startups that have interesting solutions that can solve problems. In 2025, startups will have the opportunity to grow and make an impact on the world and users.
KBTG Labs: The First Step of Products and Services for Further Development
KBTG Labs is a unit that focuses on human interaction design and fast-paced innovations. It also creates products and services that add value to KBank and users, which are then sent to other departments for further development.
Dr. Thadpong Pongthawornkamol, Managing Director, KBTG Labs, says KBTG Labs is the unit that takes the first step on behalf of the organization, with its ability to introduce new ideas that create real results. There are many ways to do this, whether it is collaborating with partners or developing ideas within a team. There are three key skills that are fundamental to good innovation development: (1) an understanding of user experience, (2) expertise in technology research and development, and (3) an understanding of business to continually scale products. KBTG Labs has also created an innovation runway as a tool and a method to help increase the speed and efficiency of work. The goal is to increase the speed tenfold within three years, along with the integration of AI to make work more convenient. Currently, KBTG Labs continues to push for Deep Tech research to meet all human needs. Its latest developments such as
the KBTG Smart Checkout, a technology that helps you checkout shopping items by just placing your order on a table without scanning the barcode, were exhibited at the event for participants to try out.
Another success that cannot be left out is the publication of academic journals that benefit the world. In the past, there have been many collaborations with many educational institutions and research labs, not to mention co-designing academic curriculums with Thai universities and co-research with MIT Media Lab.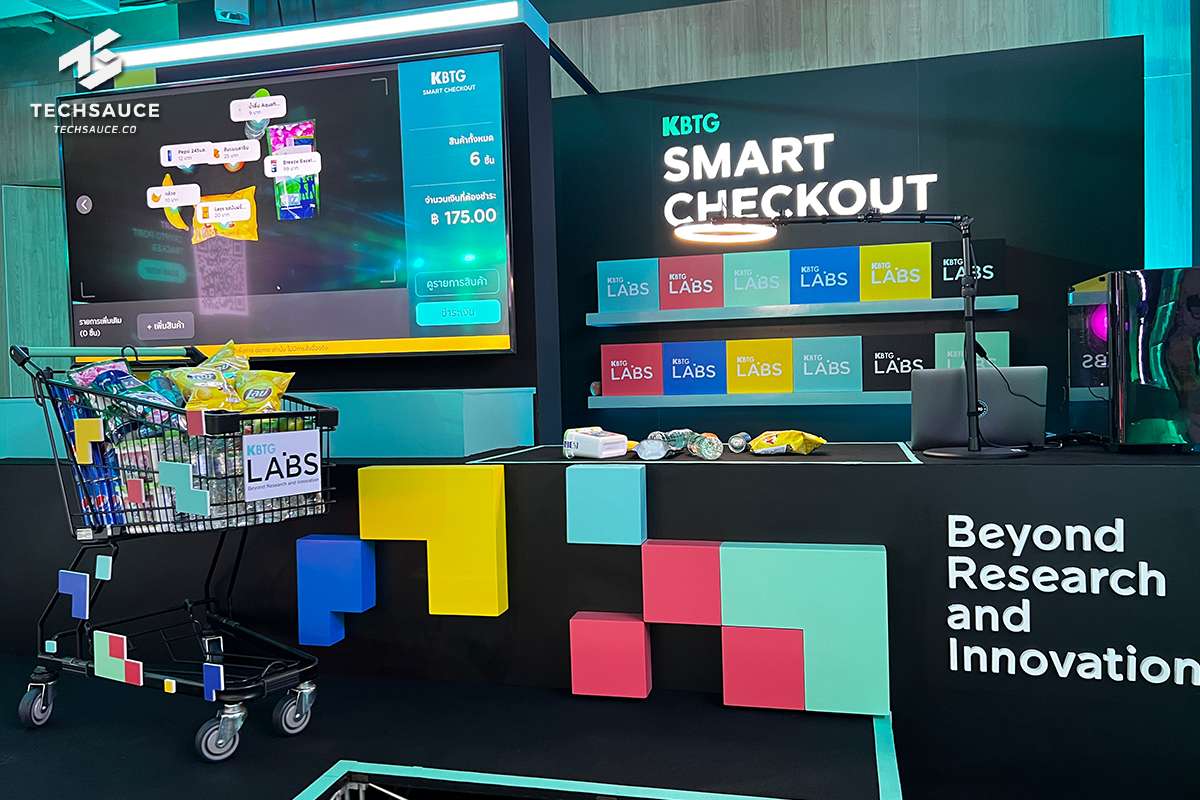 After the event, Dr. Thadpong answered the question on where AI will be used in 2025, "We have to look back at what KBTG has done. We have used AI for many purposes. First, we used AI to add value to things we already had to help humans and used it to improve the user experience of customers. The next step that I see, AI will become like software that requires someone to manage, fix, and maintain on a regular basis."
"From the development of products and services, we hope AI will help increase the efficiency of Thai businesses and lower the costs. In the future, regardless of what business you are in, there will be a problem with personnel shortage due to the aging society. This is an opportunity for AI to help create more productivity by working for humans to solve this problem. We will create effective innovation that is accessible to partners at all levels and sectors. For example, AI is being used by insurance industry giant, Muang Thai Insurance, to detect car damages . This year, our smart checkout system will also be used in the retail industry. There will be further developments in other industries and KBTG is ready to collaborate with many sectors to create more innovation."
At the end, Dr. Thadpong says, "We believe we have an extraordinary mission and we believe in bringing talented people in Thailand to create something new together for Thai society and businesses. Today we may not see it clearly, but in the next 5-10 years, various works will make history. We need people with different skills in areas such as design, business and technology to join our team. Therefore, we invite people who have the same dreams as us to join us in innovating our society."
What to Expect from KBTG in the Near Future
At the end of the event, Ruangroj told the Techsauce team that KBTG will continue to focus on participating in other ecosystems like the creator community via Coral. There are also researches and developments of AI and blockchain technology that still have a lot of potential in Web3, which will be used alongside Web2 in many more ways. KBTG will develop technology to solve people's problems and play an important role in society.
These are all of the important milestones KBTG has achieved in the past year and its next step to continue creating innovation and technologies that are beneficial to the country. From now on, we may see KBTG as a regional company that comes up with exciting innovations and solutions in the next few years.
This is an Advertorial