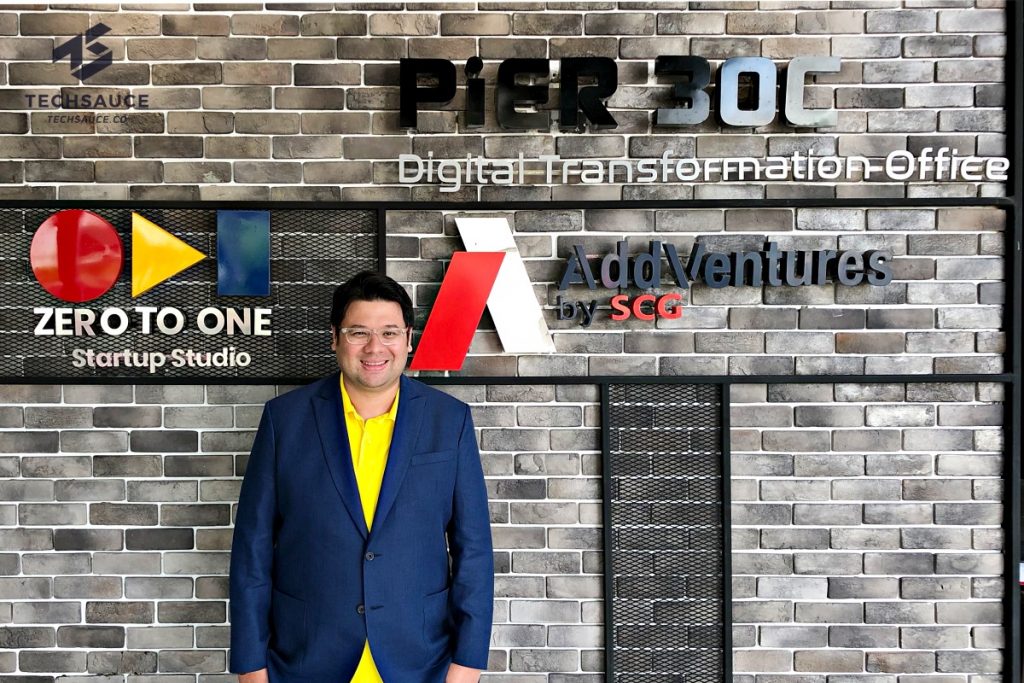 Nowadays if you look at the future movement of corporates, digital transformation is always mentioned. This is obviously not easy for large corporations that employ tens of thousands of employees. There is only a handful of corporations that are able to do it and SCG is one of those corporations. The 106-year-old enterprise recently held a press conference unveiling its digital transformation strategies. Techsauce had an opportunity to meet Dr. Joshua Pas, the SCG Corporate Innovative Director and Managing Director of AddVentures by SCG, who shared his experience, lessons learnt along the way and the future of SCG's digital transformation.
The starting point of SCG's digital transformation
Each corporate has different starting points. For SCG, it came from the top executives who supported the movement throughout the company's departments.
Dr. Joshua says SCG's digital transformation journey was initiated by President & CEO of SCG Roongrote Rangsiyopash. Roongrote researched various ways to transform the company in the third quarter of 2016 and six months later Dr Joshua was assigned to build a team in 2017 to accomplish two objectives. They are:
Use digital technology to enable faster and better SCG's products and services.
Search for new businesses that can become SCG's new growth engines.
These objectives were just the beginning of the company's digital transformation journey. The company had to go through trial and error and learn along the way, whether it is through new businesses or digital technology enablers.
It starts with new businesses that include internal startups. Dr. Joshua started by studying the steps and various processes that he thought were most appropriate by working with consultancies founded by professors from Harvard Business School. Then then sought other sources of information such as business creation model canvases.
However at the end of the day not all knowledge was suitable for SCG so knowledge gain had to be continually adapted to the company. Dr. Joshua gives the example of ZERO TO ONE by SCG, a startup studio where there is continuous testing and learning.
Our objective is teams test and learn and set standards for following teams, so we avoid repeated failures.
On the side of investing in new innovation, AddVentures has learnt new things along the way. The AddVentures team has traveled to explore startup ecosystems around the world to discover insights that benefits SCG the most. In the past two years SCG has been able to sustain a strong corporate foundation and at the same time be flexible for new changes.
"You can see that along the way there has been tweaking things within the organization, but at the same time the company still keeps with its key strategy. An example is the ZERO TO ONE by SCG, which at first had Hatch-Walk-Fly in order to create new businesses. At the end we discovered that several startups were able to support our business. So we created an additional approach called "Innovation Catalyst"; where we help our core with innovation options. We do not only work with startups, but also clients who may share the same interests and goals as we do through the form of joint ventures. This has encouraged us to continuously working hard," says Dr. Joshua.
Lessons learnt from the digital transformation journey
After starting its digital transformation journey that has brought about changes, there have been many lessons SCG has learnt. Dr. Joshua says there are 4 factors that organizations can benefit from.
It starts with the vision from the executives: Dr. Joshua believes it is difficult to initiate digital transformation if it is not Top Down. President & CEO of SCG, Khun Roongrote was the person to initiate the change by assigning staff with the goal for change and giving them continuous support in order for the process to be implemented smoothly. Dr. Joshua gives the example of ZERO TO ONE by SCG, which is a startup studio that has opened opportunities for employees from various departments and subsidiaries within SCG to develop startups. It could be in the form of part-time or full-time. This of course had an impact on the teams and original structure of the company. Without the support of the executives in setting the appropriate goals and implementation of work in the same direction, ZERO TO ONE by SCG would have not had a significant impact.
Do not go too big: Dr. Joshua says the digital transformation various projects often start small and are quick wins. He believes it is crucial to strengthen these small projects before moving forward to bigger goals. All the while the company has the opportunity to meet with a wide range of people working in the right positions and at the right time. This opens up to new partnerships that will create benefit and momentum.
At the beginning, everything we did involved small projects and the search for quick wins. I began to realize that after completing one step, there is always a second step and then a third step that was even bigger to take on. However we had to make sure we completed the prior little steps successfully before moving forward.
Communication is crucial: Communication is important for both inside and outside the organization. SCG has over 55,000 employees so it is not an easy task to communicate with everyone. That is why the team has to continually adapt in order for the most efficient communication among employees. As for outside the company, there is a team specifically responsible for startups in our portfolio. There is a team to assist the startups. This is part of AddVentures' objective to always be active and support startups.
Focus on process more than outcome: Another factor is focusing more on the process than the outcome because the process of doing work can be passed on. It can be repeated, but the outcome on the other hand can be affected by other factors. This is especially true for startups where there are always successes and failures.
We would like to see how startup studios can spread across different SCG departments. Of course there will be those who succeed and those who do not. However, we have confidence that processes that bring about success can be replicated.
Discovering key digital technologies to transform the SCG business
When we talk about digital transformation, it is impossible to not talk about technologies. SCG has created a digital transformation team to find technology to achieve the company's two main objectives. Dr. Joshua talks about 3 key digital technologies of technology SCG is focused on.
Artificial Intelligence and Machine Learning: AI is the technology that is most used by SCG. It is used in factory-phasing or the organization of production stages. There are technologies that is both developed by SCG itself and tech developed jointly with startups and partners overseas. ML is used as well as it is closely related to AI.
Blockchain: SCG is also interested in blockchain because its network involves many companies. Blockchain is not only used for payment, but for other issues (e.g. legal,...) along with various other processes. It helps the company become more lean.
Augmented Reality and Virtual Reality: This is quite an unexpected branch for SCG to be interested in as it is well known for its interest in output-oriented technology. However, SCG sees augmented reality (AR) enhancing the output of its machines and factory equipment. As for Virtual Reality (VR), it will assist in designs, sales, and presenting products and services more clearly to clients.
Digital transformation is a long journey
Many people may think digital transformation are outcomes or projects, but for Dr. Joshua, as someone who is responsible for SCG's digital transformation, it is a long-term process that may take up to ten years to achieve. It will take time to transform SCG into a data driven company or invest in AddVentures and ZERO TO ONE by SCG.
In addition to viewing the transformation as a long journey, Dr. Joshua sees the need to prioritize finding the right process and being proactive instead of focusing on outcomes. This is especially true with digital technology such as AI and blockchain because if the company is not able to truly understand and build use cases for technology, the company might not be ready to use it when it needs to.
Finally, cooperation is essential if you want to rely on the startup ecosystem to support digital transformation. If startups want to scale, it is a challenge to do so without cooperating with corporates. Therefore the digital transformation unit serves as the gateway or channel to connect the two worlds together," says Dr. Joshua.
For Advertorial Only