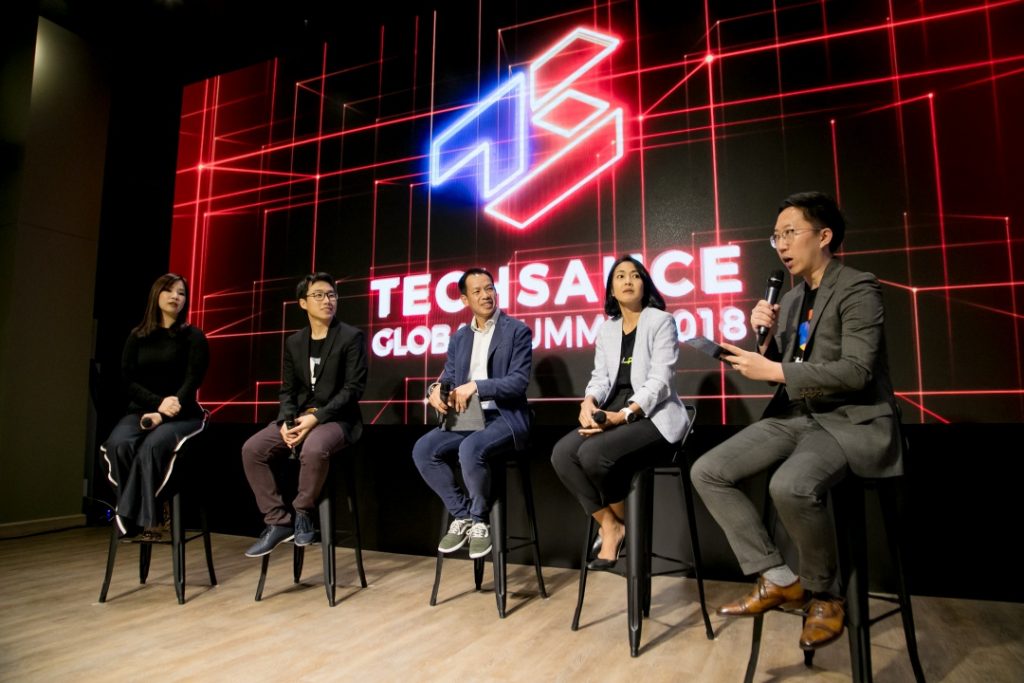 Industry leaders at the Techsauce Global Summit 2018 press conference talk about where Thailand's ecosystem is now and the direction it is heading. 
When asked about Thailand's potential in creating a unicorn, many at the global stage say the biggest challenge is its underdeveloped ecosystem.  At the official press conference launching Techsauce Global Summit 2018, the Techsauce team gathered industry leaders in a panel discussion to answer how Thailand's tech ecosystem can elevate to the next level.  They are:
Porlanee Jeamsaksiri, Principal, Corporate Venture Capital, Digital Ventures Ltd.
Xinming Zhao, CTO (Chief Techology Officer), Line Company (Thailand) Ltd.
Jirapat Janjerdsak, Chief Technology Officer, Siri Ventures Co., Ltd.
Puyada Sawasdikosol, Head of Marketing and Communication, True Digital Park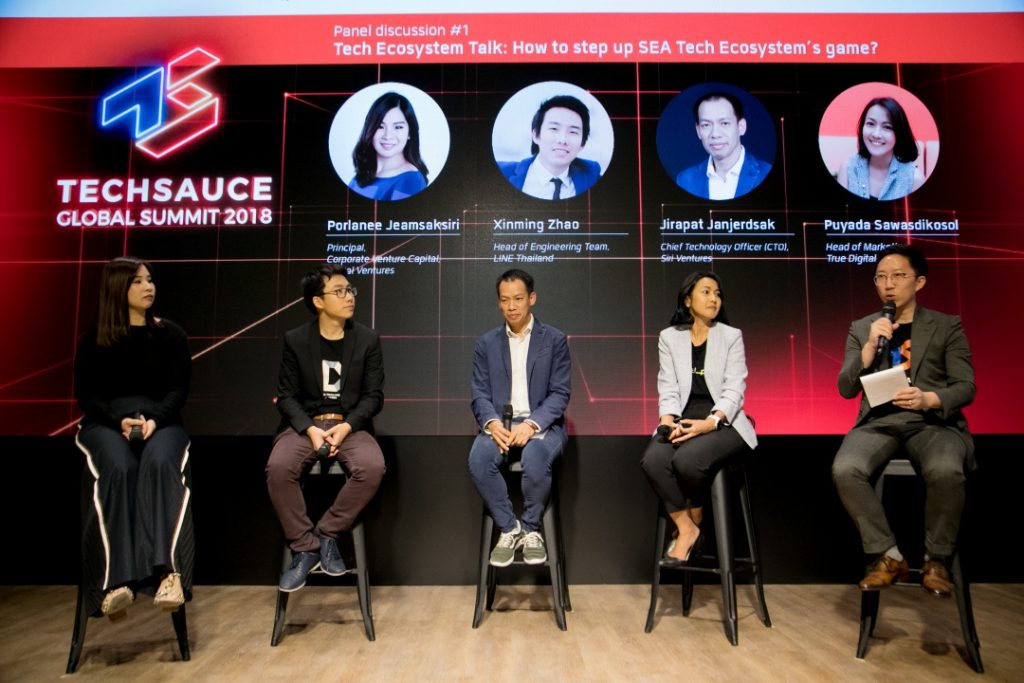 Where is Thailand's tech ecosystem now?
Before talking about how to develop Thailand's tech ecosystem, we need to look at where it is at now and its hidden potential.
Thailand has good funding and human resources to create a unicorn.
Porlanee says Singapore's ability to produce unicorns is due to the large amount of funding and the high quality human resource it has.  As for Indonesia, its unicorns come from its wide variety of experts.  So when looking at Thailand, you can see that the the country's level of funding and skilled professionals gives it the potential to create its own unicorn too. 
Xinming adds further that the challenge for Thai tech startups is scaling up.  At present a large amount of Thai startups are at the Pre Seed and Seed levels as opposed to the limited number of startups at the Stage Series A.  There are very few that have ventured out to provincial and overseas markets.
When it comes to opportunities and funding, Jirapat says at this moment Thailand has increased Corporate Venture Capital or CVC to cover all sectors.  This movement presents a great opportunity for Thai startups to get support and mentorship in order to become unicorns at the regional and global stage.
According to Puyada, Thailand is fast developing the important foundations of its tech ecosystem with support from strong industry players and government agencies.
What is Thailand's tech ecosystem missing?
Jirapat believes corporations in the past year has finally shown real interest in startups.  If this momentum of support in terms of funding and mentoring increases, the chances of startups maturing to their full potential is great.
Another perspective is expanding the market.  Porlanee says Thai startups should look beyond Bangkok to the region and global markets if the country is going to have any chance of growing its startups and ecosystem.  Focus on tech talent and tech access is something that we need to push for.  Puyada believes developing education to produce authentic tech talent and tech users with adequate knowledge will help grow the tech ecosystem in the kingdom more completely.
Xinming says the mindset of each player in the startup community has a role in developing the ecosystem.  When startups with a mindset to grow are matched with a supportive ecosystem and community, they are most likely to achieve success.
How CVC can advance Thailand's ecosystem 
Today Thailand is experiencing a wave of Corporate Venture Capital or CVC, making it so much easier for startups to access it.  With all speakers representing big CVC players, they share their thoughts on how CVC is changing Thailand's ecosystem for the better.
Jirapat of Siri Ventures says with real estate being the main business of Siri, the focus of Siri Ventures naturally is on Property Tech, Living Tech, and supporting Health Tech.  Its goal is to create a Cross Border Platform to back up Thai startups crossing over to the global market.  It has taken the initiative find partners in the Silicon Valley in the United States and Israeli capital Tel Aviv to broaden and strengthen the tech ecosystem in Thailand.
For Line Company (Thailand), Xinming says supporting startups is one of the key initiatives to transform the company's app to something more than just connecting people with their friends.  Aiming to solve the problem of users being overloaded with apps, Line is set to provide a platform for users to connect with startups without needing to make the tough decision on which app will take up their smartphone memory.  In the first quarter of 2018 the company is set to launch a support platform to help startups scale up.
Porlanee reveals Digital Ventures this year will continue its accelerator's work in guiding startups to build up their experience along with expanding its assistance to regional and global VCs to launch startups into the global stage.
As for True, Puyada says it continues to support startups under the concept of "One roof, all possibilities" with its co-working space of 70,000 square meters on Punnawithi road serving as that "roof" to support key players in the tech ecosystem by creating a complete network of entrepreneurs.
Lastly Jirapat adds that if all CVCs should work together to support startups by providing their individual experiences and knowledge, it would be interesting how CVC corporation can fast track Thailand's tech ecosystem's development.
The government strengthening the tech ecosystem 
Although the private sector has been hands on when it comes to propelling the country's business, the government can play an important role in speeding up the process by giving more support.  This is what the industry leaders believe will truly bring about change.
Xinming proposes attracting foreign tech talent, founders, and investors to Thailand by making it easier for them to do business through initiatives such as providing smart visas or giving more benefits.  The government can serve a the mediator to connect Thai startups with international players.
For Jirapat if the government serves as the enabler, startups can advance further.  This is especially true for sandboxes in various sectors that are opening opportunities for real progress in new innovations.  Jirapat wants to see the government work with corporations to support startups together.
Porlanee says tax regulatory is the blocking the growth of startups and key players in Thailand's tech ecosystem.  If there is a tax policy that is appropriate for attracting investment, Thailand's ecosystem will be more complete.
Puyada reveals True Digital Park is already starting the move by working with the public sector to inspire the Innovation District by opening up a sandbox and providing information to the government to be used to change policies that will add to the growth of Thai and foreign startups in the future.
Be a part of building Thailand's tech ecosystem!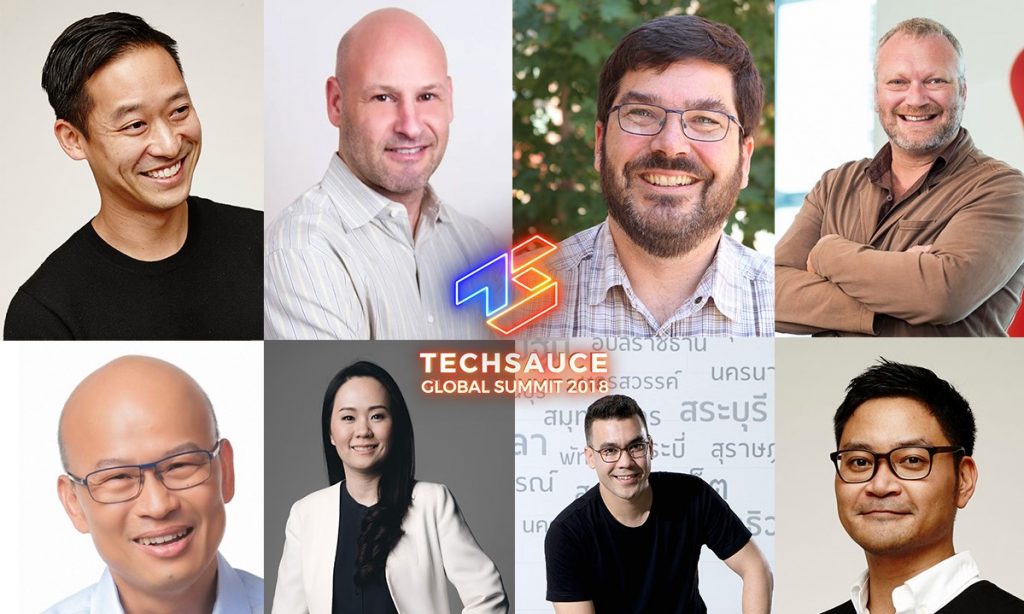 Be a part of building Thailand's tech ecosystem at Techsauce Global Summit 2018!  This year's summit will gather all the important players from startups, investors, and other important players in the startup community.  For more details go to summit.techsauce.co
See you there at Techsauce Global Summit 2018 on June 22-23!