Origin was a conference hosted by Technode which focused on the latest developments in ASEAN-China's tech and startup scene, fixating on topics such as food innovation, social media, China's tech trends, and VC investments.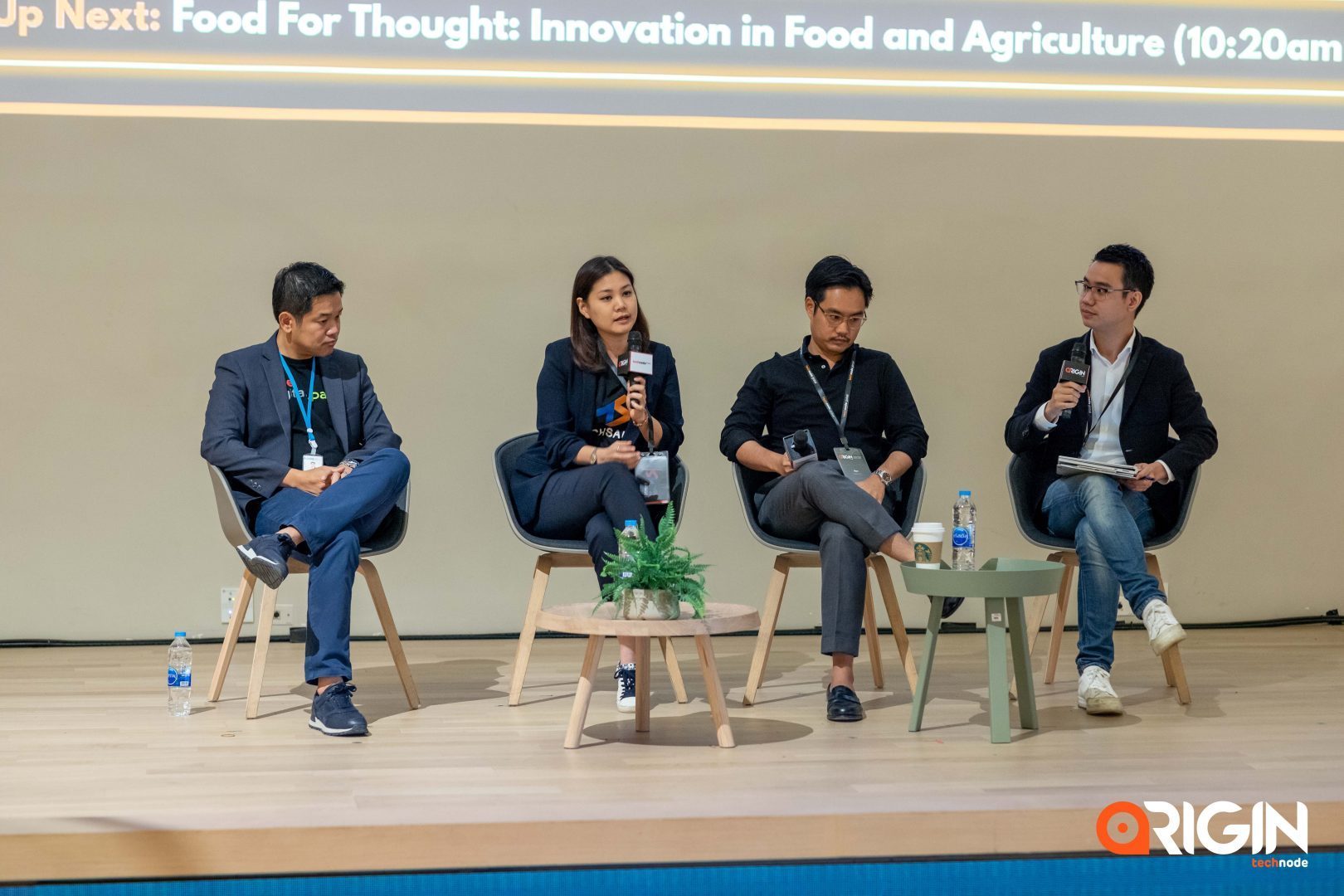 Kicking off the 9-hour conference at True Digital Park was an insightful panel discussion moderated by Nattapat Thanesvorakul, featuring Thanasorn Jaidee - President of True Digital Park, Oranuch Lerdsuwankij - Co Founder & CEO of Techsauce, and Poompong Tancharoenphol, Investment Manager of AddVentures. Representing Thailand's tech giants and experienced with many years in the tech industry, these 3 leaders inputted their opinion on Thailand paving the way to be the next digital innovation hub in Southeast Asia.
Technology is ever-present in today's world and its growth has never been so rapid. People use them to make their lives easier and companies use them to improve operational efficiency. The days in which people stereotyped developing countries of not being modernized are over, with the ubiquitous incorporation of technology being so evident today in many developing nations. Following this notion, this session covers certain keynotes regarding the growth of the tech ecosystem in Southeast Asia and Thailand as the next digital innovation hub.
SEA As The Next Digital Innovation Hub
We all know that the US and China are few of the leading digital hubs, but what about Southeast Asia catching up to take the throne instead? Our panelists have shared their views regarding the idea.
Thanasorn mentions that as the trade war between the US and China continues, Southeast Asian nations have to prepare themselves and build up a strong infrastructure if we want to gain benefits. He cites Indonesia as an example of a country with strong infrastructure. He also mentions that Thailand has a very strong group for outsourcing and programming, but has to follow other countries in developing a stronger infrastructure.
Oranuch states various industries that can help Southeast Asian nations propel infrastructure development. For one, the automotive industry is rather strong in countries such as Thailand and Indonesia, pointing out that Toyota bases production in Indonesia. She mentions that although Thailand has many resources, they are not fully utilized and thus are missing out on opportunities to excel in certain industries such as agriculture, healthcare, and travel.
Poompong reiterates the trade war, stating that it will last a long time and emphasizing on how Southeast Asia can adapt to it. He describes that the trade war is really a tech war and that currently, Southeast Asia should position and see which industry is best suited to benefit from. Apart from reaffirming that the automotive industry has a strong supply chain, he also mentions logistics as another sector that Southeast Asian nations can benefit from greatly.
In A Fragmented SEA Market, How Would One Country Thrive Over Another
Competition is inevitable. What should a country do to differentiate themselves and achieve the competitive advantage vital for standing out and thriving in the ecosystem?
Thanasorn mentions that countries should play to their strengths. Every country has its strengths - Indonesia has a large population, Singapore has a good business infrastructure. He highlights agriculture, logistics, and tourism as Thailand's strengths and that Thailand should play to these unique strong points. He also points out that a country's people is the most important piece of resource to develop if a country wants to compete, and that improvement in technology is essential if a country wants to attract investment.
Oranuch states how big corporate leaders - such as those in manufacturing, energy, and food - utilizes internationalization and leverages innovation to achieve competitive advantage. For example, companies can leverage on Indonesia's abundance of resources to lower costs, thus gaining an advantage. She also mentions how big corporates can support startups and work together to create a win-win situation for the long term.
Poompong reiterates that each country has its own strength. He points out several key strengths that Thailand possesses. These include good economics for startups, low startup costs, decent government support, large amount of Facebook users and high smartphone penetration. He compares Thailand to Indonesia, stating a higher GDP and being less fragmented; there is also weaker competition in technology as compared to Indonesia and Vietnam. These are good opportunities that Thailand can leverage on. As corporates and SMEs are strong in Thailand, B2B is another area that Thailand can utilize. A lot of innovation can start in the B2B space and if done right, Thailand can successfully differentiate itself from other countries.
How Do We Make Corporates And Startups Work Together?
Oranuch mentions that collaboration is vital. The tech ecosystem began roughly 7 years ago for Thailand, and it's a positive scene now that global investors are coming in to support startups. However, with many startups still preferring other countries to move to, she cites lacking government support as the reason behind it. It's hard to attract startups to do business in Thailand due to laws and she suggests several ways to increase the attraction, including waiving capital tax and higher incentive salaries. She states that a discussion with the government would be favourable to achieving better business and investments in Thailand.
Thanasorn mentions that a good option to build strong SMEs in Thailand is to adopt new technology. He also supports Oranuch's point that government policies and support is essential for building strong SMEs. He stands strong that Thailand has the potential to incubate a successful startup scene, but the government must have the mindset of helping startups and give a strong push to support them. He suggests that they should ease on certain conditions a bit to gain overall benefit, citing examples such as free tax, better visa, and faster processing.
Poompong mentions that Thailand should learn from its neighbours in certain aspects. Supporting the previous points, he points out that neighbouring countries such as Singapore have very accommodating laws for doing business. However, he states that Thailand is already very collaborated, with corporates being open in partnerships and positive in helping and supporting startups, attributing high potential for startups in Thailand. He also sees positivity in people's awareness of startups in general, where people are interested in learning more and that universities are teaching their students about startups.
Thanasorn adds that it's very positive to see enterprises coming down to universities to teach and educate students about startups, rather than just the universities themselves teaching them. He continues to say that the skill sets of the people are very important and that we should focus on building tech skillsets for everyone.
The Next Unicorn in Thailand
Thanasorn mentions that many companies in Thailand possess high potential. He reiterates that although startups have good partners, more can be done regarding government support and funding. He adds that the media and private sector will see benefit in the near future and that a strong international mindset is required for companies who want to be successful.
Oranuch follows the point that many companies in Thailand have high potential. Diving more specifically, she states the e-commerce sector as a potential unicorn. Although many startups cannot compare with big names such as Lazada or Shopee, focusing on niche markets may open new doors for success. She also mentions that we may see e-commerce and fintech experts expand internationally through acquisition within the next 2 years.
Poompong states that many people do not realise that being the unicorn is a status set by price. He points out an evident funding gap in Thailand and that support from regional investors such as China and India are essential to the development of Thailand's tech ecosystem. Companies should also look from the perspective of a regional or global investor to achieve a better understanding of how to be the unicorn. Regarding potential sectors, he states that industries such as e-commerce, food, logistics already have a strong underlying foundation with strong supply chains and cross border free trade, but can achieve more valuation by vertically integrating the industry through technology application.
Main Takeaways
After this insightful session, we can deduce several important points that were mentioned and unanimously agreed on by the panelists.
Firstly, we can agree that the tech scene in not only Thailand, but Southeast Asia is undergoing rapid advancement to become the next digital innovation hub, with many companies incorporating technology into their operations and the people becoming increasingly aware of the tech and startup scene.
Secondly, each country should play to its strengths, and those of Thailand's include the agriculture, tourism, logistics, and e-commerce industry. However, Thailand lacks government support in creating a conducive business environment.
Thirdly, support from global investors and collaboration between corporates and startups are essential should Thailand, as a whole, want to be the next digital innovation hub.
Lastly, the people of a country are its most important asset, and developing them to have strong tech skill sets is crucial to achieving success in digital innovation.