Here are some statistics that might make corporates feel shaky on their feet: The average Fortune 100 company has a 14-year lifespan – less than that of Facebook who is turning 14 this year. Not only that; research shows that banks will lose about 30% to 50% of their revenue to FinTech startups within the next 5 years. The need has never been more urgent for corporates to innovate.
"Today what scares us isn't Citibank, or our local competitors – it's Alibaba, or Alipay," commented Laurence Smith, Former Group Head of Learning & Talent Development at DBS Bank and moderator on the panel. Maybe corporates can never disrupt themselves entirely. But for companies who desire to infuse themselves with agility and nimbleness like a startup, is there a way to connect the dots between corporate and startup mentality?
At Techsauce Summit 2016, panel members from big corporates dtac, Amadeus, AccorHotels and Kaidee.com – currently Thailand's largest online marketplace for secondhand products – explored how large corporations can generate a disruptive mentality both within and without.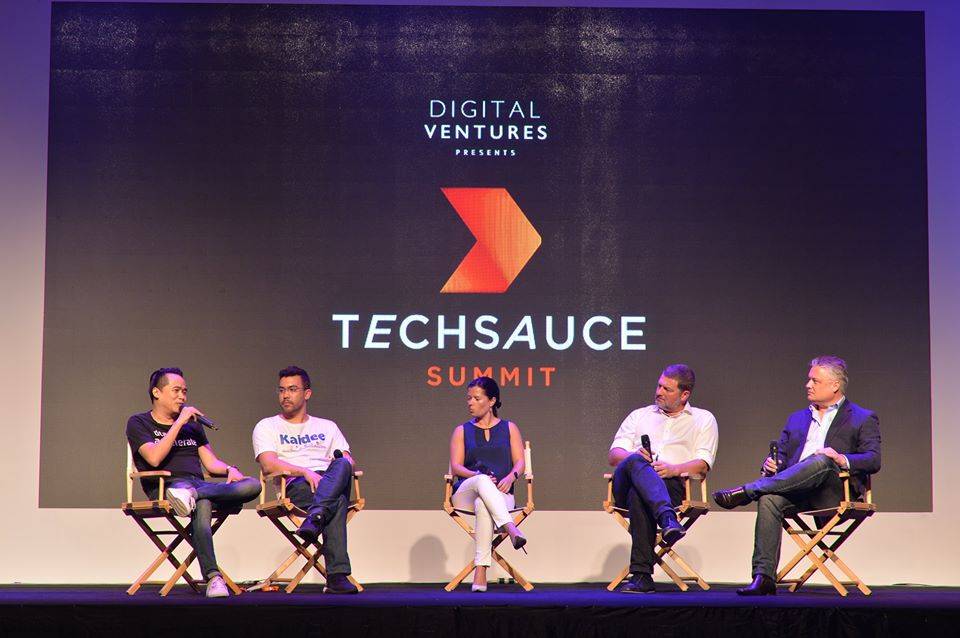 Panel Discussion with: Sompoat Chansomboon - Director of Business Innovation & dtac Accelerate at dtac Tiwa York - Head Coach at Kaidee.com Emilie Couton - Vice President Digital Marketing Asia Pacific at AccorHotels Bart Bellers - Senior Advisor and Corporate Strategy at Amadeus Asia Pacific
Moderated by Laurence Smith - Former Group Head of Learning & Talent Development at DBS Bank
1. Think like a startup!
The reason corporates are able to deliver what they do is because of a structure that leads to reliability – think of how many industries rely on Amadeus' IT data and computer reservation systems to get by each day. Lack of agility can be major obstacle for corporates, but it need not be if they know how to look in the right places.
"If you want to innovate, you need to think like a startup," says Sompoat Chansomboon, dtac's director of Business Innovation who also runs the company's startup acceleration program – rated one of the best in Thailand. "We realize that as a corporate we can't build things as fast as startups. Startups can maybe launch an application in 18 days. Some startups take just a week for a prototype. DTAC accelerate is for this purpose – we try to find talent to work with."
Aside from pulling talent from the startup community, dtac also searches for talent from within through the Ignite Incubator program where dtac employees can quit their job for 3 months to follow their dream & create their own startup. In the end, if they fail, they can simply return to work.
2. Kill the fear of failure.
A big obstacle to trying new solutions in big companies is a fear of failure – and it's something that must be removed to open the way for good innovation. Says Emilie Couton, the VP of Digital Marketing for Asia Pacific at AccorHotels, "The mentality that failing can happen and is okay, is quite refreshing."
"We say we give two licenses – one license to succeed and one license to fail," adds Tiwa York, Head Coach at Kaidee.com. "To us, KPIs are only measurements – we want to leave an additional space for experimentation and failure."
Sometimes the pressure experienced by corporates might come from worry over the best use of a company's budget. "If that's the case, bootstrap – then when you hit it, ask for money," says Bart Bellers – Senior Advisor and Corporate Strategy at Amadeus Asia Pacific, which just launched the Amadeus NEXT travel tech program last year – of his approach when asked to innovate a new program for his company. "That takes the pressure off. When you have a budget everyone is looking at you."
3. Never stop learning.
Everyone in the panel agreed that a learning mentality is something that sounds overstated – but nevertheless can't be overlooked. "I want startups to pitch to my team, to inspire my team, my marketing team. I want my team to see the innovation happen," says Tiwa. Feedback is valuable, and it can come from any place. In the case of dtac Acclerate, its users are the startups who join the program – so Sompoat says they listen to startups on the value of the current programs that are being run. "The startup process is simple. Build better and learn – and that's something we strive to imitate," he said.
Emilie also suggests keeping an open mindset – sometimes AccorHotels starts out working with startups to create certain application tools or software, but end up finding that the end product can be applied to something entirely different, she recounted.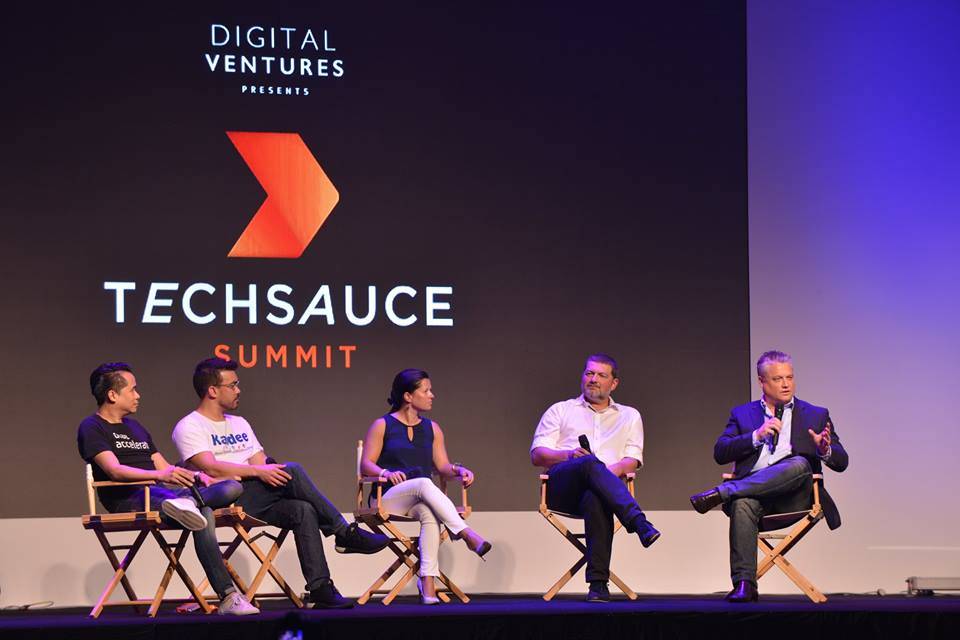 4. Ensure the corporation's leadership is on the same page.
It's certainly going to be difficult to pull a corporate towards innovation if its leadership doesn't fully get the concept. "Not everybody needs to be a disruptor, but the leadership needs to understand the landscape," said Laurence. And one way is to expose them to the startup mentality themselves. "One of the challenges of banks like DBS, is how do you get bankers to really understand the digital world and fintech – that it is an opportunity and a threat? Startups begin small and 97% of them fail – so there's a lot of denial. So we at DBS decided to take our senior bankers to experience this; we gave them a chance to be a startup – and to actually act like a startup for 72 hours. We brought startups in and formed joint teams of bankers and startups and did hackathons," says the former group head of learning and talent development.    
What started out with uncertainty became a deep learning experience not just for the bankers, but for his own team. "Initially we weren't sure of the idea of putting bankers and startups in such close quarters. But in the end, the program was a success – the bankers learned to experiment, and our team learned that to innovate, you need to overcome the fear of failure."
5. You can actually HELP by disrupting startups.
Corporates can help propel startups forward by disrupting them. Perhaps we could even say startups and corporates can feed off of each other in a healthy way. It's an essential exchange that needs to happen. "You cannot be afraid to find those startups who are out there to disrupt you and help them. Because if you do not help them they will disrupt you," pointed out Bart. "We bring in startups, we can help them fail faster, so they can pivot faster and thus ultimately succeed faster. And that's good for them."
Early on in the session, Sompoat asked, "When you [startups] get approached by corporates, what do you help them to learn?" But – things really do come full cycle don't they, once a corporate intentionally helps to disrupt a startup? Ultimately, corporates must achieve their own healthy balance. "I think the corporates that will survive are the ones who are trying to change – but I agree with Bart, you don't disrupt yourself entirely," concluded Emilie.