At the Singularity university conference, here in Bangkok Techsauce had the opportunity to partake and witness one of Dave Zaboski's interactive workshops centered around creativity. Within the business world and especially in a corporate setting creativity can be stifled or not given the proper room for expression.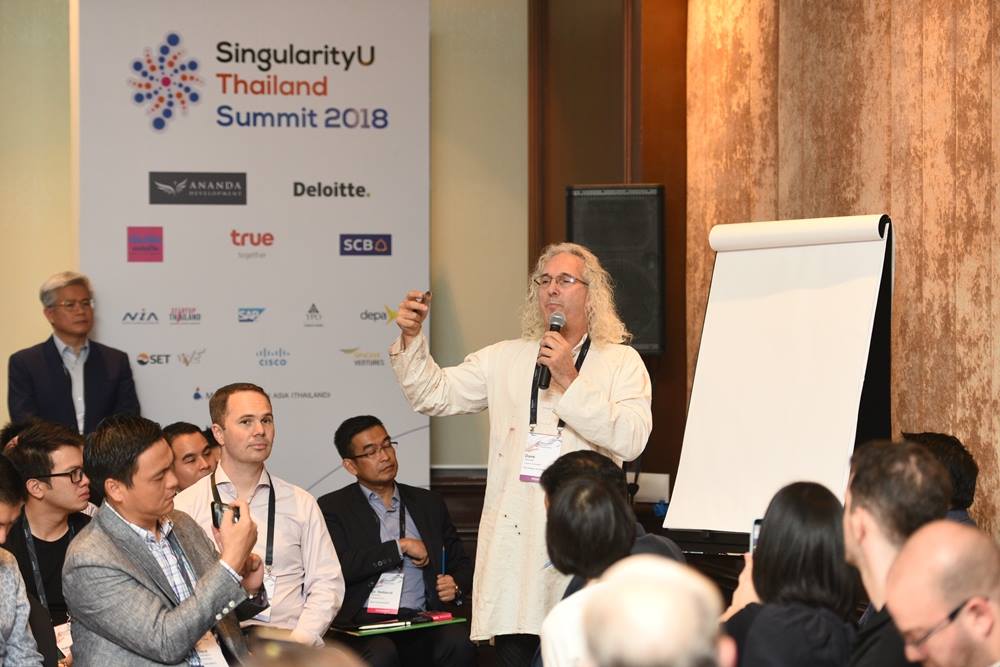 As Dave used to Design for Disney, his artistry expertise is second to none due to the rigorous training and skills he acquired.
The principles of innovation
Re-define what we think of the creative process
creators collaborate - they know how to create collaboratively and by listening to their emotions.
Plusing
To be additive - to bring something else to the trajectory of the creative process and to the collaborative idea.
Risk
Creators risk because we love the risk. Its an opportunity for nonlinear data collection; We risk collecting information so much faster than if we had a linear track on something
If we can tell a story that is bigger than us then we can take a risk and collect this data. The risk is critical to collect a lot of data and information.
Iterate
Let your creativity unfold into different paths. They all need to join together - the paths are the creative structure that joins together to form the creative construct that is the final piece.
This is the powerful process for mastery. The thread of creativity changes for each industry that you are in.
What if we could use art and technolgy to tell a new story in service to humanity.. toactually enhance human potential to..hack enlightnment? - Dave
Creativity is the seemingly magical capacity to imagine the unseen. Innovation is the act of manifesting the creative into something tangible. Creativity is very simply the action of turning a thought into a thing. To innovate, the creative process must be constantly revised so that new discoveries move past the border of the known and yet remain relevant.
The SingularityU Thailand Summit brings the world's leading speakers and experts on exponentially accelerating technologies together with Thailand's and Southeast Asia (SEA)'s leaders to provide knowledge and insight necessary to stay ahead in an exponentially changing world.
Bio
Dave Zaboski is a classically trained painter, illustrator and former Senior Animator with Disney, Sony and Warner Bros. He has drawn for such classic films as Beauty and the Beast, Aladdin, the Lion King, Pocahontas, The Hunchback of Notre Dame, Hercules, Tarzan, The Emperor's New Groove, Fantasia 2000 and more.
He is a sought after and entertaining public speaker who has taught collaborative creativity to entrepreneurs, educators, artists and others at world renown centers like Esalen, Summit, The Chopra Center, and Rancho La Puerta among others. Dave is on the faculty of Singularity University and the Track Chair of the CreativeWorks Program at Lucid University.
He speaks often about the necessity for technology to multiply compassion and consults with creative teams on building collaborative cultures. Dave lives on a ranchette in Southern California with his wife and daughter, along with a small menagerie of four-legged friends.