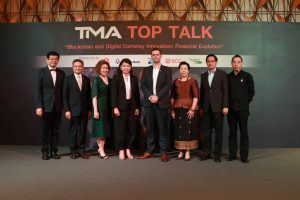 Techsauce was cordially invited to the TMA Top Talk organized by Corporate Performance Management Group (CPMG). The forum was conducted by Mr. Ronald M. Tucker, the founder of the Australian Digital Commerce Association (ADCA). The forum discussed the current Blockchain landscape in Australia and the thriving Australian startups who have adopted Blockchain Technology in their different industries.
Diving straight into the content, Ronald discuss on the current Blockchain landscape situated in his homeland, Australia and the early adopters who have initiated the use of blockchain technology in Australian startups. These includes the likes of multiple budding startups included below:
Uproov, a startup that creates and records timestamps in real time for digital assets,

Agridigital, a supply chain firm that specializes in integrating blockchain principles into agriculture logistics, hence simplifying the farmers daily tasks.

Air Pocket, a blockchain mobile application specializing in cutting out the middle men in financial transactions, thus minimizing expenses for users and providing a faster platform to remit money.

Civicledger: a local area service update company that manages transactions using distributed ledger mathematical principles

Powerledger: the world leading peer-to-peer marketplace for renewable energy. The market is based on a dual-token ecosystem operating on two blockchain layers, POWR and Sparkz. POWR tokens allow consumers and hosts providing energy to interface with the ecosystem and are protected through Smart Bond technology. POWR tokens can be converted into Sparkz tokens, which can be used for frictionless transactions in the energy exchange market.

Bit Trade Australia: the largest digital currency business in Australia, it caters to clients with all needs, wants, and budgets - from those just getting started with crypto, to sophisticated investors looking to make their next move.

Bit Trade Labs: the sister company to Bit trade Australia, a blockchain development consultancy dedicated to the creation of innovative, world-class blockchain solutions
Ronald believes that Blockchain is the future of technology, and it will have a huge impact on society,  just like how the internet revolutionized the communication process for people. However, getting people to adopt this form of technology turns out to be harder than expected.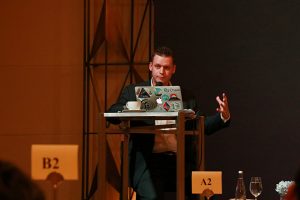 One of the questions Ronald receive often is, "If blockchain is so good, why hasn't current banks in Australia implement the technology into their systems yet?" To change the mindset of a person is one thing, to change the mindset of an institution is another. An institution that governs more than 50,000 people's jobs, that has fiduciary duties to governments and people and also has reputational consequences to consider is really difficult and requires a lot of convincing. What is promising is that Australia banks have started to test out prototypes on future potential financial services that has incorporated some form of blockchain technologies into their systems and will slowly be deployed in the next few decades.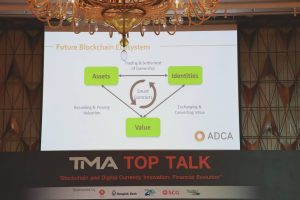 As one of the greatest innovators, Steve Jobs once said, "It's not a faith in technology, it's a faith in people."  Ronald believes in giving people the right tools, to fully understand what Blockchain technology is and utilize it to bring forth new changes to various industries.
As the forum came to a fruitful end, Ronald assured that ADCA will continue to assist and spur blockchain enthusiast into utilizing blockchain for a greater future. He is excited to see what blockchain can do for society as a whole.